5 Dramatic Kitchens With Granite Countertops And Granite Backsplashes
August 21, 2022
There's nothing quite like the shimmering natural beauty of granite countertops to turn a kitchen into everyone's favorite space. It's a big investment, but one that will pay off long into the future. But without one important element, it just won't feel quite complete. It needs a complementary backsplash, too.
However, the qualities we love about granite — its color combinations, its unique patterning — present a dilemma when it comes to choosing backsplash designs. And there are so many choices! Stacked stone, glass tiles, ceramic and porcelain, metal, and tiles of other natural stone all compete for that prized position. Choose wrong, though, and you'll detract from the granite's beauty.
But before you give up and choose a solid-color tile, we'd like to offer an ideal solution: Complement your granite countertop with a granite backsplash.
Let us inspire you with these lovely granite combinations!
SILVER CLOUD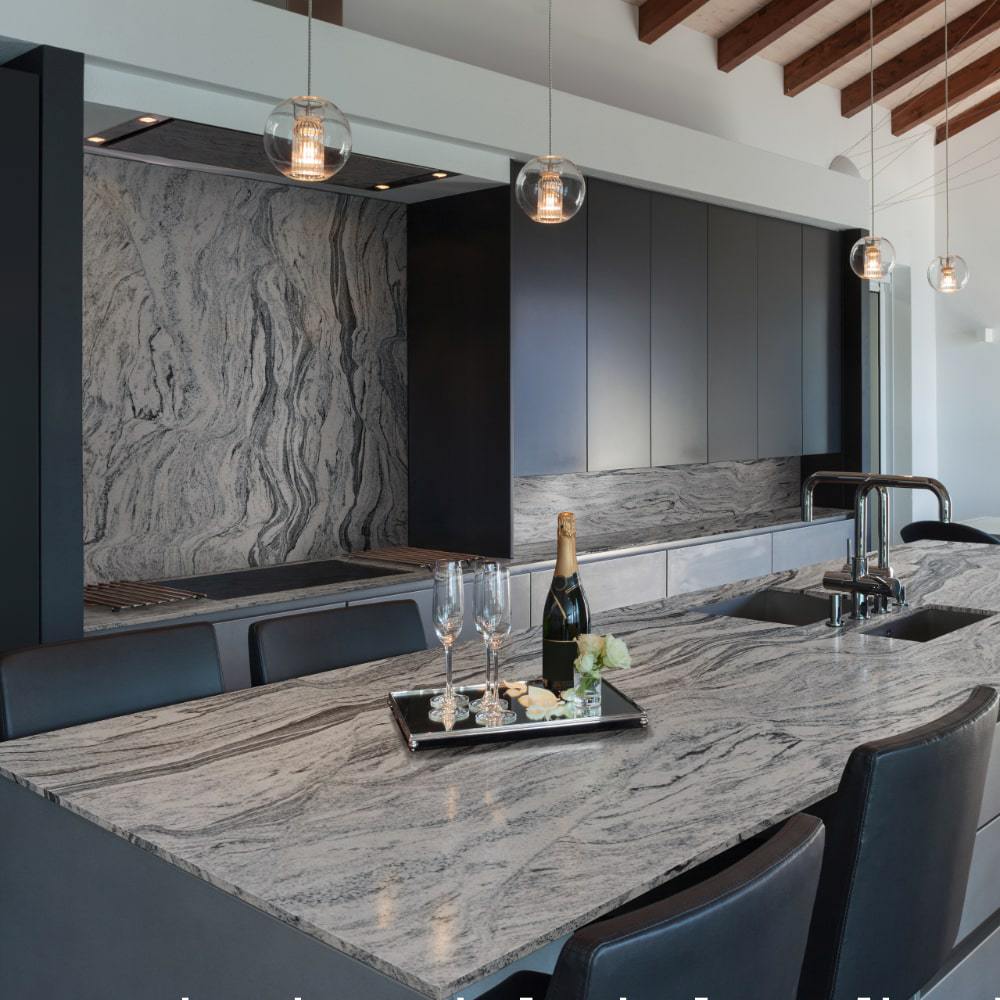 As a bold blend of jet black and pale gray with a silvery shimmer, Silver Cloud granite countertops in the kitchen can easily become a room's focal point. But when placed on a vertical surface, this granite color can also function as art. Think of it as the most practical piece of wall art you'll ever own. Not only is it stunning, but it also protects your wall from cooking mishaps. It's even tough enough to install directly behind a cook top.
With a linear pattern such as this one, you can experiment with turning the pattern vertically or horizontally, to see which you like best. As shown here, you can combine the two directions for a look that's truly unique. Granite countertops and backsplashes can even be installed outdoors, and it's a popular choice for outdoor bars, kitchens, and seating areas.
AZURITE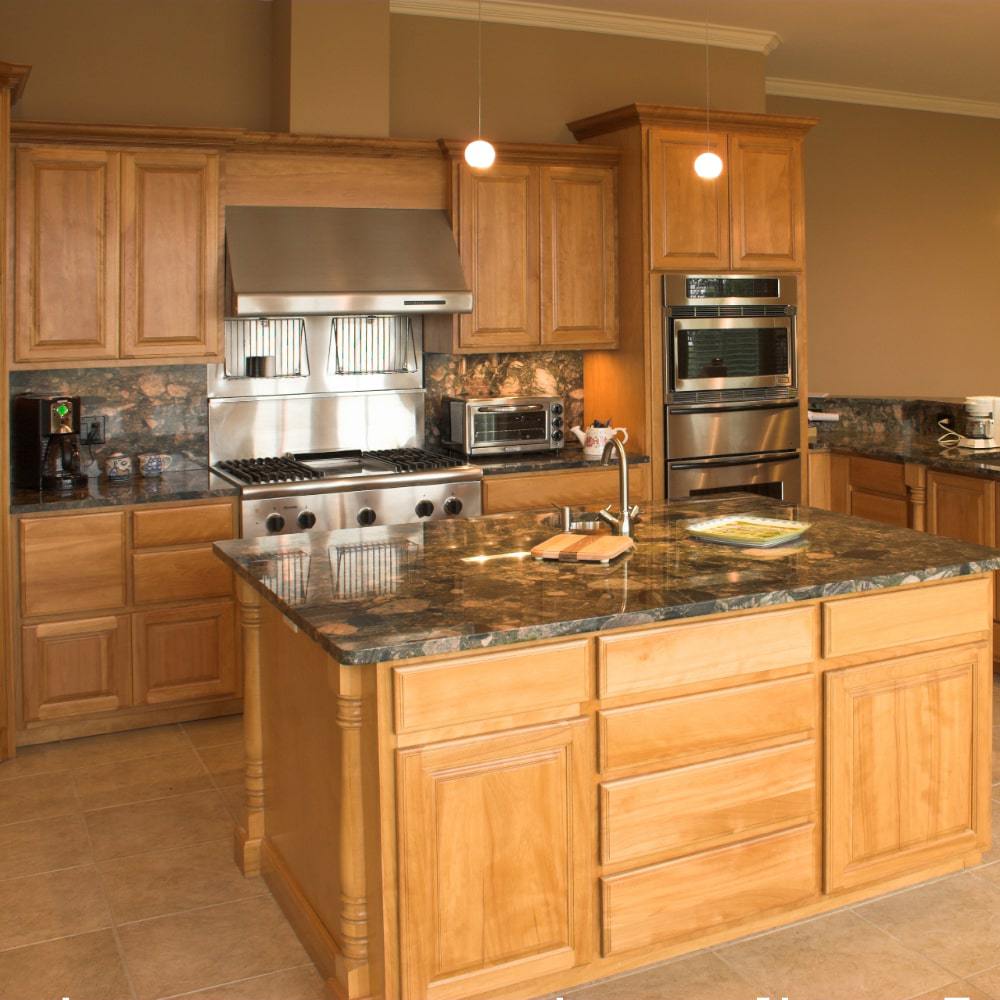 Featuring a blend of cream, beige, and blue-gray hues, Azurite is definitely a show-stopper. Despite the bold patterning, it's easy to match with your kitchen or bathroom's other decorative elements. For example, this elegant kitchen combines Azurite granite with golden-brown wood cabinetry and travertine-style flooring. Even the stainless steel appliances match well with the blue-gray shade in the stone.
When a granite fits in so well, you can use as much as you like on both horizontal and vertical surfaces. We think Azurite would beautify an entire wall, but many homeowners prefer to limit such a bold pattern to the narrow space between countertop and cabinets.
TITANIUM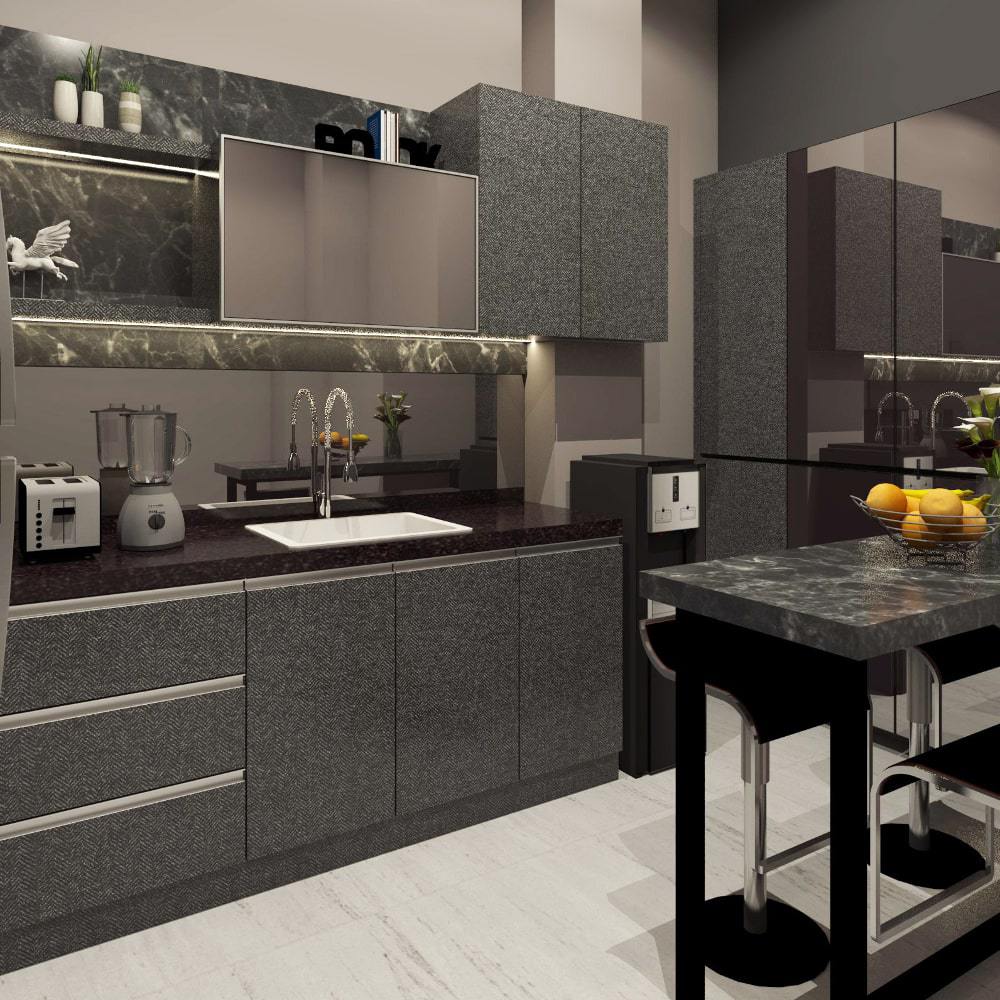 With a name like Titanium, it's easy to imagine this dark granite shade in a kitchen with an industrial aesthetic, or to add life to a minimalistic design. It features bold movement with a combination of gold, cream, and ivory shades on a charcoal-gray background. This elegant natural stone is available in a 3 cm thickness, which is typically used for countertops, and a 2 cm thickness which works great on vertical surfaces.
Here's one more thing to keep in mind while creating your interior designs — your kitchen backsplash and countertop do not have to be the same color of granite! You can even use different stones for your kitchen island and side counters. This allows your center island to become the room's focal point, and matching sections of stone on the wall will tie it all together.
AFRICAN RAINBOW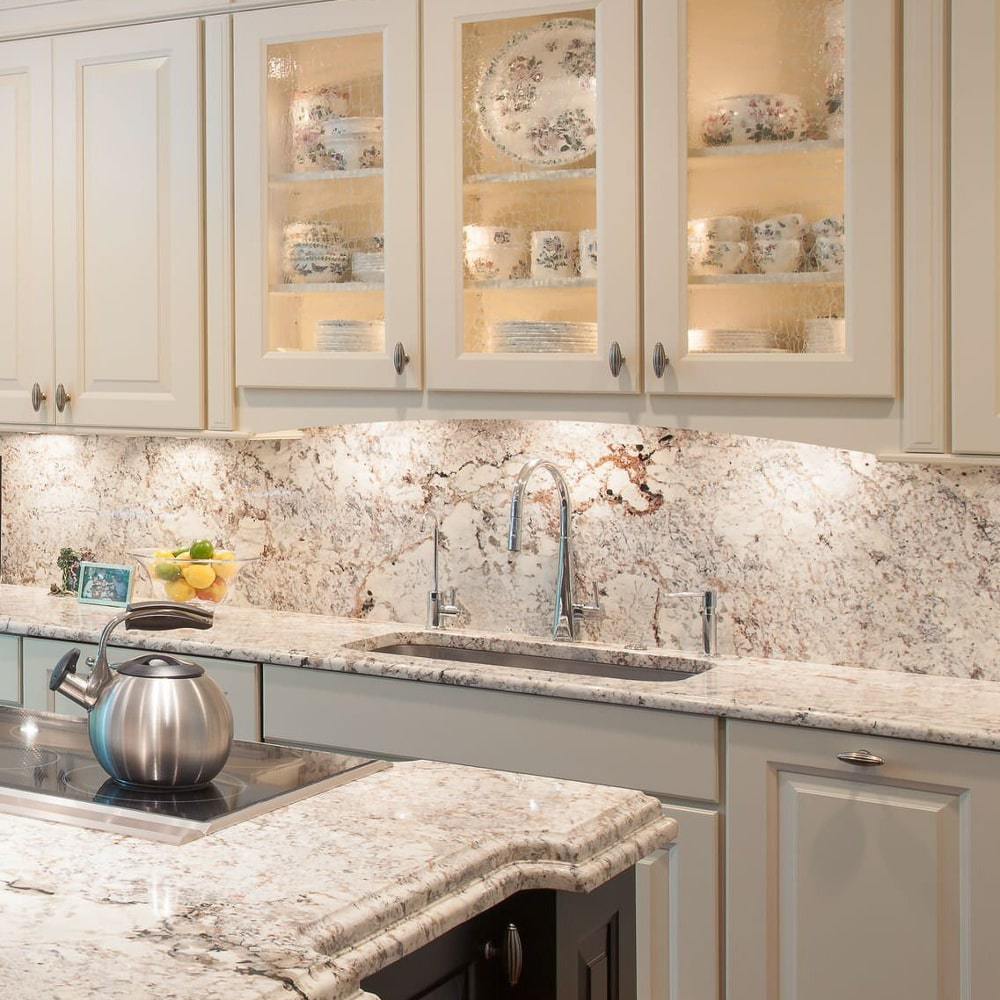 Photo Credit: @countertopnews on Pinterest
Sometimes homeowners may shy away from using a bold-patterned granite on both a countertop and backsplash, fearing that it's "too much" for the space. But with light granite colors such as African Rainbow, we think you can't have enough. It features cocoa-brown and dark blue-gray veining against a creamy ivory background — a combination that is neutral-hued but full of life.
As with all of our granite colors, African Rainbow is adaptable to your personal preferences. Customize your look with specialty ogee countertop edges and cutouts for sinks and cooktops. The bright, polished surface reflects light from under-cabinet fixtures, giving you a well-lit work surface for preparing meals.
GRAY MIST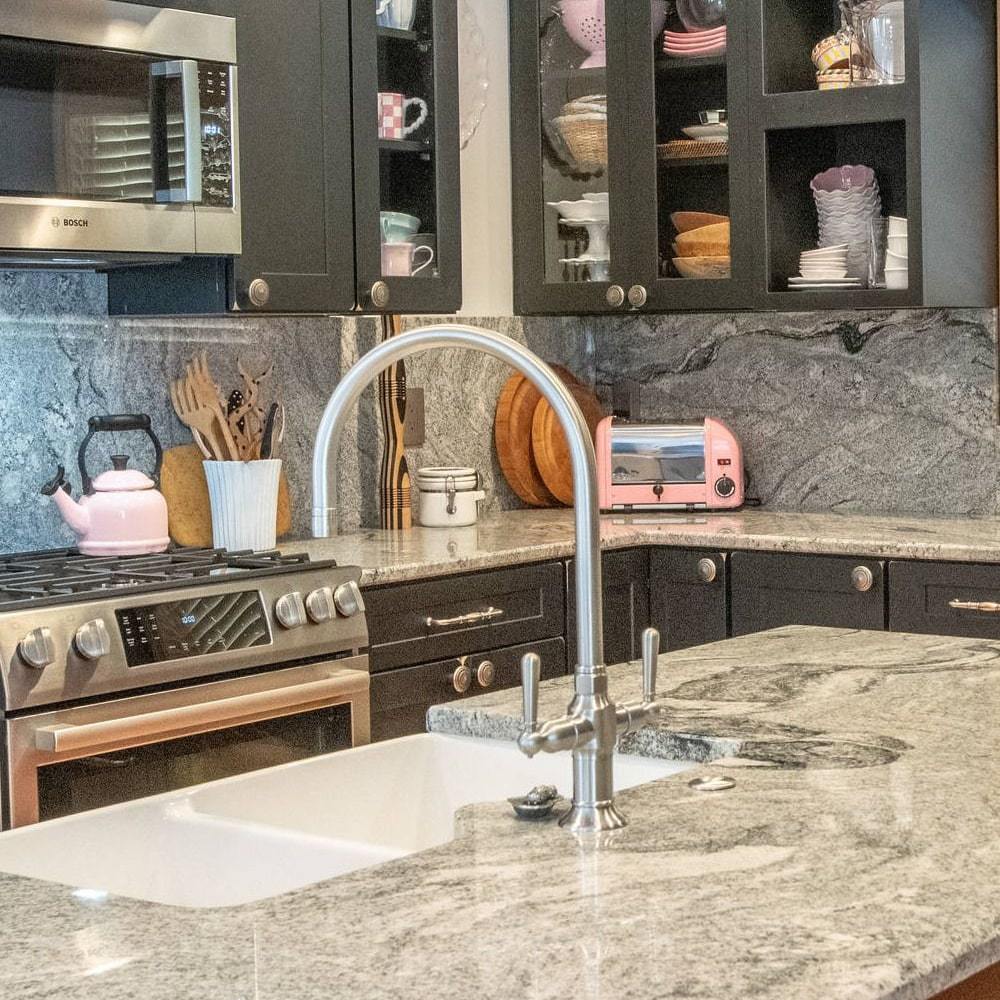 Photo Credit: @countertopnews on Pinterest
Even the most stylish, on-trend granite countertops are durable enough to stand up to a family's daily use, and easy-care enough for the messiest of cooks. This is especially true when you install a matching granite backsplash with a polished surface. Although granite benefits from regular sealing to maximize its resistance to water and stains, it's simple to keep it clean and hygienic.
Gray Mist dazzles with dark gray and wavy white veining created by shimmering speckles reminiscent of sand on the beach. Since no two natural stone slabs are alike, you may want to visit a slab yard in person to choose your favorite granite pieces — and this is especially true when you will be putting two slabs side by side on a countertop and backsplash. But this feature is guaranteed to create some interesting, appealing combinations. If you choose slabs from the same cut, they can even be installed as a "book match" for an almost-identical mirror image.
Granite countertops are a substantial investment — but one that will almost certainly add great value to your home, whether you choose to sell it or remain there and enjoy your kitchen or bathroom for decades. And when you choose granite slabs from MSI, you can be confident that you're getting absolutely top quality materials.
Most importantly, we want you to be thrilled with your natural stone installation. So we're always happy to offer tips and advice and answer your questions about selecting, installing, fabricating, and caring for all of our products. Just give us a call or visit the MSI showroom nearest you.