Choosing Your Bathroom Countertop: Quartzite, Granite, Marble, And Quartz Countertops
July 13, 2021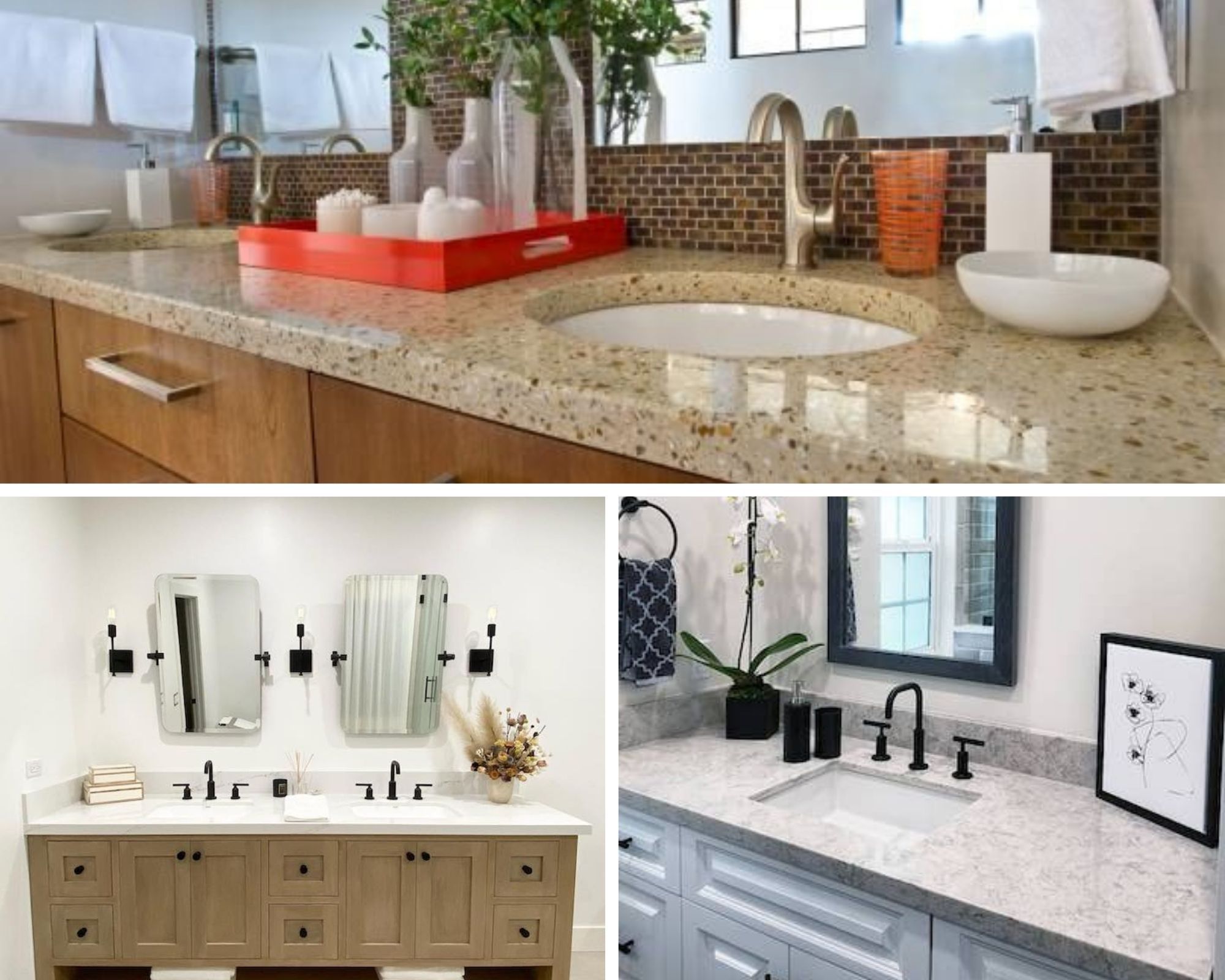 Many homeowners may not realize how important it is to create bathrooms they absolutely love. After all, the master bathroom or powder room is where they start the day and finish the night, so they need to be practical and pretty. Finding high-quality countertops are one of the most impactful purchases for the bathroom, and having high-performance materials means your beautiful space will last. Some of the most popular surfaces are granite, marble, quartzite, and quartz countertops. Choosing between them may seem difficult, but there are some key factors that will help make your decision easier.
Granite Countertops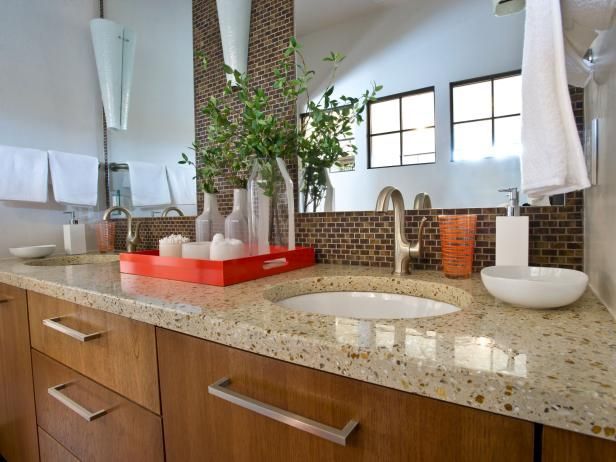 Known as one of the most durable and versatile materials, granite countertops are a top pick for bathrooms. That's because the strong, moisture-resistant surface can withstand the daily wear and tear of splashes to personal care products. The low-maintenance material means upkeep is easy, such as using a soft sponge and some warm water with a few drops of dish soap, but it is recommended to seal your surface annually to help it stay high performing year after year.
Featuring a unique subtle or bold pattern for each slab, the beauty of granite is adaptable to just about any design style. With fine veining to speckled patterns from the presence of minerals, granite comes in a wide range of colors with various accents to draw from when choosing a new color scheme for your bathroom. Plus, having a natural-stone beauty will likely increase the value of your property.
Marble Countertops
One of the most timeless and elegant countertop styles is marble. Some may shy away from this surface because the high-quality material is also high-maintenance. While it is resistant to heat, the porous natural stone is susceptible to stains, water spots, and acidic solutions. The softer stone can also scratch, etch, or even chip. When taken care of properly, though, there's no reason why you can't include marble countertops in your bathroom. For the daily, mild dish soap and hot water with a soft sponge or soft cloth will get rid of dirt. To help keep it looking fresh, you'll need to reseal it more often, approximately every six to 12 months, or use a spray sealant at least monthly or more to give it a little extra protection.
More commonly known for its white countertops with magnificent gray or gold veining, marble actually comes in a much wider range of colors. While warm or cool white backgrounds are more common, you can also find marble in warmer hues of pale pinks to reddish pinks to cooler tones of blues and greens to darker shades of blacks. The high-quality material comes at a high price, but the investment will pay off in terms of increasing the property value.
Quartzite Countertops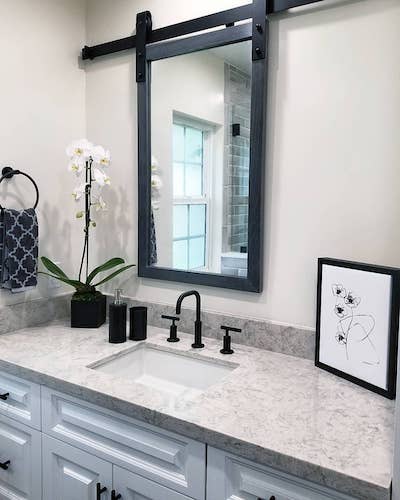 Photo Credit: @hermogenodesigns on Instagram
A popular marble-look countertop is quartzite. This 100% natural stone offers a similar appearance as marble stone but comes with low maintenance. Just about as tough as granite, the high-quality, hard surface is resistant to heat, stains, scratches, and etching. It's also resistant to UV rays, so it's an ideal countertop choice for bathrooms that are flooded with natural light, and the natural hue won't fade over time, too. Quartzite countertops can easily be cleaned with warm water and dish soap, but you'll want to reseal it periodically, approximately every one to two years.
Perfect for neutral lovers, these slabs only come in beautiful colors provided by Mother Nature herself, including whites, beiges, browns, and blacks. Each slab is a completely unique design that will tie in with any aesthetic. The lighter quartzite colors mimic marble the most, while some even offer a luminescent look or smoky appearance. The durable and resilient premium surfaces come with a high-end price, but it's a long-term investment that's worth the money.
Quartz Countertops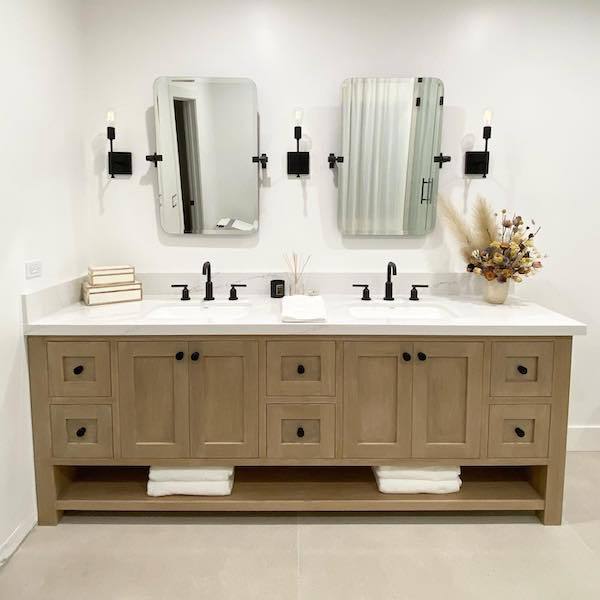 Photo Credit: @vega_cabinets on Instagram
One of the best countertop surfaces to choose is quartz, an engineered stone made of crushed natural stone quartz, resin binders, and added pigments. With the same durability as granite, the nearly indestructible surface is non-porous, so you won't have to worry about your quartz countertops harboring any nasty bacteria or germs. The quartz countertop care and maintenance is super simple: All you need is a soft cloth and some mild dish soap for a daily clean. Additionally, the durable material is resistant to heat, stains, scratches, dents, and abrasives. Of all the materials mentioned, quartz is the most moisture resistant. It's also the only product backed by a warranty, which may differ between residential and commercial installs.
Now more commonly found in a wide range of neutral hues, natural quartz countertops come in a variety of calming colors like whites, beiges, and grays to bold tones like blacks, blues, and reds. In terms of design, it's the most versatile since you can choose from plain solids to speckled patterns to vivid veining for a style that works with any bathroom remodel or new build. Engineered quartz does cost more than granite, but the investment is worth it since it's made to last.
Prefabricated Countertops
When time or budget is tight, then a prefab countertop is the way to go. A popular choice for its reduction in fabrication costs and speedier installations, prefabricated countertops are counters that have been already cut to standard dimensions. Typically, they're only available in granite and quartz with a smaller selection of set colors. Unless you need a custom countertop, prefab offers a luxurious look at a more affordable price, so you can stretch your budget even further.
Choosing Your Bathroom Countertops
Changing out the counters is a great way to update your small or large bathroom. Now that you've learned more about these popular countertop choices, hopefully you can make a decision about quartz vs. granite or quartzite vs. marble. No matter which one you choose, it will look fabulous in your new bathroom. But if you still need more help deciding, we at MSI can help you make all of your bathroom countertop dreams come true! Check out our online selection or stop by a local showroom to learn more.
LEARN MORE ABOUT QUARTZITE COUNTERTOPS
Granite Vs. Quartz Vs. Quartzite — How To Choose The Right Countertop
Our Most Popular Natural Stone Countertop Choices: Marble, Quartzite, And Granite
Which Is Better: Quartzite Or Granite Countertops?
Quartz Countertops In Durable Natural Quartzite Looks
READ MORE ABOUT GRANITE COUNTERTOPS
Brazil's Unique Ubatuba Granite
Can I Install Granite Countertops Outside?
Caring For Granite Countertops: Cleaning, Sealing, And Polishing