Kitchen Countertops: Quartzite Compared To Granite And Marble
September 12, 2023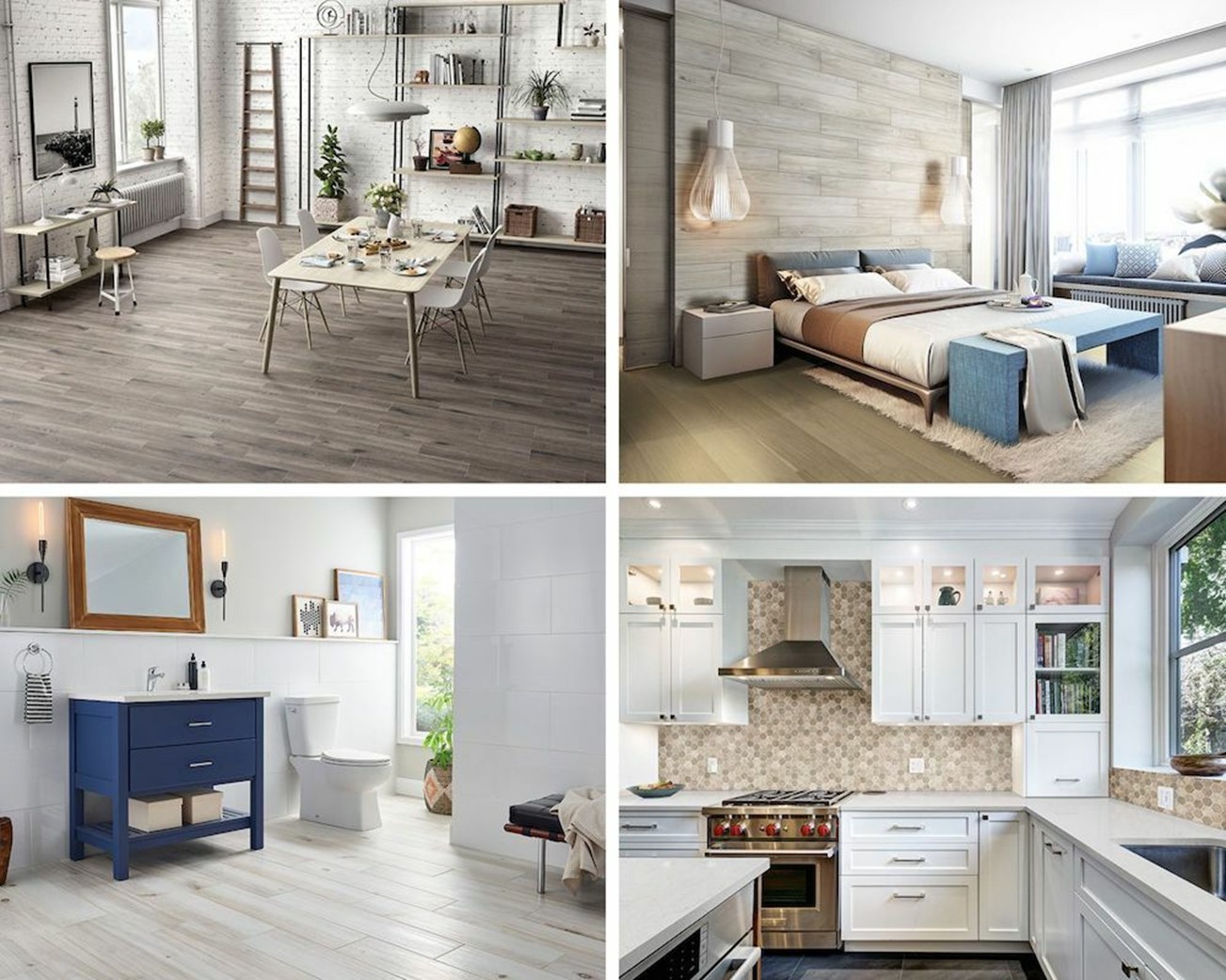 Countertops are more than just surfaces; they can significantly affect the look and functionality of your kitchen. But with so many options, selecting the right countertop material can be challenging. This blog will compare quartzite countertops with other popular materials to help you find the best selection for your home.
Quartzite, granite, and marble each have their unique personality and bear distinct qualities. Whether you're drawn to the elegance of marble, the robustness of granite, or the versatility of quartzite, understanding the characteristics of these materials is crucial to making an informed choice that aligns with your lifestyle and home improvement goals.
Join us as we explore these countertop materials' aesthetics, composition, strength, durability, maintenance, and ideal usage scenarios.
Quartzite: Where Beauty Meets Durability
Let's begin with quartzite, a captivating natural stone with unique patterns and colors. Quartzite's visual depth and variety make it a favorite among kitchen designers and homeowners. This metamorphic rock is formed from sandstone under high heat and pressure. It is primarily composed of quartz minerals, lending to unmatched strength.
Strength is everything in the world of countertops, and quartzite doesn't disappoint, ranking as one of the hardest natural stones available for home surfaces. It can resist heat, impact, stains, and scratches, making it a stellar option for high-traffic areas such as kitchens and bathrooms.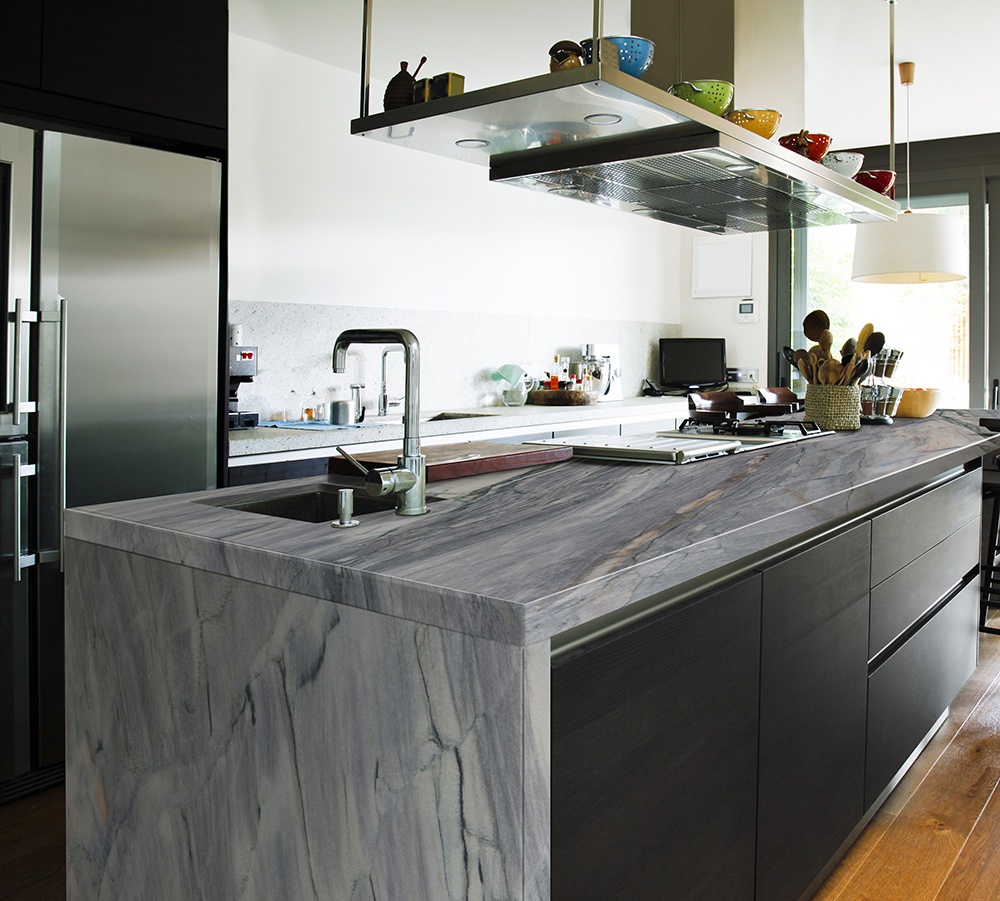 Azul Imperiale Quartzite
One option for transforming your kitchen with quartzite is by incorporating our stunning Azul Imperiale countertops in your space, where calming blue tones merge with delicate white and gold veins to add a unique linear flow. This durable natural stone elevates your design to new heights, whether for countertops, floors, accent walls, or backsplashes.
And compared to its competitors, maintenance is a breeze with a quartzite surface. Although it requires periodic sealing to protect against staining and ensure longevity, it generally demands less upkeep than many other natural stones. Quartzite is a stellar choice if you seek a countertop that combines beauty and brawn.
Granite: Nature's Artistry Meets Resilience
Granite, an igneous rock, boasts distinctive grain patterns and is available in various colors and textures. It is created from cooled magma and consists of a mix of quartz, feldspar, and mica, which makes it highly durable.
Like its metamorphic counterpart, granite countertops can withstand the rigors of daily kitchen life. It can resist heat, scratches, and impact, which explains its popularity in kitchens and bathrooms. As with quartzite, periodic sealing is all you need to maintain granite's stunning appearance.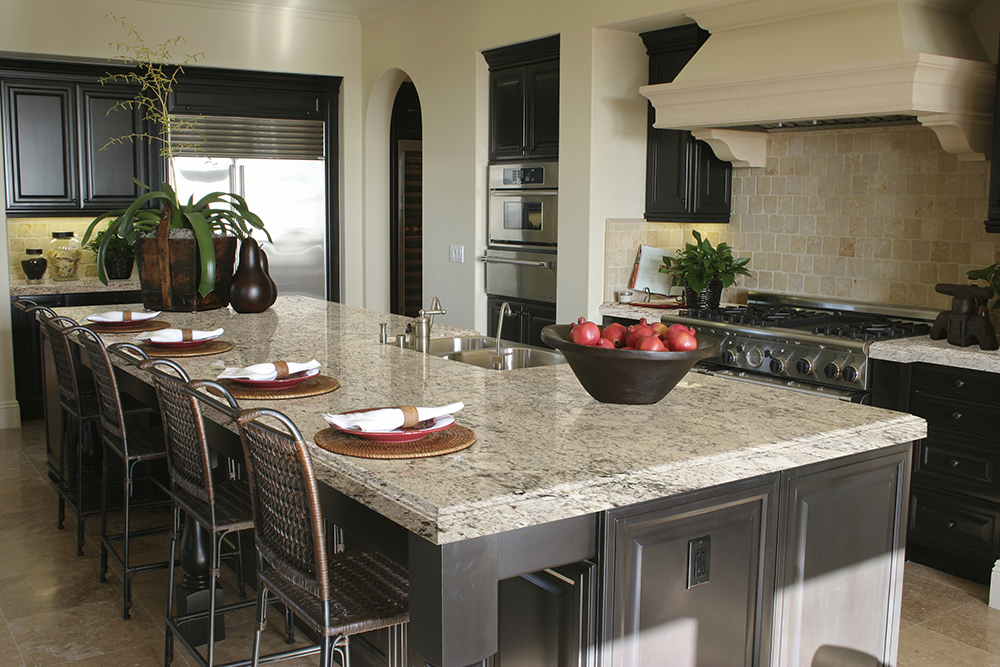 Snowfall Granite
With its pure white expanse embellished by ebony, charcoal accents, and tawny wisps, Snowfall Granite will surely add allure to your kitchen. This Brazilian polished stone is available in 2 cm and 3 cm slabs. It is a mesmerizing choice for granite countertops, flooring, walls, and backsplashes.
Granite's versatility is one of its most attractive features. You'll find it equally at home on kitchen islands as on outdoor surfaces. Consider granite if you're looking for a stone countertop that fuses ageless sophistication with durability.
Marble: Timeless Elegance with a Delicate Touch
For those who gravitate towards classic luxury, marble countertops take center stage. Created by limestone recrystallizing, marble is mainly composed of calcite or dolomite minerals. Marble countertops are renowned for their opulence and are characterized by veining and soft, muted hues.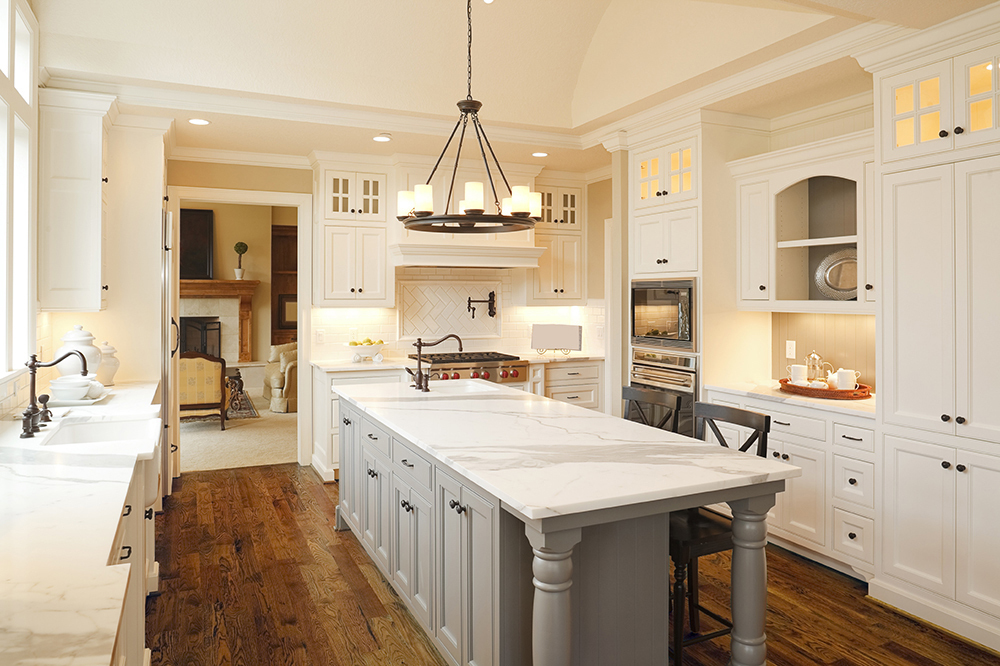 Calacatta Gold Marble
Use Calacatta Gold Marble countertops to elevate your kitchen with the timeless luxury of white Italian marble, gracefully adorned with gray and gold veining. Whether you prefer a honed or polished finish, this natural stone offers an exquisite choice for marble countertops. Various coordinating tiles are also available to help you craft a seamless design.
While marble is undoubtedly captivating, it treads more lightly in the durability department. It's softer than quartzite and granite, rendering it more susceptible to scratches, etching from acidic substances, and impact damage. As such, it finds a more suitable niche in spaces with lower traffic where it can be better preserved.
Maintaining the grace of marble requires more attention. Regular sealing and careful cleaning are essential to avoid damage. However, the extra effort is often worth it, as marble's luxurious appearance is hard to match.
Choosing Your Ideal Countertop Material
Your countertops should align with your personal preferences and practical needs. When deciding between quartzite, granite, and marble, consider which factors are most important to you and let your countertops become the centerpiece of your dream kitchen.
Quartzite marries aesthetics with strength and excels in busy kitchens. Meanwhile, granite offers classic beauty and robustness, fitting seamlessly into various design schemes. Finally, marble exudes elegance and sophistication but requires a gentler touch, making it most suitable in areas with lower foot traffic.
At MSI, we're here to assist you in finding the best countertop material for your next kitchen remodel. Chat with us online, visit an MSI showroom, or contact an MSI authorized dealer to find your perfect countertop today.