Is Porcelain The Best Tile For Shower Floors And Walls?
January 14, 2022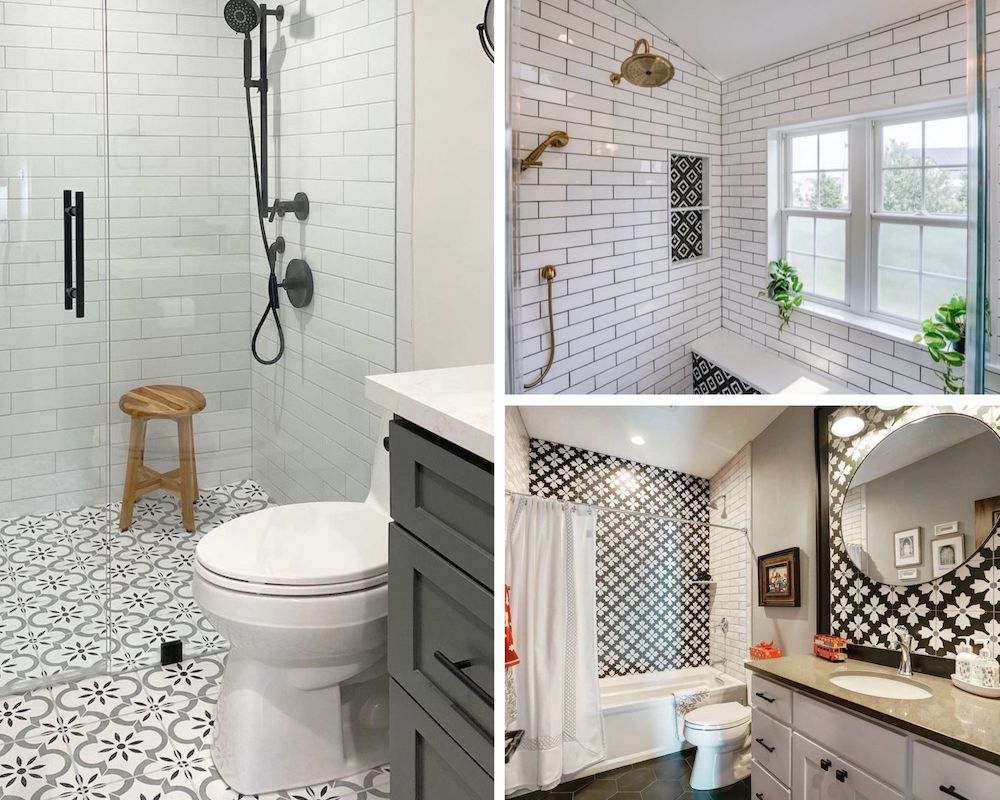 Porcelain tile has intrigued people for many years. Who can blame them? Its allure is in its impressive physical components as well as its aesthetics. After all, doesn't that authentic brick look porcelain tile take your breath away when you walk into a room? Known to be durable, reliable, and with a 0.5% absorption rate, porcelain tile is an optimal pick for any floor.
Porcelain for shower floors and walls?
In this article, we're going to explore the benefits of using porcelain in shower floors and walls and highlight some of MSI's top showers with porcelain tile. Any home renovator will be aware of the tile and stone flooring options as well as their plusses and minuses, but let's focus on porcelain and how it can be used in one of the most important places in your house!
First off, it's important to differentiate between porcelain and clay tiling. The porcelain vs. ceramic tile debate is common for many exploring these as flooring possibilities and it's useful not consider them the same thing. Both tiles are actually clay-based and kiln-fired, but porcelain is actually a specialized type of ceramic. The clay used to make porcelain have a higher density.
In terms of appearance, porcelain has the same color throughout the material, which you can tell if it gets chipped or broken. Ceramic tile, on the other hand, has a glazed surface coloring that reveals a different color inside when you split in two. The finish on porcelain is smoother, which may affect the mood it gives off in a room, depending on where it's located. Ceramic also isn't as dense as porcelain.
Second, let's talk about the benefits of porcelain for your shower floor or wall. Naturally, this is a favorite pick for home buyers and renovators alike—but have you ever stopped to wonder why? Porcelain tile is water-resistant, which makes it ideal for areas exposed to lots of water—AKA, your shower. As we mentioned before, its absorption rate is just 0.5% or lower, making it less impervious to liquids. Since water is a major factor to consider, this is often a very practical reason for wanting it in a place like your shower.
Additionally, porcelain tiles are highly durable because it's made of such dense material and with its ability to keep water out, it's resistant to heavy impact and other stresses. (In case you haven't noticed, this is also why porcelain is often used in commercial locations with high foot traffic!)
Nowadays, you can find porcelain tile in many different styles, which makes it a fun tile with which to decorate. Thanks to the current market, you can easily locate porcelain that mimics hardwood, slate, granite, and even marble. The color options are plentiful and diverse and you can select the "glazed" or "unglazed" look. Basically, you can make your shower look like whatever you prefer with porcelain tile with the reassurance it won't need to be replaced year after year due to wear and tear. What's not to love about tile flooring that is durable, gorgeous to look at and will last years and years?
Now that we're aware of the benefits, let's take a look at some of MSI's top 5 shower designs for inspiration. After all, nothing gets the aesthetic wheels turning than being able to glance at stellar examples. Who knows? Maybe you'll find the perfect shower option for your home or apartment or get further ideas on how you can transform your shower décor.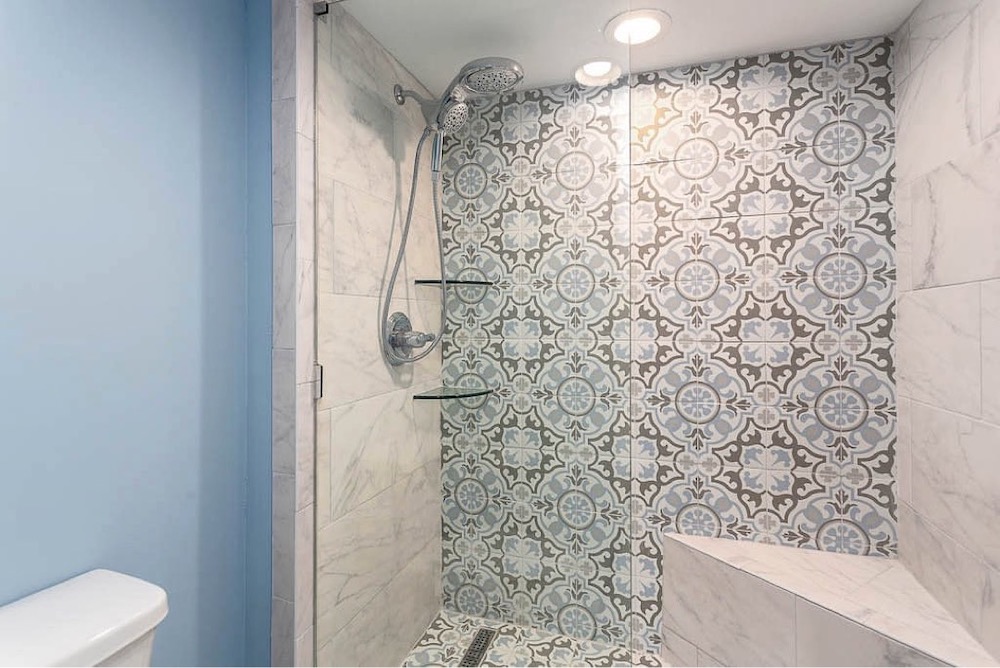 Photo Credit: @seasideshomesvcs on Instagram
This Blume PorcelainTile is part of the Kenzzi Collection and gracefully combines neutral brown and creams in a striking pattern. Each design reveals authenticity and intricate detail, as if hand painted individually. The subdued coloring makes this a top pick for any shower wall or floor. Can you just imagine the compliments overnight guests would give after enjoying a relaxing hot shower with Blume Porcelain Tile front and center?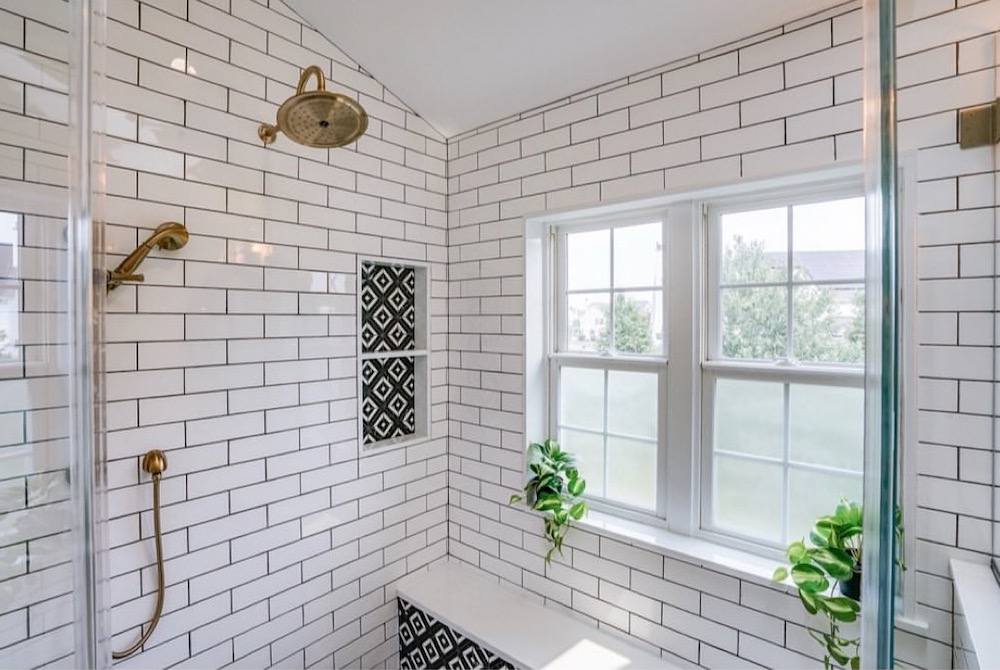 Photo Credit: @carrhomeimprovements on Instagram
Our Retro Brick Bianco White Subway Tile is a classic, durable porcelain ideal for any shower flooring or wall. Enjoy pairing a rustic-looking showerhead with this outstanding design. Simple, alluring, and straightforward—you can see why this is a big hit!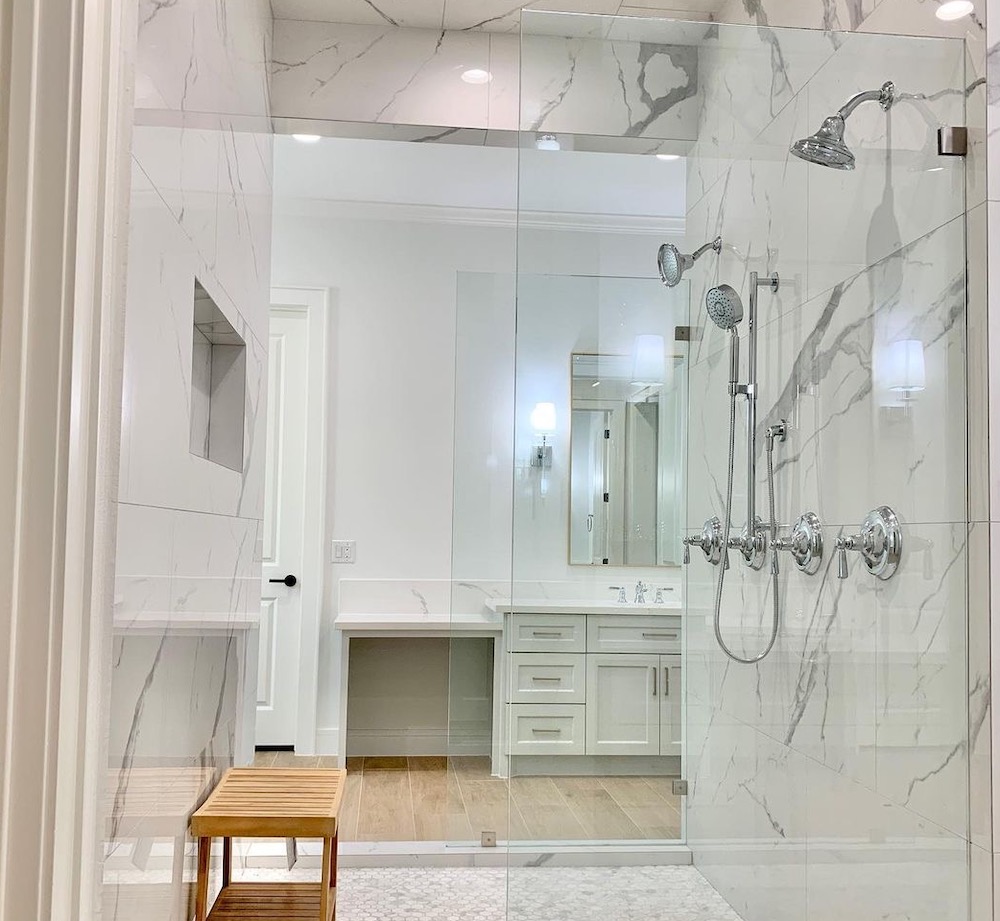 Photo Credit: @kaviahomes on Instagram
This Eden Statuary Porcelain Tile features the look of natural stone that's durable, easy-to-clean and low-maintenance. You can get lost in the swirling design, which make it pair well with darker colors in your bathroom. Doesn't it look great next to the traditional tub? This pattern would bring a smile to anyone's face in the morning!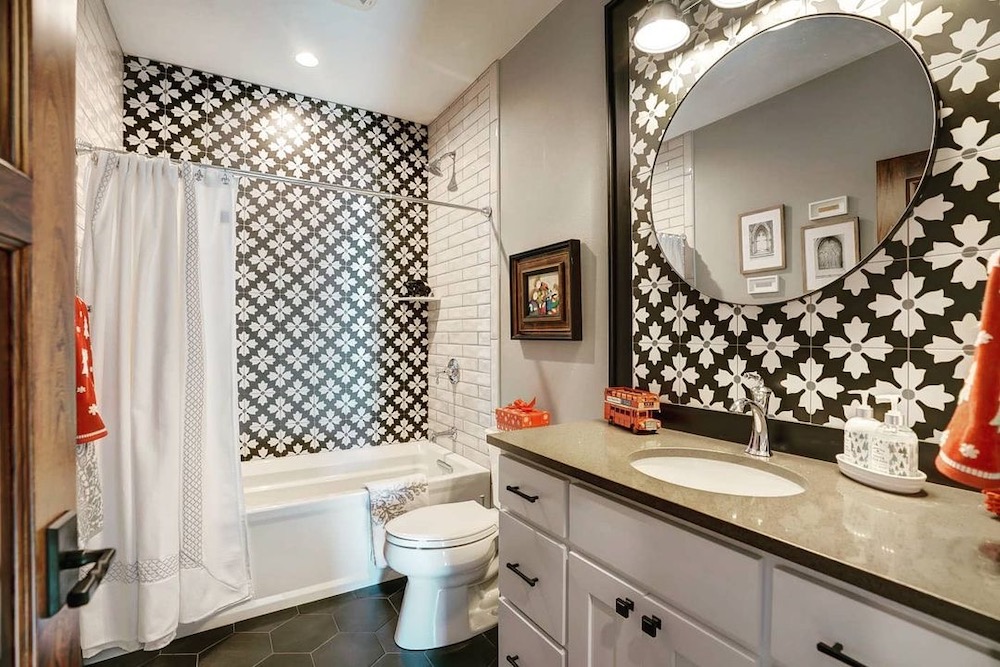 Photo credit: @design_studio_584 on Instagram
Let's take a moment to marvel at the phenomenal Kasbah Porcelain Tile design. With a black background accented by a stunning bold white floral print, this pattern anchors any room with sophistication and grace. This pairs well with a variety of shower curtains, too, making it an optimal pick for your next bathroom renovation.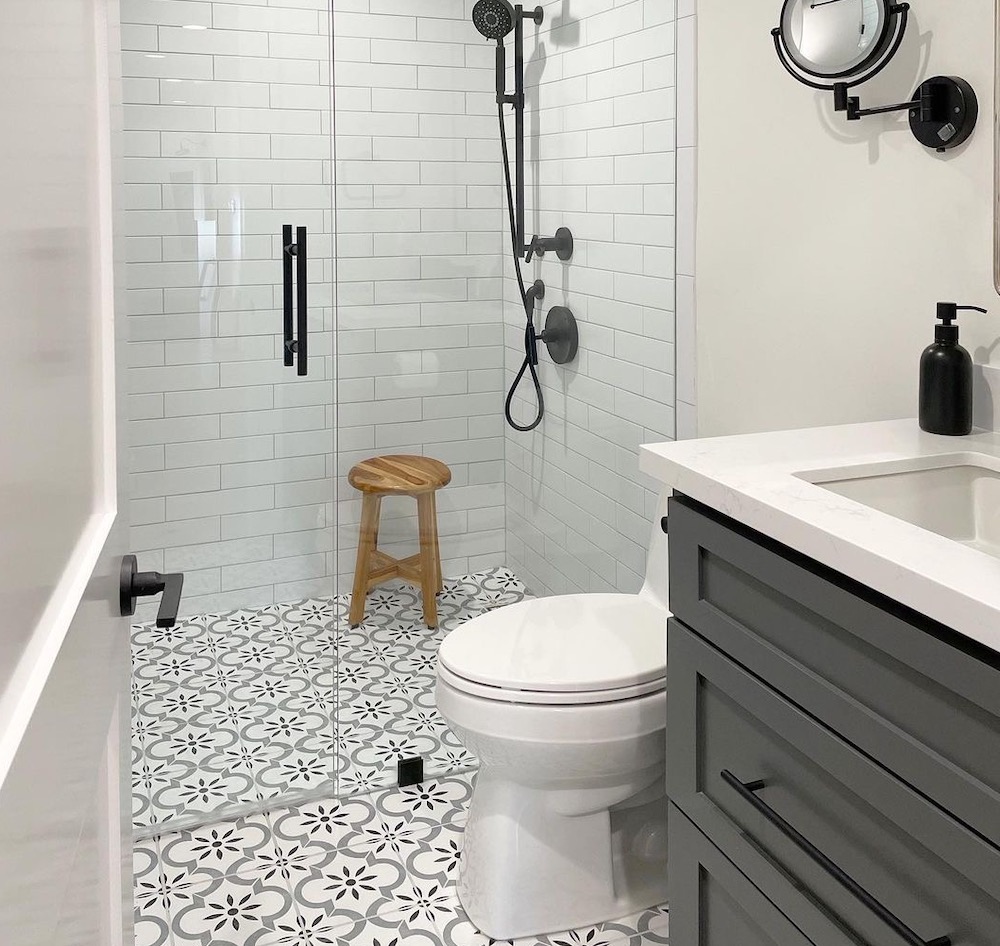 Photo credit: @nathalie_interiors on Instagram
And finally, we can't conclude without highlighting Azila Porcelain Tile. Part of the Kenzzi Collection, this features a white background accented with floral black and gray patterns that's as playful as it is stunning. Contemporary and versatile, this would be an exciting addition to your shower floor or wall. Can't you just picture it?
Clearly when it comes to porcelain, you have many options out there—which is important to remember since preferences on bathroom décor differ from person to person. Thankfully, porcelain tile with all of its advantages—its durability, low absorption, versatility in look and feel—continues to be a viable choice.
After all, who doesn't want the best design elements for a shower? Next to your bed, you spend a lot of time in a shower; naturally, you want your tile and wall flooring to be the best they can be. Porcelain is a number one pick because of its benefits, but also its design variety. Explore more options for your shower floor or wall and expand your horizons on what you initially thought was possible.
Porcelain is a practical—and profound—addition to any shower in any home. Are you ready to find the perfect porcelain tile for your upcoming shower remodel? Chat with our experienced team at MSI online, or find an authorized MSI dealer near you to visit a showroom in person.
READ MORE ABOUT THE BENEFITS OF PORCELAIN TILE
Introducing Bold New Porcelain Tile Pattern Looks
Introducing Our New Porcelain Floor Tile Collections
Luxury Vinyl Tile Vs. Porcelain Tile