What Is The Difference Between LVP And LVT Flooring?
July 08, 2020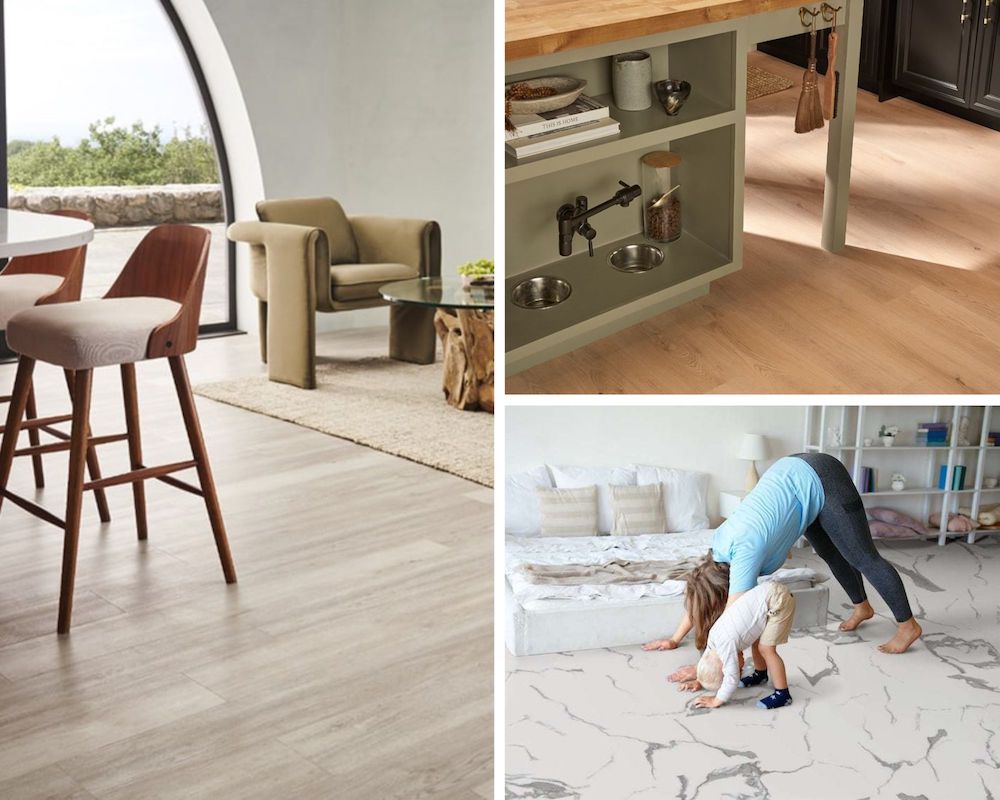 With so many hard and soft flooring options available, it's important to select the right one for your home as well as your family's lifestyle needs. It's no surprise that Luxury Vinyl Flooring has become one of the most sought-after flooring choices by homeowners. That's because it offers realistic wood and stone looks, durability, and low maintenance.
Luxury vinyl plank flooring (LVP) and luxury vinyl tile (LVT) are both excellent options for a remodel or new build. While they may be used interchangeably within the flooring industry, there's more to it than one being a wood-look plank and one being a stone-look tile. They both offer a lot of the same benefits, yet, they do come with some differences that need to be considered before installing. But one thing is clear: LVP and LVT are not at all the same as vinyl sheet flooring. In this guide, we'll break down the similarities and differences of these popular vinyl flooring types.
LVP vs. LVT
LVP comes in a plank shape and often offers the look of real hardwood with realistic scraping or embossing. LVT comes in the traditional tile squares, features more stone and concrete looks, includes surface texture for a lifelike look, and can even be installed with grout. However, even though some think of them as plank versus tile, in actuality, many flooring companies consider LVP to be vinyl tile flooring in plank form. That may be because they are manufactured the exact same way.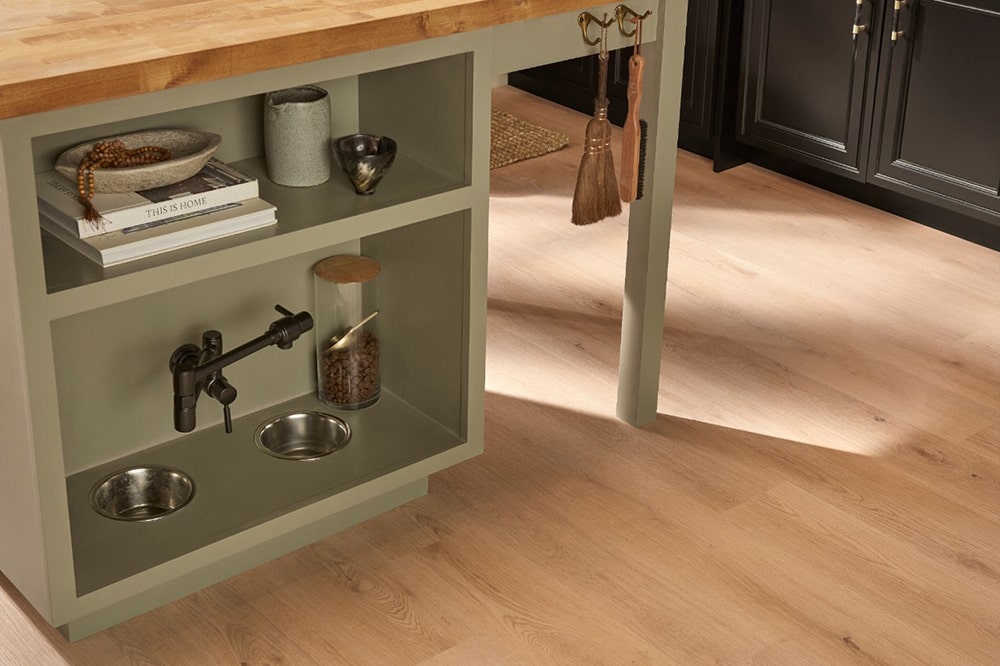 Runmill Isle Luxury Vinyl Planks
LVP and LVT are both constructed of several layers. Whether a plank or tile, it consists of a durable wear layer, a designed print film, a PVC core, and an optional attached backing for added comfort and quietness underfoot. They're available in different overall thicknesses and wear layer thickness for extra protection.
Although some think of the design options for LVP and LVT as wood versus stone, luxury vinyl imaging can come in so much more, including ceramic tile, bamboo, fabric, art, or even animal print looks. The printed picture choices really are endless, especially with advancements in technology, and the ability to implement different patterns can also change the flooring look, from herringbone planks to mixing different color square tiles for a varied style.
Similarities of LVP and LVT
Both luxury vinyl flooring types are affordable alternatives to the high prices of real hardwood and stone, as they cost just a fraction of their natural counterparts. They even come in similar colors, patterns or grains, and textures as the real thing. Besides product cost, these durable flooring options are easy to install, so whether you're a first time DIY-er or a pro, you'll reap additional cost-savings by installing it yourself.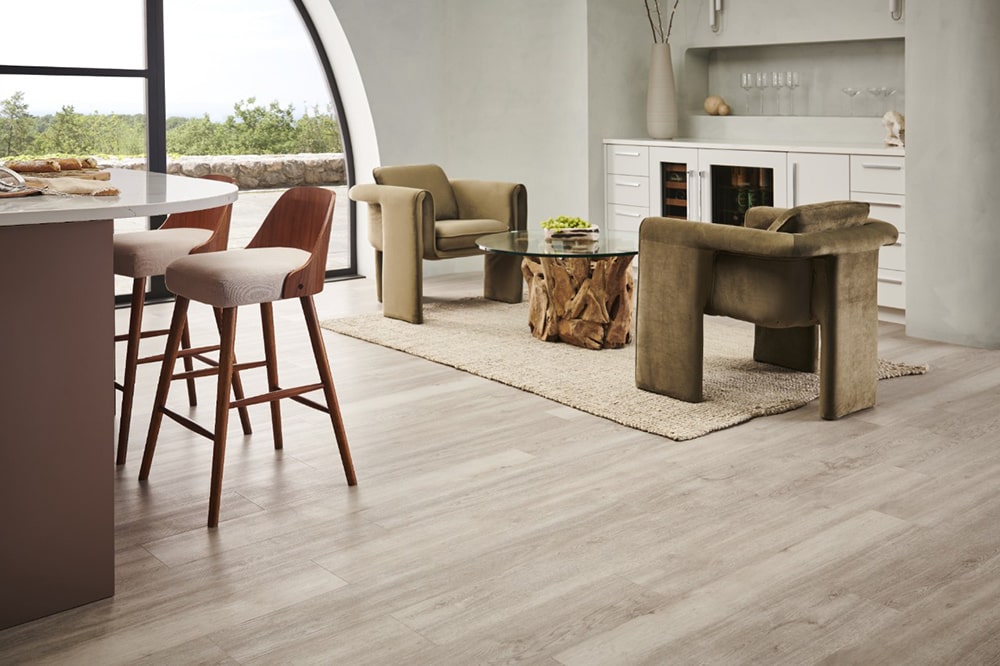 Brianka Luxury Vinyl Planks
There are several other luxury vinyl plank and luxury vinyl tile benefits to take advantage of. For instance, if you have a busy household with messy kids or pets, then you can rest easy knowing that your new floors will hold up well over time. LVT is softer than hard stone or tile, which is easier on kids, and many luxury vinyl products come with features like scratch resistance and water resistance, which is perfect for your fur babies' nails, pet accidents, and spills by active toddlers. Plus, depending on the type, you can also install luxury vinyl in bathrooms, kitchens, laundry rooms, and basements, whereas you wouldn't want to add real hardwood in these water- and moisture-prone spaces.
One of the best benefits to LVP and LVT is the simple vinyl flooring care and maintenance. It's best to regularly maintain your new floors with light cleaning. To keep debris off the floors, sweep your vinyl daily or use a vacuum without a beater bar or power rotary brush head so that you avoid damaging the floors. If you need to occasionally do wet cleaning, then use a damp mop with just a small amount of warm water. If spills occur, like with any surface, it's best to clean them up quickly. If a tile does get damaged from scratches or moisture, then it should be replaced individually.
Differences of LVT and LVP
One of the major differences is the type of product and the vinyl flooring installation methods that follow. LVP and LVT comes in either floating-click vinyl, where the planks or tiles click together and float over the subfloor, or glue-down flooring, where the product is glued or taped directly onto the subfloor. The most important takeaway from these two types is that glue-down LVP or LVT may not be waterproof like the floating-click products, which can be easily removed if water damage does occur. That's because the additional chemicals used in the adhesive may not be waterproof, so it's important to check with the manufacturer.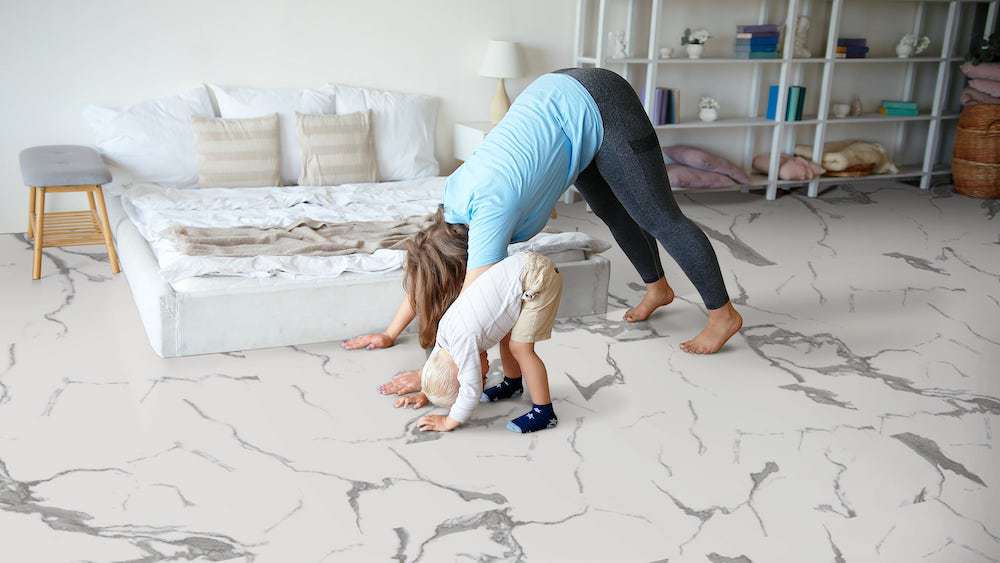 Calacatta Marbello Luxury Vinyl Tile
Glue-down luxury vinyl is better suited for larger installations and high-traffic areas since it provides more durability, especially when there's rolling traffic. This type of vinyl flooring is also harder to install on your own, so you should account for extra labor costs if you decide to hire a professional unless you have experience installing glue-down vinyl. However, the product is typically more cost-effective per square foot than floating-click vinyl planks or tiles, so that may make up for some of the added labor costs.
Add LVP or LVT to Your Next Project
If a hard surface is the right flooring choice for your next project, then consider placing LVP or LVT at the top of the list. You really can't go wrong with either luxury vinyl choice because of its beautiful design options, moisture resistance, and easy care.
Luxury vinyl planks and luxury vinyl tiles provide less worry about lots of little messes, the aftermath of heavy foot traffic, or rambunctious pets. Not only will they instantly update your home for a fraction of the cost of real hardwood or stone, but also when properly maintained, the versatile floors will last for many years to come. Whether you choose to update one room or an entire floor, your space will be instantly revitalized by luxury vinyl.
For more help in deciding between luxury vinyl plank and vinyl tile flooring, please use our chat feature to talk with our experienced MSI team member, or find an authorized MSI dealer near you to visit a showroom in person.
More on luxury vinyl tile
Is Luxury Vinyl Tile Better Than Laminate?
Does Luxury Vinyl Tile Look Cheap?
Signature Wood Look Luxury Vinyl Flooring Without the Worry
Is Luxury Vinyl Flooring in The Bathroom A Good Idea?