Popular
Affordable Updates Give Your Kitchen New Life
May 02, 2015
Without a doubt, a complete kitchen re-do can be expensive – costing nearly as much as a new car or a year's tuition at a private college. According to the 2014 Remodeling Cost vs. Value Report, the average price to remodel your kitchen can range from $40K to $55K.
However, there are several budget-friendly – yet stylish – ways to upgrade your kitchen with quartz, porcelain, mosaics, and natural stone. Here's how you can get the most bang for your buck.
Make a Splash
With so many tile colors, textures and designs, you can make a real statement throughout the kitchen. Or maybe you simply want to highlight specific regions such as the range, sink or prep area. Bright marble, shimmering stone or contrasting neutral tiles make a statement without having to change your cabinets or countertops.
Take a look at all the types of tiles available and let your imagination run wild. Play around with colorful combinations of natural stone, glass, and metal. Then take a look at all the ways you can mix and match patterns and textures to create a unique backsplash that will make your.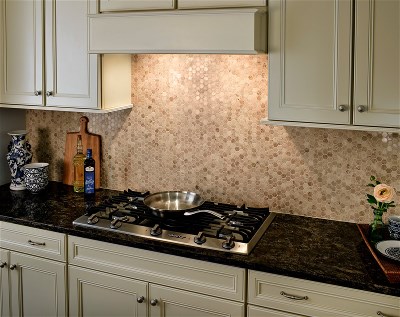 Featured: Emperador Light 1" Hexagon Marble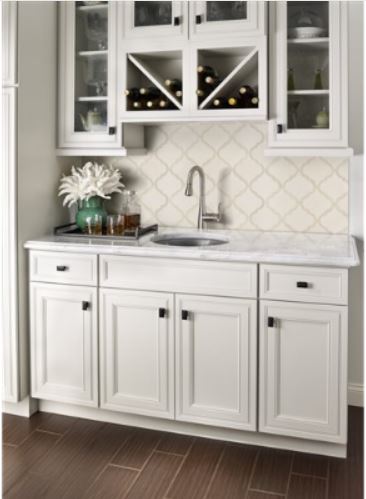 Featured: Whisper White Arabesque
An easy way to transform your kitchen is with a couple of cans of paint. Whether you want to go bold with primary colors or stay neutral, your choice of palette can complement your cabinets, backsplash and countertops or help them stand out with contrast. In a classic kitchen, offsetting white cabinetry with a wall of color combined with a herringbone-patterned backsplash or a quartzite countertop can create a cool, sophisticated kitchen with a pop.
Step Up Your Cabinets and Appliances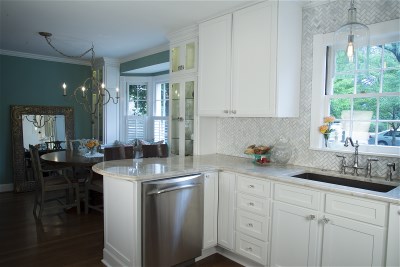 Featured: Arabescato Carrara Herringbone Backsplash & Madreperola Quartzite Countertop
If your kitchen cabinets look a bit tired, you can inexpensively update them with paint, new hardware or even crown moldings at the top. Many companies will reface your cabinets for less than it would cost to completely replace them.
Also, look for opportunities to purchase "scratch and dent" appliances or cabinets from big box store outlets and other retailers. You can realize some significant savings on pieces that have only minor – and even invisible -- flaws. Of course, carefully inspect any appliance or cabinet before you buy. Then, take the money you've saved and consider a mosaic backsplash to add real punch and dimension to your kitchen.
Don't Forget the Floor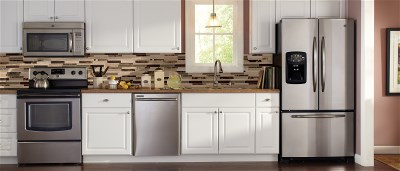 Featured: Stonegate Interlocking Mosaic
Love the look of real wood but dislike the upkeep? It's now easy to create the look of hardwood flooring, without the fuss, by installing easy care wood-look porcelain tiles. Your choices come in everything from maple to redwood to match any design scheme. The tiles can add continuity from the dining room or great room while being less expensive and virtually maintenance free. Simply sweep, mop and you're done!
Consider Quartz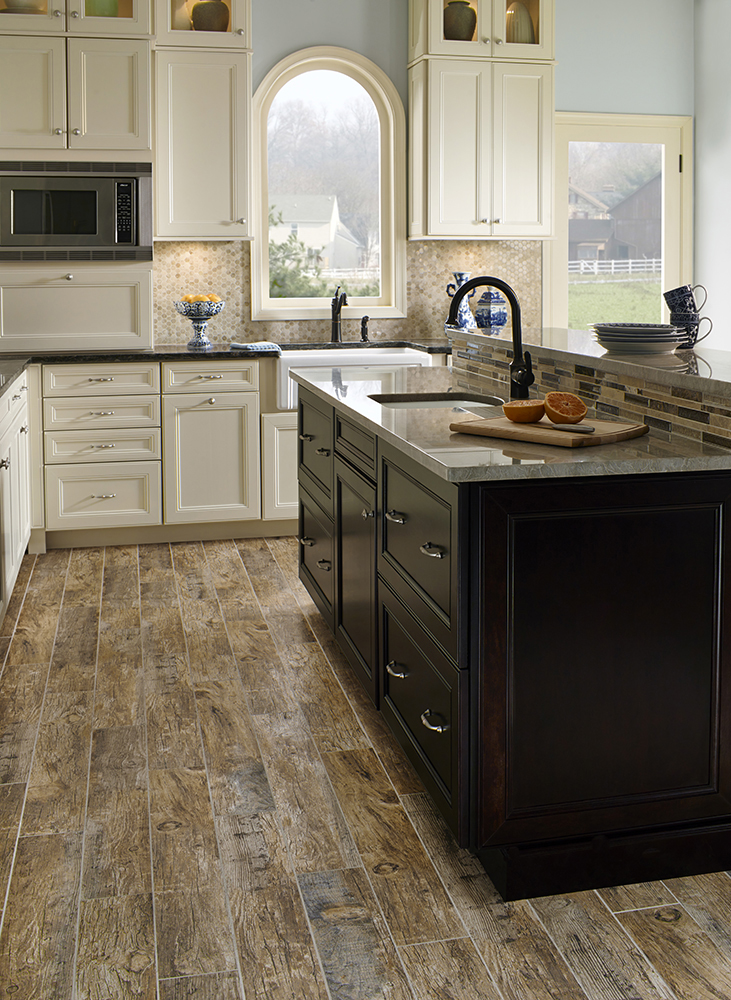 Featured: Redwood Natural
It's durable, long-lasting and a beautiful addition to any kitchen. Even better, with its refined engineering, you can ensure that the slab meets your color, texture and pattern specifications. Quartz can also be a budget-friendly alternative to natural stone. It is often more affordable and comes in a variety of looks that mimic marble, granite and even limestone to easily match any décor. Quartz is also hygienic, non-porous, requires little maintenance, and is guaranteed to look gorgeous for many, many years.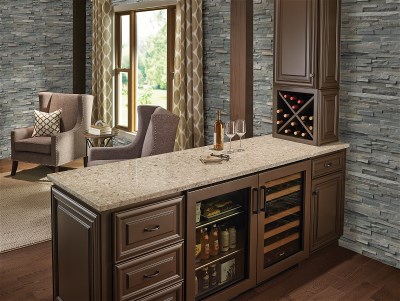 Featured: Chakra Beige Quartz
With just a few simple, inexpensive changes, you can transform your kitchen from a dated space to an extraordinary cooking and eating experience. Take a look at what we have to offer by visiting our website for everything to help make your kitchen dreams a reality.