Tips For Matching Your Backsplash Tile With Your Countertop
July 09, 2018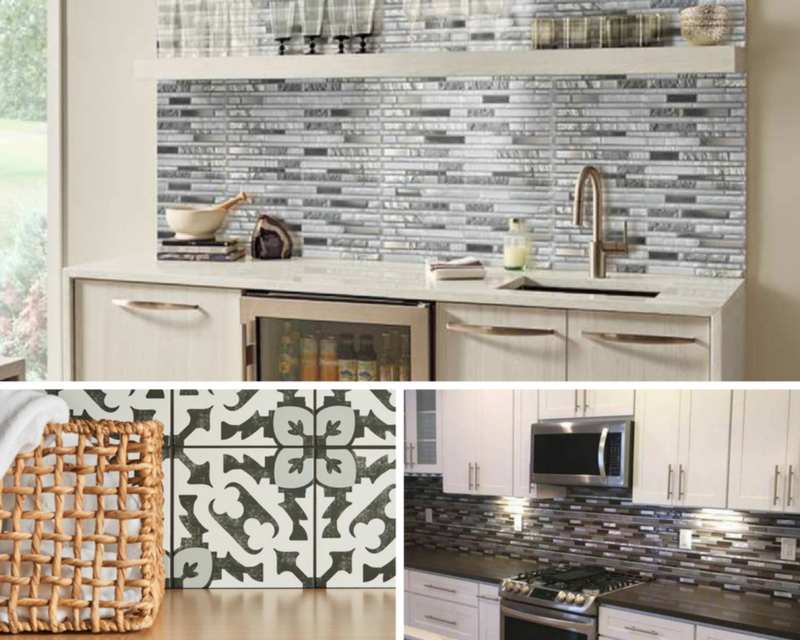 Whether you prefer a traditional look or something bold and creative, matching your backsplash tile with your countertop can sometimes be a challenge. Perhaps what makes it so difficult is the incredible variety of backsplash tile available for the job.
While there aren't any rules for matching these decorative elements, we're offering a few tips to help you pick the perfect backsplash tile — along with some gorgeous examples to get your creativity flowing.
Brina Kenzzi Porcelain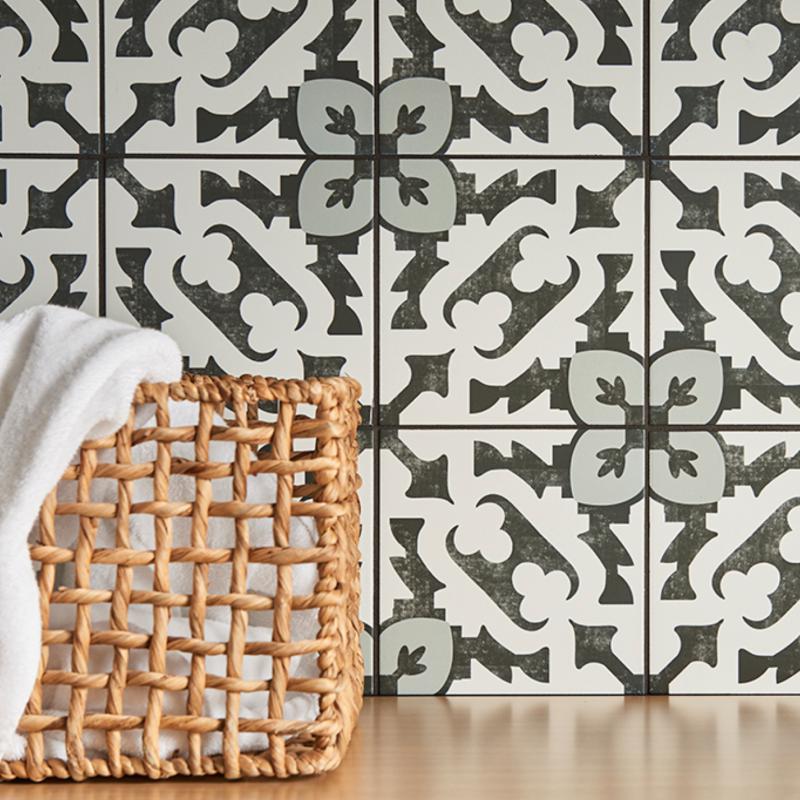 Featured: Brina Kenzzi Porcelain
Your countertop and backsplash tile doesn't need to match in the traditional sense to look great together. Brina porcelain tiles are 8" by 8" and fit together to form a bold interlocking pattern in white, black, and gray. When you pair them with a low-contrast beige counter, it creates a lively designer look.
Another reason to choose Brina, or a similar product, is that porcelain tiles need virtually no maintenance. In fact, this particular tile is durable enough to use on the floor, so you know it can handle your backsplash with ease.
Madison Avenue Interlocking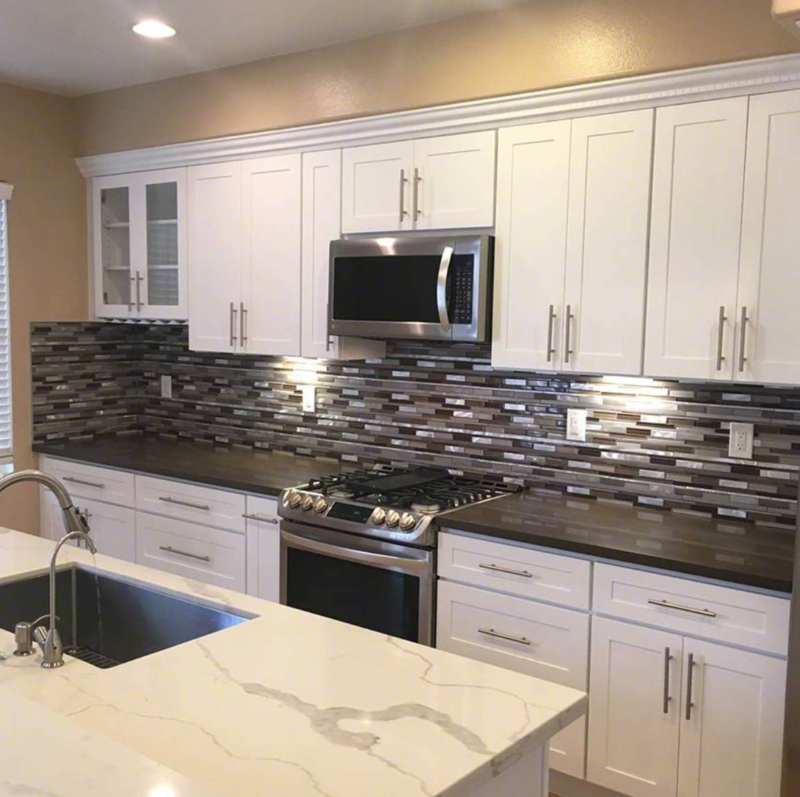 Featured: Madison Avenue Interlocking Mosaic
Choosing a backsplash when you are already using more than one color countertop can seem even trickier. However, don't be afraid of integrating even more color.
Experiment with a multi-tone modern tile backsplash such as Madison Avenue Interlocking, a mosaic containing a mixture of glass and metal tiles in beige and brown. It won't look too busy or gaudy if the mosaic picks up the colors in both.
Roman Beige Splitface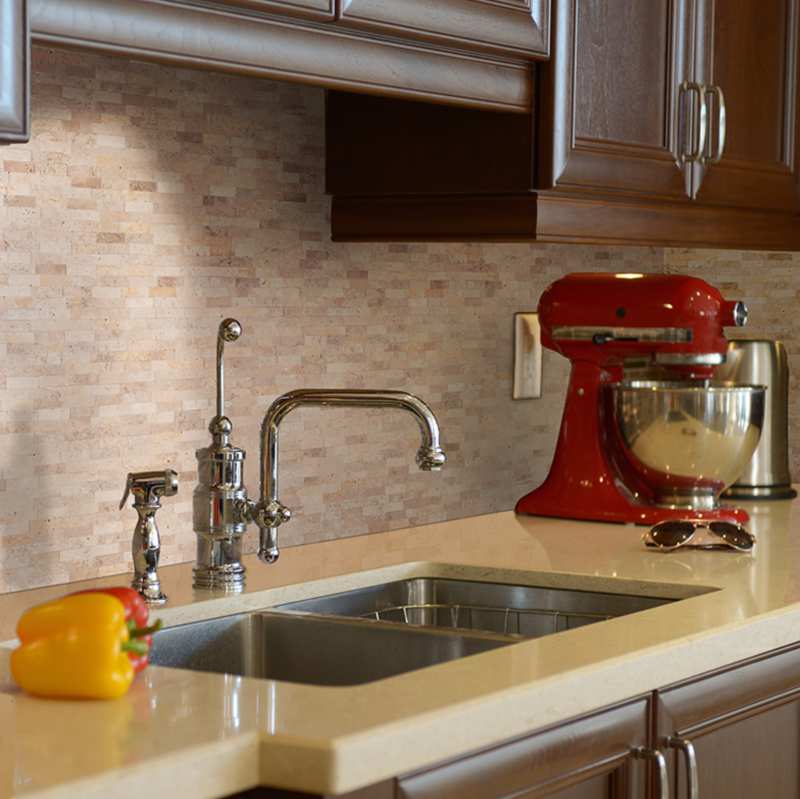 Featured: Roman Beige Splitface
A simple, foolproof look is to choose a speckled backsplash tile with color tones pulled from the countertop. They don't need to match exactly; in fact, they will look better if one is darker or lighter. Roman Beige Splitface is an easy choice for other reasons as well — it's peel-and-stick, with a self-adhesive backing that installs in a flash. However, it's real natural travertine, not a cheap lookalike.
Ice Interlocking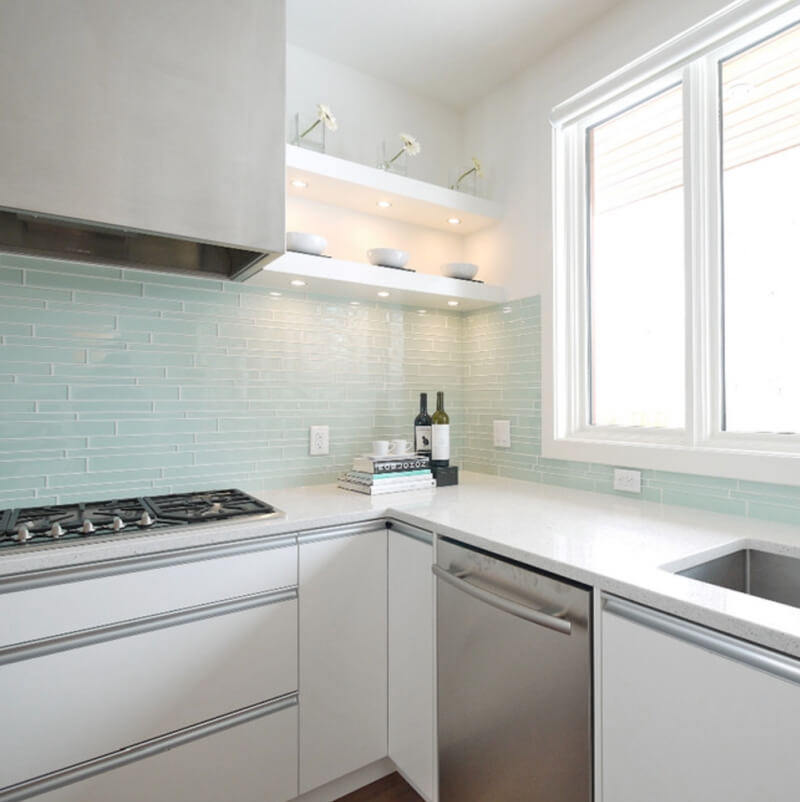 Create a similar look with MSI's Ice Interlocking Mosaic (Photo Credit: Houzz)
If minimalism is your style, you'll appreciate matching two subtle, muted colors that harmonize beautifully. Ice Interlocking is a clear, crystalline glass mosaic that offers texture and a three-dimensional gleam. It does not contrast with this simple white countertop but enhances it.
Adara Interlocking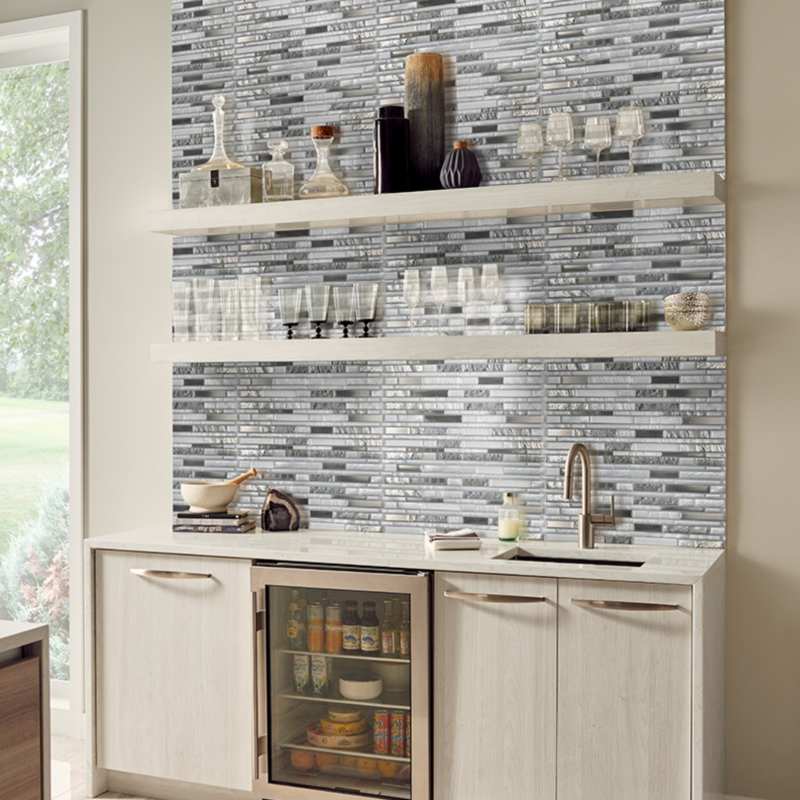 Featured: Adara Interlocking Mosaic
You can't go wrong with a metallic mosaic or a metallic-look glass tile combination such as silvery Adara Interlocking. The glass tiles reflect light, brightening any room and adding interest and character. Yet the shades of gray are still neutral, so this mosaic matches just about anything you want to pair it with including marble, quartz, wood, a granite countertop, and more.
There's no end to the striking combinations you can make with MSI's countertops and backsplash & wall tile. We make it easy to create a designer look that's unique to you, expressing your imagination and taste. We invite you to browse our website to see the full array of backsplash tile we offer, including porcelain, marble, glass, and mixed mosaics.
READ MORE ABOUT MSI BACKSPLASH TILE
The Modern Way To Tile Your Kitchen Backsplash
Think Outside The Box With A Metal Tile Backsplash