Breaking Down Luxury Vinyl Flooring Types, Including SPC, LVT, LVP, And Glue Down
November 14, 2023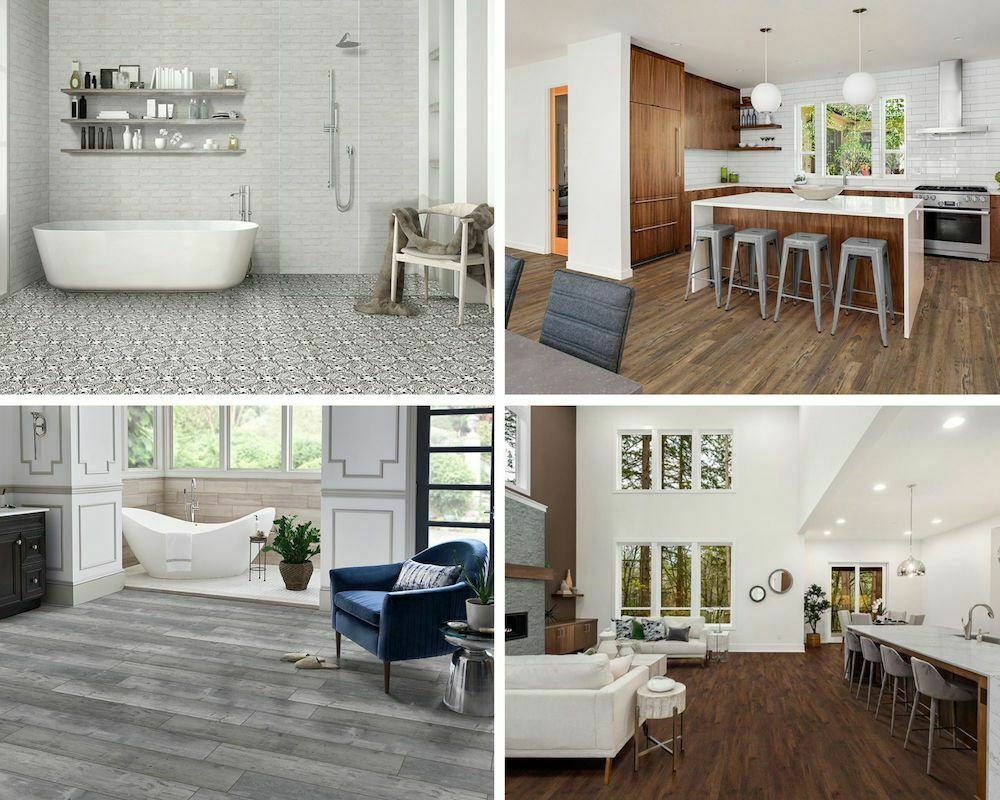 When it comes to flooring options, luxury vinyl flooring has gained immense popularity in recent years. Its versatility, durability, and affordability make it a top choice for homeowners and businesses. Within luxury vinyl flooring, there are several types to choose from, each with unique characteristics and installation methods.
Here, we'll break down our most sought-after luxury vinyl flooring types: Stone Polymer Composite (SPC), which includes our Luxury Vinyl Tile (LVT) natural stone look and Luxury Vinyl Plank (LVP) wood-look products, and our durable Dryback glue-down planks, helping you make an informed decision for your next flooring project.
SPC Flooring: A Fusion of Style and Durability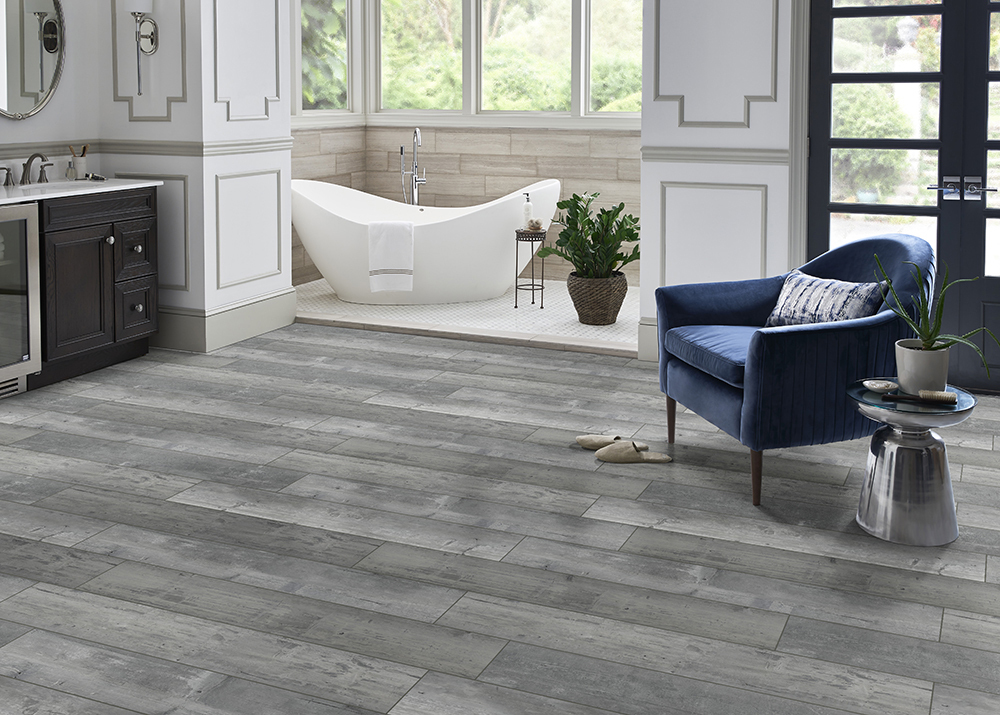 Andover Kingsdown Gray Luxury Vinyl Planks
When you're in the market for flooring that can handle heavy traffic, resist wear and tear, and stand up to the test of time, SPC flooring is an exceptional option. Its standout feature is the rigid core, which sets it apart from other luxury vinyl flooring types. MSI's LVP and LVT styles are built upon the robust SPC foundation and combine aesthetics with the resilience needed for high-traffic areas.
Here's why our SPC-based LVP and LVT rigid core products stand out:
Appearance: When it comes to luxury vinyl flooring, the visual appeal is often a deciding factor. LVT is available in tile-like planks that emulate the appearance of ceramic or stone tile flooring, offering a timeless and sophisticated aesthetic with easy upkeep. In contrast, LVP features long, slender planks that closely mimic hardwood, complete with authentic grain patterns and textures. These planks capture the natural beauty of wood, providing a warm and inviting ambiance to your space without the worry of the real thing.
Exceptional Durability: Our rigid core LVP and LVT flooring options consist of a composite blend of natural limestone and binding polymers. This combination results in a dense and stable core that is highly durable. Featuring MSI's exclusive CrystaLux™ protective layer, it can withstand the daily rigors of busy households and commercial spaces, making it a resilient flooring choice.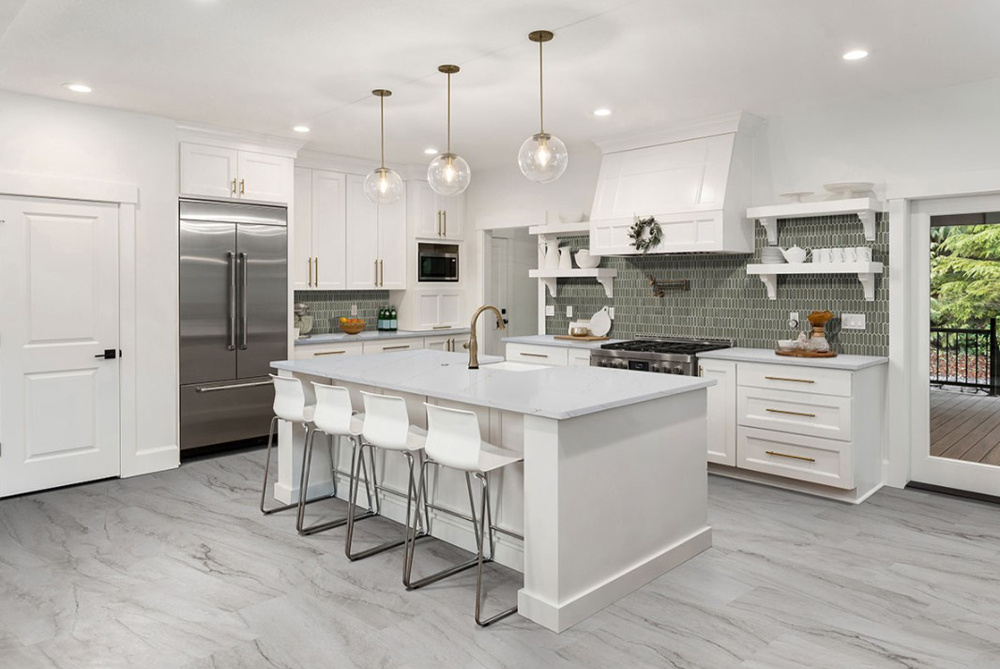 Trecento Quarzo Taj Luxury Vinyl Tile
Minimal Expansion and Contraction: Unlike some other types of flooring, SPC-based flooring has minimal expansion and contraction properties. This means that it remains dimensionally stable even in environments with fluctuating temperatures and humidity levels, reducing the risk of gaps or warping.
Easy Maintenance: One of the aspects most attractive about luxury vinyl flooring is that it is easy to clean and maintain. Regular sweeping and occasional damp mopping are usually all that's needed to keep it looking its best.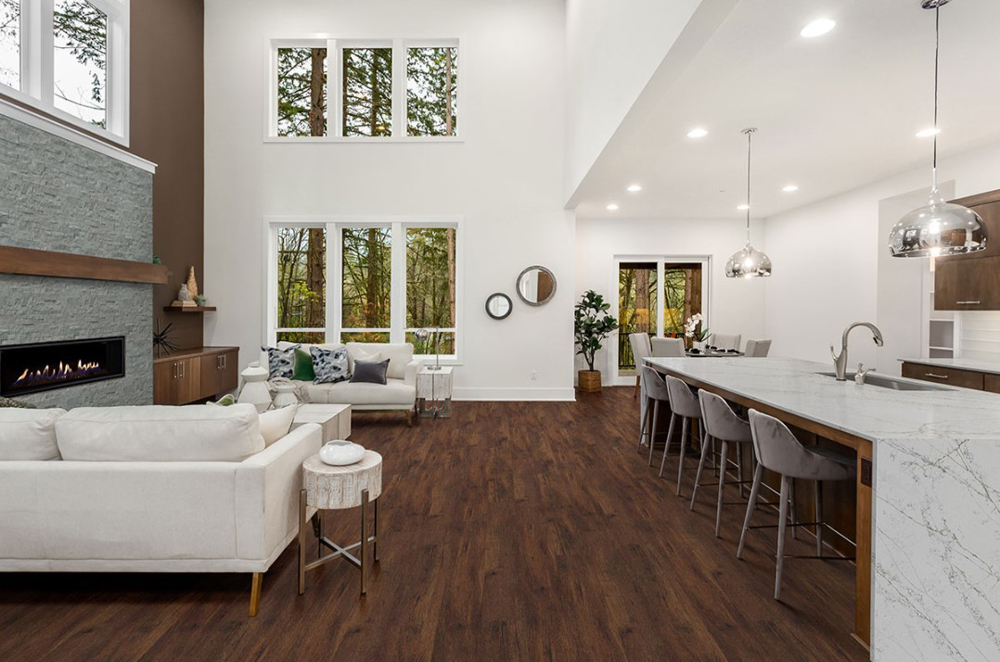 Cyrus 2.0 Braly Luxury Vinyl Planks
Sound Absorption: All of our SPC flooring options include an underlayment or attached backing that provides sound absorption properties. This helps reduce noise levels in your space, making it a quieter and more comfortable environment.
Quick and Affordable Installation: Experience the convenience of quick and affordable installation with our rigid core series of planks and tile. With its user-friendly patented interlocking system, this installation method ensures a secure and hassle-free process, not only saving you time but also ensuring a secure and seamless fit.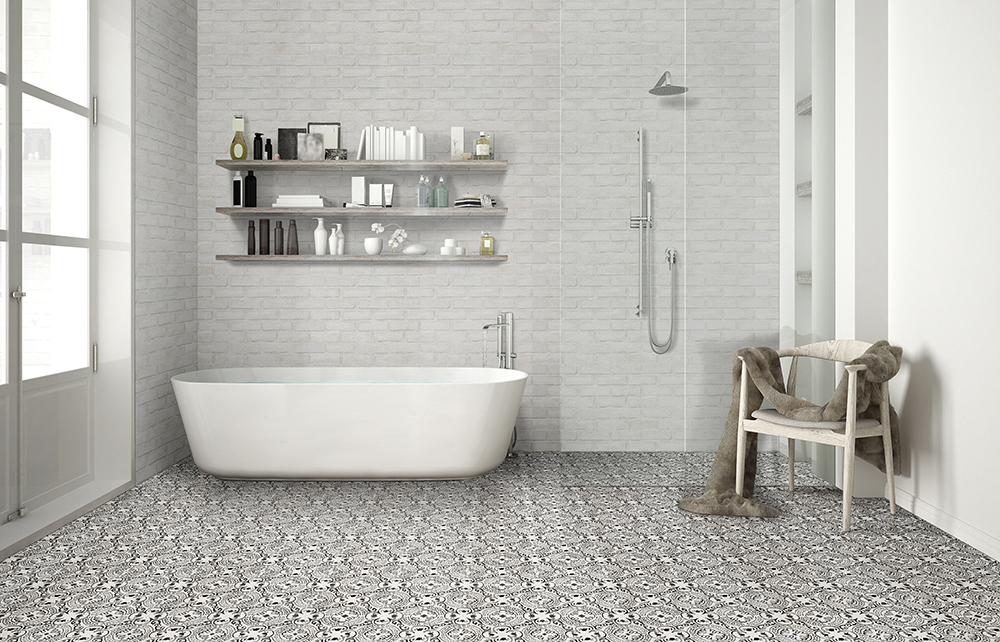 XL Trecento Kenzzi Taza Luxury Vinyl Tile
Water Resistance: Our LVP and LVT rigid core flooring is inherently waterproof, as it is a non-porous material thanks to its stone-polymer composite core. It is an excellent choice for areas prone to spills, such as kitchens, bathrooms, and basements.
Our SPC luxury vinyl planks and tile's rigid core technology is a powerhouse feature that makes it a top choice for areas where durability, stability, and resistance to wear and tear are essential. Whether you have a bustling household or a high-traffic commercial space, this remarkable flooring is up to the challenge, providing both style and substance to your flooring project.
Seamless Perfection: Glue-Down Luxury Vinyl Flooring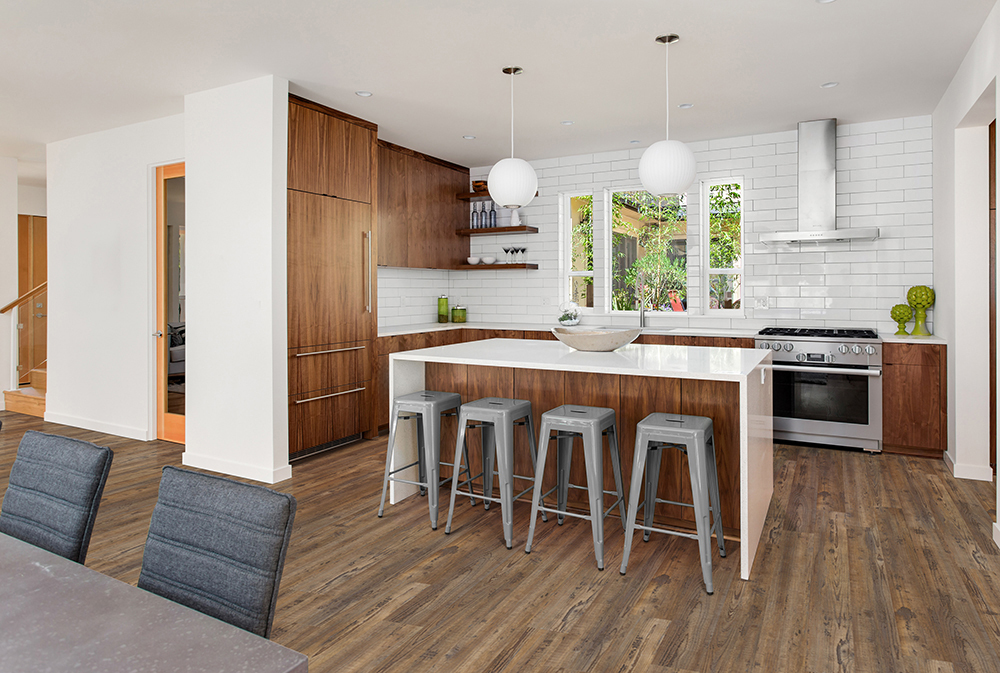 Glenridge Aged Hickory Glue-Down Luxury Vinyl Planks
Embodying tradition and reliability, glue-down luxury vinyl flooring establishes a robust connection between your flooring and subfloor. In this method, the individual planks are adhered directly to the subfloor using a specialized adhesive or glue.
Our versatile Dryback glue-down vinyl plank flooring is backed by robust warranties and boasts the safeguarding prowess of CrystaLux™, a protective wear layer that shields against daily wear and tear, including scratches, stains, and dents. Moreover, it offers a diverse spectrum of authentic hardwood appearances in versatile color palettes. Whether your project is residential or commercial, this industry-leading vinyl tile is approved for all grade levels, delivering signature wood aesthetics without the cost or concern.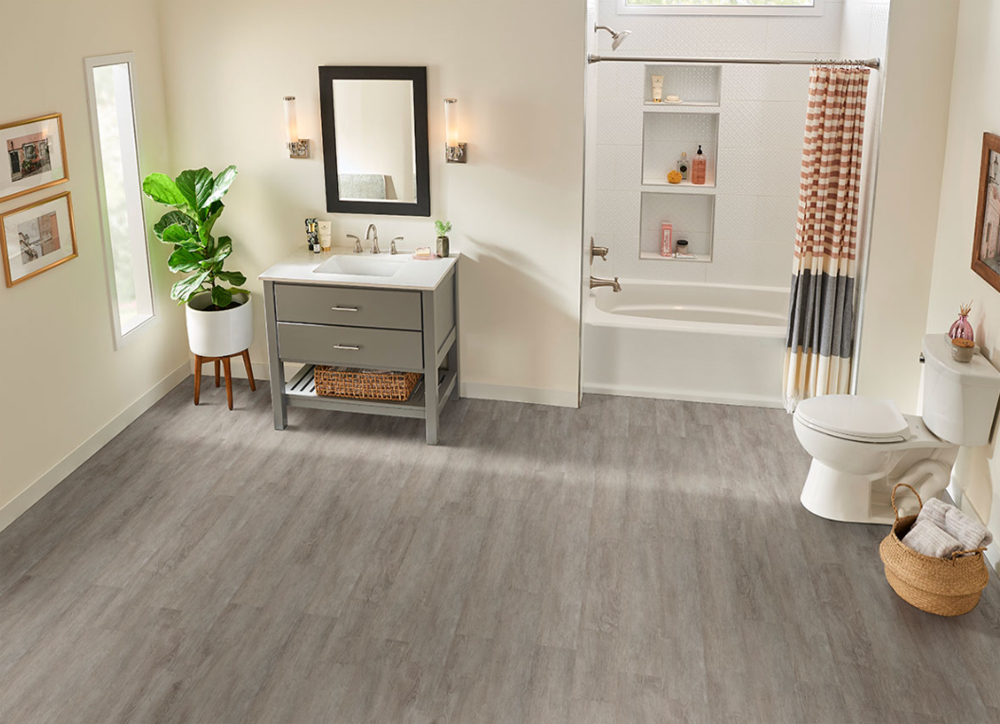 Katavia Twilight Oak Glue-Down Luxury Vinyl Planks
Here's more of what you need to know about glue-down luxury vinyl flooring:
Durability: Glue-down flooring provides excellent durability and stability. Once the adhesive sets, it forms a strong bond that can withstand heavy foot traffic and resist movement, reducing the likelihood of gaps or buckling.
Moisture Resistance: When the adhesive is applied correctly, it forms a moisture-resistant barrier between the subfloor and the flooring material, making glue-down vinyl suitable for areas prone to moisture, such as bathrooms and kitchens.
Smooth Surface: Glue-down installation results in a smooth and even surface, which can be advantageous when installing over irregular subfloors or concrete surfaces.
Reduced Noise: The adhesive layer can also contribute to sound insulation, reducing noise transmission between floors.
Professional Installation Recommended: This method often requires professional installation to ensure proper adhesive application and a flawless finish.
Which Luxury Vinyl Flooring Type Is Right for You?
The flooring industry has been transformed by luxury vinyl flooring, providing a wide range of options tailored to diverse preferences and requirements. Whether you choose SPC luxury vinyl planks, tiles, or our Dryback glue-down vinyl flooring, each variant comes with its unique advantages that can elevate the aesthetics and practicality of your space. This enables you to make a well-informed decision that aligns precisely with your needs. By making the right choice, you'll reap the benefits of luxury vinyl flooring for many years to come.
Still not sure which luxury vinyl flooring option is right for you? Chat with us online, visit an MSI showroom to view samples, or contact a local authorized MSI representative.