Current Obsessions: Best Ideas For Modern Stacked Stone Accent Walls
November 15, 2017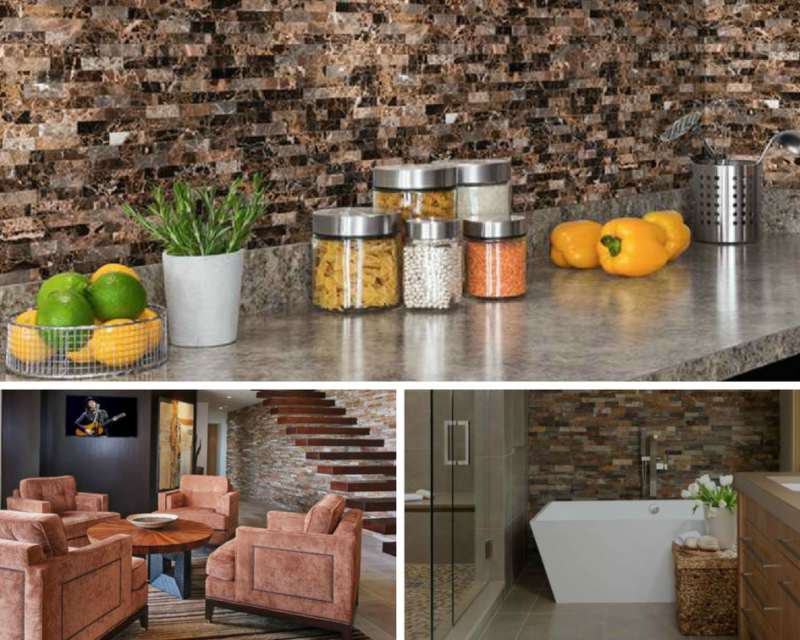 Stacked stone is a simple way for homeowners to amp up their interior design. While many use the material to add a rustic or natural element to their indoor space, these days stacked stone is also featured in many contemporary and minimalist designs. It's easy to install, and with the new self-adhesive option, this instant upgrade can be yours with no mess and no fuss. With that in mind, let's highlight some of the best ideas for featuring modern stacked stone in your design.
An Outdoor Feature Wall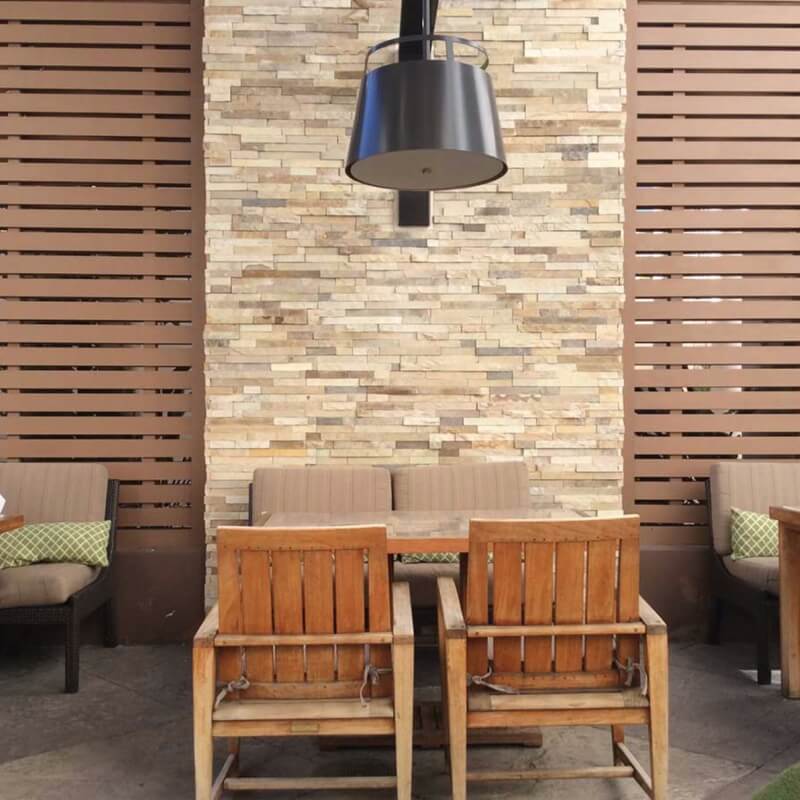 Featured: Fossil Rustic Stacked Stone
Elevate your outdoor design with a modern stacked stone feature wall. Fossil Rustic Stacked Stone is a sandstone ledger panel that comes in thin 6 x 24-inch strips. Its color palette of soothing grays, calm creams, and hints of rust are neutral, meshing with nearly any color scheme. Here, a vertical installation beautifully breaks up the horizontal slats in brown.
A Luxurious Living Space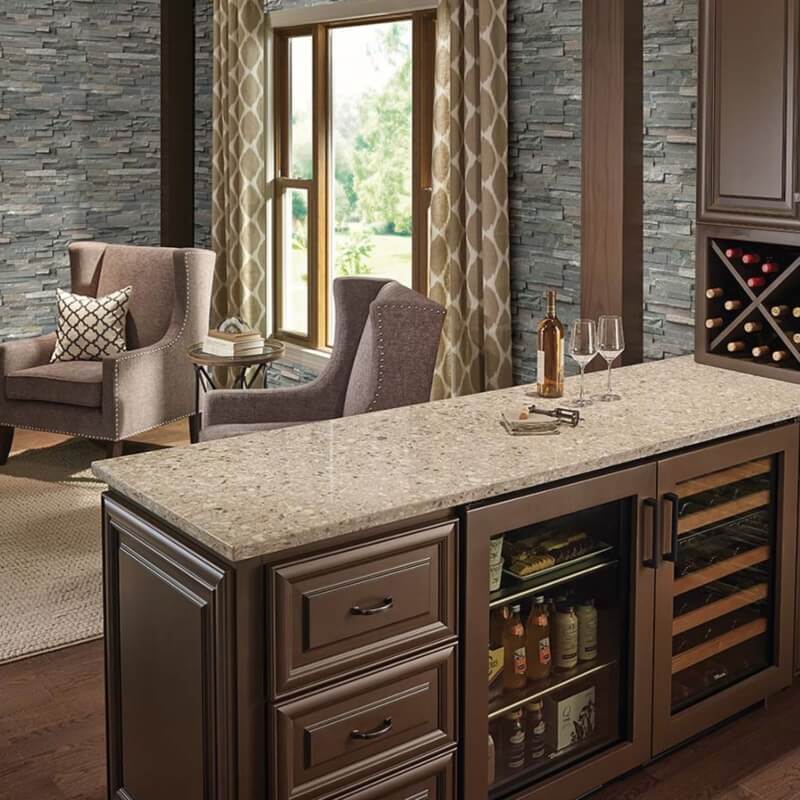 Featured: Sierra Blue Stacked Stone
To give your living space lots of texture, ditch the wallpaper and opt for three-dimensional stacked stone instead! The blues and grays found in Sierra Blue Stacked Stone quartzite wall tile infuse this traditional space with a modern yet rustic vibe. The cool tones stand out against the beige and brown hues in this design.
A Stunning Staircase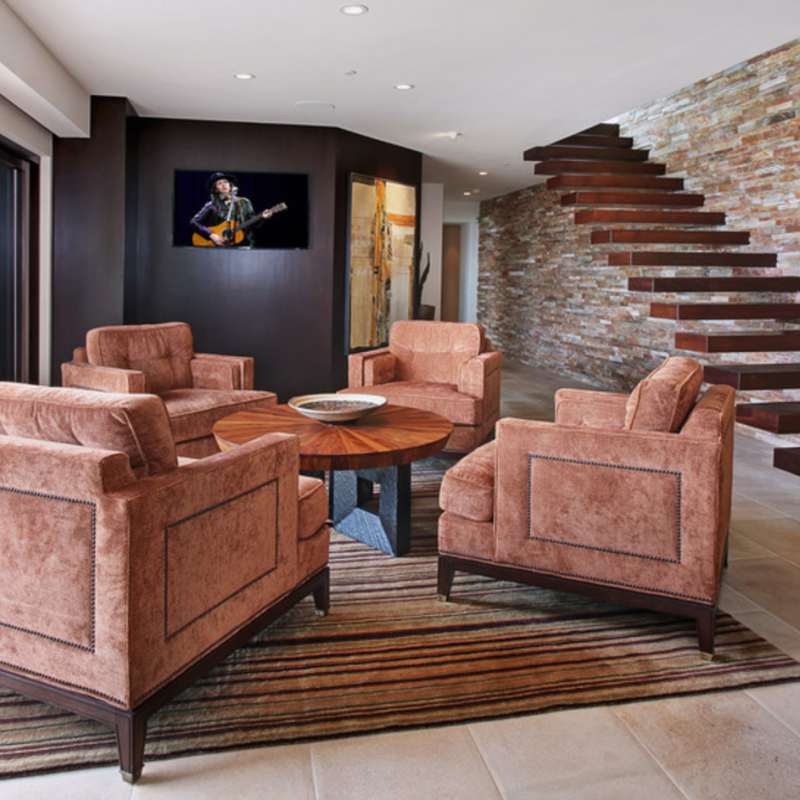 Recreate this look with MSI's Golden White Stacked Stone (Photo Credit: Houzz)
It's easy to ignore functional spaces such as staircases, but you can transform yours into an architectural beauty by adding stacked stone tile. This lounge area is made even more interesting with floating wood stairs and Golden White Stacked Stone that's made from quartzite. The eye is drawn to the stone's mixture of creams, warm golds, soft grays, and rich reds.
A Cool Kitchen Backsplash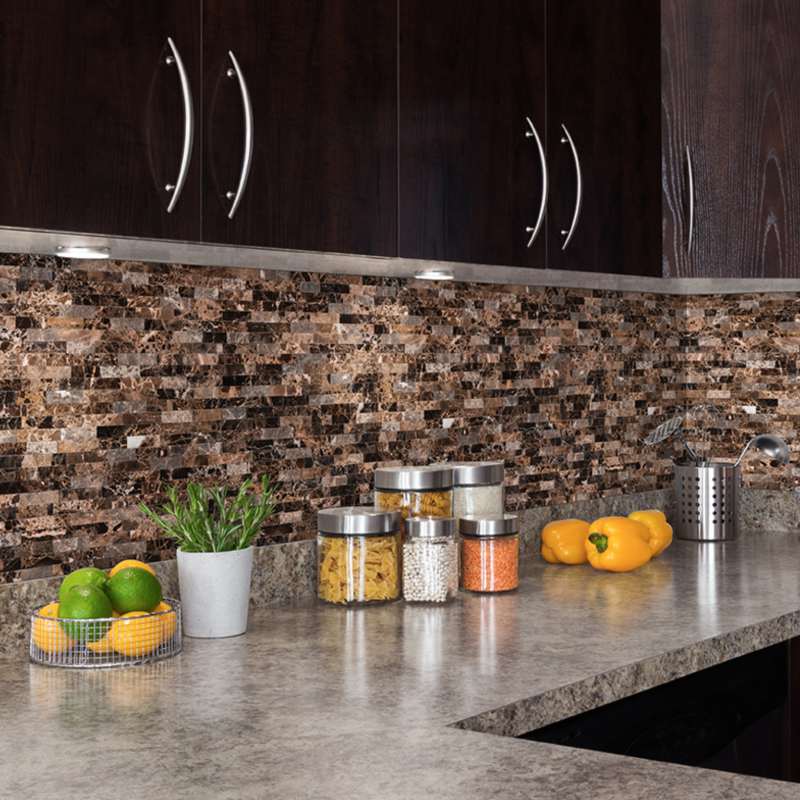 Featured: Emperador Splitface STIK Wall-Tile™
Believe it or not, you could completely transform your kitchen in a matter of hours with a peel-and-stick stone backsplash. It's a breeze to install with its simple, self-adhesive backing, and you save yourself the delay and mess of thinset or grout. As shown in the photo above, Emperador Splitface STIK Wall-Tile™ features natural marble mosaics in rich, warm and gold tones. The natural stone spotlights the colors of the cabinets and countertops in this modern kitchen.
A Spa-Like Bath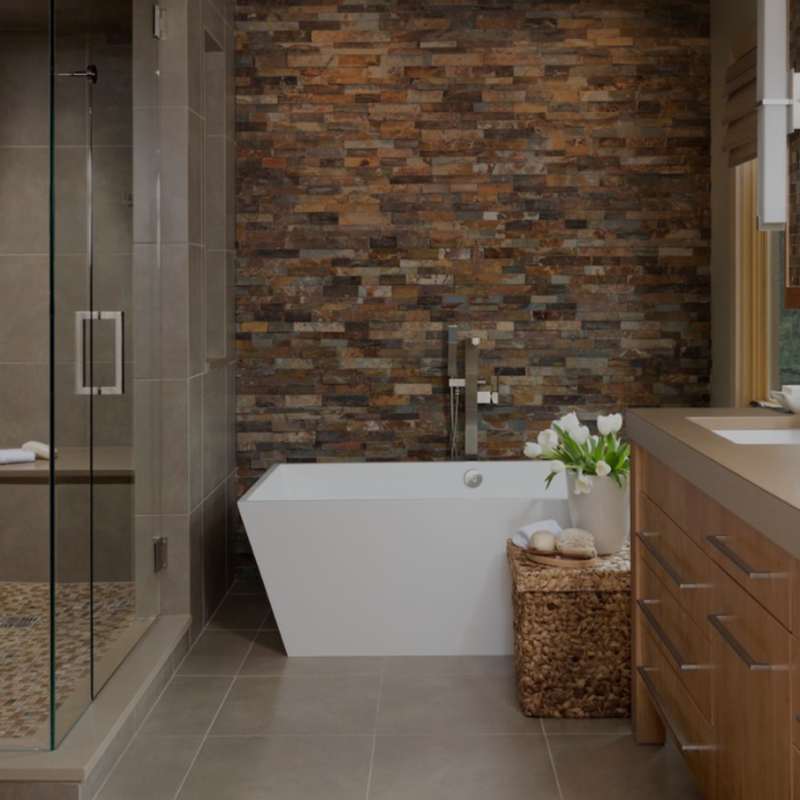 Get this look with MSI's Gold Rush STIK Wall-Tile™ (Photo Credit: Houzz)
Create a relaxing spa feeling right at home with stacked stone accents in your bathroom. Gold Rush STIK Wall-Tile™ is a self-adhesive peel-and-stick tile featuring fine slate. The earthen tones of golds, reds, and grays help create a calming environment. This classy feature wall in easy-to-use stone complements a sleek, modern tub in contrasting white.
Stacked stone is the perfect way to add texture, dimension, and visual interest to any space, and it coordinates well with a number of other natural stone tiles and countertops. In fact, natural stone features are one of the most common characteristics of modern home design. If you want to see how you could style a room in your home with stone, check out MSI's Stacked Stone Visualizer.