Popular
Holiday-Worthy Kitchen Remodels
October 18, 2018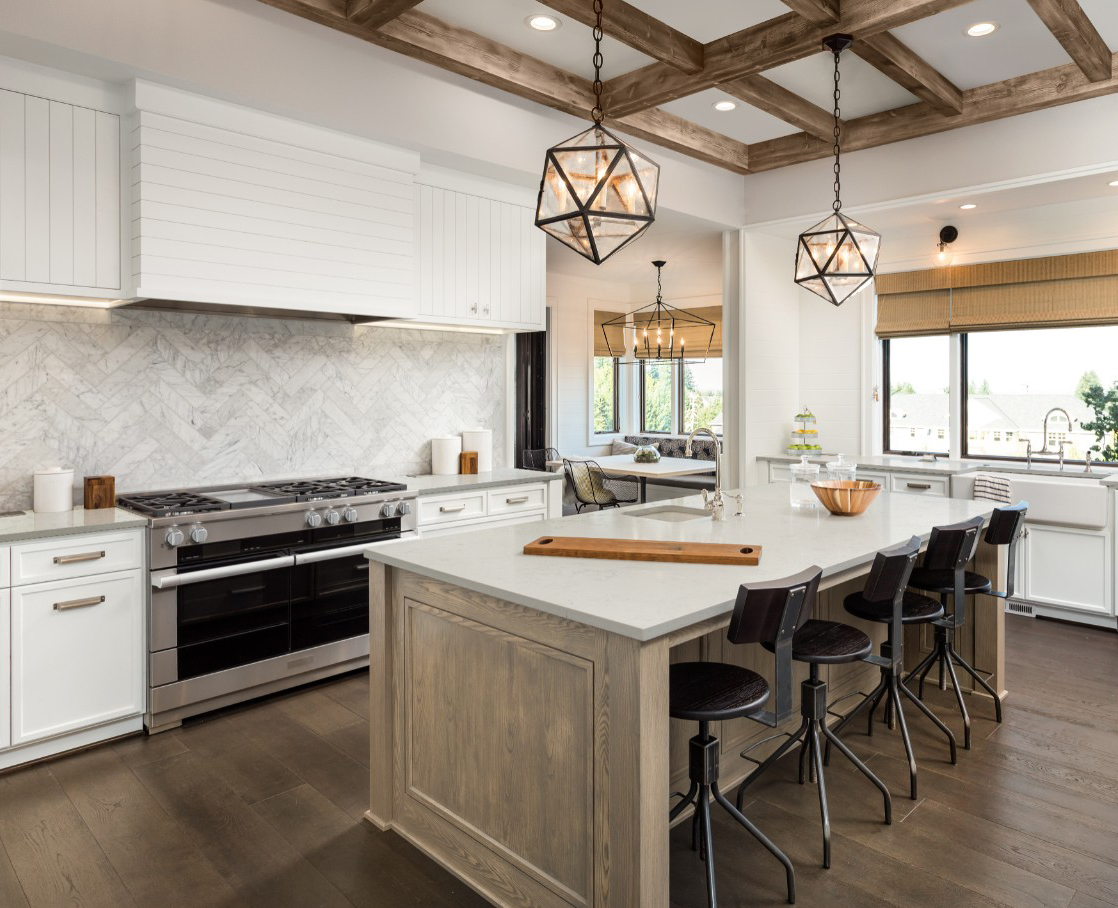 It's safe to say that our nation is obsessed with kitchen remodels. Between the daily bustle of family life and the hours of entertaining, it's the hardest working room in the house -, especially during the holidays. If you're giving this social space some love this fall, there's no shortage of dreamy styles to inspire you. From the classic beauty to the chic contemporary to the modern farmhouse to white done right, we're tipping our hats to the season's trendiest kitchens.
And because there's enough drama this time of year, we're sending dozens of low-maintenance ideas your way. So go on and test those cranberry sauce recipes and move those chairs around the floor, we've got your worry-proof surfaces covered. Oh, and keep some bubbly handy. Celebrating the increase in your home's value is a fabulous way to start a new year.
Chasing Waterfalls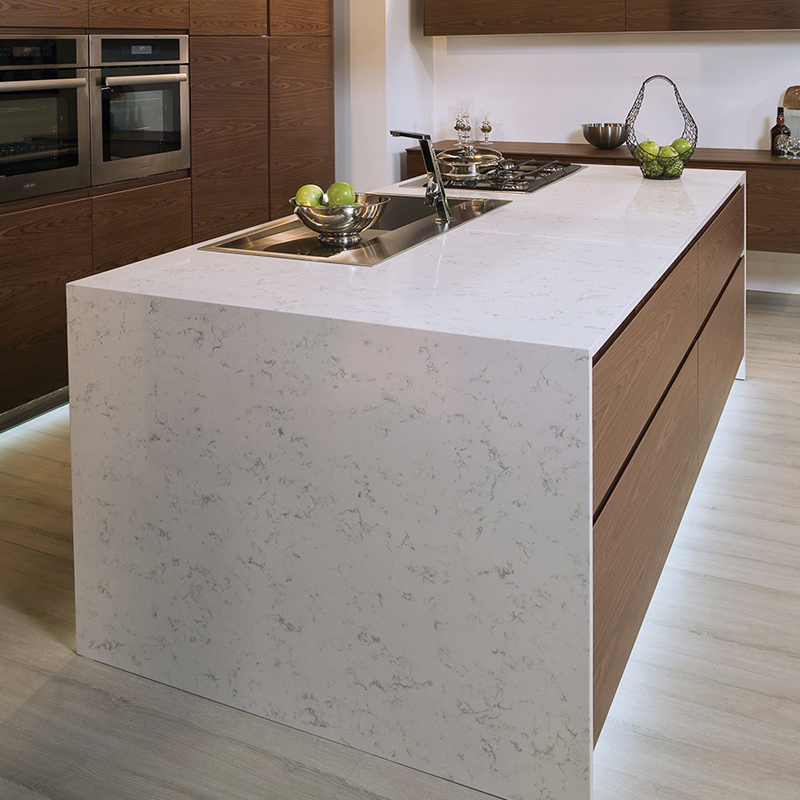 You'd look fetching prepping the stuffing and gravy on this island: Fairy White Q Premium Natural Quartz.
Here. There. Everywhere. The design world is abuzz with waterfall islands. Is there a sleeker way to modernize a kitchen? Of all the dishy ones you can bring to life, we've got a soft spot for marble look quartz – hello Calacatta Laza. Whip up your favorite ingredients in a no-fuss workstation with Q Premium Quartz or Stile Porcelain Slabs. Eggnog, anyone?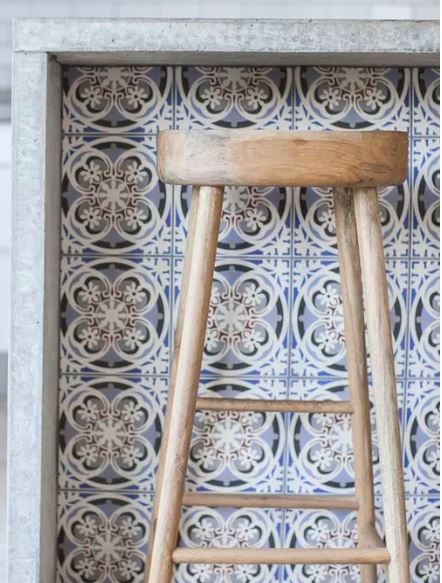 Island envy is real. Steal the look by insetting Encaustic Pattern tile.
Photo courtesy of Pinterest.
The Cook's Counter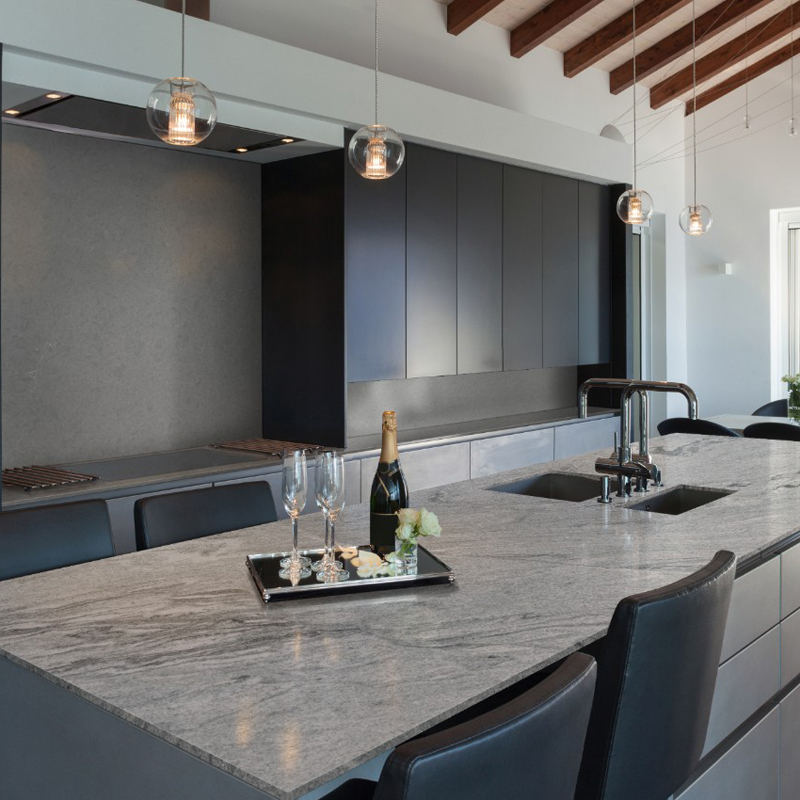 The only thing better than a Silver Cloud Granite island? Two of them.
It can be daunting. Picking out a countertop. But we're not about to leave you hanging. Or guessing. Or anything unpleasant that ends with 'ing.' From white marble and its no-fuss lookalikes to concrete-finish quartz, we have fun ways to narrow down your favorite colorways and styles. If you haven't taken our Countertop Soulmate Quiz, give it a whirl. Or put one of our workhorses on display with our virtual kitchen designer tool.
Lust-worthy Patterns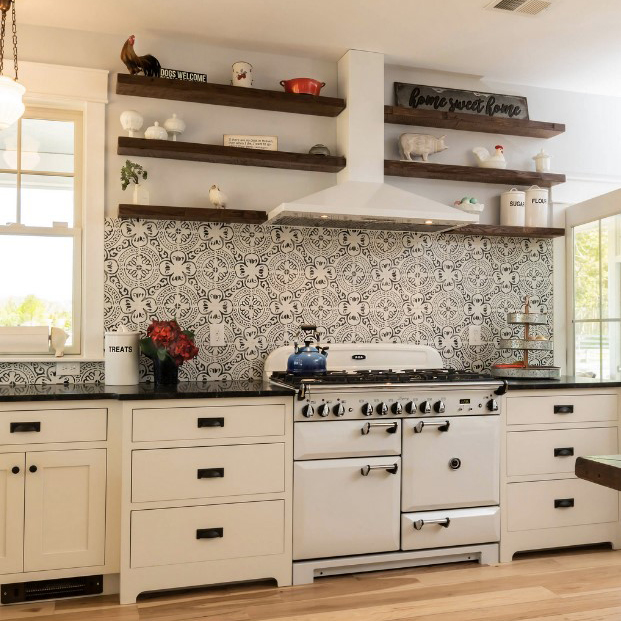 We're feeling the love: Kenzzi Paloma looks right at home in this farmhouse kitchen.
Image courtesy of Houzz
All the lovely prints and textures swept up in the Pattern Palooza trend? They make our heart sing. From a hint of floral to a floor to wall encaustic to a geometric backsplash, patterns are here to stay. Sometimes all a kitchen needs is something to draw the eye, even if it's a texture-only pattern like herringbone or chevron. You won't find a dreamier way to lend character and charm to a room.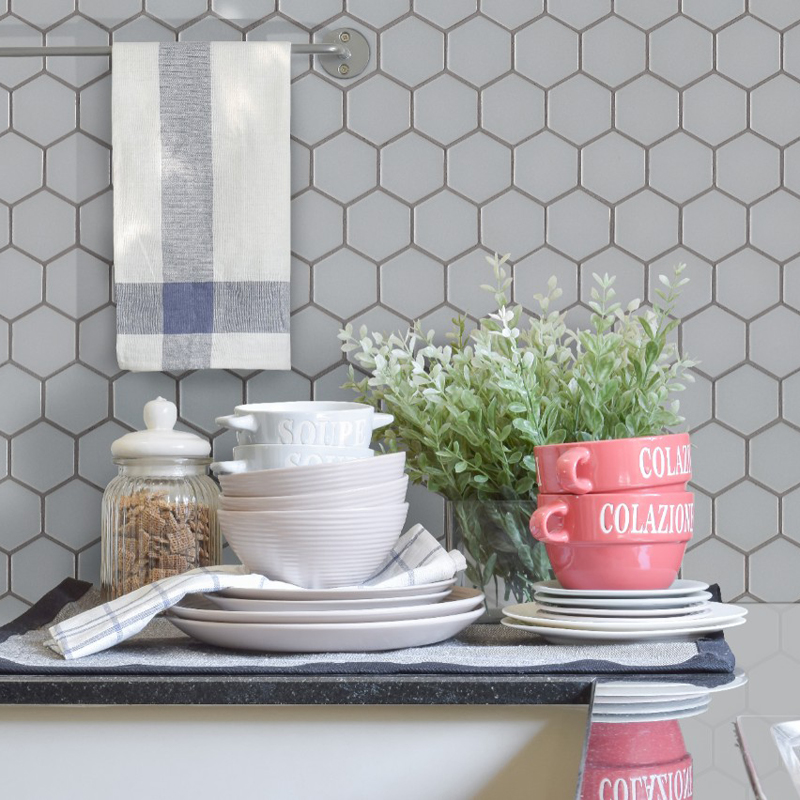 Create a yawn-proof backsplash with Retro Hexo Gray.
Down Under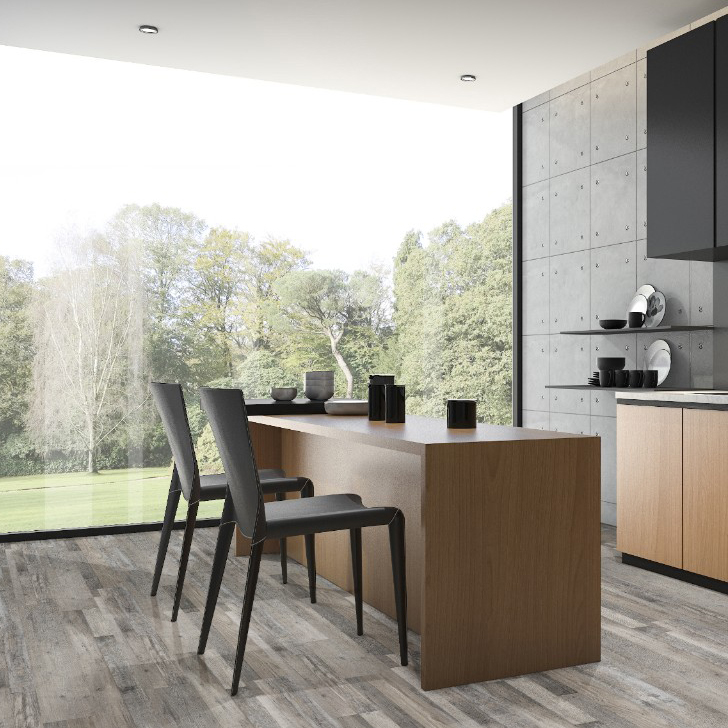 Meet our latest crush, Everlife's Cyrus Luxury Vinyl Flooring.
Never thought you'd see on-trend wood looks, lifelong durability, and affordability in the same sentence? Everlife changed all that. Worry-proof and warranty-backed, these high-performance luxury vinyl tiles are meant for families tough on their surfaces. From messy spills, dings, and scratches to all sorts of shenanigans from the kids, our low-maintenance LVT is always reliable. Also, if you haven't seen the latest styles in our Porcelain Tile collection – take our stone, brick, and textile looks for a virtual spin with our Augmented Reality Tool.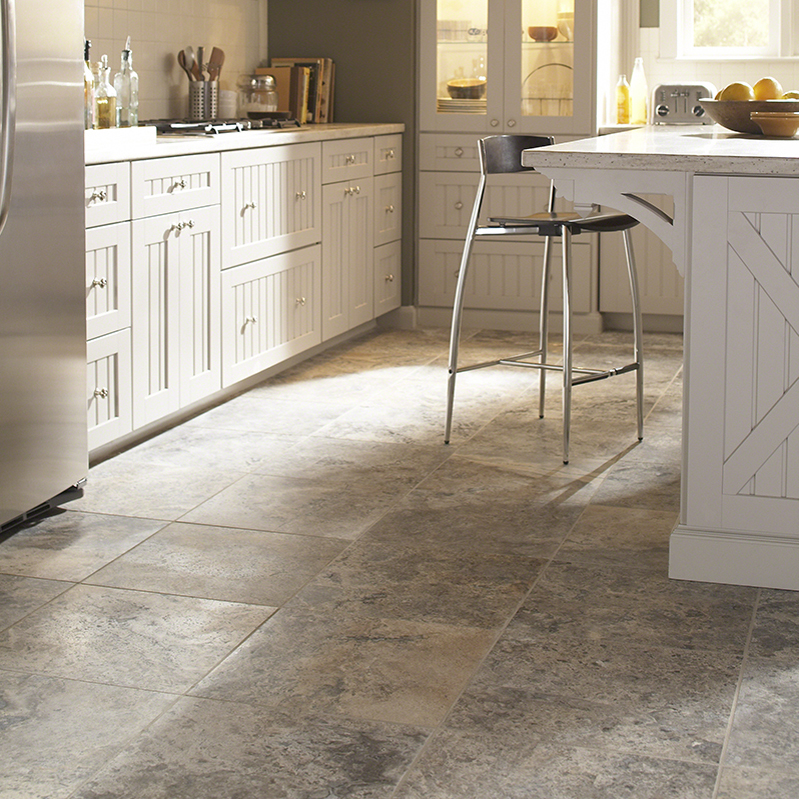 Prefer natural stone underfoot? You can't go wrong with Silver Travertine.
Backsplash Goals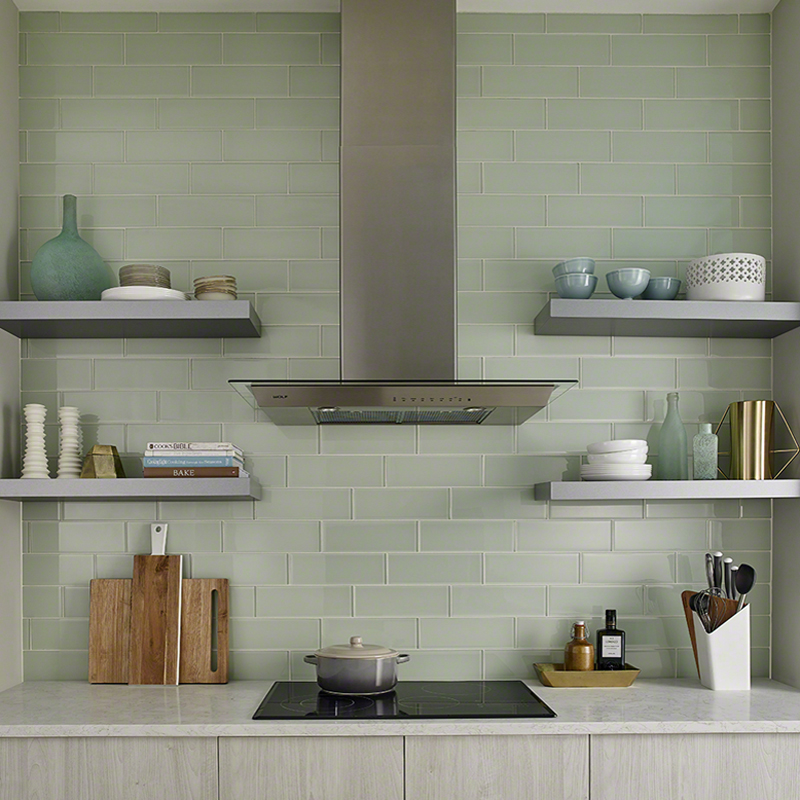 What's cooking in this kitchen? A great wall of Arctic Ice Glass Subway Tile.
Whether you're creating a classic dream kitchen or taking a deep dive into all things chic and modern, a showstopping backsplash is a must. Without it, your kitchen won't look finished. Bring it all the way up the wall, and you've tapped into one of our favorite design trends of the year. From chic-toned crystallized glass to a 3-D subway to brick-look porcelain, think of backsplash tiles like jewelry in a fashionable ensemble.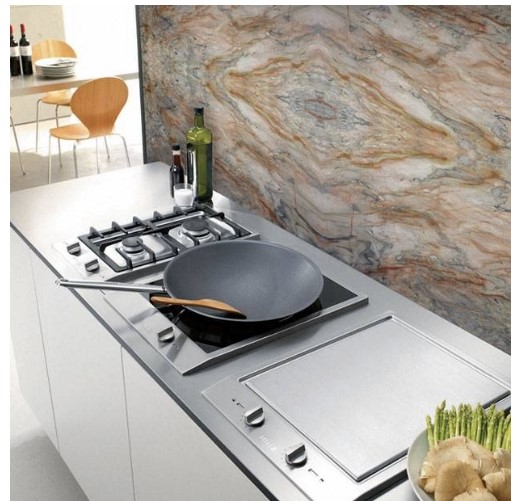 Who says perfection isn't possible? Granite Fusion looks striking behind this rangetop.
White Done Right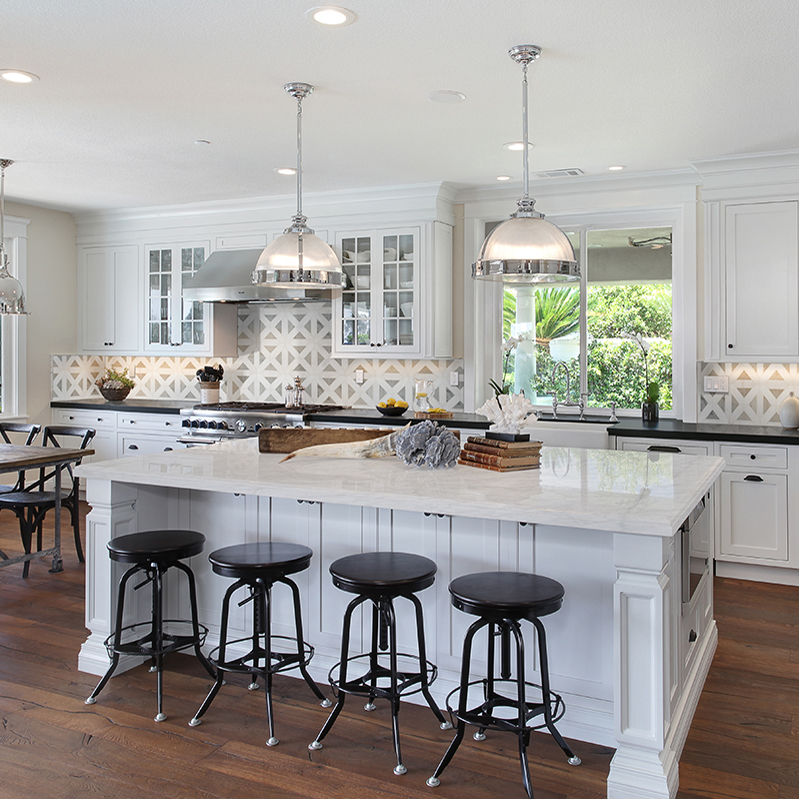 Dial up your backsplash game with Bianco Dolomite Geometrica.
Is there a more dedicated fanbase than those obsessed with white kitchens? We think not. From white marble looks Q countertops to Whisper White Subway Tile to STILE thin porcelain, nothing looks as clean and fresh as this timeless shade. When white is done right, like the kitchen above, we're oohing and ahhing from our happy place. Thanks to the contrast of wood look porcelain tile and black perimeter countertop, the room is oh-so balanced.
Drama in the Kitchen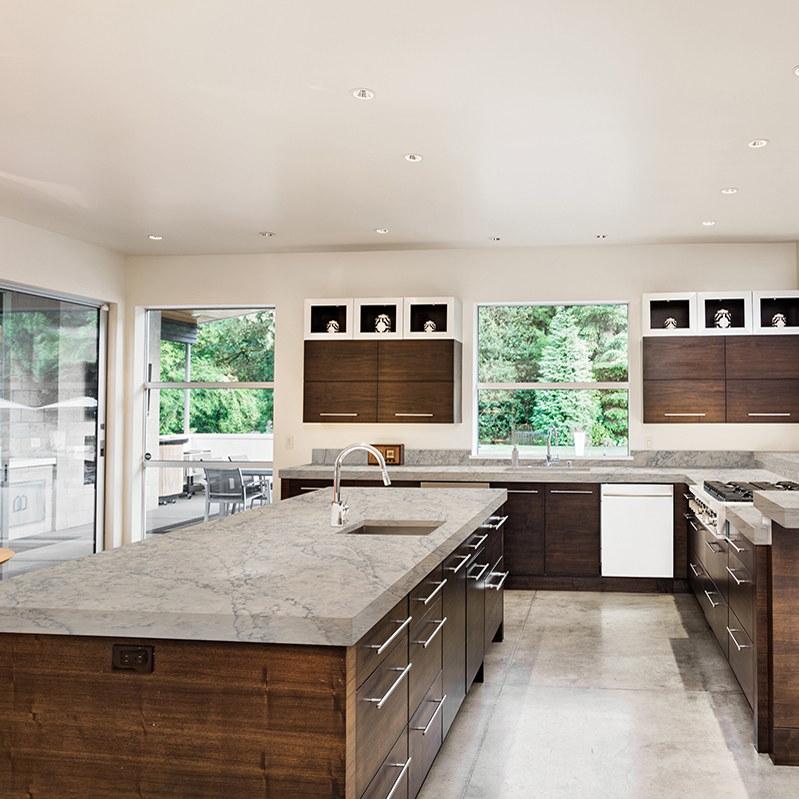 Dark stained cabinetry and Calacatta Pearl Q countertops make a heavenly pair.
Maybe it's a sign of the times. But the wallflower days of design seem to be over – at least for now. The marble looks we know and love paved the way for the Striking Movement Trend. Obsessed with high-movement veins? Try bookmatch slabs and marble look countertops. And let's not forget to add a little drama on the floor - watch Exotika from our Everlife (Cyrus) line and Delanno Porcelain work their magic.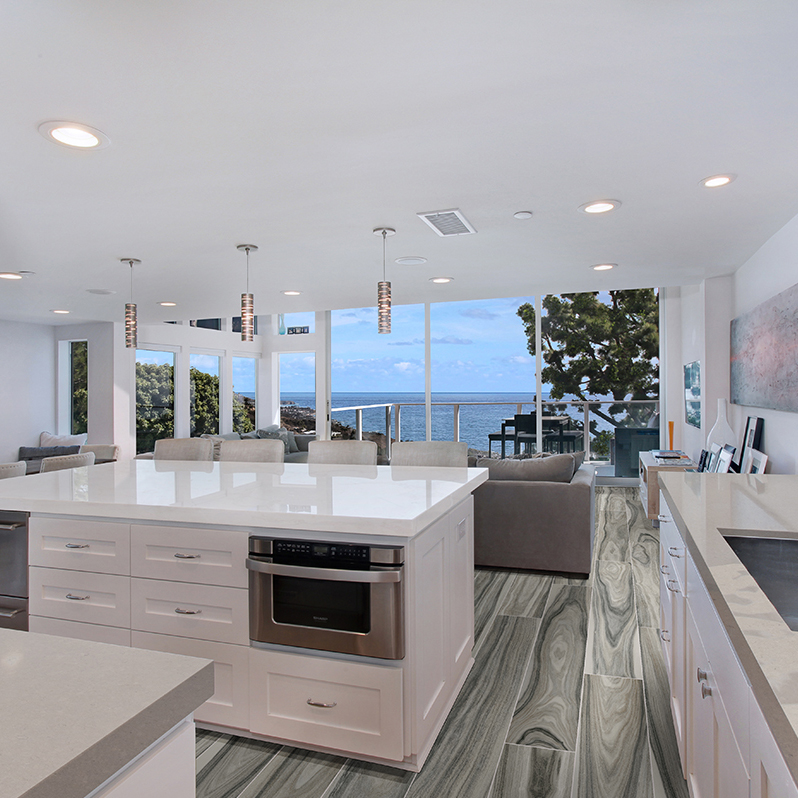 Oh, the glamour of it all: Dellano Moss Gray porcelain tile adds energy to this monochromatic kitchen.