Unique 3D Backsplash Tiles For Kitchen And Bath
January 18, 2019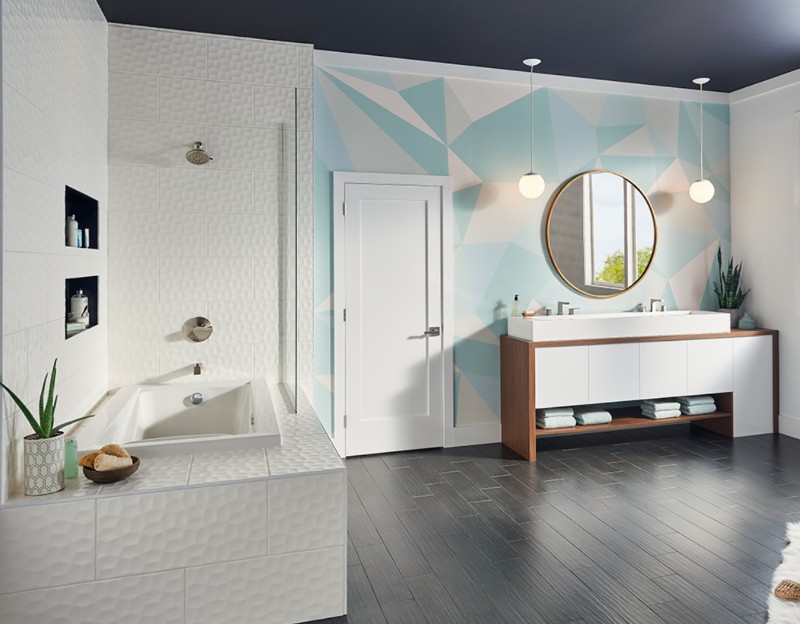 People often associate modern design with sleek and smooth elements. While contemporary styles with clean lines and minimal texture can be visually pleasing, its simplicity might come across as mundane. The same goes for tile. Polished or honed backsplashes with perfectly straight lines are predictable and comfortable, yet you might find yourself craving something more extraordinary. That's where 3-dimensional backsplash tiles can take your look to a whole other level! Intrigued yet? Let's take a look at some unique and dynamic 3D wall tile favorites.
Carrara White 3D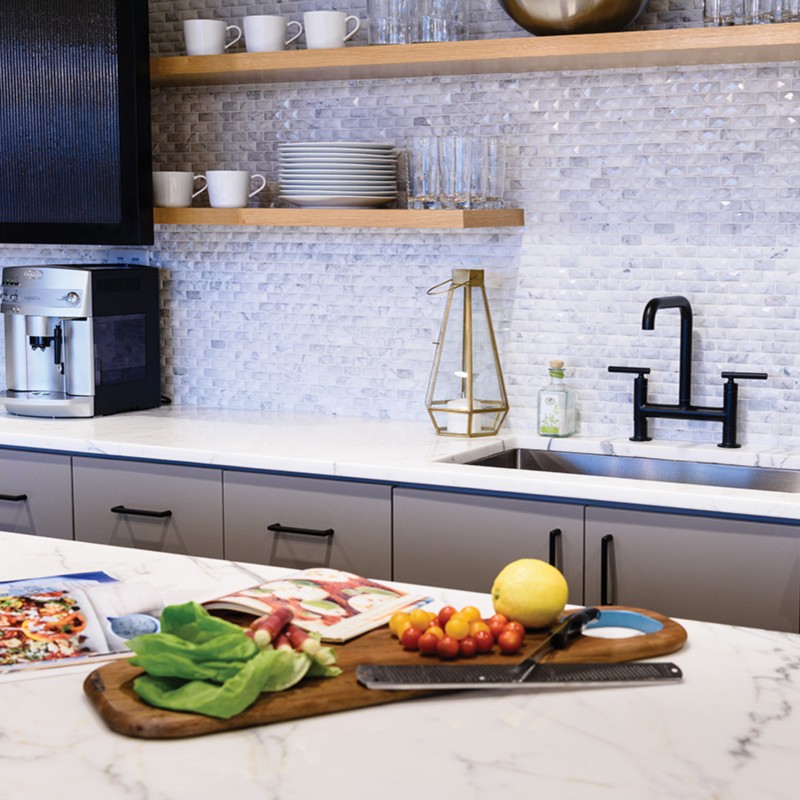 Featured: Carrara White Marble 1x2 3D Polished Backsplash Tile
Marble is always an elegant tile choice, but Carrara White 3D gives this classic beauty a bit of an edge. The raised design brings the Italian wall tile to life and creates a more artistic vibe, while its soft white background, gray veining, and polished finish feature the favored characteristics of Carrera marble. The twist on this updated design perfectly suits this contemporary kitchen.
Silver Aluminum 3D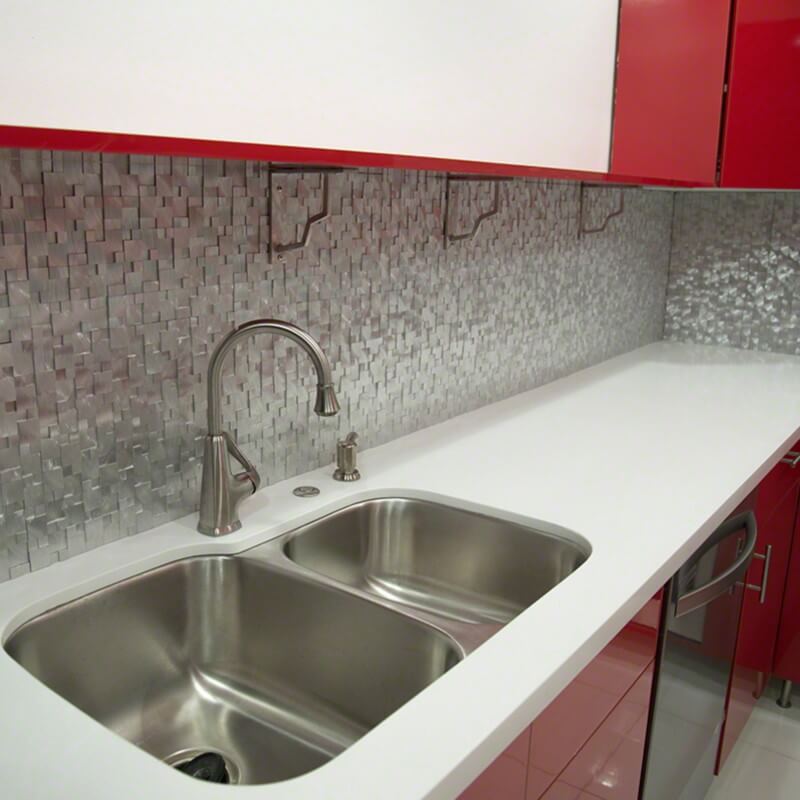 Featured: Silver Aluminum Metal 3D Pattern Wall Tile
Metals are a great way to add some shimmer to a space, and Silver Aluminum 3D includes a shiny look with a futuristic feel. The metal mosaic goes ultra-modern with its dramatic 3D pattern, which is enhanced further when light reflects off it. The silver color perfectly matches the stainless appliances and fixtures, yet the intricate pattern contrasts with the sleek cabinetry and countertop.
Rainforest Taupe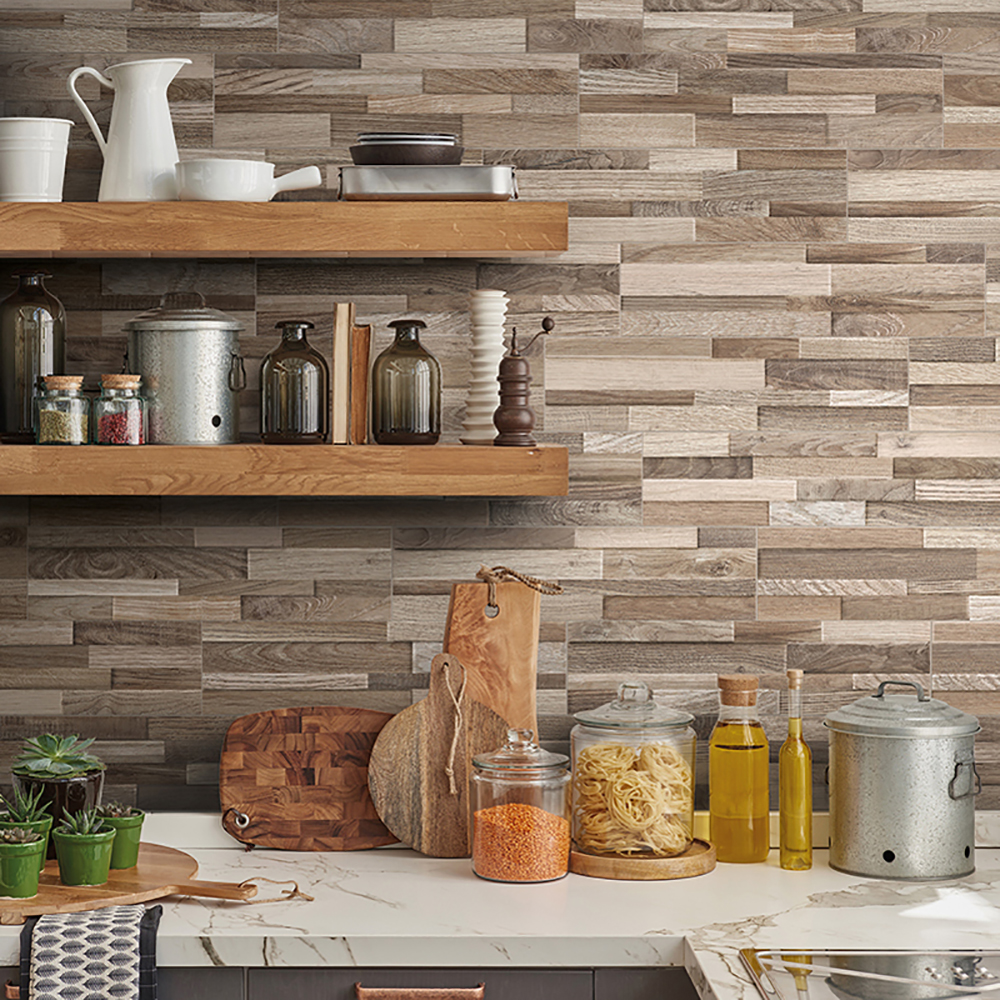 Featured: Rainforest Taupe Dekora Porcelain Panels
Wood-look tile might be more commonly used as flooring or a feature wall, but ones like Rainforest Taupe serve as a stunning kitchen backsplash, too! The various sizes and widths of this porcelain stacked stone from Italy create so much visual interest, yet its soothing warm taupe and brown wood tones keep things calm. The matte finish allows the knots and grains of the wood-look pattern to standout without overpowering other design elements like the beautiful quartz countertops and floating wood shelves.
Dymo Pattern White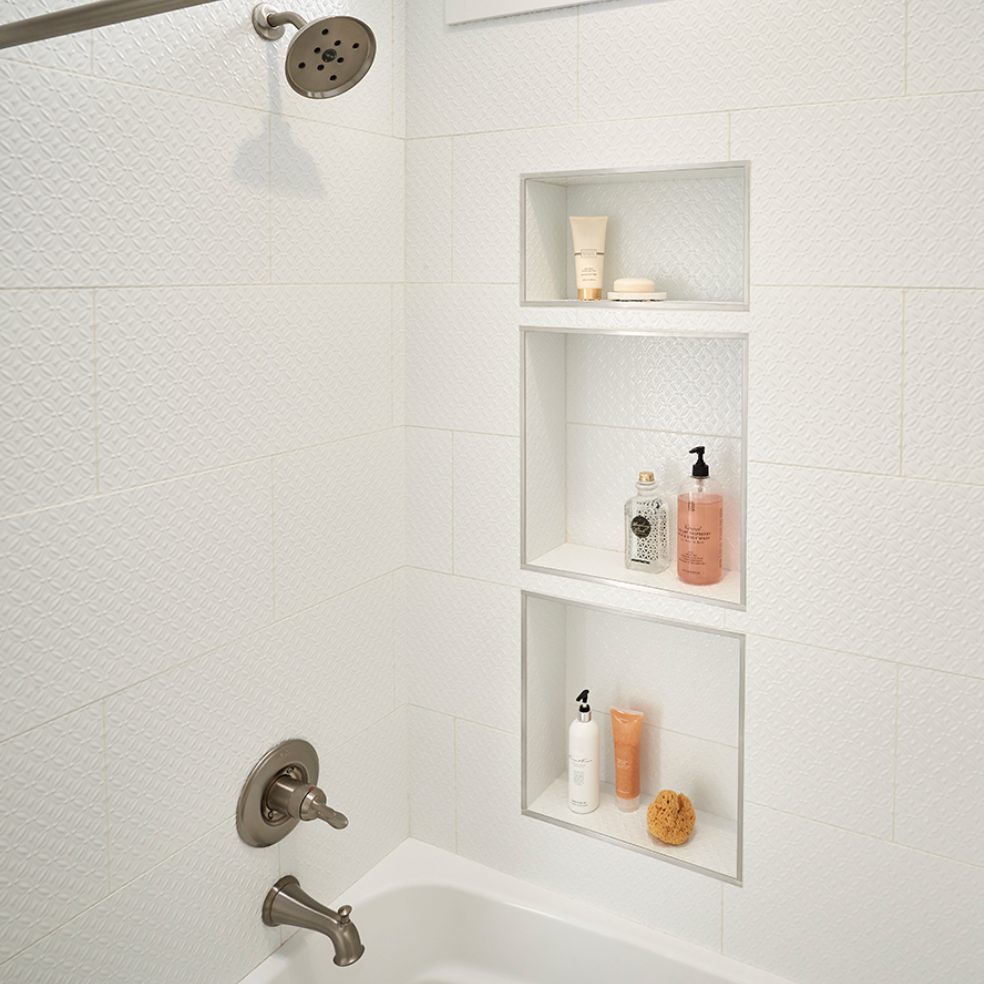 Featured: Dymo Pattern White 12x24 Glossy Ceramic Tile
Not all 3D tiles have to be so in your face! Dymo Pattern White is a more subtle and sophisticated option. The ceramic wall tile includes a raised, tone-on-tone pattern and glossy finish for an elegant look, while the oversized 12x24 size gives it a modern feel. This shower install features white with silver accents, and the pretty pattern adds so much style instead of the typical plain white subway tile.
Our eyes are designed for a 3D experience, so why not add a unique backsplash like one of these? Not only are these creative wall tiles visually attractive, but they also appeal to other senses by offering a tactile experience. Especially when the light hits the various angles of the tile backsplash, they add lots of movement despite being a static feature. Go ahead and literally elevate your kitchen or bath design with a 3D backsplash tile!
READ MORE ABOUT MSI BACKSPLASH TILE
Update Your Kitchen Or Bath With An Affordable Ceramic Tile Backsplash
Visualize Luxury Vinyl Planks, Backsplash Tiles, And More With Our Bathroom Visualizer
Warm Wall Accents With Cool Metal Backsplash Tile
Which Cleansers Are Safe To Use On Inkjet Printed Backsplash Tile?