Natural Stone Pavers: A Beautiful Solution For Practical Outdoor Living
May 12, 2014
Natural Stone Pavers are not only a beautiful choice for upgrading your outdoor living space, but they are a practical one. In addition to providing a clean, attractive hardscape that will create winding walkways, sophisticated patios, and an overall finished look for your home's exterior, pavers offer practical solutions that are rewarding for years to come.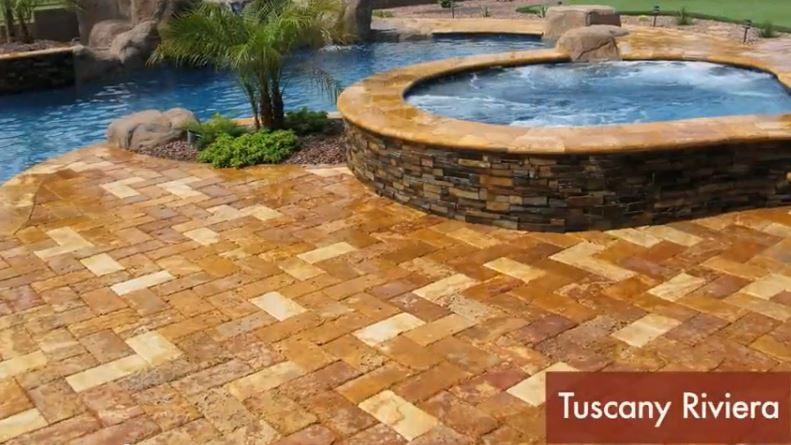 Pavers are individual pieces, that are consistent in thickness and are easy to install. They can be set in sand or mortar, and will adapt to weather conditions in a way that concrete cannot. Whether your pavers are travertine, granite, marble, or another natural stone, they have an overwhelming practical advantage over the traditional concrete surface: pavers set in sand have natural joints between each stone brick that can expand and contract naturally as the weather changes. Alternatively, concrete (even stamped concrete made to look like paver stones), is one large piece of material which can crack from heavy loads and from weather fluctuations and will also naturally shrink over time. Even an adequate number of joints drawn into the concrete by the contractor cannot prevent a concrete surface from cracking eventually.
Further, repairs to concrete are usually obvious, as newer concrete that is patched onto an existing surface will not match in color. Over time, repairs to the concrete will make the surface less and less attractive. Pavers are a great solution, providing the walkway, driveway, or patio that is desired as a flexible surface that is easier to set in place initially and easier for a DIY repair, realignment or partial replacement if needed.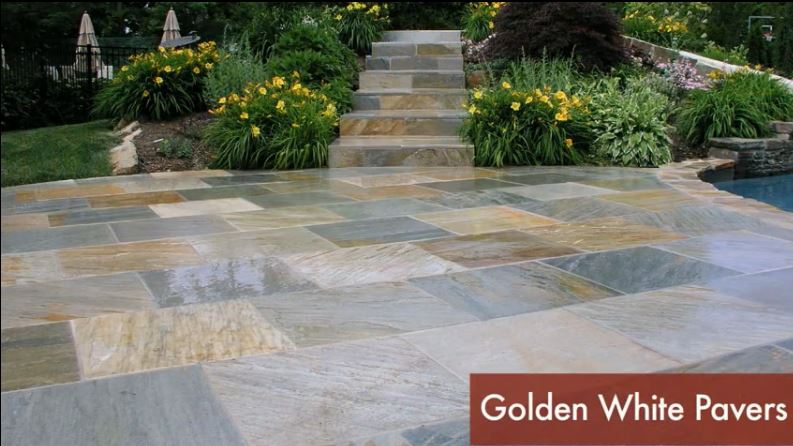 Pavers also expand your indoor living to the outdoors, providing a finished surface that will keep sand and soil at bay so that you can live comfortably and enjoy your additional living space. Pavers embody a style and class that elevate their surroundings – on the practical side, pavers can provide a consistency in design from the interior to the exterior, enlarging the look of spaces and tying in creative themes. Likewise, they offer an easy to sweep clean surface that will support your outdoor kitchen or outdoor living room in a way that brings you closer to nature while feeling clean and sophisticated.
As pavers can be functionally flexible in their layout as well, they can create geometric patterns or winding pathways, guiding foot traffic away from areas that are off limits in a way that is sympathetic to the natural layout. Pavers are also used to define gardens and flower beds while also keeping the nearby soil cooler and more hospitable for foliage. Additionally, they offer a year-round cool surface that is suited to bare feet around the pool or spa. Matching copings and edges will give pool edges and steps a finished look, too.
Pavers offer a wide variety of options, which can be mixed and matched among stone selections (travertine, granite, slate, quartzite, marble, basalt, sandstone or limestone), color selections (over 25 different colors to choose from to fit anything theme you desire, from contemporary to rustic), finish selections (tumbled, chipped edge or straight edge, unfilled and honed), and size selections (most pavers are available in options that include 1 ¼ or 2" thickness and sizes like 4x12", 12x24", 16x24", 12x12" or 6x12").
Hardscaping with pavers offers cleaner outdoor living and a more luxurious surface. To experience many of the different options of pavers in application, please view MSI's Pavers and Copings video, to see how these practical stones truly elevate their surroundings.