Current Obsessions: Uncommon Reasons Homeowners Love Their Quartz Countertops
August 30, 2018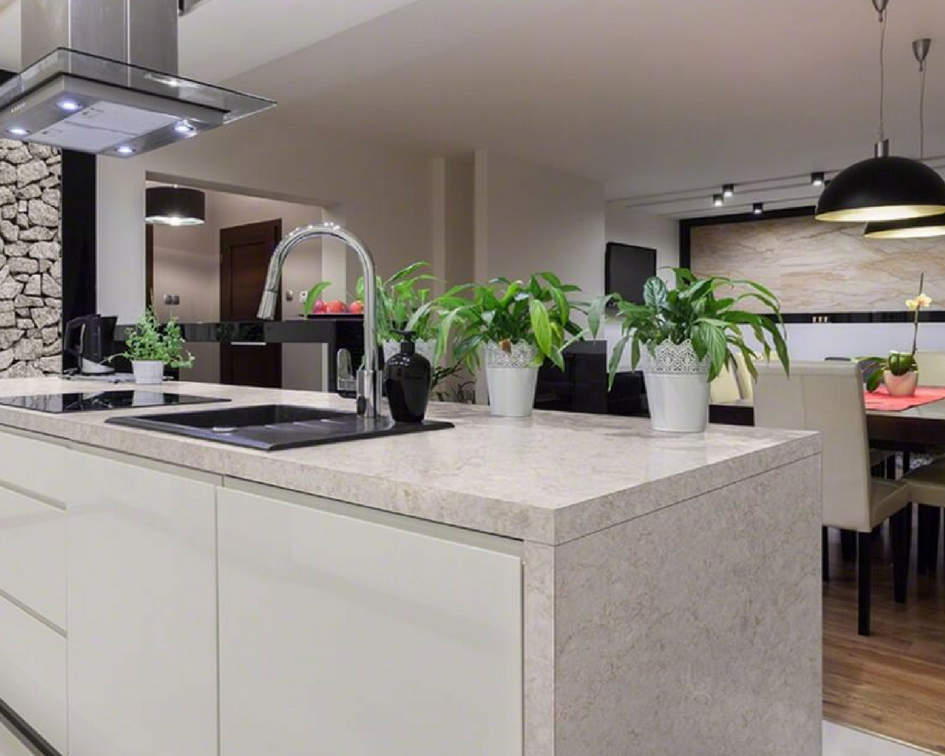 When it comes to quartz countertops, there are a lot of excellent features to take into consideration, such as its life-long durability; a variety of colors; and resistance against scratches, heat, and stains. But, how do all of these great qualities affect those living in the home? Instead of looking at the simple facts of this man-made surface, we'll explore some of the uncommon reasons why homeowners love their quartz counters.
Adapts to Any Style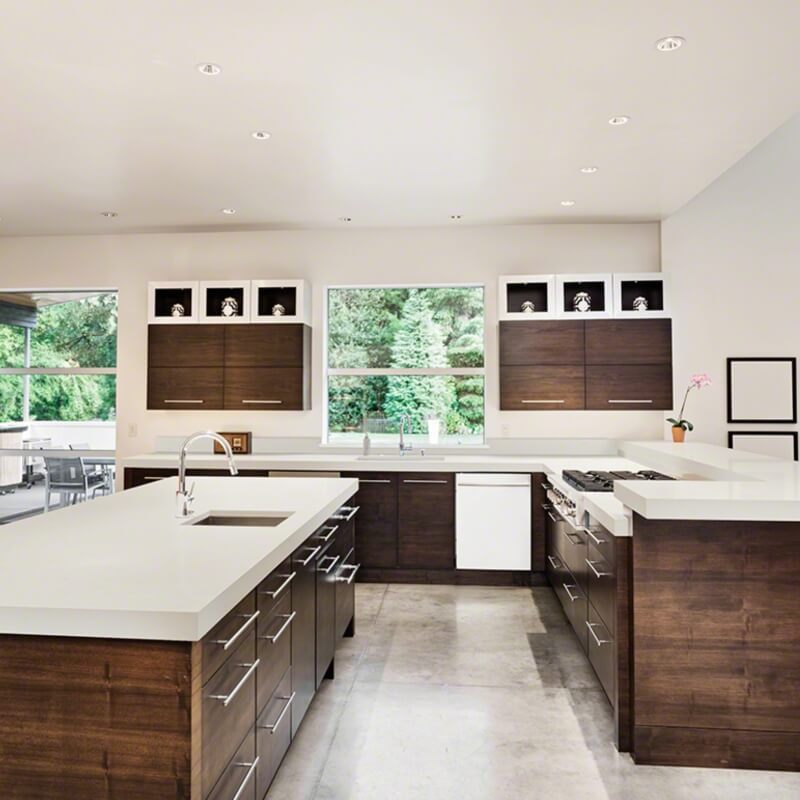 Featured: Cashmere Oro Quartz
Homeowners don't have to feel stuck with a particular style when it comes to dealing with quartz. That's because many of the products, including Cashmere Oro, are neutral in tone and go with traditional to contemporary designs. The soft, white countertop with subtle veining creates a light and bright look in this kitchen. But, if they wanted to update their style in the future, they can do so by changing less expensive elements in the room. Simply painting the walls and even ceiling in a warm tone will not only work well with the wood cabinetry, but it will also lessen the modern vibe by getting rid of the stark color contrast. Other simple fixes are to swap out fixtures like faucets, pulls, and lighting for more traditional or rustic charm. As they say, style is forever, and yes, they'll still love their quartz counters with the new look!
Softens an Industrial Space
Industrial and modern designs are so popular in 2018, but some might worry that their kitchen will be too cold and unwelcoming with such sleek finishes. However, quartz can actually soften the look while at the same time keeping up with the uber-modern style. This is especially true of marble look quartz like Calacatta Classique. This modern kitchen would look completely different if it had concrete or stainless steel countertops. Since it already features high-gloss cabinetry, a state-of-the-art hood range, and on-trend glass slab backsplash, those types of counters would make the cooking space look cold or sterile. But, the clean white quartz with its striking veining featured on the island adds an elegance and lightness to the room, while the waterfall edge brings in a dramatic design element for that special wow factor.
Adds a Fresh Factor
Quartz not only looks clean, styled, and put together, but it also breathes a fresh element into the room. And nothing screams fresh like bright white. While some might think that lighter colors are plain in pattern, they'll realize that many provide more detail when up close and personal. Fairy White is one of those white quartz countertops that delicately feature dove grey and sterling veins across the porcelain white background. And when taking good care of their quartz, they'll be able to enjoy this brilliant and vibrant material for years to come.
Is an Eco-Friendly Choice
For those constructing a smaller, minimally designed kitchen, they're probably mindful of their carbon footprint. Quartz is an excellent choice for the eco-minded because it's a long-lasting product that is also recyclable and won't contain any harmful chemicals. They'll feel good about purchasing a product like Sahara Beige. The parchment-hued quartz with warm amber and brick accents is the perfect choice for this neutral-toned kitchen. With the creative bar top connecting the two countertops, you can tell that this homeowner embraces the less is more mantra.
Provides Personal Satisfaction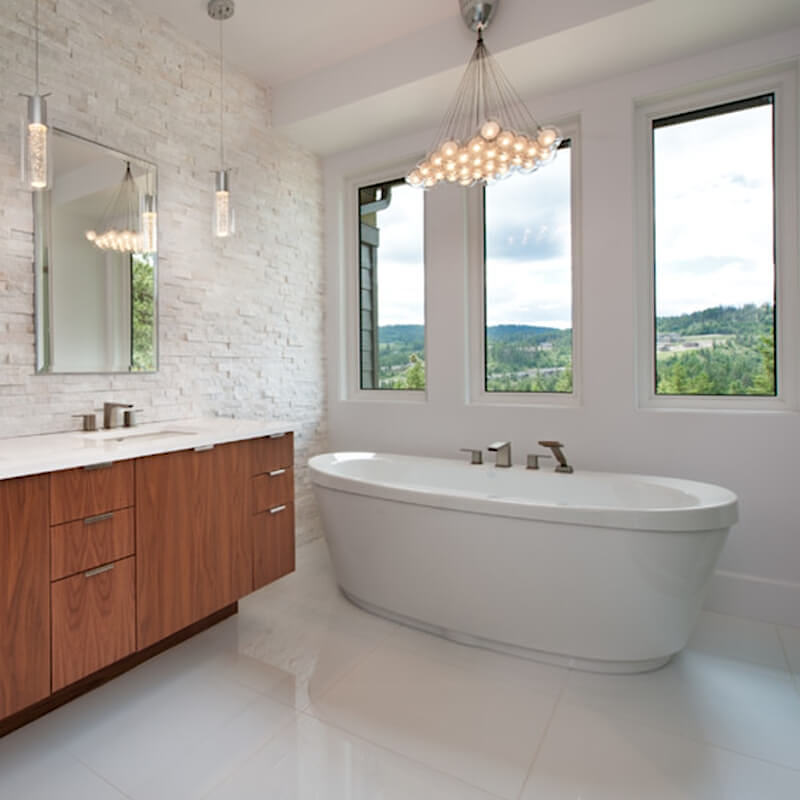 Get this look with MSI's Calico White Quartz (Photo Credit: Houzz)
When homeowners are proud of the remodeling decisions they've made, they feel a sense of personal satisfaction and take pride in their new space. This is true for many of those purchasing a quartz countertop for their home. With a stunning master bathroom like this one, these homeowners are likely to show it off! And when they see others admiring the beautiful design and intentional details as much as they do, they'll also feel their moods elevate whenever they see their new space, especially those Calico White countertops. The subtle yet classic snowy white quartz is perfect for this chic, modern look. Another plus is that it's easy to clean, which means less time for maintenance and more time soaking in those views from the modern tub!
With quartz and other low-maintenance materials, it's easy creating a worry-free home. MSI has a wide range of colors and styles to choose from. You can also contact the manufacturer to request samples so that you can see, touch, and experience the magnificent material for yourself.
More on Quartz Countertops
Limestone Looks with Quartz Countertops
You Won't Believe These Quartz Countertops Aren't Natural Stone
Why Quartz Countertops Are the Most Popular Countertop Choice
Advice Tor Choosing Quartz Countertops Over Natural Stone
You Won't Believe These Quartz Countertops Aren't Natural Stone