Tips From The Trade: The Countertop – The Most Important Part Of Your Kitchen Remodel
January 06, 2018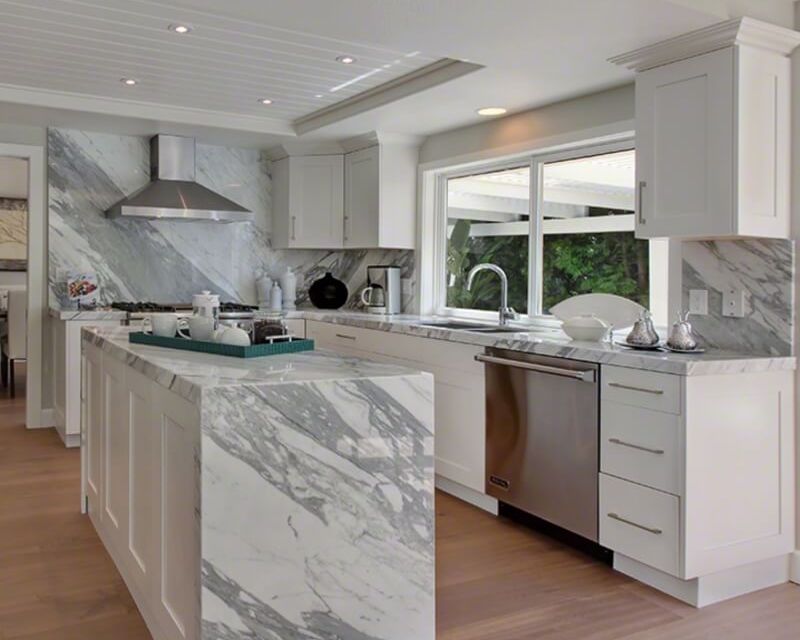 Whether it's a full kitchen renovation or you're just making a few upgrades, so many elements must work together to present an integrated design. You've got beautiful cabinetry, flooring, fixtures, and backsplash. But what about the true workhorse of the kitchen, the focal point and centerpiece that ties it all together?
Your kitchen countertop is easily the most essential part of your kitchen plan, contributing to both its beauty and its function. It's the place for food prep, food service, homework with the kids, coffee with a friend. As such, your countertop should suit your own personality and lifestyle. So, when you are planning a kitchen remodel, consider it well!
How Much Time & Effort to Maintain It?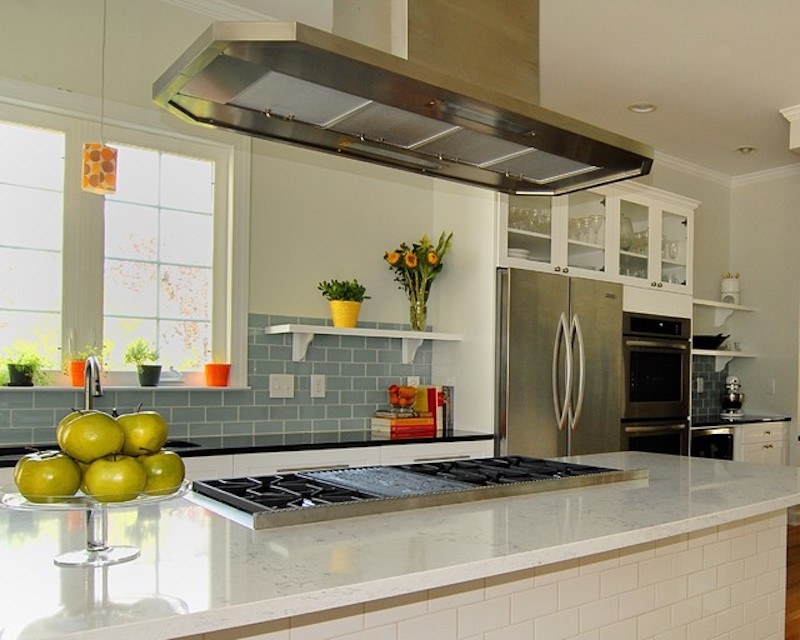 Recreate this look with MSI's Fairy White Quartz (Photo Credit: Houzz)
Until they invent the self-cleaning house, every room must be designed with consideration to the time and amount of work we're willing to put in to keep it clean. This is especially true for the kitchen, which sees heavy usage with potentially damaging items like hot pans, knives, and tomato sauce – and must be kept perfectly hygienic. Therefore, your choice of countertop depends on your lifestyle priorities.
Are you willing to apply sealer at least once a year (sometimes more) to keep your countertop stain- and water-resistant? Will you and your family remember to protect the countertop with pads and trays to prevent stains and damage from hot pans, and to clean up messes immediately, if it means having that gorgeous, to-die-for Carrara marble? If you prefer to just wipe and go, if you have small children or there's never enough time in your day, you might prefer easy-care quartz countertops.
Is Your Heart Set on Natural Stone?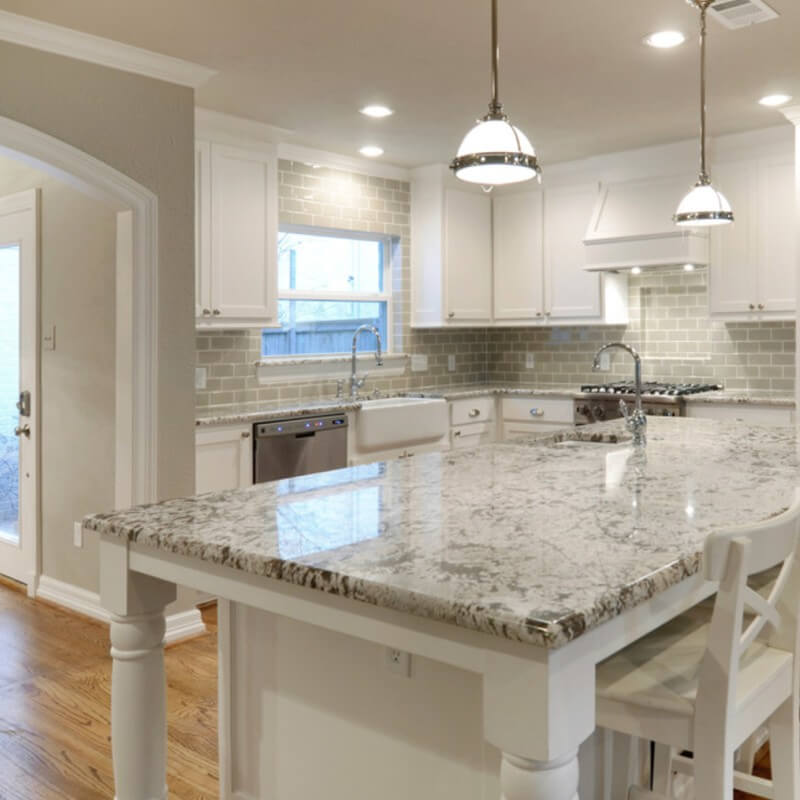 Get this look with MSI's Bianco Antico Granite (Photo Credit: Houzz)
For some people, nothing will do but natural stone for their kitchen countertops. It's true, real stone adds a warmth and character it's hard to replicate with a man-made material. Although all natural stones require regular care and protection, such as the application of sealers and careful choice of cleaning chemicals, some are tougher than others.
Home Resale Value
Kitchen remodels top the list of projects that improve a home's resale value, as well as help it sell more quickly. Unless you're planning to move right away, this shouldn't be your only consideration, but it's important to keep in mind. While you may have heard that homebuyers prefer granite countertops, this isn't universally true; quartz countertops are attractive to home shoppers too because of its durability and ease of care.
What's Your Style?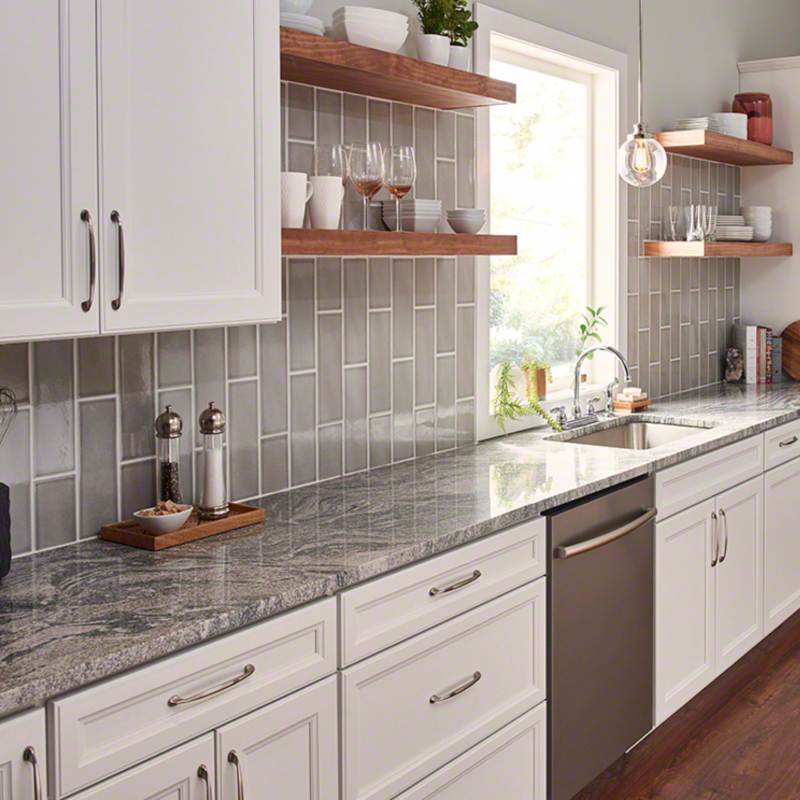 Featured: Silver Creek Granite
Although most countertop choices are versatile, some are better suited to certain styles of décor. For example, sleek, polished quartz with a low variation pattern are ideal for the minimalist, contemporary aesthetic. Quartzite or granite fits well in traditional décor, especially when augmented with custom edge treatments. Your choice of patterning, from subtle to bold, will be influenced by this as well.
Color Choices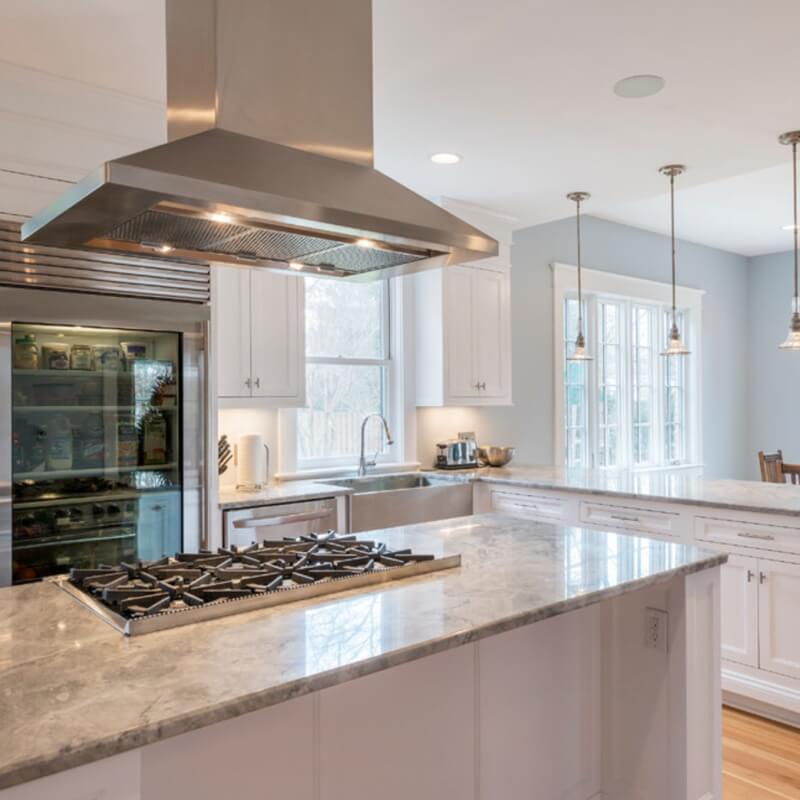 Featured: Super White Marble
Countertops come in just about every color, from solid snowy white to jet black, including exotic shades such as green, blue, and golden yellow. When considering quarts vs. marble or other natural stones, typically you will find more color variation in quartz countertops.
Budget Considerations
While price points shouldn't be the main driving force behind your kitchen countertop choice, few of us have unlimited budgets, so it's unavoidable. Countertop prices fall into a wide range, with marble and granite countertops at the top and manufactured quartz at the lower end. Today's quartz countertops are beautiful and durable, in some cases, such as marble look quartz, faithfully reproducing natural stone. Prefabricated countertop slabs are available as well, further decreasing the cost. You can use the savings for other upgrades, such as a designer mosaic backsplash.
We invite you to browse our web gallery with hundreds of gorgeous countertop options in various colors, patterns, and materials both natural and man-made. Also, our kitchen visualizer can help you make this tough decision, and have a lot of fun in the process.