Create Hotel Quality Bathrooms With Porcelain Slab Tub And Shower Surround Panels
June 28, 2022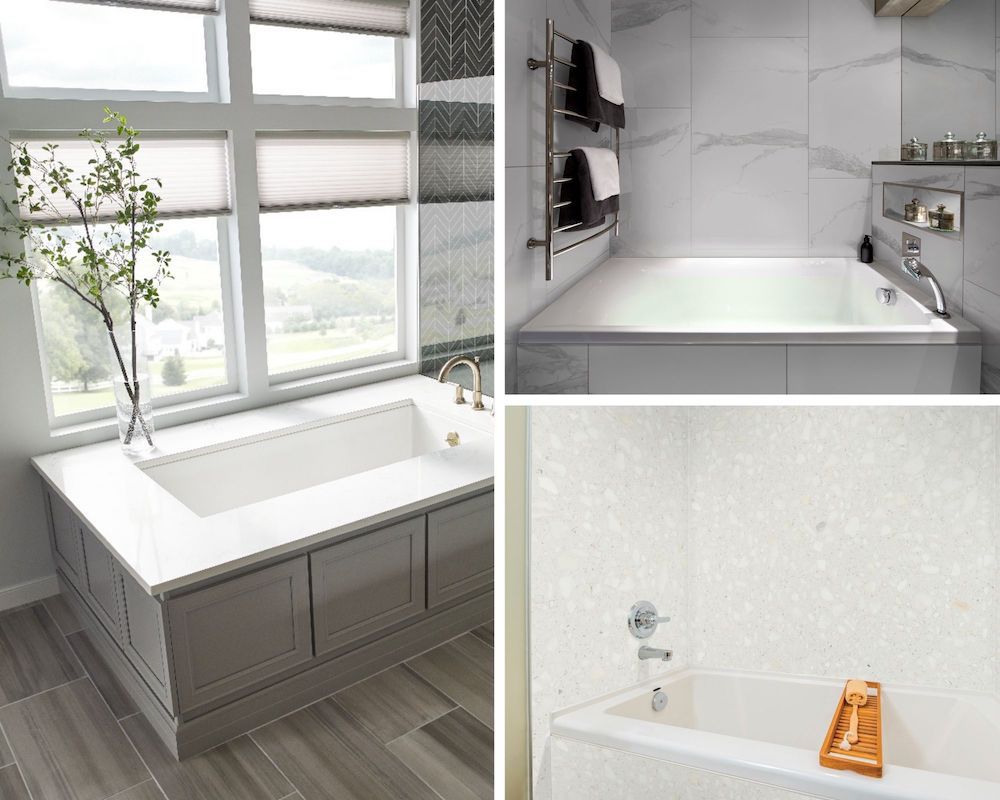 While staying in an upscale hotel room, have you ever checked out the luxurious tub with shower surround panels and wished you could create a similar scene of sophistication at home? If you answered yes, you're definitely not alone. By using MSI Stile® Porcelain slabs as a premium shower surround option, you can recreate that captivating hotel scene. Venetian marble and quartz will also do the trick. Let's take a look at all three, so you can elevate your bathroom into the one in your wildest dreams.
MSI TUB & SHOWER PANELS
MSI offers streamlined, modern premium surfaces so you can create hotel shower surrounds similar to those available exclusively in the finest establishments. You can easily take your shower and tub projects to the next level with our quartz, Venetian marble, or Stile® Porcelain slabs surround panels.
These easy-to-maintain surrounds are the superior alternative to using tile for your tub and shower. You can have these panels trimmed for a custom fit, and with efficient installation, you get to use your upgraded space before you know it.
MSI's Stile® Porcelain slabs, quartz, and Venetian marble options share many of the same benefits while also offering other benefits singular to their material. Read on to learn more about all three.
STILE® PORCELAIN SLABS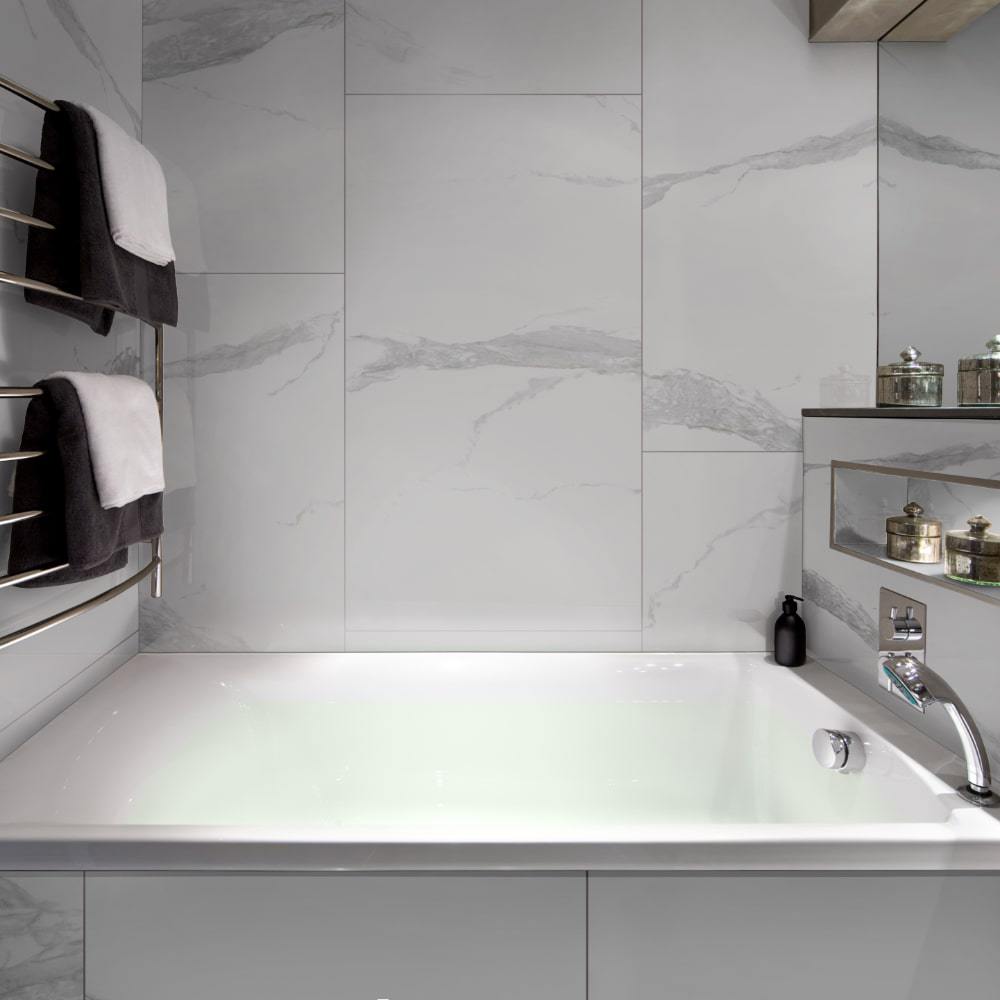 MSI's Stile® Porcelain slabs are the next step in porcelain for home and commercial applications. These porcelain slabs work well for many projects, including countertops, accent walls, tubs, showers, and even flooring. The large format Stile® Porcelain slab panels are durable yet lightweight and ideal for both remodeling projects and new installations as they install conveniently over existing surfaces.
The lightweight character of the slabs, which is a fraction of traditional tile, cuts down on installation cost. Combine those savings with the low price of these porcelain panels, and your budget just came way down. MSI's Stile® Porcelain slabs are easy to clean, low maintenance, beautifully smooth, and impervious to bacteria and germs. They're rated for food safety, which is nice. Also nice, this porcelain is food coloring, wine, coffee, and tea stain resistant.
A leading benefit of Stile® Porcelain slabs is their stunning appearance. Unlike standard porcelain wall tile with any number of distracting grout lines, these slabs deliver a seamless and overall elegant look. The unbroken look is comparable to that of natural stone but for a fraction of the cost.

Unlike natural stone, Stile® Porcelain slabs require no ongoing maintenance like regularly-scheduled sealing. With Stile® Porcelain slabs, you get the unmatched beauty of authentic stone in a durable porcelain package with a revolutionary profile.
Notice how these porcelain Glacier Statuary Panels transform this bathroom into that of a five-star hotel. Imagine how taken care of your guests would feel if this scene were the bathroom in one of your guest rooms. These panels certainly breathe luxurious life into this bathroom.
Porcelain Glacier Statuary Panels deliver elegance and durability at the same time. They are easy to maintain and a better shower and tub alternative to tile. No matter which bathroom you choose to install them in, it's an upgrade you'll enjoy for years to come.
QUARTZ SLABS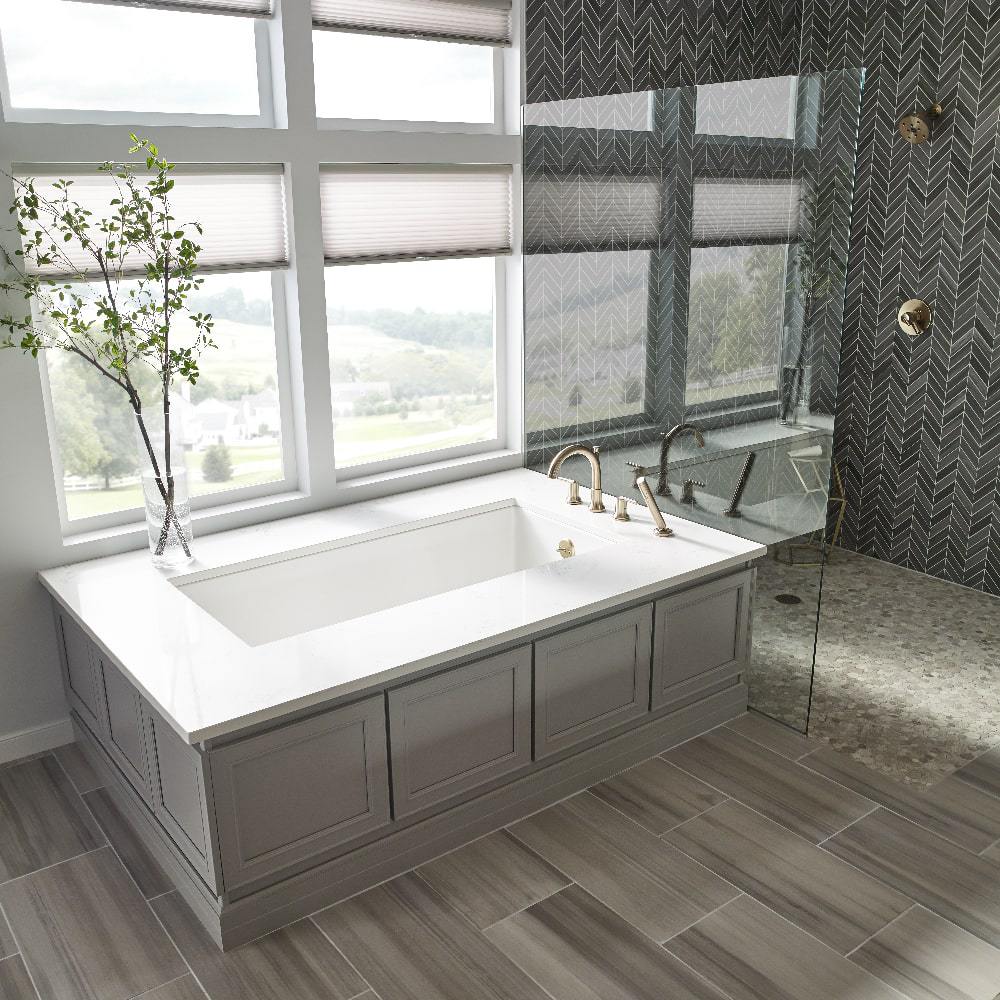 MSI's impressive collection of quartz slabs is another route to creating hotel-quality bathrooms. The quartz slabs are durable yet lightweight. These two benefits help you create a breathtaking new bathroom in less time and for less money. The panels are easier to cut and install than standard bathroom tile. They are low maintenance, easy to clean, and smooth, and they make showers and tubs impervious to bacteria and germs. What's more? They resist stains from wine, coffee, nail polish, and tea.
The hypnotic Carrara Marmi Quartz pictured here effortlessly recreates the luxurious look of a classy hotel suite's bathroom. With a tub and shower like this at home, who needs a hotel? Staycation, anyone? Note how graceful the quartz slab looks on the tub. It brings the entire scene together, including the sunlight pouring in from the windows.
Carrara Marmi Quartz provides the look of cool white marble with gorgeous, understated veins. We've seen how well Carrara Marmi works with tubs, but it's also ideal for alluring white quartz accent walls, floors, countertops, and shower surrounds.
VENETIAN MARBLE SLABS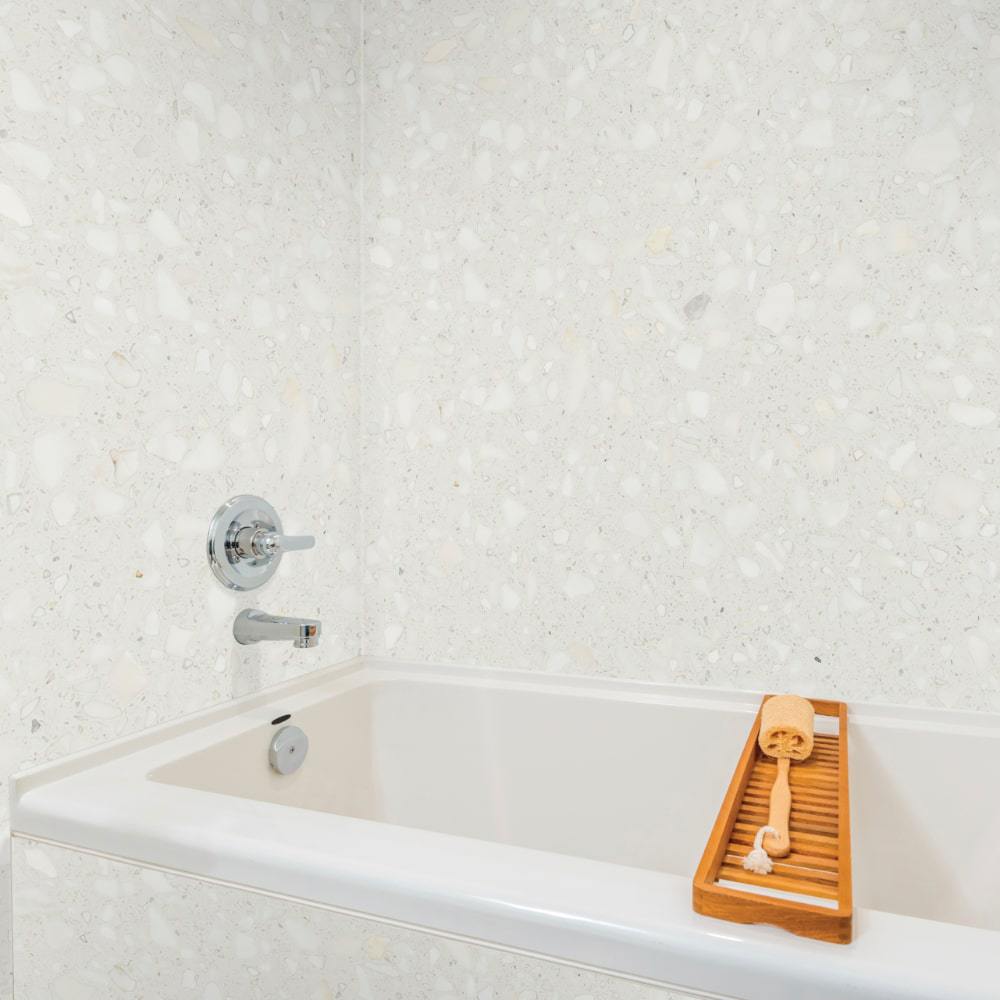 For ages, marble surfaces have represented wealth, the highest levels of luxury, and undeniable beauty. Venetian marble is man-made and an environmentally sustainable alternative to cultured marble. It is more affordable than authentic marble, easy to install, and available in a wide range of colors and decorative styles.
Venetian marble has gained in popularity because it requires less maintenance like the ongoing sealing of real marble and is highly resistant to bacteria and stains. This durable premium surface works well for creating shower surrounds, flooring, custom countertops, backsplashes, and more.

Take a look at how this statement-making Lhasa engineered Venetian marble lends an air of fun to this bathroom. It almost looks like a series of seashells stuck in the panel creating an excellent getaway for a relaxing bath at a private beach.
Opting for Venetian Marble panels to create a hotel quality bathroom with a luxurious marble look is a fantastic idea. Your guest will never know the difference though your project budget and maintenance upkeep list will.
If you have any questions about creating your own lavish hotel quality bathroom using Stile® Porcelain, quartz, or Venetian marble slab tub and shower surround panels, please give us a call, contact us online, or visit one of our showrooms. With so many styles and color choices, narrowing down your selections can prove challenging, but our experts are here to assist in bringing your design vision to life.
You can also contact us in real-time using the MSI website chat feature. There we can provide more information and field any questions. Look for the circle to the bottom right of your screen on any MSI webpage. Simply click on the circle, and a chat box pops up to aid in any way we can.