Current Obsessions: Here'S Why Marble-Look Quartz Countertops Are So Popular
June 04, 2017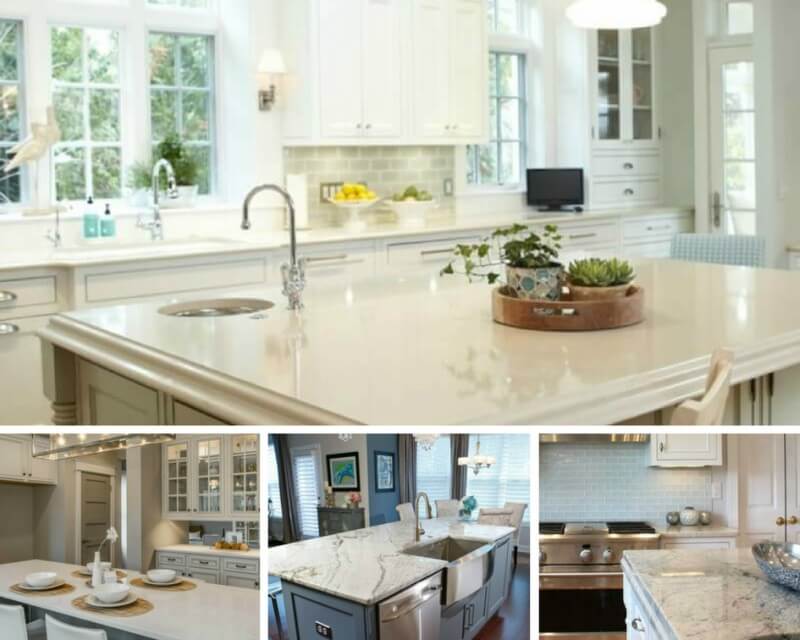 Marble is a countertop diva. Sure, it's a gorgeous classic and a fan favorite. But marble is also high maintenance and requires annual sealing and daily diligence against stains caused by liquids such as wine and tomato sauce.
So if you're not head over heels for marble and are looking for an alternative, quartz is a great substitute for marble. Marble-look quartz is beautiful and versatile. In addition, since quartz is a manufactured product, it can be made to mimic a wide range of natural stones.
In fact, quartz has gained a considerable share of the countertop market. In a study by the National Kitchen and Bath Association, 73% of respondents reported using quartz in kitchen projects in 2010; by 2015, that number climbed to 89%.
Still not convinced? Well, here are even more reasons marble-look quartz could be the perfect choice for your kitchen and bath renovation.
Uniform Color: Quartz is composed of quartzite, resins, polymers and pigments subjected to high heat and pressure. Since it's engineered, quartz's color and design are consistent, which hides seams and avoids the inevitable surprises of Mother Nature's handiwork.
Modern fabrications replicate the look of natural stone so exactly that it's hard to tell the difference—even up-close. Romano White Quartz, for example, with its warm veins and flecks, could be a switched-at-birth twin to varieties of granite or marble.
Color Variety: Since quartz is engineered, it can provide a wider range of colors to choose from than what is typically found in natural marble and granite.
Hates Bacteria: Quartz is pore less and doesn't have marble's tiny holes. This means that quartz repels bacteria and discourages it from growing.
Resists Staining and Etching: Real s strong, but it can chip and is vulnerable to staining. Quartz, on the other hand, easily withstands many kitchen accidents. It laughs at wine glass rings and tomato sauce spills, and stands up to dropped pots and dings from Chardonnay bottles that could chip marble.
No Annual Sealing: Quartz arrives at your home ready to go. Since it's not porous, it doesn't require annual sealing to keep it from soaking up greasy foods and staining liquids.
Easy Maintenance: To keep quartz looking like new, wipe it down daily with a damp cloth and mild cleanser.
Heat Resistant: Although we'd never tell you to place a hot pot on your quartz countertop–why tempt fate?–quartz is heat-resistant and can survive occasional encounters with warm plates and pans.
High Shine: Quartz slabs like Calacatta Vicenza Quartz resemble the shiny and polished finish of classic marble. And since they're scratch resistant, your quartz countertops won't ever look dull and marred.
Great Investment: Quartz has become a selling point for luxury homes and is considered a smart investment in your home. Even better, quartz can cost you less than granite, which your renovation budget will love. Love a white kitchen? Countertops of Fairy White Quartz look fabulous in a white kitchen.
Love the Environment: Quartz has a smaller carbon footprint than granite. Quartzite (one of the key components of quartz) is abundant, so mining for the mineral is less taxing on Earth's resources than mining for granite. Quartz is also a relatively low-emission product, and produces fewer harmful volatile organic compounds than some other countertop products such as laminates.