Is Luxury Tile The Same As Linoleum Flooring?
April 29, 2019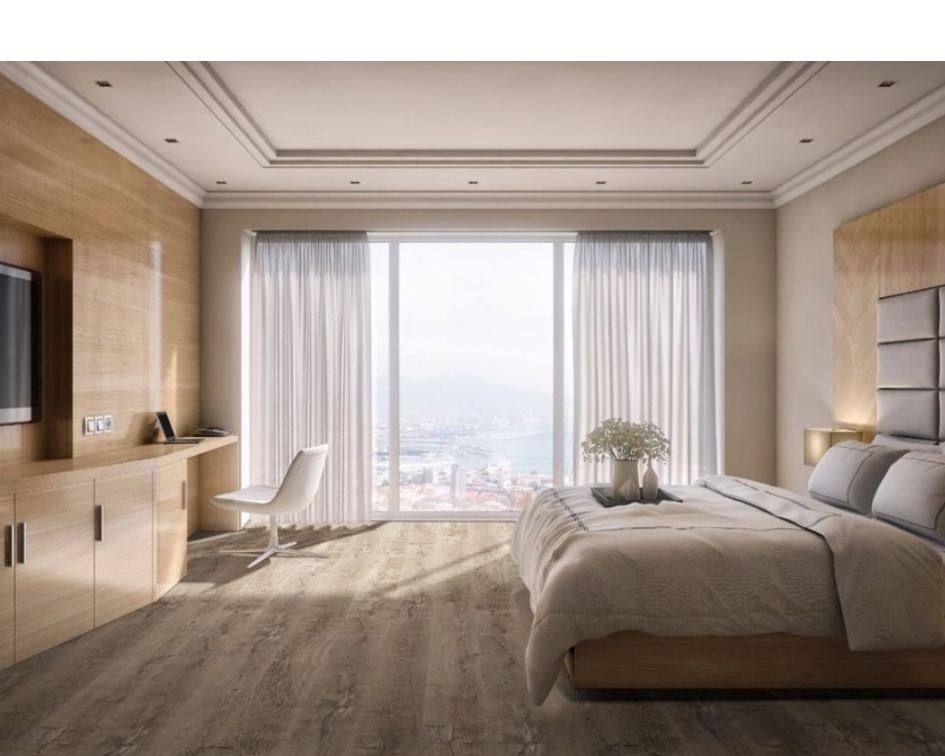 Over the past few generations, the word "linoleum" has become so familiar that many people associate it with any type of manufactured floor covering. One of today's hottest floor coverings is LVT — but, you may ask, isn't that just another name for linoleum?
Linoleum and Luxury Vinyl Tile (LVT) do have a few things in common. They're both durable flooring options, a great value, and have minimal care requirements. That, however, is where the similarities end. Discover the differences between the two, the reasons why LVT is growing in popularity, and how to choose the perfect flooring for your home.
Linoleum: A History Lesson
In 1855, an Englishman named Frederick Walton forgot to put the lid on a can of linseed oil, which is commonly used as paint thinner. A few days later, he discovered a solid, yet flexible, layer on top of the linseed oil. He removed it from the container and set forth to find a use for this substance, which resembled rubber.
Walton discovered its potential for use as a resilient, durable floor covering. He called it linoleum because it was made from linseed oil, and experimented with more efficient ways to produce it.
At the time, oilcloth was commonly used as a floor covering in commercial buildings, kitchens, and other potentially messy places. Linoleum had a big advantage because it was thicker and longer wearing, more water-resistant, and easier to clean. Walton established the Linoleum Manufacturing Company Ltd. In England in 1864. When it caught on in England, he began to export it to the U.S. as well.
Along with its durability and ease of maintenance, linoleum also became popular because it was manufactured in a variety of colors and patterns including the "linoleum rug," which resembled a woven carpet. Other popular patterns included mosaics, geometric designs, plaids, and novelty prints.
History of Vinyl Flooring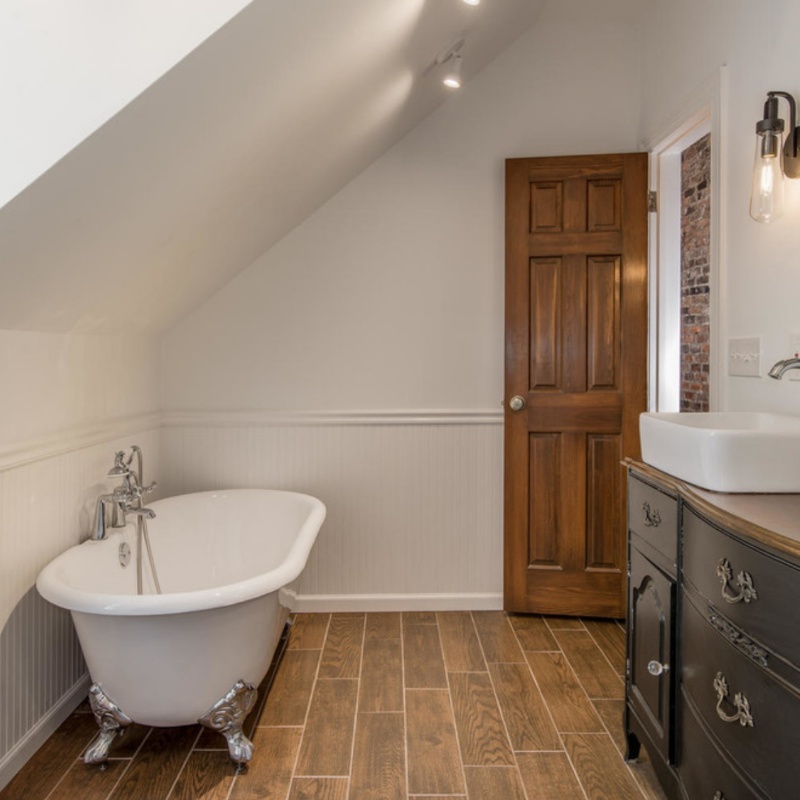 Get this look with MSI's Fauna Luxury Vinyl Tile (Photo Credit: Houzz)
Vinyl tile was first manufactured in 1933. However, because World War II caused a widespread scarcity of materials including vinyl, it was not in widespread production until the late 1940s. It's made of polyvinyl chloride (PVC), a plastic that contains carbon, hydrogen, and chlorine.
Vinyl flooring, which was available in tiles and sheets, quickly surpassed linoleum in popularity. It was considered a premium surface compared to linoleum because it is resilient, meaning that it gives slightly under foot traffic and is therefore more comfortable to stand on. It was also made with brighter colors and patterns, is more waterproof than linoleum, and does not require regular sealing, waxing, and stripping to remain clean and glossy.
Luxury vinyl tile is a type of vinyl flooring that is manufactured to resemble a variety of upscale, luxurious flooring materials such as hardwood planks and natural stone. It also has a thicker protective layer, making it even more durable and resistant to scratches, dents, and stains.
Construction
Linoleum: Modern linoleum is still produced using Frederick Walton's recipe, with a few tweaks. Tree resin is mixed with linseed oil and heated to produce a cement-like substance. This is blended with a variety of ingredients including powdered wood and cork, powdered limestone, and pigments. It's then rolled onto a jute backing and left to cure for two to four weeks. An acrylic sealer is applied, both before and after installation.
LVT: Luxury Vinyl Tile starts with polyvinyl chloride (PVC), which is flexible yet resilient and durable. A state-of-the-art printing technology realistically imitates a variety of popular flooring materials such as wood, natural stone, ceramic tile, and more. It is affixed to a felt backing, and coated with a urethane coating layer that protects it from wear and damage.
Designs
Linoleum: Although throughout its history linoleum has been manufactured in a wide array of colors and patterns, today it is mainly manufactured in basic, solid colors. These can however be combined to produce interesting patterns, like any other type of tile.
LVT: As previously mentioned, Luxury Vinyl Flooring is manufactured in a huge variety of colors, patterns, and textures. Wood planks are the most popular style of luxury vinyl floor tiles.
Installation
Linoleum: Because it is not flexible and is difficult to cut, linoleum can be a challenge to install. It must also be installed over a smooth, level surface, because it will show any imperfections if it doesn't lay exactly flat. It must be installed with flooring adhesive, and a heavy roller is typically used as the final step.
LVT: DIY-savvy homeowners can install luxury vinyl tile themselves, saving a lot of money on labor costs. It can be affixed directly to the subfloor or concrete, or an underlayment can be used. Because of its flexibility, it's easy to work with. It's also easy to cut LVT to fit around holes, curves, or edges.
Durability
Linoleum: Because of the way linoleum is manufactured, the color goes all the way through each tile and it's less likely to show wear or scratches. It's a tough material, which is why it's often used in commercial buildings with heavy foot traffic.
LVT: All vinyl flooring is manufactured with a protective layer, but LVT's is thicker and more resistant to wear and damage. Most LVT comes with a 10- to 15-year warranty for residential use. It is much more water-resistant than linoleum, making it a better choice for kitchens, bathrooms, laundry rooms, and any other place likely to have spills and other messes.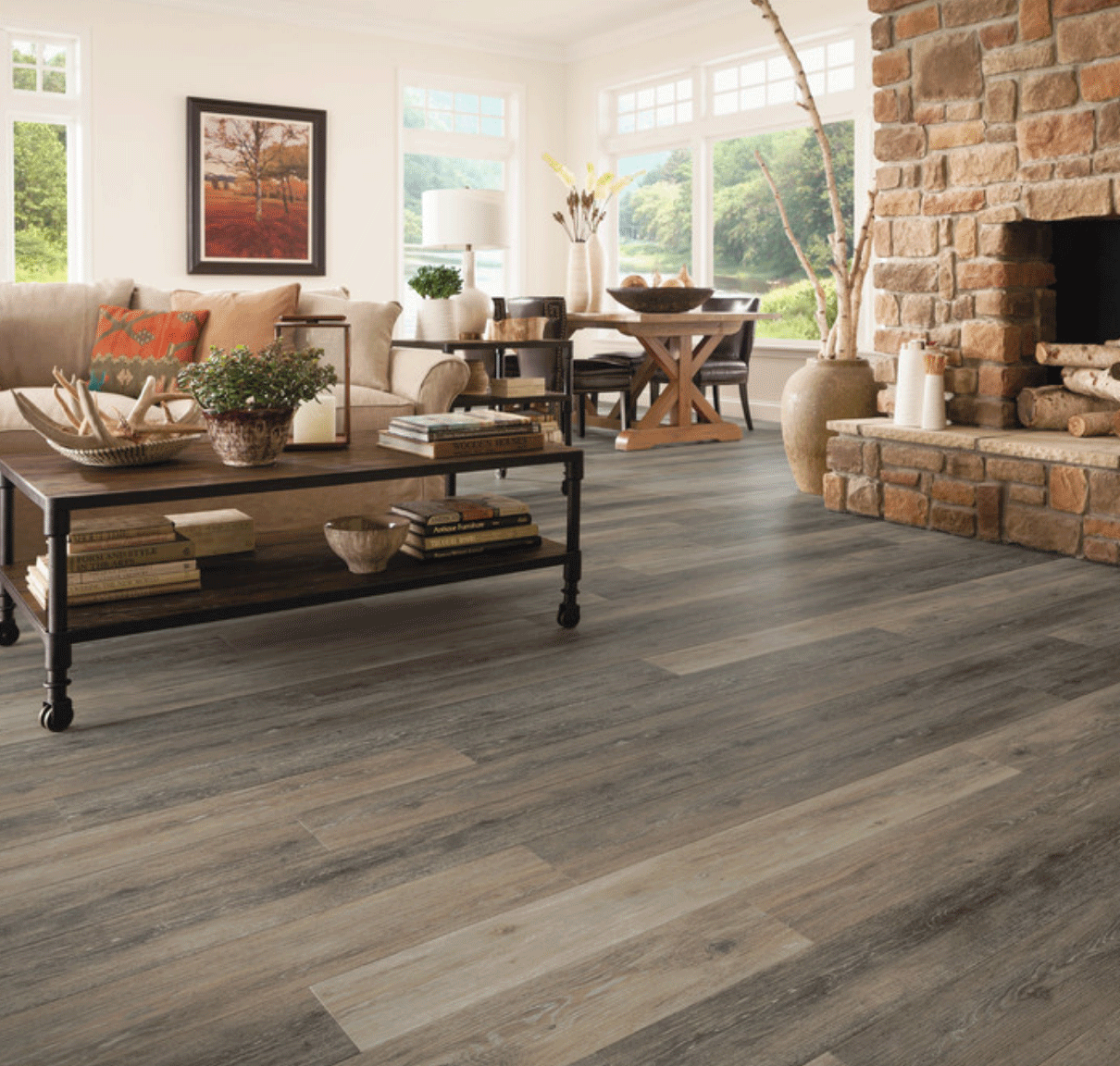 Get this look with MSI's Coastal Mix Luxury Vinyl Tile (Photo Credit: Houzz)
Care
Linoleum: Daily care is easy, and it can stand up to harsh chemicals, which makes it ideal for institutional environments where hygiene is important. However, it needs regular sealing, waxing, and buffing to protect it from moisture and stains and to keep it looking glossy.
LVT: All you need to maintain LVT flooring is a mop and mild cleaning solution. It does not require sealing, waxing, or any other process to keep looking its best.
Repair
Linoleum: Since linoleum is affixed with a strong, cement-like adhesive, it can be difficult to remove individual tiles when they are damaged.
LVT: Although LVT is also attached with an adhesive, it is much easier to remove an individual plank or tile for replacement.
Price
Linoleum and luxury vinyl plank flooring are similar in cost, ranging from $4 to $8 per square foot. As with any other product, you get what you pay for — higher-quality tiles have a higher price tag. LVT has the advantage, however, because it typically costs much less to install.
There's no question that both linoleum tiles and luxury vinyl tile are excellent flooring options. In fact, linoleum has seen a recent upswing in popularity because of its bright colors and stylish, retro design options. However, you can't beat the value and versatility of LVT, which realistically delivers the aesthetics of hardwood flooring, including the wood grain and knots, or natural stone, and eliminates most of its drawbacks. Plus, because of its flexibility it just feels nicer beneath your feet. Visit MSI's website to see the many colors and patterns of LVT available.
More on Luxury Vinyl Tile
How to Choose Luxury Vinyl Tile
What Is Rigid Core Luxury Vinyl Flooring?
Luxury Vinyl Tile: The XL Cyrus Series