Current Obsessions: Questions To Ask When Shopping For A Quartz Countertop
May 19, 2018
Looking to create your perfect easy-care quartz countertop? Dreamy marble looks, on-trend modern look of concrete slabs, contemporary solid colors, and natural stone doppelgangers—all of these and more are available to you when you're ready to get started on your bathroom or kitchen update!
However, if you're considering quartz for the first time, you probably still have a few unanswered questions. We've heard them all. That's why we've compiled a list of five essential questions to ask while shopping for quartz…and then answered them for you!
1. What are the real benefits of installing quartz?
Quartz counters are durable, easy-to-clean, non-porous, and never require sealing. In addition to its easy maintenance, quartz comes in many attractive looks. In fact, with nearly 80 quartz colors and patterns to choose from, there is a quartz look sure to suit your personal style.
One final benefit that has homeowners flocking to quartz is that many of our most popular quartz colors are now also offered in prefabricated slabs for quick and easy installation. Quartz prefabricated countertops are one of the simple ways to improve your kitchen in a weekend. Of course, custom slabs are always on the menu as well.
2. What finishes are available in quartz countertops?
Once upon a time, most countertops featured a highly polished surface like the Pacific Salt Quartz countertop in this stunning contemporary kitchen. Indeed, many homeowners still prefer this reflective, dazzling shine. But today, there are also other finishes available, including concrete looks and matte finishes for more contemporary, modern designs.
Choosing the right finish for your quartz countertop is a cinch. Simply take a sample into the space and see how the natural light plays with the different finishes.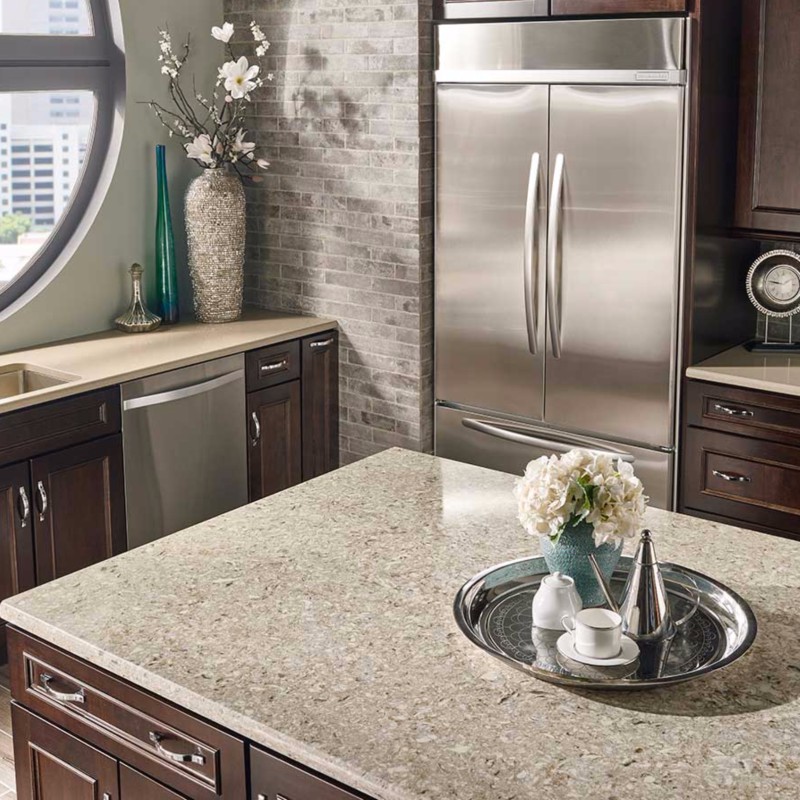 Featured: Chakra Beige Quartz
3. Are quartz countertops full-body?
For the uninitiated, full-body means that the design and color goes all the way through the body of the slab. The answer is that some quartz is full-body, and some aren't. In other words, this is a very important question to ask when shopping.
We can assure you that MSI quartz colors are engineered with an optimal fusion of quartz and resin, the color and the pattern running throughout the depth of the slab. Manufactured to MSI's exacting standards, our wide range of quartz colors and patterns are offered in both 2 cm and 3 cm thicknesses. The different thickness options allow for a variety of quartz installation projects, including walls, floors, and of course, countertops.
In addition to MSI's quartz being full-bodied, the surface is impervious to bacteria and staining. It is an excellent choice for busy kitchens where center islands host baking and food preparation, school science projects, on-the-go breakfasts, and homework.
One of our favorites for a gorgeous quartz kitchen in neutral tones is Chakra Beige Quartz, a timeless and elegant choice that complements the darker cabinetry and brick-look porcelain tile accent wall.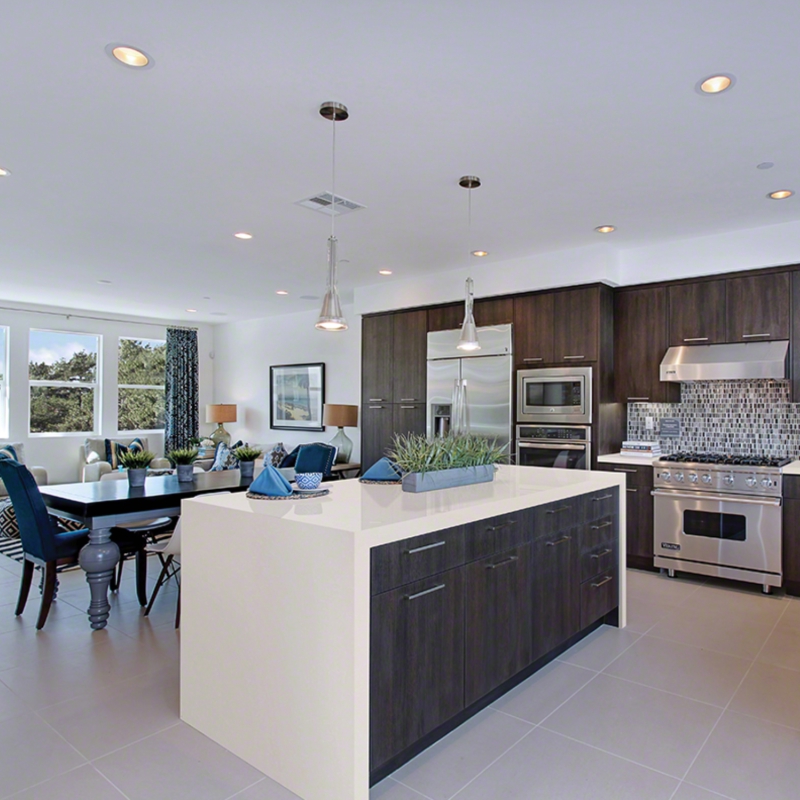 Featured: Perla White Quartz
4. How long has the manufacturing company been in business?
With the growing popularity of quartz counters, more and more companies are popping up to manufacture and distribute it. However, few companies have the long-term reputation and have mastered quartz manufacturing quite like MS International. Since 1975, MSI has located, imported, manufactured, and distributed the world's finest floor and wall tiles, mosaics, hardscaping products, and countertop materials.
Upgrading countertops is a significant investment, so it is vital to select a material that is engineered to last a lifetime. For example, Perla White Quartz is a superior choice for countertops and sweeping waterfall islands. This quartz color, clean and simple in design and style, would highlight any flaws in manufacturing. That's why it's so important to understand the manufacturer's quality standards before selecting your quartz countertop.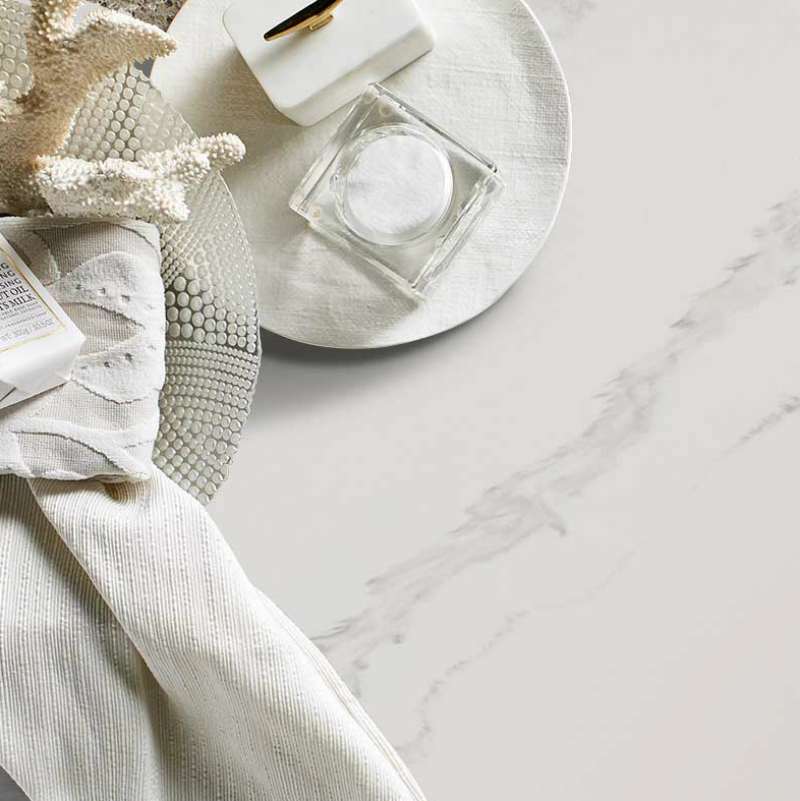 Featured: Calacatta Venice Quartz
5. Is there a warranty and what are the terms?
When selecting a quartz countertop for your next project, it is vital that you study the full warranty and terms. Not all warranties cover all types of properties, and many only cover quartz countertops installed by a registered installer.
In particular, if you have rental properties or commercial properties, be sure to read the warranty and verify any questions you may have as to its scope. In the event that something goes wrong with your countertop investment, you'll want to be covered. Fortunately, with the manufacturing standards of MSI's Q Premium Natural Quartz countertops, you can rest assured your product will remain beautiful for decades.
Feast your eyes on our Calacatta Venice Quartz. It's crafted to look exactly like the fine natural marble found in estates worldwide, but the good news is that it never needs sealing and its easy-care nature is ideal for busy kitchens.
Choosing your next countertop surface can be challenging, and if you've never shopped for quartz counters before, it's important to know the right questions to ask. Not all quartz is manufactured to MSI's standards, and no other company has our reputation.
We invite you to explore all of the quartz colors, like Calacatta Classique Quartz shown above, and learn how to keep your countertops beautiful for decades to come.
Read More About Quartz Countertop Shopping and Buying:
The Price Benefits of Quartz Countertops
Read This Before You Commit to A New Quartz Countertop
The Ultimate Quartz Countertop Buying Guide
Here's Why a Quartz Countertop Is Your New Best Friend
How To Estimate Your Quartz Countertop Cost
Your Quartz Countertop Shopping Guide