Rethink Modern With These 5 Metal Tile Backsplashes
March 22, 2017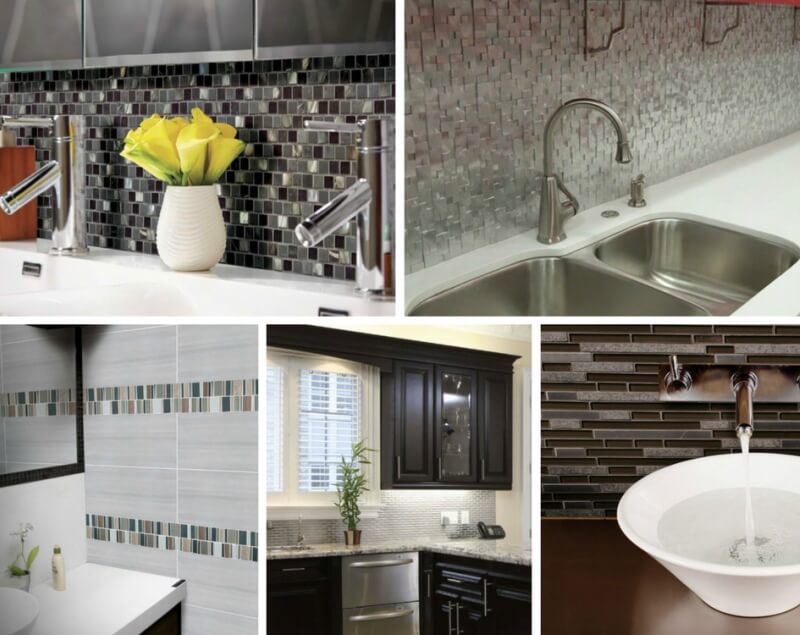 Modern décor with warmth may sound like an oxymoron, but it's actually one of the hottest looks in home décor today! Homeowners looking to create a contemporary, minimalist look—complete with a cool metal tile backsplash—can still achieve a warm, vibrant look by choosing the right blend of materials, colors, and accent pieces. Your modern kitchen or bathroom won't look cold or stark when you follow these key tips.
Silver Metal Brick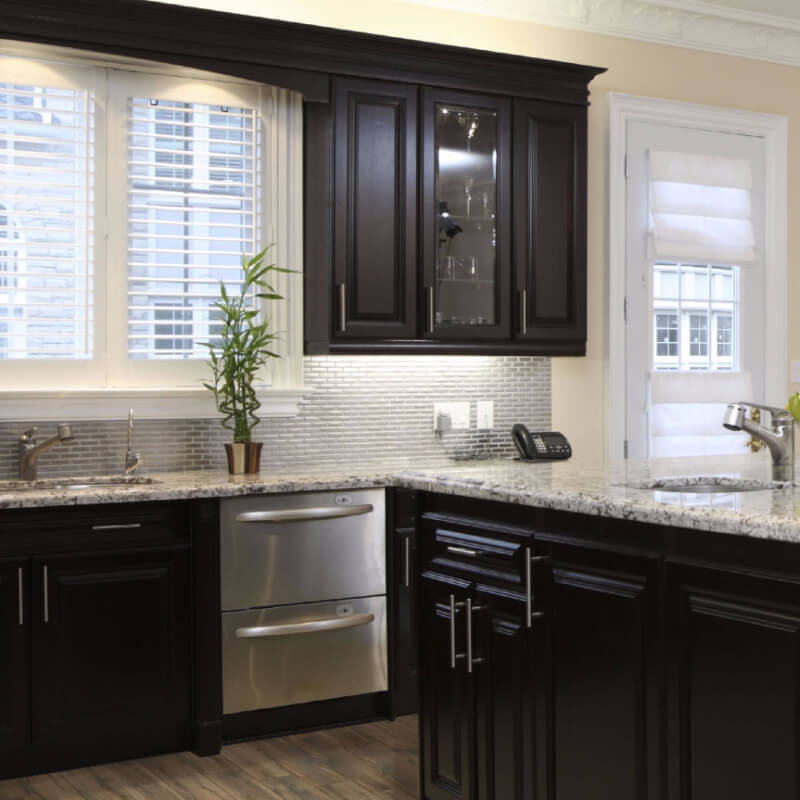 Featured: Silver Metal Brick
This traditional kitchen is not only updated but also brightened up with the modern matte steel finish found in MSI's Silver Metal Brick pattern tile. This mosaic is a sleek, bold choice that bounces light from the windows and under-cabinet lighting, and provides a pleasing contrast with the rich espresso cabinetry.
To warm up your space, add natural elements like greenery, candles, or even shells. Here, a bamboo plant in a copper pot brings life into the cooking space while adding yet another metallic element to the mix.
Midnight Pearl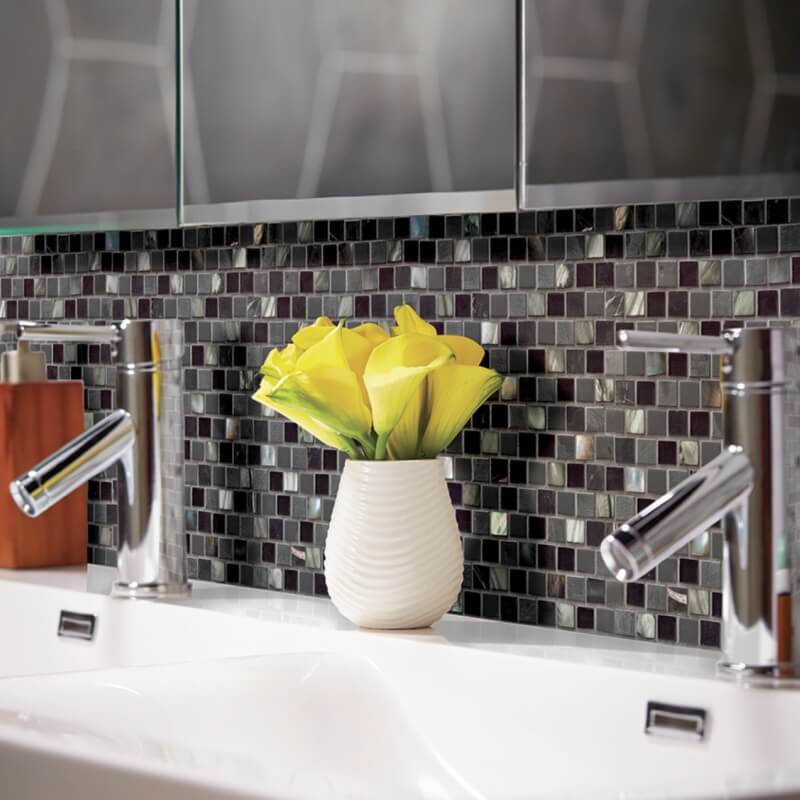 Featured: Midnight Pearl (Glass Stone Metal)
For a welcoming look that brings in a bit of nature, use a metal mosaic that combines glass with stone. Midnight Pearl is a perfect example of a metal and glass tile that perfectly complements a modern style.
The offset mini brick pattern of 198 chips per 12x12 sheet features luminous black, gray and iridescent mini glass tiles with just the right amount of shimmer. The shell-like stones also tie in with the other natural elements like the vase of yellow tulips and wooden soap dispenser.
Silver Aluminum 3D
Featured: Silver Aluminum Metal 3D
Want to make your modern kitchen pop? Use a bold color to brighten up the room and create an energetic space. This high-gloss cabinetry in a daring red enlivens this ultra-modern kitchen. For even more drama, these homeowners added Silver Aluminum Metal 3D.
The contemporary backsplash tile with its three-dimensional pattern gives the sleek space much-needed texture and even more interest, and pairs well with the stainless steel appliances and fixtures.
Paradise Bay Blend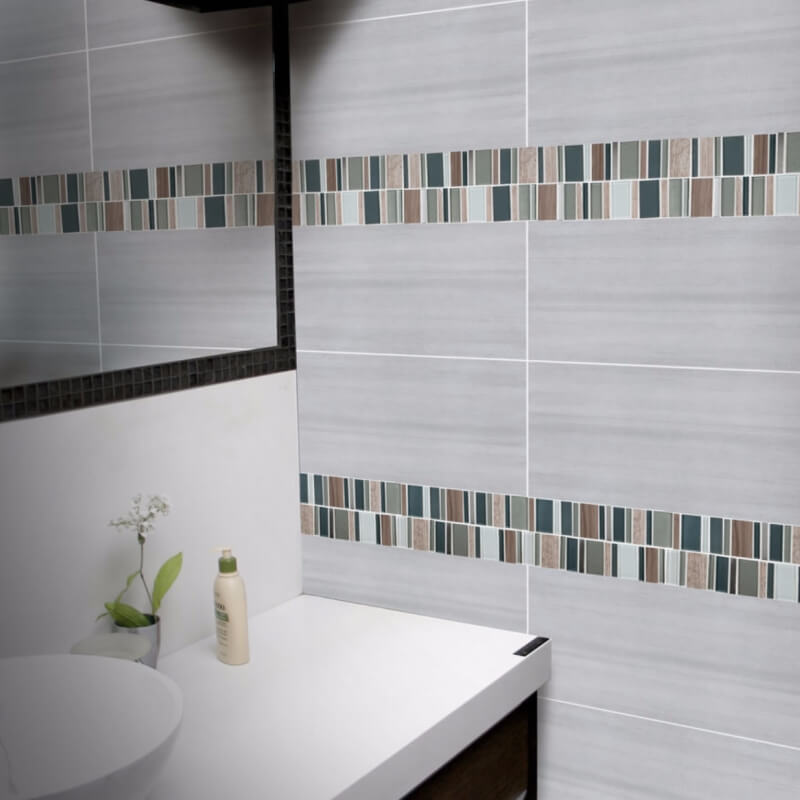 Featured: Paradise Bay Blend (Glass Stone Metal)
Some mosaic tiles are busier than others, which means you may not want to cover your entire accent wall with it. By using a few accent stripes of MSI's Paradise Bay Blend tile, this bathroom provides a calm environment with a cool, contemporary vibe.
The glass, stone, and metal mosaics come in a mixture of warm and cool tones, from taupes and creams to grays and blues. The large-format, porcelain tile in a neutral white and gray tone offsets the accent pieces.
Niagra Interlocking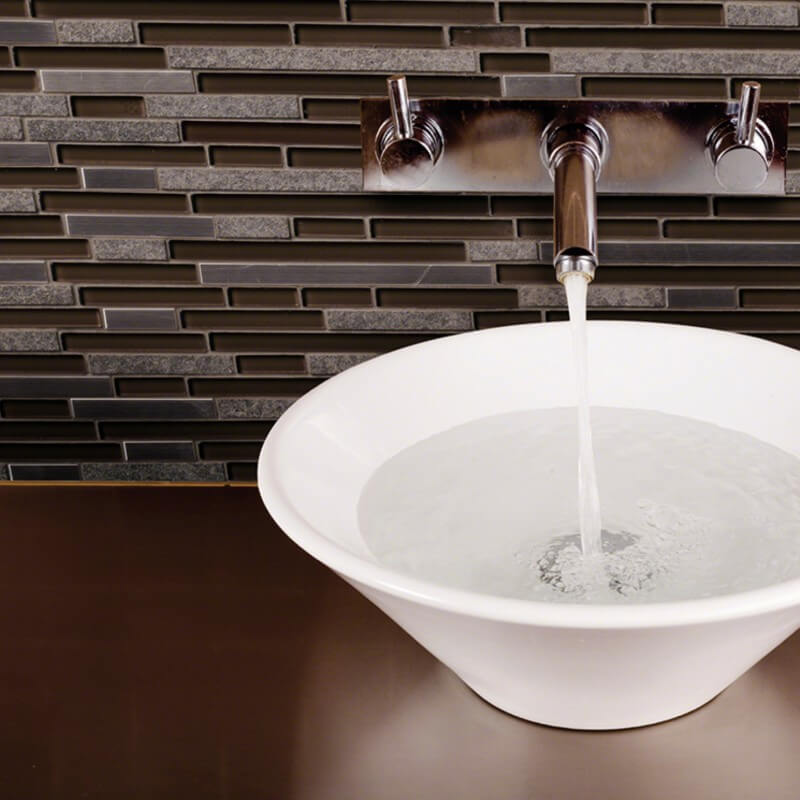 Featured: Niagra Interlocking (Glass Stone Metal)
Another way to compliment your modern tile backsplash is to use earthlike colors. This sleek bathroom features a rich brown base and a modern sink in white to highlight the beautiful combination of metal, stone, and glass found in these Niagra Interlocking tiles. The dark gray and black tones add drama to the design, and the mosaics come in an interlocking pattern for easy installation.
If you're ready to add a metal tile backsplash to your space, turn to the experts at MSI. Along with these five favorites, there is a total of 27 metal mosaic designs to choose from. Not sure if it's right for your style? Test drive a few looks by ordering samples first. It's a great way to choose your favorite before committing to a particular pattern.
READ MORE ABOUT MSI BACKSPLASH TILE
Our Favorite Trends In Backsplash Tile
Proof That Backsplash Tile Can Completely Transform A Room
Should I Use Marble Or Porcelain Backsplash Tile In The Bathroom?