5 Knockout Granite Countertop Kitchens
October 31, 2016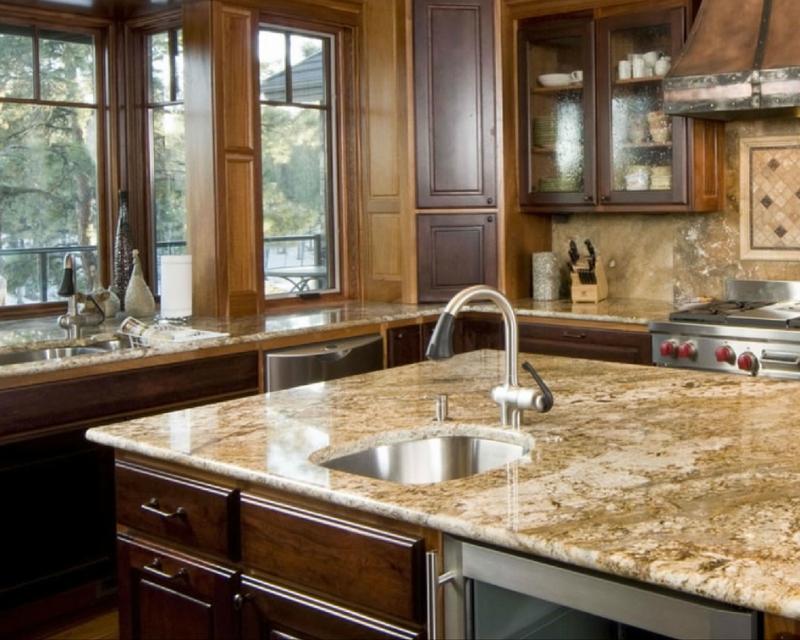 Not only are granite countertops beautiful, durable, and easy to maintain, but they also come in countless colors and designs to steal the show in your new kitchen. Want a bold look that works well with contemporary and traditional designs? Black Galaxy granite is like a starry sky that looks great in white kitchens. Favor more muted tones? Bordeaux Dream has creams and light browns that play well with dark or light cabinets.
When you're ready to transform your kitchen from dated to dramatic, there's sure to be a granite countertop that will do the job. To get started, take a look at these kitchens and the stunning granite colors that make them unique.
Juparana Delicatus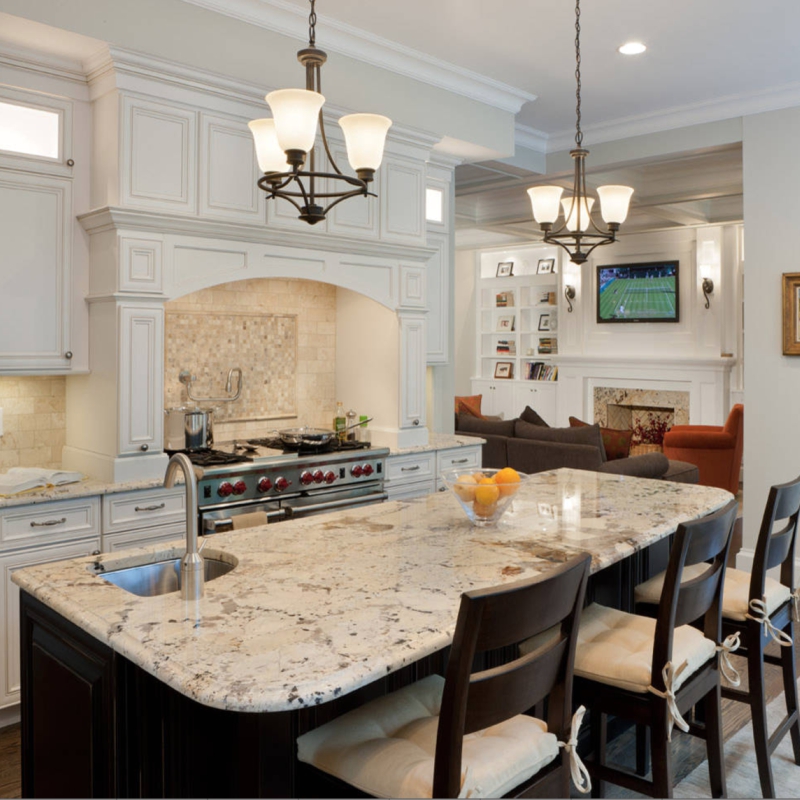 Featured: Juparana Delicatus Granite
This showstopper combines black and dark brown specks on a white background with unique variations of veining, making your counters and backsplashes one-of-a-kind. Juparana Delicatus Granite brightens the dark island cabinet, yet blends beautifully with white cabinets and light hardwood flooring. We love the way the wrought iron lighting fixture with frosted glass globes enhances the colors of the elegant stone countertop.
Black Galaxy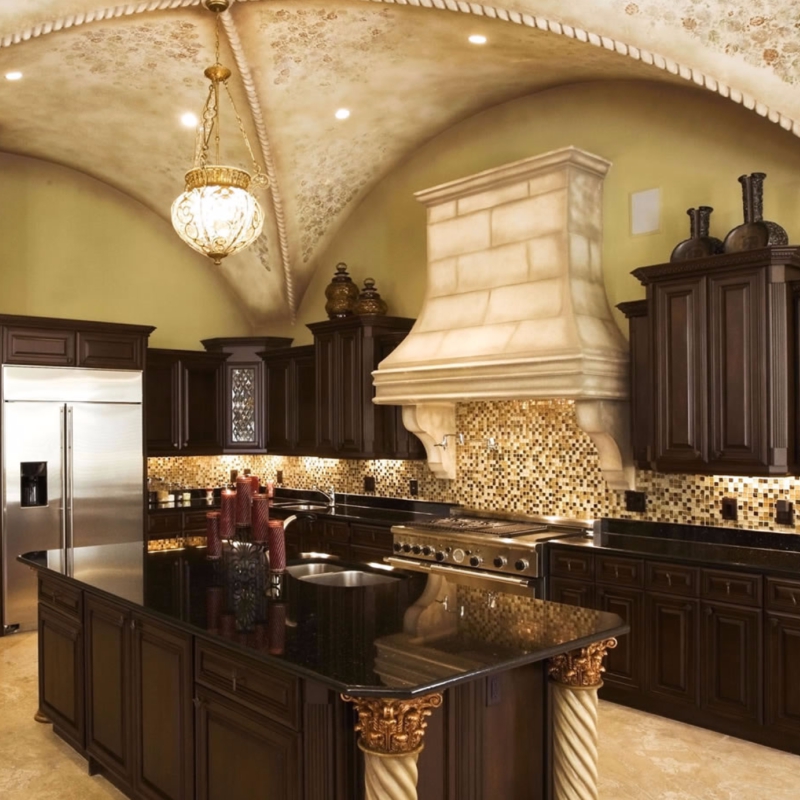 Featured: Black Galaxy Granite
Black Galaxy Granite, mined in India, is a mostly midnight granite with tiny gold and white flecks. It's a favorite among builders for its ability to complement different cabinet styles.You'll often see it in Shaker-style kitchens with simple, clean lines, but Black Galaxy is striking in traditional settings, too. Look how elegantly this polished black granite countertop reflects the pendants above, brightening the dark cherry cabinets in this wet bar. But you don't have to confine Black Galaxy to the kitchen. It looks great on fireplace surrounds, too.
Mascarello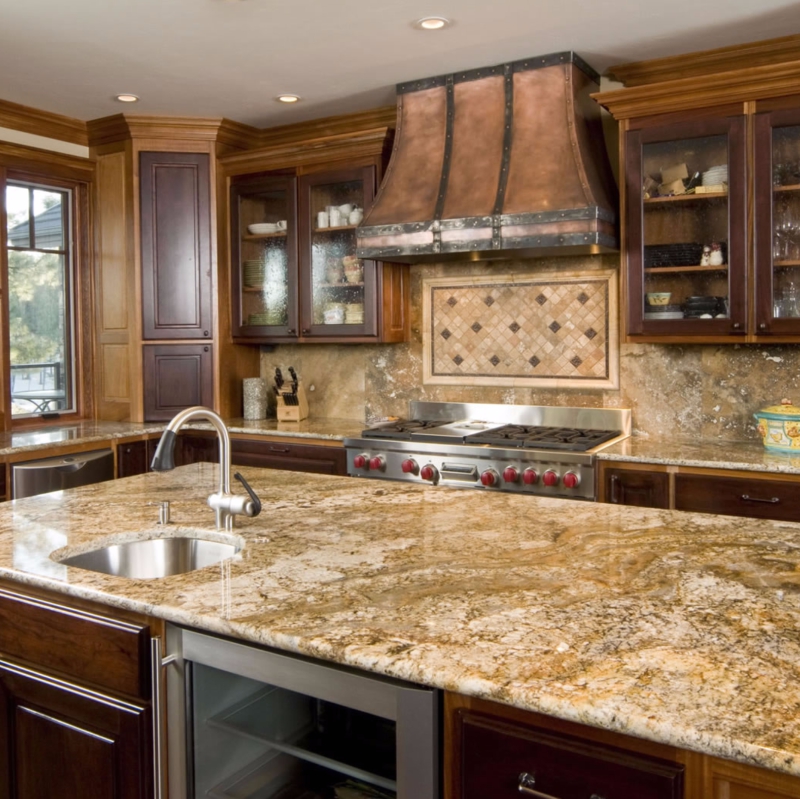 Featured: Mascarello Granite
Want the colors of autumn all year round? Mascarello Granite is a dramatic, high variation granite composed of golds, rusts, and blacks. Mascarello is the perfect countertop for oak, cherry, and maple cabinets – or even a combination of those woods, as in this kitchen. This granite perfectly complements the gorgeous copper range hood and the stainless sink and faucet.
Bordeaux Dream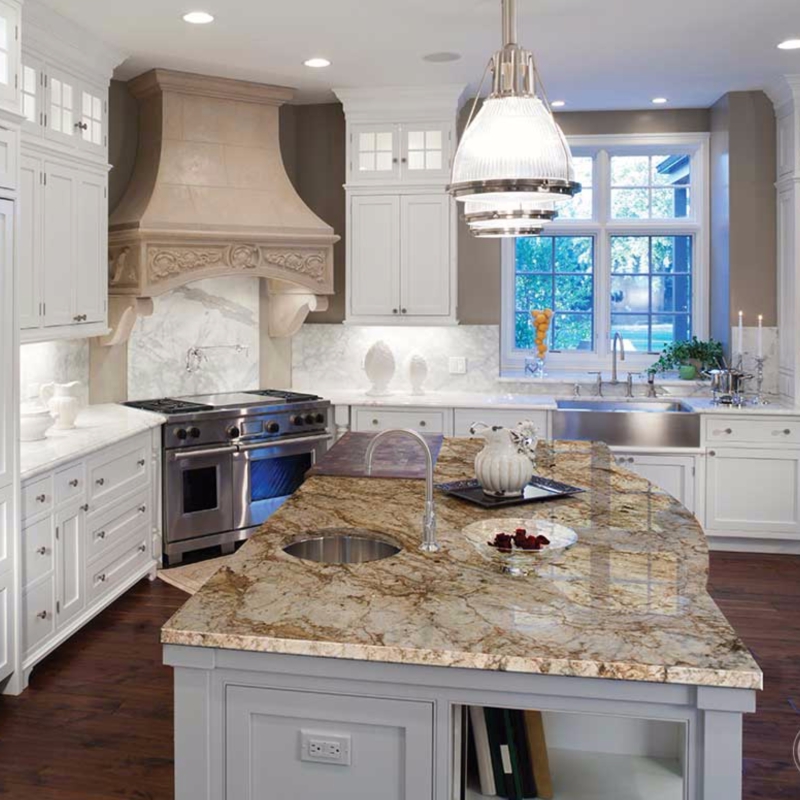 Featured: Bordeaux Dream Granite
This champagne-base granite from Brazil comes alive with russet veins and slate and jet accents, and pairs well with cream or white cabinets to create an Old World feel. But don't think Bordeaux Dream Granite is limited to light, ornate kitchens. The granite's dark accents play well with dark cabinets or flooring too.
Caravelas Gold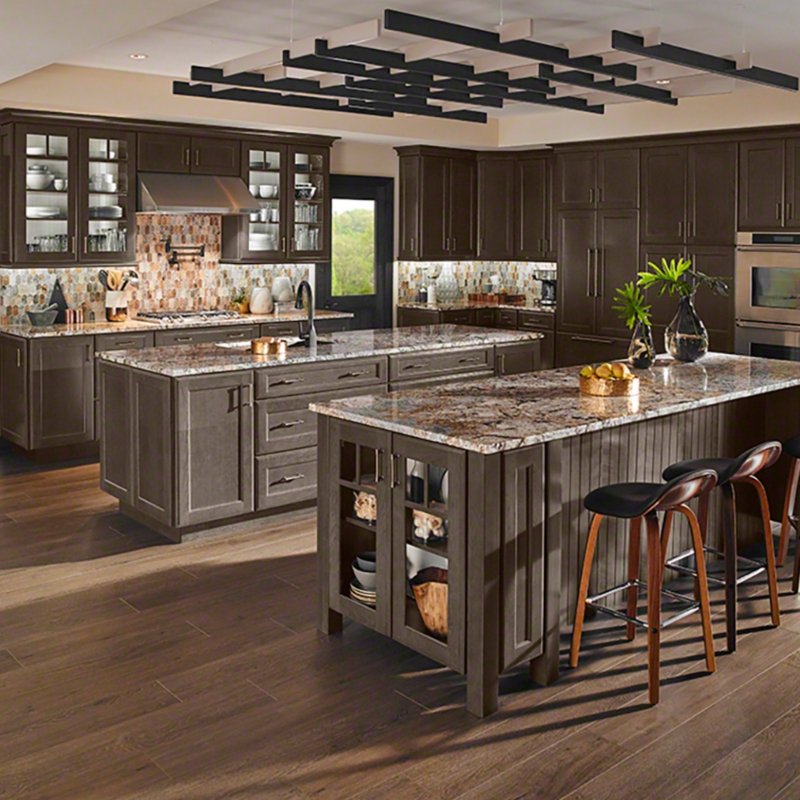 Featured: Caravelas Gold Granite
Caravelas Gold Granite is a stunning combination of browns, grays, and soft creams that swirl together in a high movement granite. The stone's silvery accents work elegantly with the gray and pewter cabinets that are so popular. And the browns sing along with wide-plank, hardwood flooring. Caravelas Gold's movement pairs fantastically with Shaker style, adding a wow factor to that simple, line design.
These five granite colors are a small sampling of the premium granite colors that you'll find at MSI. Explore all the options in granite, as well as other countertop surfaces with MSI's Virtual Kitchen Designer.
Read More about Granite Kitchen Countertops
Granite Waterfall Counters for a Dramatic Kitchen Centerpiece
Countertop Visualizer: Your Dream Kitchen or Bathroom in Real-Time
Maximum Return on Investment: Granite Kitchen Countertops
Golden Granite Countertops for a Warm and Glowing Kitchen
Granite Countertops: The Workhorse of the Kitchen
5 Black Natural Granite Countertops for an Upscale, Luxury Kitchen
Natural Granite Kitchen Countertops to Extend Up Your Backsplash
Get the Designer Kitchen You Crave With These Granite Countertops
Choosing Your Ideal Granite Countertop: Fast-Track Your Upgrade
Stop Obsessing! Here's How to Make Sure Your Counters and Cabinets Go
6 Wow(!) Kitchens featuring Granite Countertops
Natural stone countertops add both value and beauty to your home, and with the kitchen at its heart, these gorgeous granite-clad islands are irresistible!
READ MORE ABOUT GRANITE COUNTERTOPS
5 Of Our Favorite Granite Colors For White Cabinets
5 Popular Granite Countertop Edge Profiles
5 Standout Kitchen Designs with Black Granite Countertops