Current Obsessions: Stacked Stone Fireplaces
July 12, 2016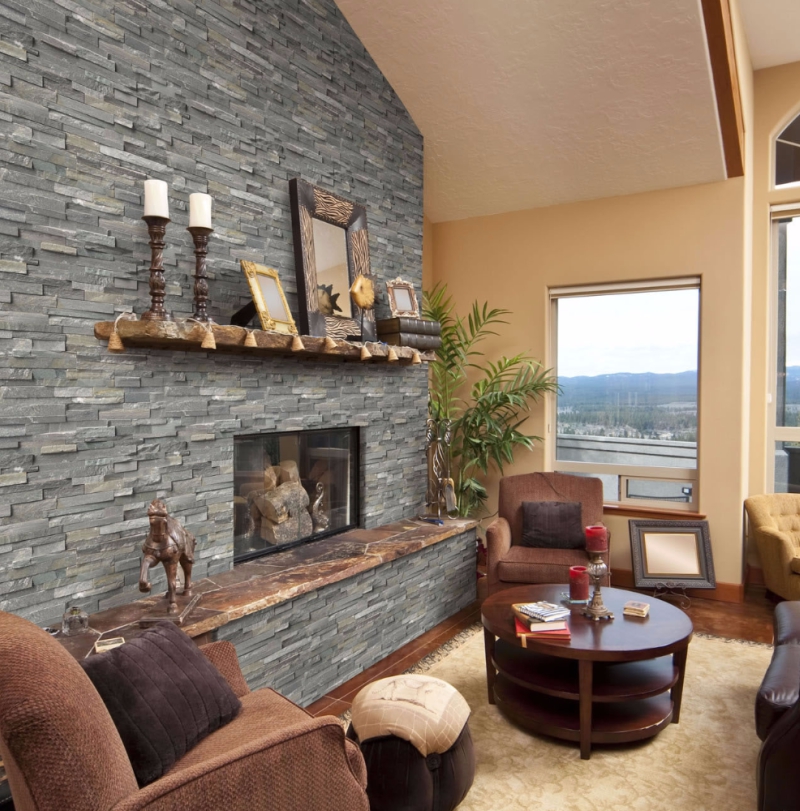 The fireplace has always been the heart of the home, whether it's a true source of heat or purely decorative. There's nothing cozier on a cold winter day than gathering around a flickering flame on the hearth, and even in the heat of summer, a fireplace installation can lend a dramatic flair and focal point to the room. If you're lucky enough to have a centrally located hearth in your home, stacked stone ledger panels help you make the most of this design element.
Although it looks like a complicated project that will take a lot of time and money, you'd be surprised. MSI's panel install system, which includes specialty corner pieces, makes it a breeze. Check out this video we've created to show just how simple it can be to bring the beauty of natural stacked stone ledger into your home.
Silver Travertine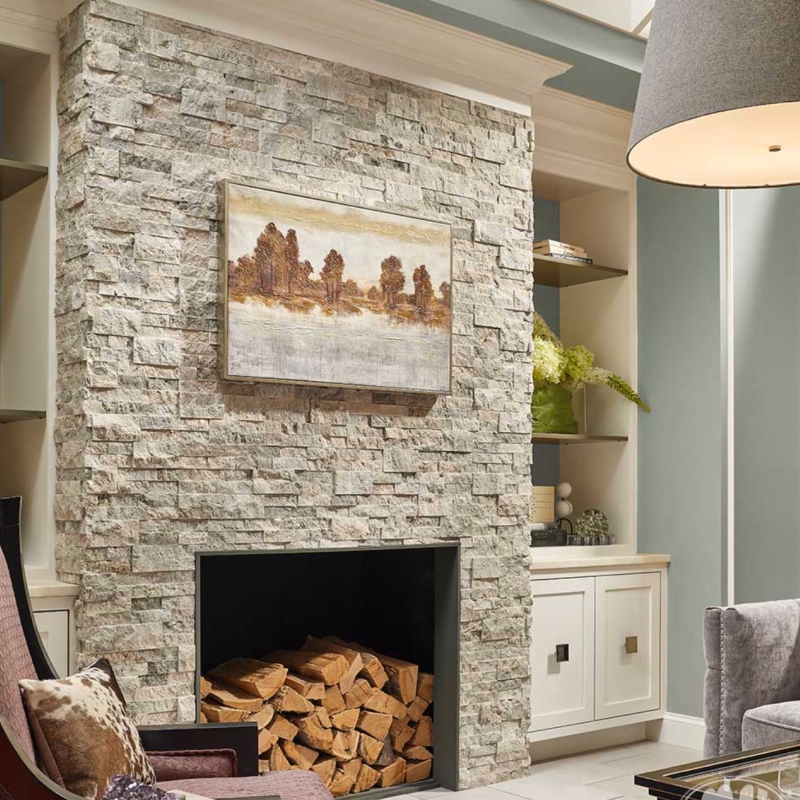 Featured: Silver Travertine Stacked Stone
The rough texture and natural, neutral gray of Silver Travertine creates stacked stone walls that will fit in any décor, from rustic to contemporary. This colorway has low variation, just enough differences in gray hues to lend interest to large installations without overwhelming the space. It's easy to imagine this easygoing stone blending well with other design elements – wood, tile, or even other types of stone.
Sierra Blue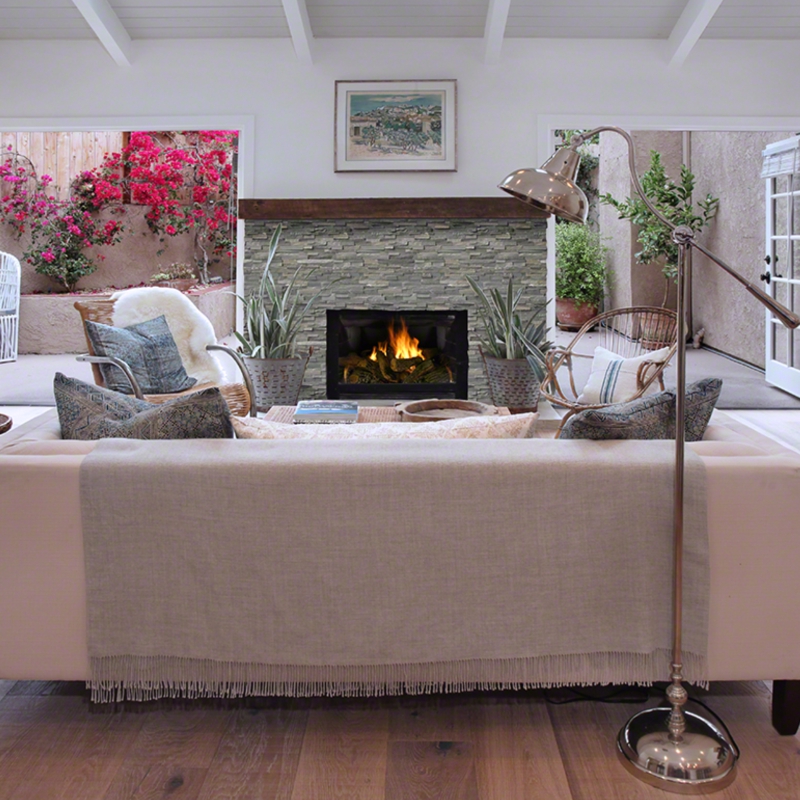 Featured: Sierra Blue Stacked Stone
Quartzite ledger panels in varying hues of blue-gray, charcoal, and buff, with strong horizontal lines, stack to create a dramatic installation with rustic appeal. Use this indoors or outdoors for your stacked stone fireplace, wall accents, planters, even a kitchen backsplash. It's equally at home in the city or a mountain retreat.
Casa Blend 3D Honed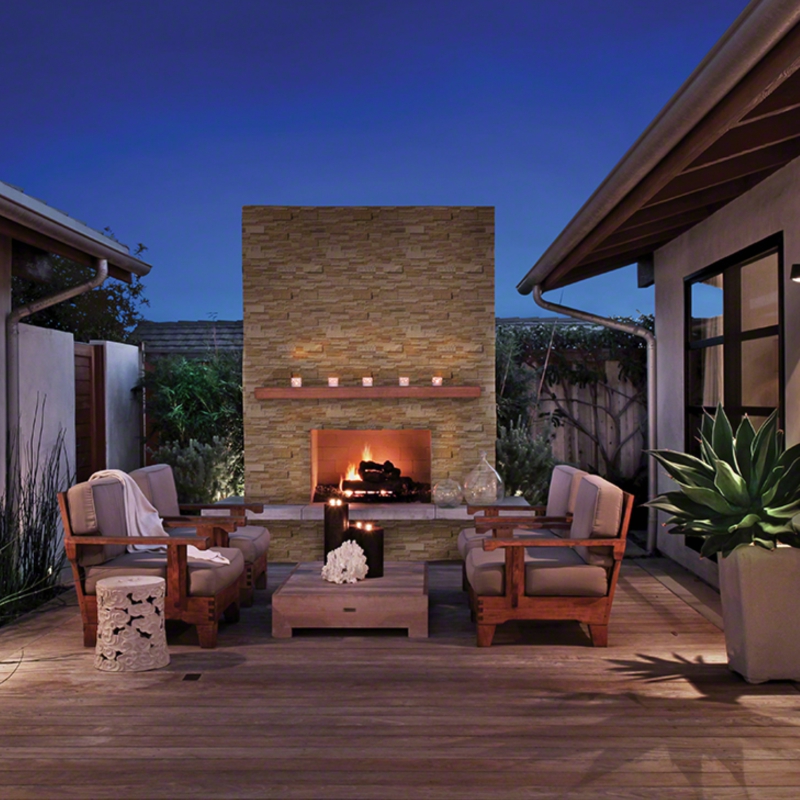 Featured: Casa Blend 3D Honed Stacked Stone
These natural travertine ledger panels have straight, strongly delineated edges, and make it easy to blend natural beauty with elegant, clean lines. Stacked brick-like on a fireplace wall, the soft creams and warm beige tones of Casa Blend 3D Honed are perfect for a contemporary design scheme. This would also be beautiful for a landscape project, adding true sophistication to retaining walls or fountains.
Alaska Gray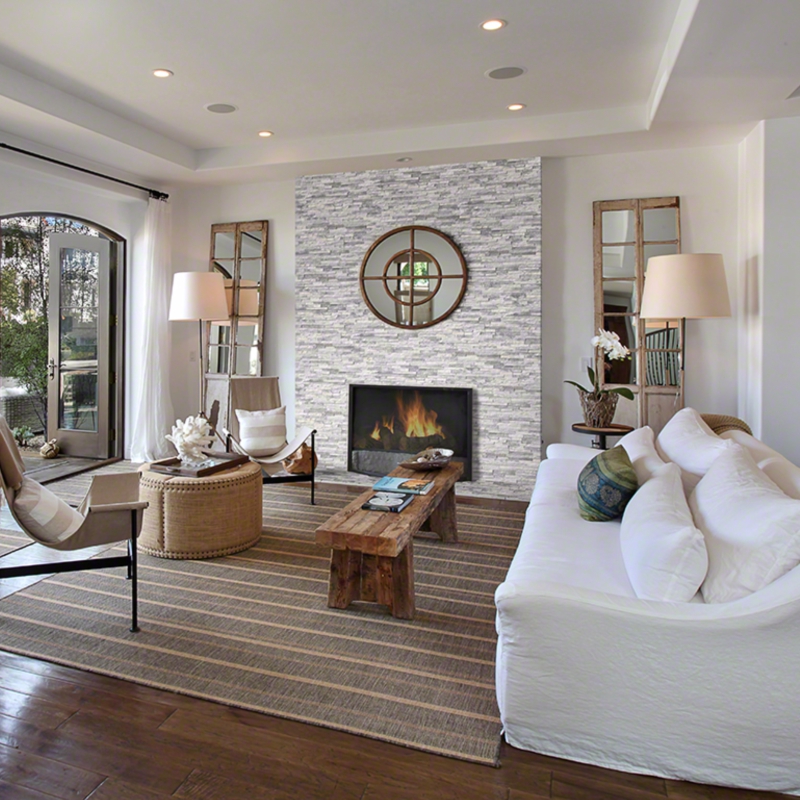 Featured: Alaska Gray Stacked Stone
The pale gray and white variations in Alaska Gray are perfect for large, full wall installations, including dramatic fireplace surrounds. Blending beautifully into white design schemes, this colorway is also great for smaller hearth styles in small rooms. Crafted from fine marble, the finish on these ledger stones is rough and natural in texture, and the play of light and shadow on the surface – with just the slightest sparkle – is stunning.
Golden Honey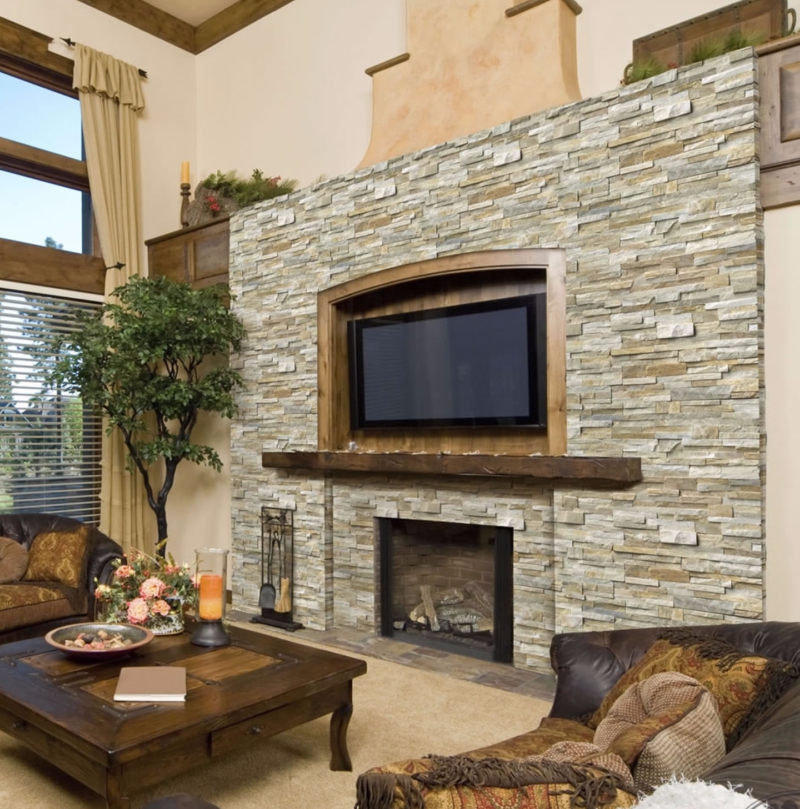 Featured: Golden Honey Stacked Stone
Last but least comes Golden Honey – the classic stacked stone. Nature lovers will welcome the chance to bring the beauty of the outdoors inside. With complementary hues of beige, white, and gray, a rough texture and clean horizontal lines, this quartzite stone is an easygoing choice for city, country, or suburb. Matching corner pieces make it a breeze to create unique features, including the fireplace of your dreams.
Can't decide which of these spectacular natural ledger stones to install in your home? Try MSI's stacked stone visualizer and see these, and others, in a variety of home design ideas. Stacked stone truly is the answer to bringing true character and warmth into your home, particularly your hearth.