Outdoor Oasis: Get Ready For Spring Entertaining With Outdoor Granite Countertops
March 18, 2018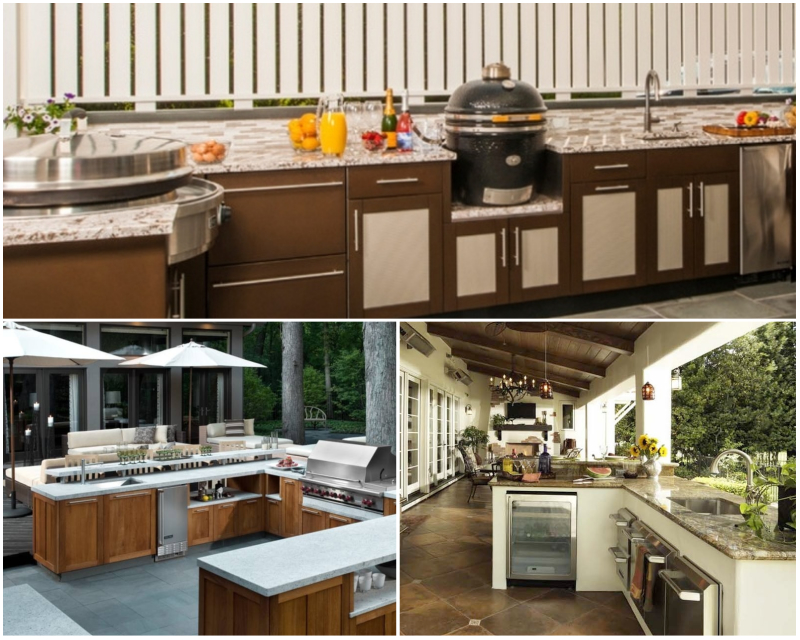 Looking forward to warmer weather after the long, gloomy winter? What better way to prepare for the coming summer sunshine than by getting your outdoor living areas ready for a season of entertaining — better still, give them a total makeover!
Granite countertops and outdoor living spaces are a natural pairing. Whether you're outfitting an outdoor kitchen space, a poolside bar, or a dining area, granite slabs ensure that your outdoor space will be party-ready this spring, and for many springs yet to come. Even if you live in an area with extreme winter weather, you can still have the outdoor living space you're dreaming about during those cold months.
Granite is known for withstanding extreme weather conditions better than other surface materials. Out of all the natural stone surfaces you can choose from, granite counters are the easiest to maintain.
Here's yet one more reason to choose granite to spruce up outdoor living areas— its beauty. A granite countertop looks upscale and elegant, so your outdoor living areas will be more than just a place to spend time with friends and family, they'll also upgrade your entire home's value.
Barcelona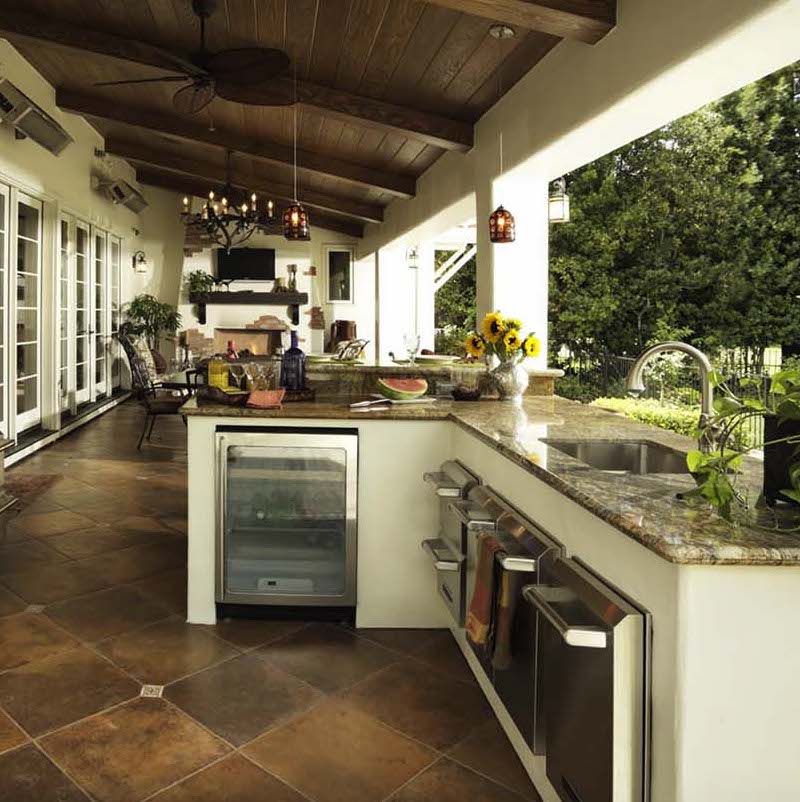 Recreate this look with MSI's Barcelona Granite (Photo Credit: Houzz)
Full outdoor kitchens are gaining in popularity, especially among those who love to entertain. Why be stuck in the kitchen preparing food while everyone else is outside enjoying the fresh air and sunshine? Barcelona Granite countertops blend cream, taupe, and gray to create a neutral combo that blends in well with the great outdoors. Its polished surface just needs a quick wipe-down to get ready for the fun. Why not install a handy mini wine fridge? A stainless steel sink is handy for washing up after gardening, too.
Bianco Sardo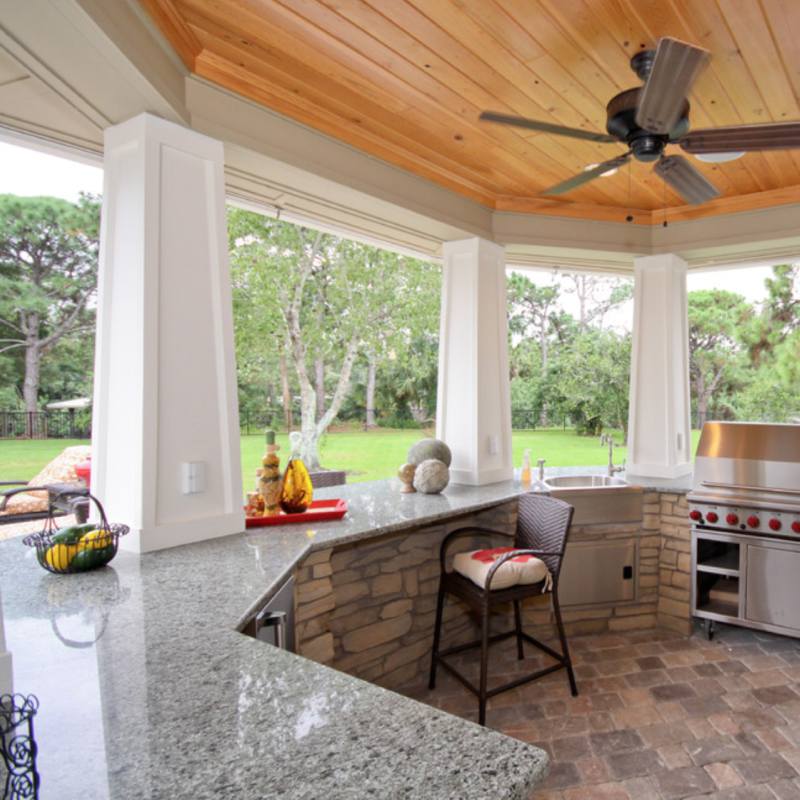 Get this look with MSI's Bianco Sardo Granite (Photo Credit: Houzz)
If you've got a great outdoor view, make the most of it by installing granite countertops beneath a shady roof, facing outward. This outdoor kitchen space makes it easy to pass through food and refreshments to your guests as soon as they're prepared. Gray-speckled Bianco Sardo Granite complements the bright white columns. It also pairs well with travertine pavers and stainless steel appliances.
White Sand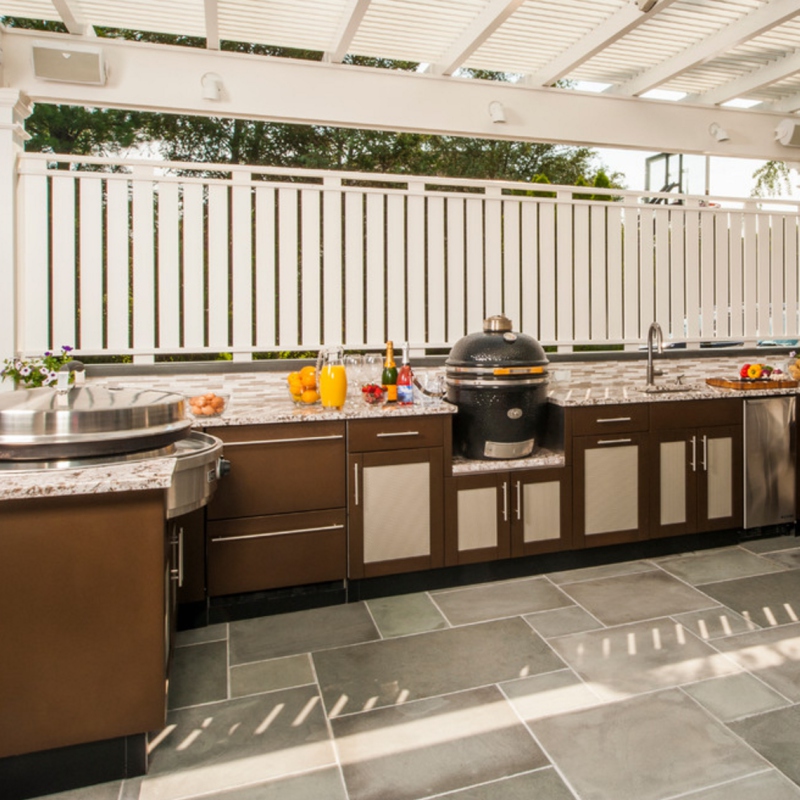 Featured: White Sand Granite
Whether you're grilling some burgers or preparing an entire four-course meal, your oven and stove won't heat up the kitchen. Smelly fried foods, fish, or onions? No problem, although you may draw attention from hungry neighbors. With a range of granite countertop colors to choose from, it's easy to find the one that perfectly matches your existing décor. White Sand Granite features gold and brown flecks on a cool white background, and will stay looking crisp and elegant for years.
Almond Gold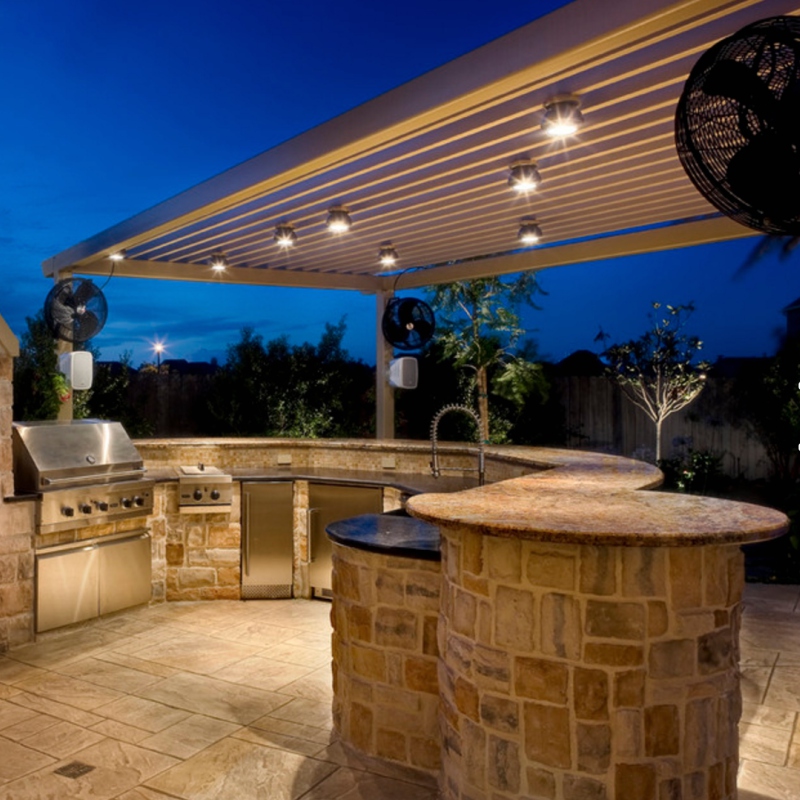 Recreate this look with MSI's Almond Gold Granite (Photo Credit: Houzz)
Outdoor kitchens are also spectacular spots for nighttime entertaining. Install bright LED lighting and a great sound system, and bring on the party. Pole-mounted fans create a breeze and chase away the bugs. Granite countertops can be shaped to suit any number of unique designs, such as this gorgeous curved structure. The amber and brown shades in Almond Gold Granite are a natural companion to the gold and beige tones in the hardscape.
River White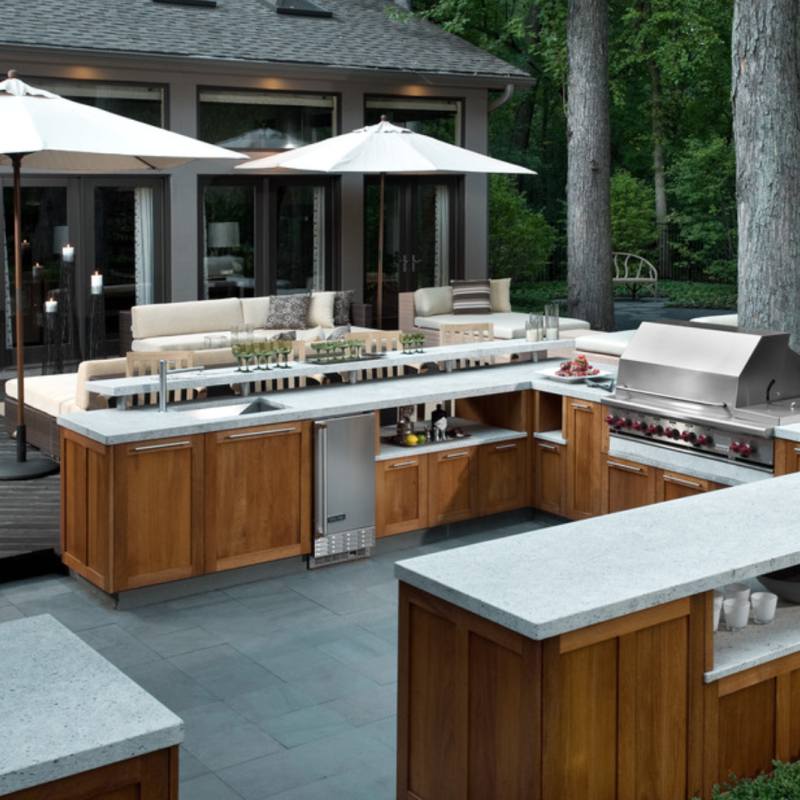 Get this look with MSI's River White Granite (Photo Credit: Houzz)
If you've ever said to yourself that you'd entertain more if only you had the perfect spot to do it, this patio should be all the inspiration you need. Bright, cheerful River White Granite features subtle gray swirls and flecks, resembling marble but much easier to care for. Multi-level countertops and shelves create plenty of storage space, so hosting a crowd of guests is a breeze.
These luxurious outdoor spaces belong in decorator magazines, but you can create your own in real life; granite countertops make it easy. Granite instantly upgrades any space where it's installed, and you can be confident of your investment even outside where it's exposed to the elements. Visit MSI's Inspiration Gallery to find a style you'll love or take a look at all the granite colors we offer, and get ready for spring entertaining!
Learn More about Granite Countertops Outdoors
Granite Countertops Venture Outdoors
How to Keep Your Outdoor Granite Installation Looking Brand New
6 Ways to Use Granite in Your Outdoor Kitchen Design