Unexpected Uses For Granite
November 09, 2016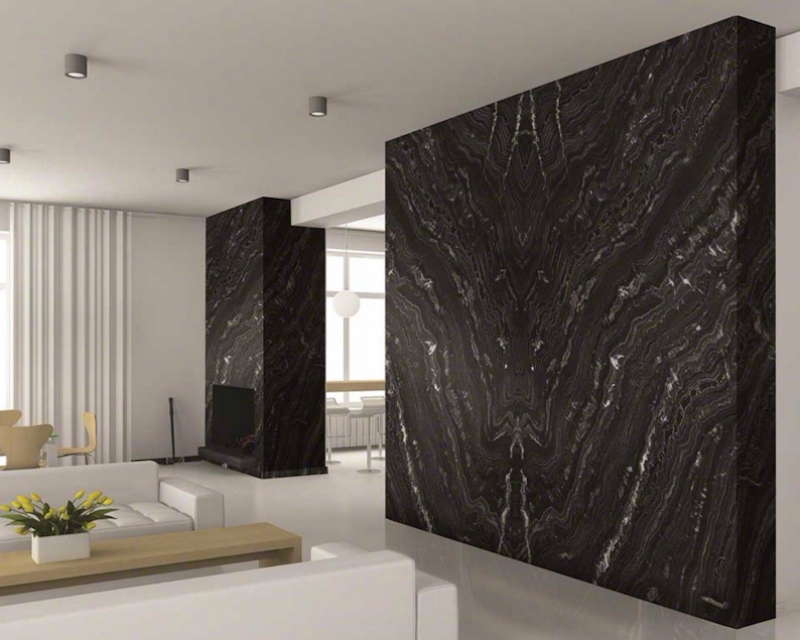 Granite countertops have become a staple in kitchens and bathrooms around the world, but there are many other applications and uses for granite that you may not have thought of. From decorative accents to large-scale installations, the possibilities are endless.
The beauty of granite lies in its pattern and texture, which makes it ideal for large installations where you can see the full movement of the natural slab.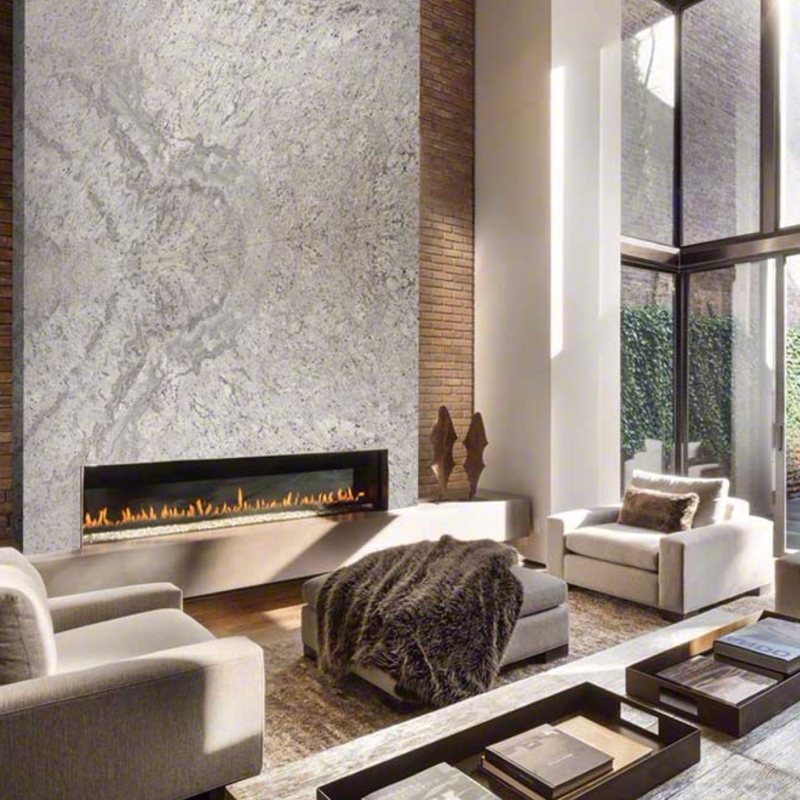 Featured: White Supreme Granite
White Supreme Granite from MSI is a perfect example of this, as seen in the stunning vertical fireplace surround in this room. You may have seen a granite surround before, but probably not like this! This gorgeous granite slab is sure to be a conversation piece, not to mention the focal point of the room.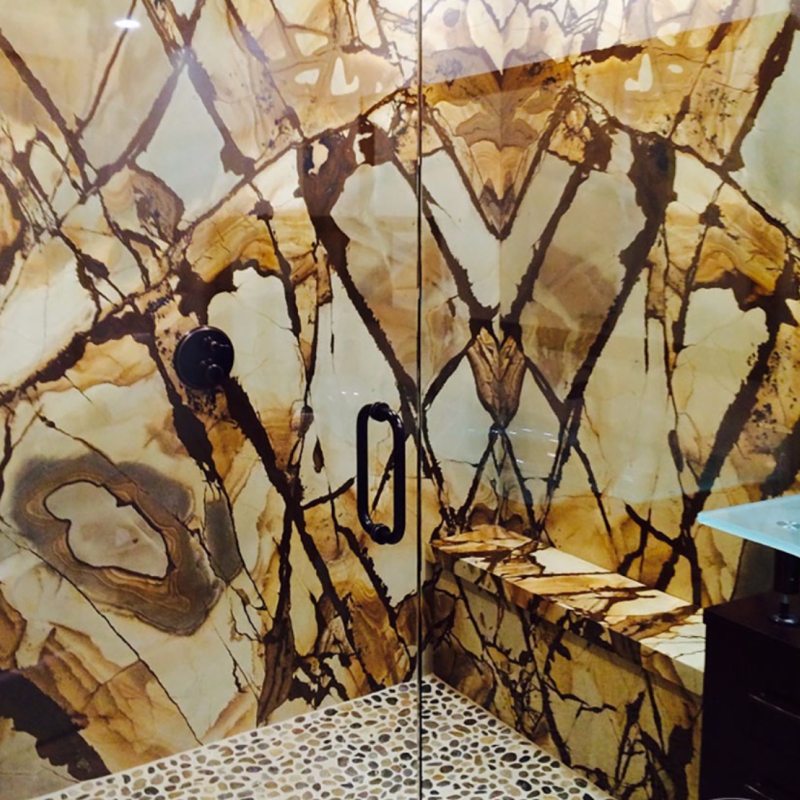 Featured:
is another option with a dynamic pattern and tons of visual interest. Hues of cream, brown, gold, and yellow combine to create a slab with strong veining, mingled with round organic forms.
The dramatic appearance of is perfectly suited for oversized kitchen islands, accent walls, and shower and tub surrounds, just to name a few applications. The durability of granite also allows it to be used outside for an unexpected design element in your outdoor kitchen or lounge area.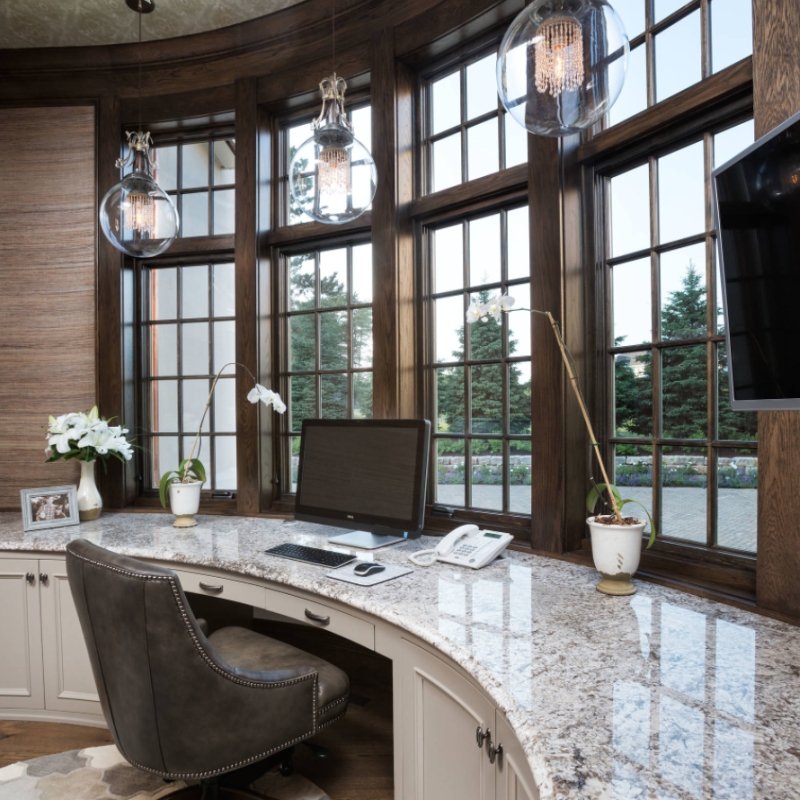 Featured: Alaska White Granite
Challenge yourself to think outside the box when it comes to your countertops. Why not try a thicker slab like the Alaska White Granite shown in this office scene? A thick slab provides a deeper edge and gives a more substantial look to your countertops.
Decorative edging is another way to spruce up an otherwise unassuming counter. Try an ogee edge for a traditional feel or a raw edge for a more modern look. Don't be afraid to break away from the mold in your design. For example, curved countertops are an elegant way to showcase your granite.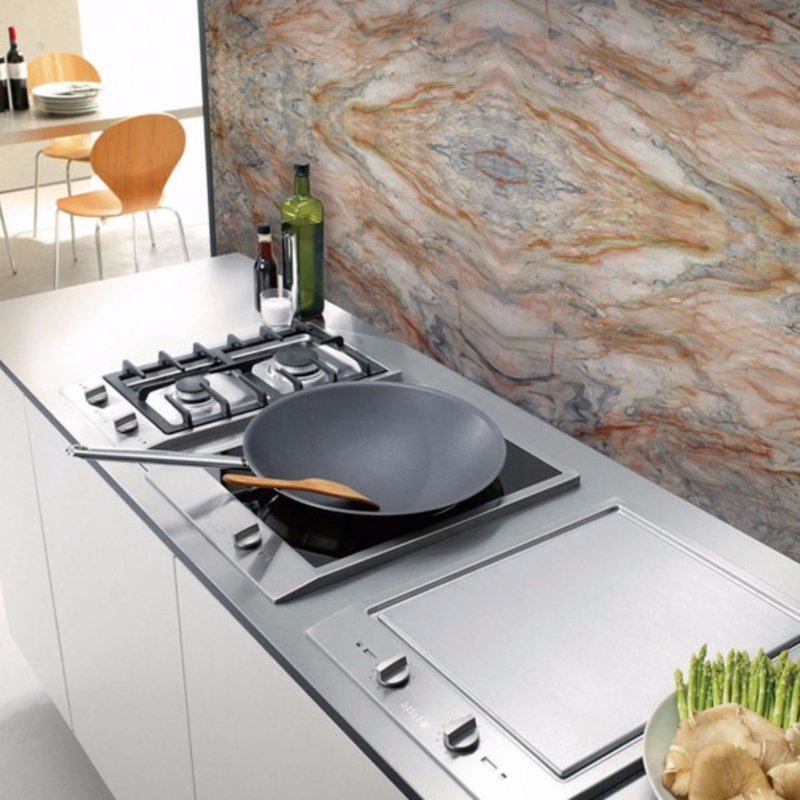 Featured: Fusion Granite
Even so, countertops aren't the only way to utilize granite. A granite backsplash puts a contemporary spin on the traditional kitchen, and creates an instant focal point. A bold choice like Fusion Granite—with its multicolored palette of blue-gray, rust, and cream—is just begging to be shown off as a beautiful backsplash.
Think even further outside of the box and create your own custom furniture piece with a granite slab from MSI. A conference table fashioned from an oversized slab of Fusion is sure to impress at any meeting.
From flooring to walls to countertops, the beauty, durability, and versatility of granite makes this natural stone material the ideal choice for almost any surface in your home.
Read More about Granite Countertops
Do Granite Countertops Increase the Resale Value of Your Home?
Going Green: Granite's Environmental Footprint
Take the Mystery Out of Choosing Granite Countertop Edges
Is My Granite Countertop Toxic? The Radon Question Answered
Durable, Beautiful & Natural Granite Countertops
READ MORE ABOUT GRANITE COUNTERTOPS
Tips For Choosing Granite Countertop Colors
What's Behind the Gorgeous Colors Of Granite Countertops