Tips For Choosing Granite Countertop Colors
January 20, 2016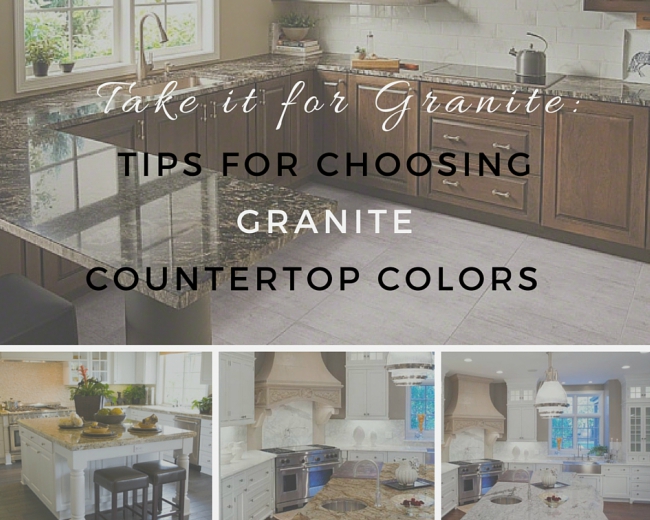 Whether remodeling your home or selecting fixtures for a new build, color selection is critical, especially when it comes to choosing granite countertops. But don't sweat the stone stuff because we've got five easy tips to help you select the right color for your granite countertop.
Analyze Your Lighting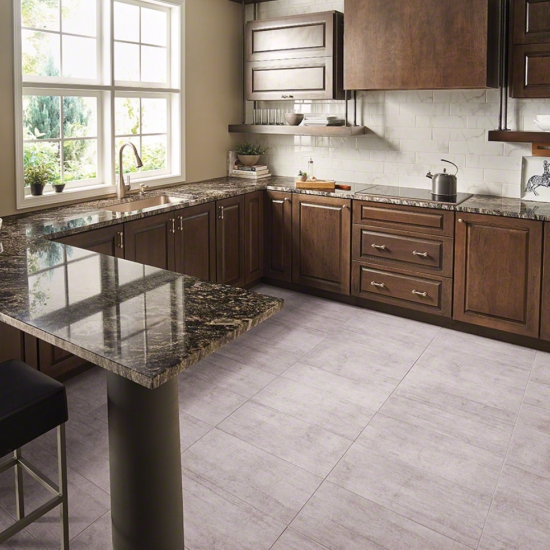 Featured: Black Forest Granite
Choosing a lighter color or speckled granite is an excellent option for darker spaces that have little to no natural light. However, a darker color granite like Black Forest, a deep obsidian and sable granite with white streaks, would be an excellent choice for a kitchen that is overflowing with natural light or if you're a busy parent concerned about dirt showing. Lighting is important to consider since darker granite paired with insufficient light can make spaces appear smaller than they truly are.
Take Your Materials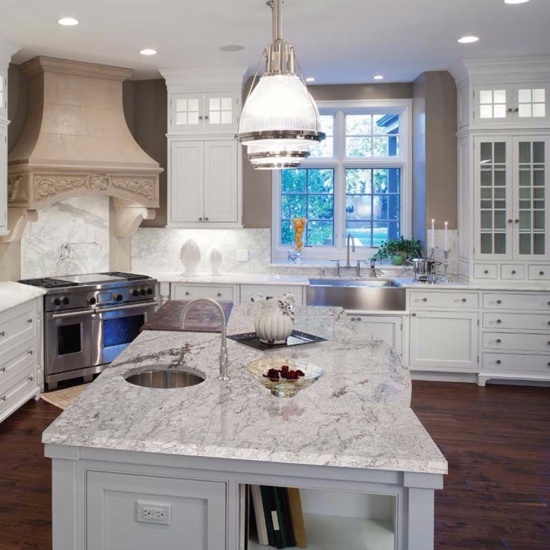 Featured: New River White Granite
Instead of guessing which wood tone you have or what style of flooring you have, take a sample your materials with you when shopping for granite. Unscrewing a cabinet door or taking a paint sample is easy enough, but if nothing else, take a lot of photos in natural lighting to help you select the right granite color. Astoria features a deep cream color with darker veins of grays and chocolates. Some background colors may be lighter or darker, depending on the slab, and this may sway your decision depending on how well it goes with your lighter or darker cabinets. Also, consider additional kitchen items like appliances, window treatments, and furniture. If you have a stainless steel Wolf range with the iconic red knobs, then you might want to look at something like New River White, an alabaster-based color with stormy silver veins and speckles of crimson throughout.
Say Yes to Samples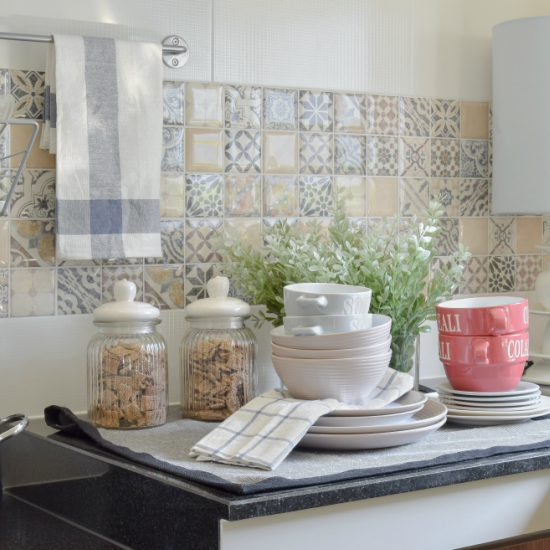 If samples are available, take a few home so that you can see what it might look like in your kitchen. If not, take some pics of your top granite picks. When you get home, test them out by covering your existing countertops with something neutral like a white sheet or paper and then placing the samples or photos on the covered counter. Doing this will allow you to see if the granite looks the same with the natural light and surrounding elements in your home. Make sure to test them at different times of the day, even if you choose something like Ganache, a mid-tone gray with dark charcoal flecks and white veins. The way you see color depends on the level and temperature of lighting, so your granite may look 50 shades of gray with potential tints of blue, green or even purple depending on how warm or cool your light is.
Pick Two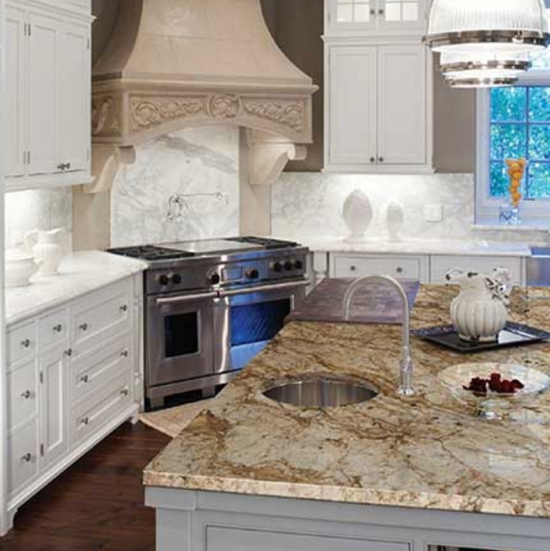 Featured: Bordeaux Dream Granite
Can't decide between two granite colors? Why not use both! Selecting a lighter color for an island and a darker tone for the surrounding cabinets creates a beautiful contrast, and your kitchen will pop even more with opposing granite colors that perfectly complement cabinetry that's also in two different colors. Bordeaux Dream granite is the perfect primary choice because it compliments a variety of other colors with its natural variation of neutrals, such as soft cream and taupe.
See the Slab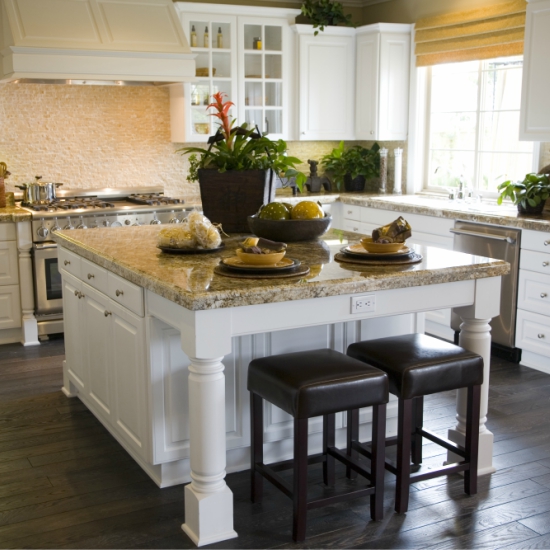 Once you've narrowed down your color choices, visit a showroom that allows you to look at the various slabs available. Since no two pieces of granite are exactly alike, your best bet is to select a full slab that way the veining and variation will be similar throughout the granite. Although asking for a sample of the granite is a smart thing to do, you may want to consider asking how often they update their samples and whether the particular stone that the sample is from is still available. Another thing to consider is that a small granite sample may not authentically represent the entire granite slab. For example, Verde Fire is a multicolored granite that mixes golds, bright greens with rich reds, and a small piece may not showcase all of the stunning colors.
Whether you side with a lighter or darker color, you'll be sure to find the right one for your space. With an extensive selection of stunning granite countertops to choose from, MSI can help you achieve the kitchen of your dreams.
READ MORE ABOUT GRANITE COUNTERTOPS
What's Behind the Gorgeous Colors Of Granite Countertops