Popular
2015 Hot Kitchen Trends – Part 2: Backsplashes & Flooring
January 22, 2015
In the first part of this series, we talked about hot countertop and cabinetry trends for 2015. But, kitchen design doesn't stop there! Flooring sets the stage for design; the demand for durable and timeless porcelain tiles is growing, and in many areas of the country, is outpacing hardwood floors because of care, and durability. Backsplashes continue to be where homeowners add their personal flair, and design aesthetic to a kitchen. Graphic backsplashes that incorporate the colors of the flooring, cabinetry, and countertops creates an interconnected and welcoming environment.
Stylish Backsplashes
Mosaic tile backsplashes are big for 2015! Available in a wide array of natural stone, glass, metal, porcelain tiles, and complementary combinations, you can find the mosaic tile that is just perfect for your kitchen. Linear styles are hot, including subway tiles in stone, glass, or porcelain. Both vertical and horizontal linear tile patterns are popular, however, horizontal remains the most sought after. The beauty with linear mosaic tiles is that you can choose to install them, vertically or horizontally, however you desire. If you are looking for a no grout option, Emperador Splitface can take on an old world charm, or a more modern design, depending on the style of the cabinetry, flooring and countertops. To incorporate the trending gray colors for 2015, a White Quarry Splitface tile backsplash complements the soothing tonal visuals of light gray cabinetry and white countertops while adding texture.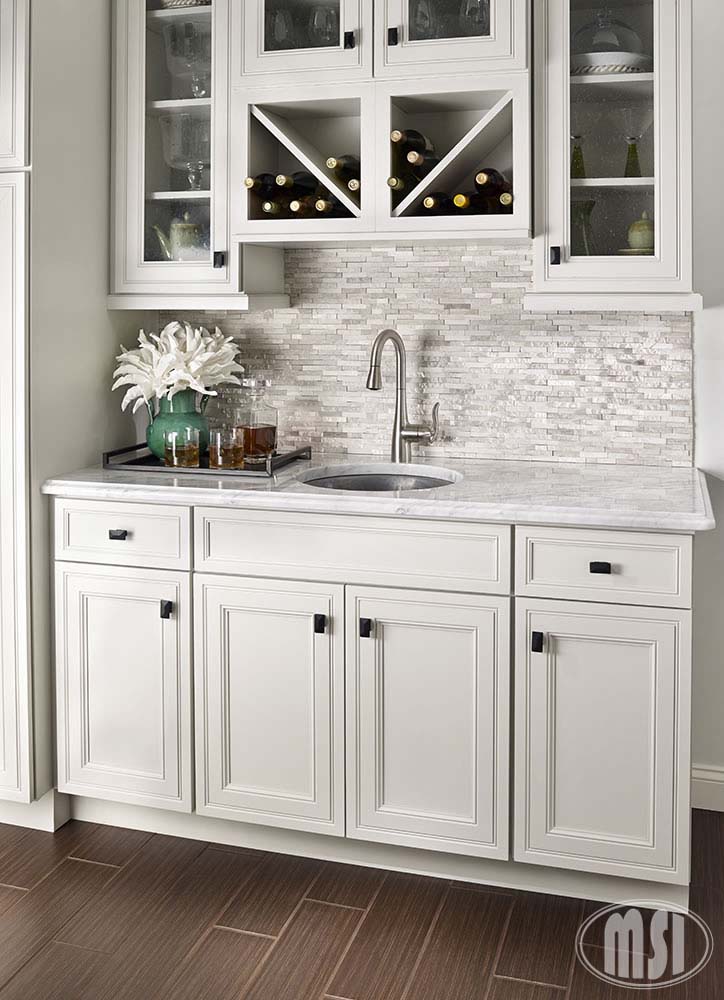 Graphic patterns are definitely on the rise and there is no better way to bring patterns into a kitchen than through the backsplash. Subtle natural stone basket weave or chevron tiles are a great backdrop to blend with more dramatic surfaces. Herringbone tiles, and pencil mosaics featuring a combination of glass, stone, and metal are ideal for kitchen design projects with existing granular styled countertops to add depth, dimension, and a welcoming pattern. Graphic hexagon backsplashes create depth, and dimension, and should be considered a top contender when updating your kitchen. Mochachino Hexagon from MSI perfects blends darker cabinetry and lighter countertops together to create a cohesive look and feel.
Fashionable Flooring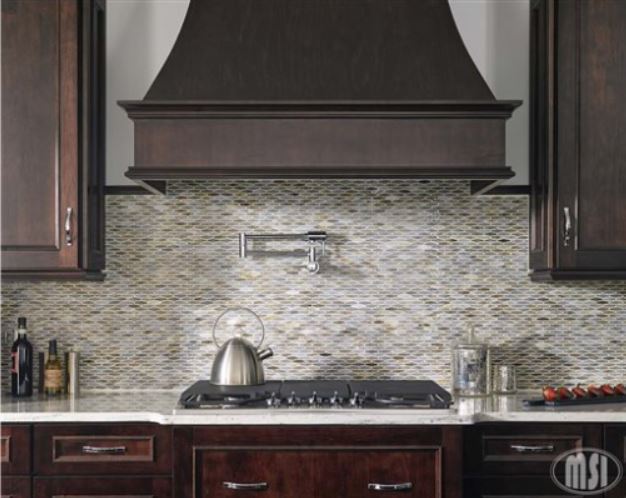 Large format porcelain tile floors are hot. With fewer grout lines, they are easier to keep clean, and they can make a smaller kitchen appear larger. Available in a wide array of colors and finishes, the 18x18, 24x24, 16x32 or 18x36 tiles lend themselves to a variety of design aesthetics, from traditional to modern. These larger tiles can create a seamless transition from flooring to wall finishes, giving a room greater depth. Select a matte finish tile like the Pietra Dunes Beige, available in 12x24 and 16x32. This warm and soothing palette for floors and walls creates a timeless backdrop for bold natural stone countertops, one of the other hot kitchen design trends for 2015.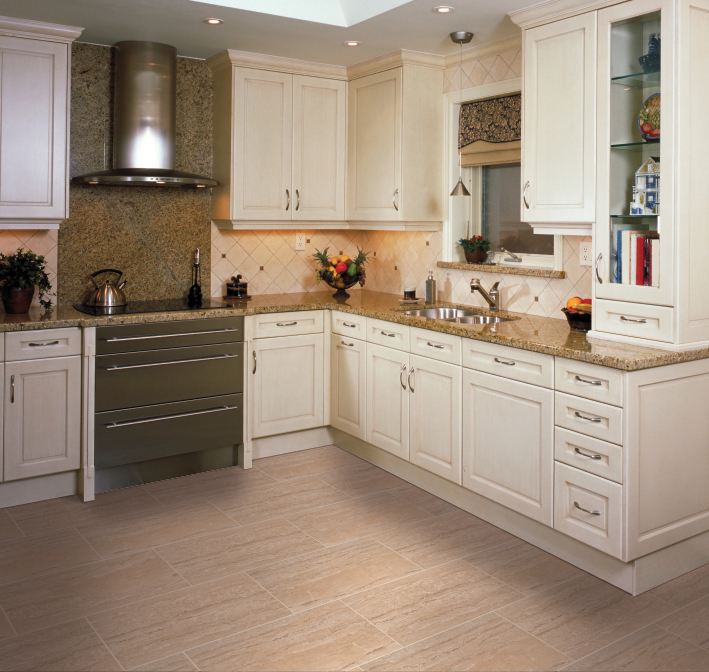 Wood grain porcelain tile flooring continues to take center stage. Hardwood floors are beautiful, but depending upon the climate, and the location indoors, they can be a real challenge to keep beautiful. Their susceptibility to moisture makes them a less than ideal flooring solution for busy kitchens. To meet the demands of consumers, durable, easy to clean, and attractive wood grain porcelain and ceramic tiles have been introduced.
Our Sygma Series takes two of the hot trends – wood grain finish, and large format tiles – and brings them together, offering colors from Ice to Ebony. Or try our Redwood Series Natural Porcelain Tiles, featuring an innate wood grain appearance of grays, creams and beiges, sure to add distinction and elegance to any home.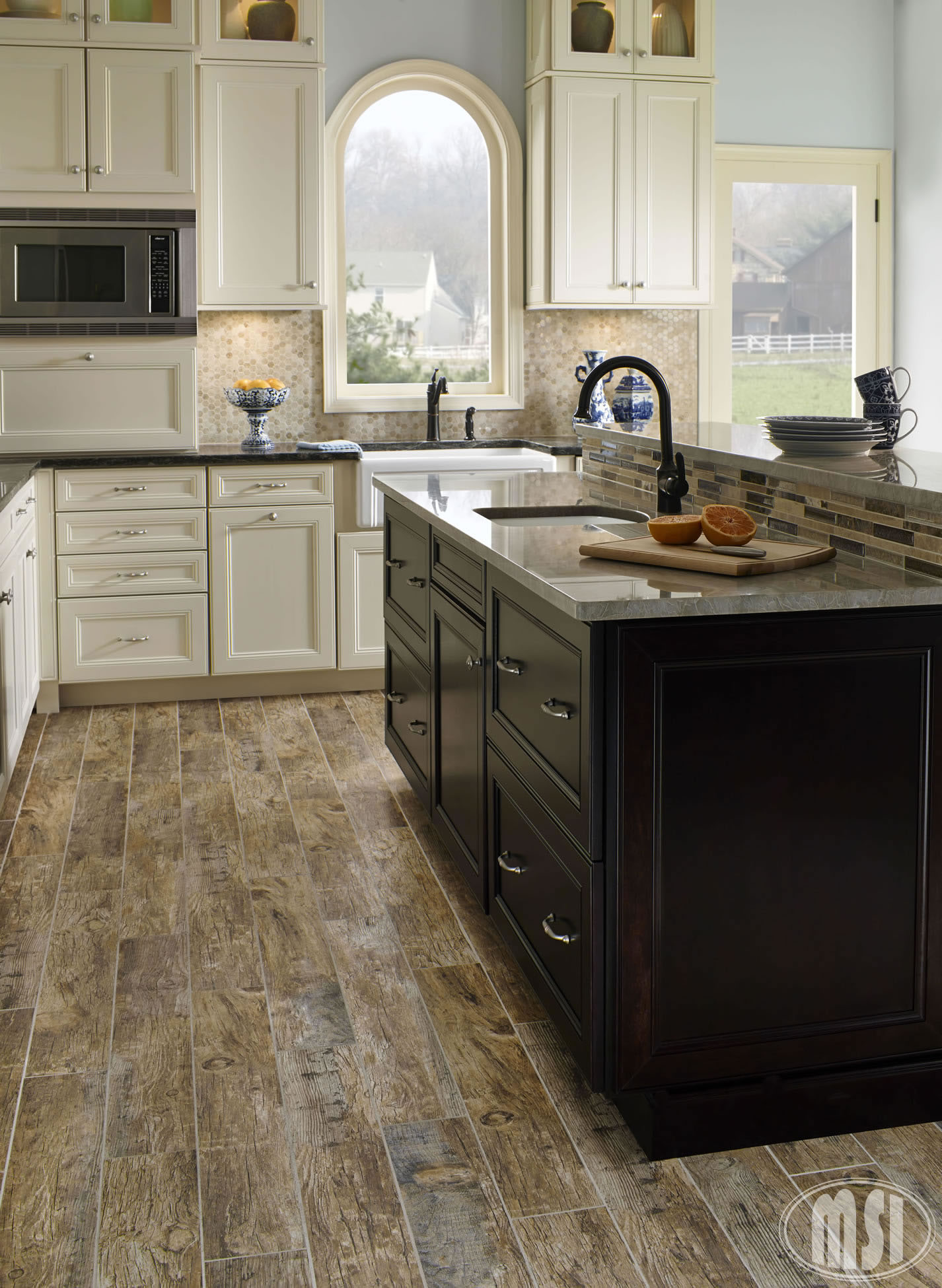 Incorporate some of these exciting new trends into your kitchen; add splashes of color through accessories, countertops, or backsplashes. Consider replacing hardwood floors for durable wood-grain porcelain tile, or perhaps choose a new dynamic granite countertop to add color, texture and interest to your new kitchen. To start envisioning the kitchen of your dreams by incorporating some of 2015's hottest kitchen design trends, take a look at our Virtual Kitchen Designer. You can experiment with different cabinetry colors, flooring options, backsplashes, and countertops until you find the right combination of premium surfaces to create your new dream kitchen!
READ MORE ABOUT MSI BACKSPLASH TILE
10 Fresh Ideas For Your Kitchen Backsplash
5 Blue Backsplashes That (Really) Make A Splash
5 Daring Tile Backsplash Ideas For Your Kitchen