Is Luxury Vinyl Tile A Good Investment?
September 02, 2019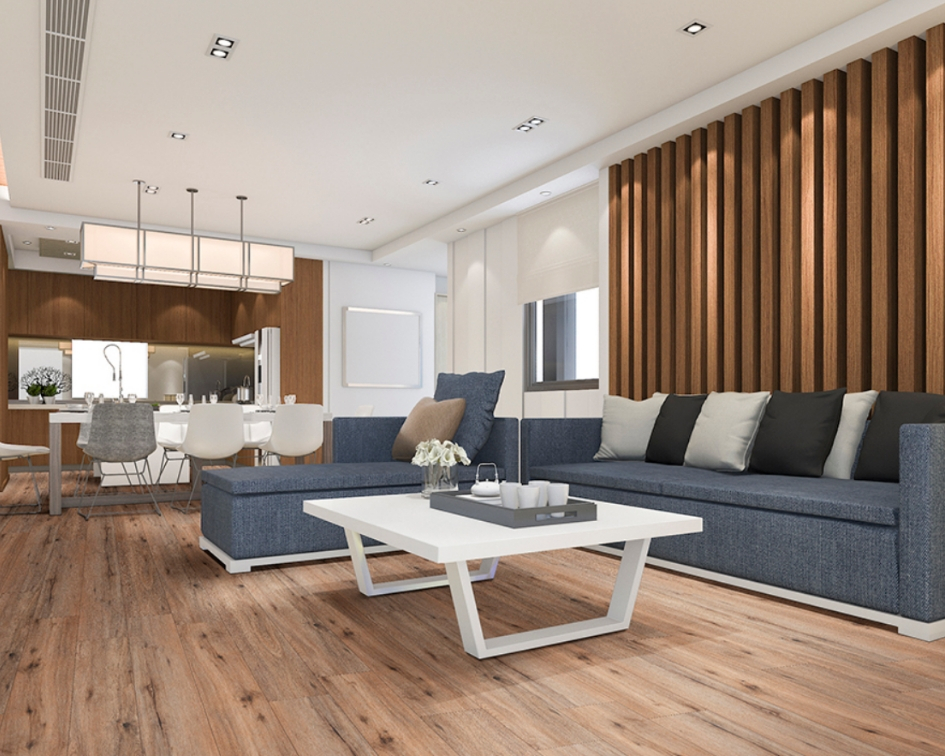 In years gone by, homeowners who desired high-quality, beautiful, luxury flooring had three basic choices: hardwood planks, stone or ceramic tile, or carpeting. Vinyl flooring was relegated to utility rooms or low-end residential use; it was inexpensive, but lacked the upscale look and feel of the other flooring choices. Today, however, we have another choice: luxury vinyl tile.
Getting "value" from any product is not the same as saving money by choosing the cheapest alternative, and flooring is no different. True value is achieved when the product lives up to your expectations and needs relative to the cost. That's what makes luxury vinyl tile (LVT) such a great investment — it delivers what most homeowners value in upscale flooring, at a budget-friendly price.
What benefits do you value most, when it comes to choosing and living day-to-day with a flooring material? Learn why LVT will meet and even exceed your expectations. If you value resilience and durability… LVT is the perfect choice for rooms with heavy foot traffic, such as the hallways, stairs, family room, dining room, kitchen… everywhere in your house. Busy families with kids and pets will love its resistance to scratches, stains, and wear. Unlike ceramic or stone, it won't crack if you drop a heavy object. MSI's luxury vinyl tile is coated with CrystaLux™, a tough wear layer that offers excellent protection against everyday use, and even sun damage. One of LVT's biggest features is its easy maintenance. There's never a need to apply sealer, wax, or polish. Just sweep it daily to remove any loose dirt or debris, and mop with a gentle cleaner as needed.
If you value moisture-proof flooring…
Hardwood and stone flooring is beautiful, but there are a few places it doesn't belong. Kitchens, bathrooms, laundry rooms, entryways, and other areas that are commonly exposed to splashes and spills will benefit from Luxury Vinyl Flooring, which is waterproof. This also means it's easy to clean up, and won't harbor mold, mildew, or other biological contaminants. Got allergies? LVT modern tile can make your home a lot more comfortable because it's easy to keep free of dust and other asthma and allergy triggers — a much better choice than carpeting.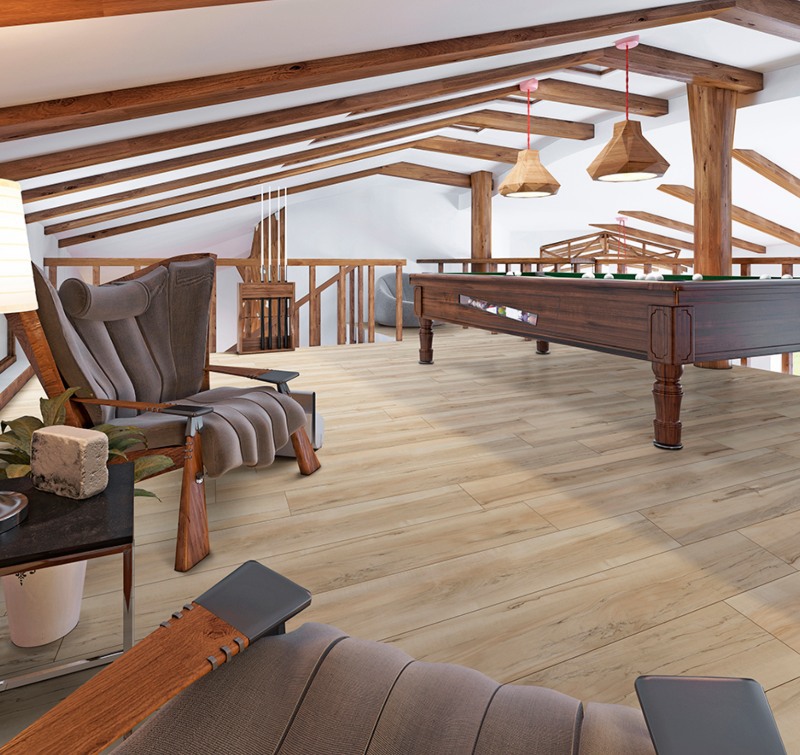 Featured: Akadia
If you value "quiet" flooring…
The construction of LVT can reduce noise from footsteps, pets, and even airborne sounds like music and voices. If keeping your home quiet and peaceful is especially important, you can install sound-absorbing underlayment as well. Many homeowners love LVT on upstairs rooms like bedrooms or kids' playrooms because it can keep people on the house's main floor from hearing every footstep.
If you value saving time in installation…
LVT is well-suited to DIY projects! There are two types of luxury vinyl tile sold by MSI: DryBack and Rigid Core. Both are simple to install, so you can transform your room in a weekend. DryBack is a flexible tile that uses as adhesive to secure it in place; its flexibility makes it easy to position and re-position until you get it just right. No special equipment is needed to cut a plank to size or trim around obstacles. Rigid Core LVT flooring does not require any adhesives or nails. It features an easy-install locking system, and every plank clicks into place. Matching end caps, quarter-round, and other moldings are available to give your installation a professional finish. Many types of flooring require extensive preparation of the home's subfloor before installation can take place. You'll still need to make sure the floor is flat and free of dirt and bumps, but the underlayment and backing help to hide minor imperfections.
If you value simple and inexpensive repairs…
Even the most durable flooring can get damaged under extreme conditions, so what if your LVT flooring needs to be repaired? MSI recommends you store several extra planks just in case they are needed. Just remove the damaged plank and replace with a new one. The process of removing damaged luxury vinyl tile planks varies depending on the type you have installed. Some LVT needs to be installed with an adhesive, so to replace it you'll need to loosen the glue and peel it from the floor. MSI's luxury vinyl tile features a click-lock system, which does not require any nails or adhesive. To replace a plank, start at the nearest wall and remove them one-by-one until you reach the damaged area. Since installation is quick and easy, re-installing the planks should go quickly too.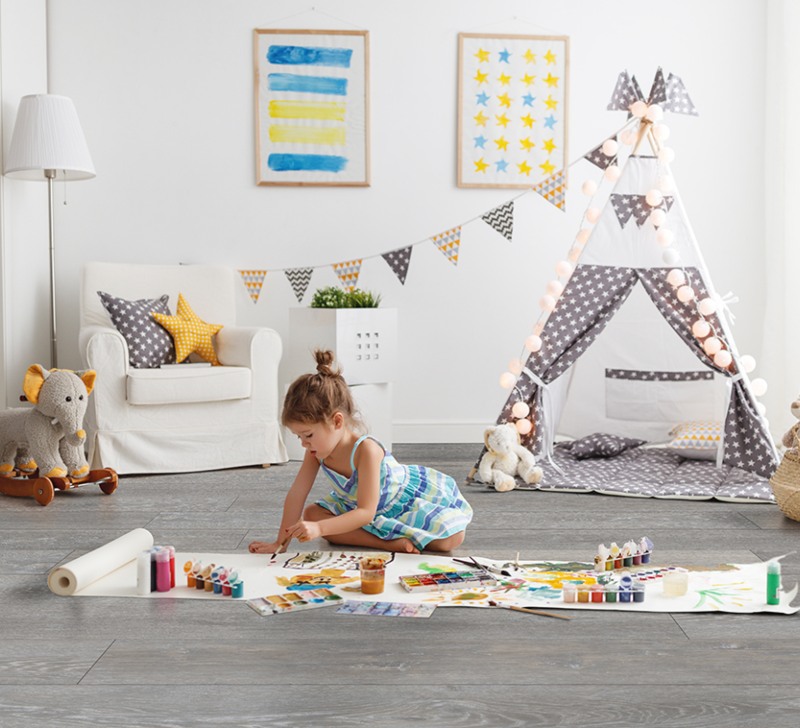 Featured: Finely
If you value cost savings…
The price of your new flooring may not be your first consideration when making your choice, but it's certainly right up near the top of your list. Luxury vinyl tile offers a "best of both worlds" experience — you can enjoy the durability and beauty of upscale hardwood or natural stone flooring without wrecking your budget. Vinyl tile that looks like wood or stone offers significant savings over most alternatives, even carpeting. How will you use the extra cash?
If you value lifetime warranty
MSI believes in its luxury vinyl tile's quality and durability. In fact, we offer a lifetime warranty on this product when installed in a residential space. It is guaranteed to be free of any manufacturing defects, and that the wear layer will not expose the decorative layer to damage under ordinary use. Homeowners are driven by different preferences when choosing the surface materials during new construction or renovation. Those who love stone or wood flooring may feel that nothing else will do — and each has its benefits — but once you get to know LVT, may wonder why you'd ever consider anything else. Learn more at MSI's website, where you can see our full range of vinyl plank flooring.
More Information on LVT Flooring
5 Reasons to Use Luxury Vinyl Flooring
Luxury Vinyl Tile - The Prescott Series
DYI - How to Install Luxury Vinyl Planks
What Is Luxury Vinyl Plank Flooring?