Current Obsessions: Waterfall Edge Countertops
July 07, 2016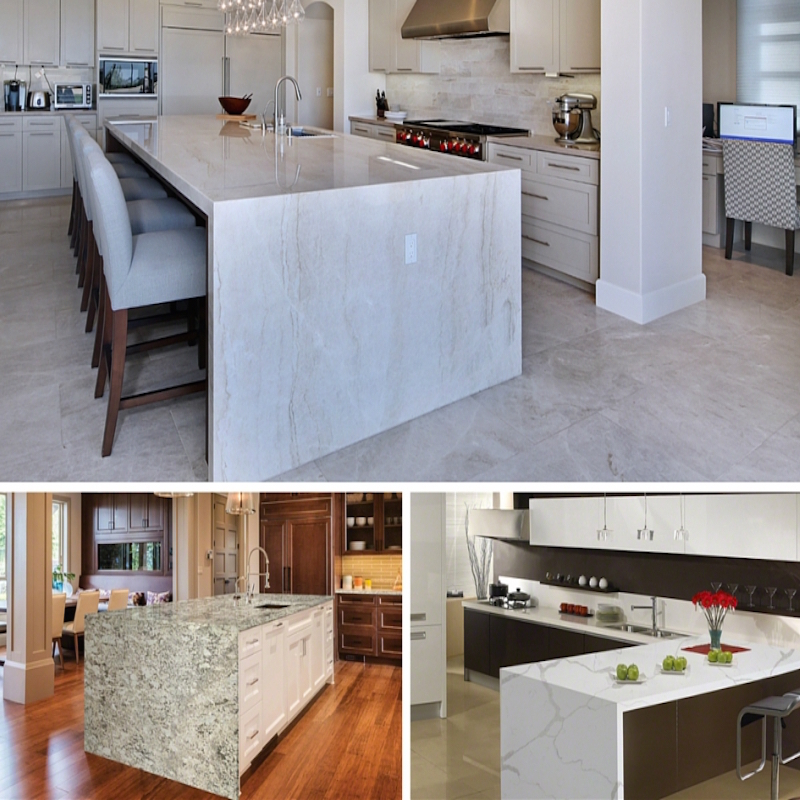 If you've ever walked into a model home or showroom and fallen head over heels in love with the kitchen, one reason might be its waterfall edge island. No passing trend, waterfall installations are style statements with staying power.
Sometimes also called risers, waterfall style refers to the way the quartz, granite, or marble countertops extend down the side of an island or cabinet, all the way to the floor. The aesthetic may have brought you here, but once you learn about the practical reasons for choosing a waterfall edge design, you may not be able to resist.
Showcase Your Stone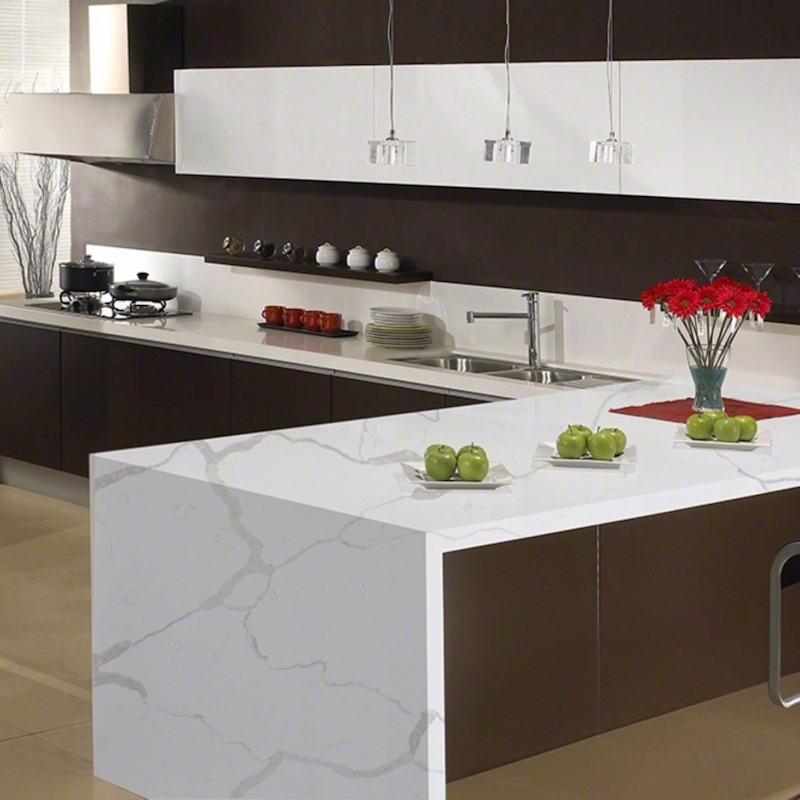 Featured: Calacatta Classique Quartz
Selecting the right countertop can be challenging, but once you find your perfect slab, you'll want to feature it as much as possible. Waterfall counters will show off your choice like the piece of art it is, especially in open floor plans where your island can be seen from one or more rooms. Don't have an expansive space? No problem! You can still create a big impact in a small space with a waterfall edge countertop.
In this kitchen, Calacatta Classique Quartz gives the look of marble to the L-shaped cabinets. The slab features a crisp white background with dramatic gray veins, and its installation carries veining across the counter and aligns perfectly over the edge.
Create a Focal Point
Featured: Perla White Quartz
Waterfall countertops add significance to your kitchen by creating a visually appealing focal point. Additionally, a waterfall edge design that flows down both sides of your kitchen island brings symmetry and balance to the space. This stunning Perla White Quartz pops against dark, contemporary cabinets, and draws the eye toward the central island.
Modernize Any Style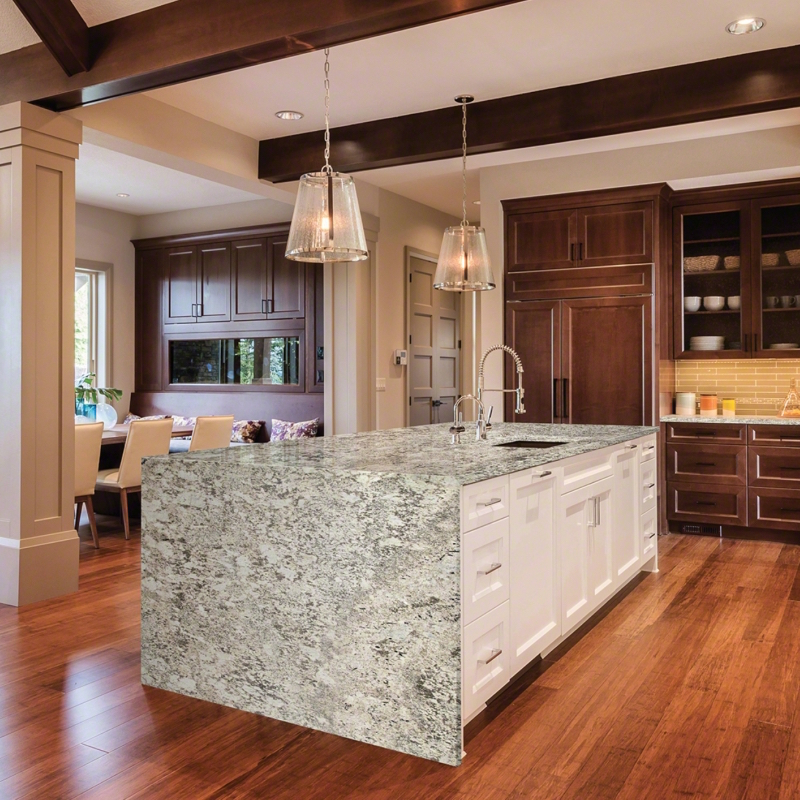 Featured: Antico Cream Granite
Waterfall edges are not only for lovers of contemporary design. In fact, their sleek, clean lines complement both modern and traditional kitchen styles. Antico Cream is often incorporated into traditional designs, but a waterfall installation gives this kitchen a more modern edge.
Add a Seating Area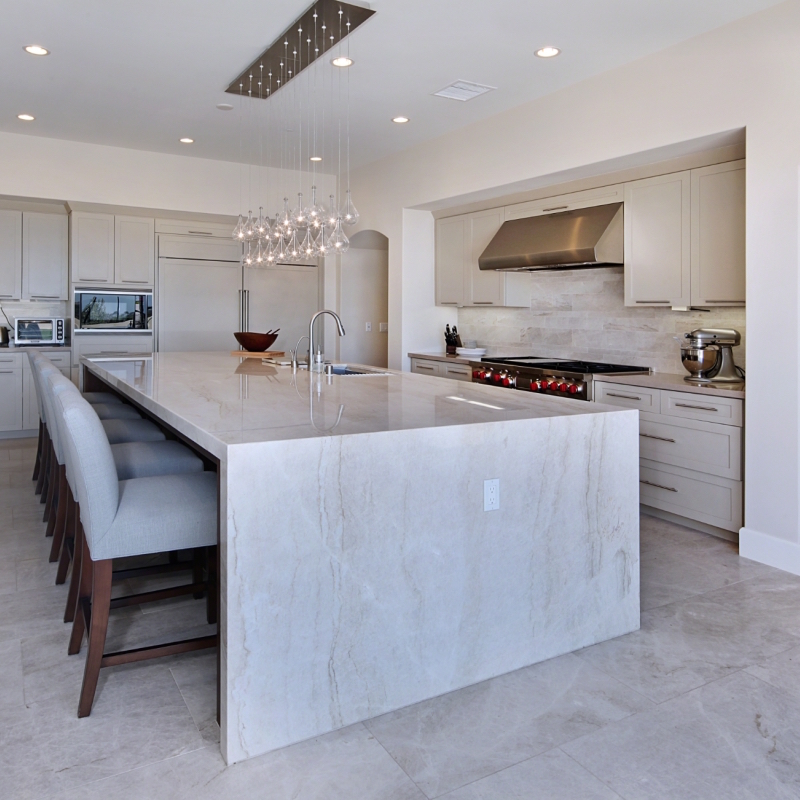 Featured: Taj Mahal Quartzite
Oversized islands with an overhang increase a kitchen's functionality and entertaining capabilities. It gives you more prep space and adds extra seating.
When it comes to quartzite countertops, this monochromatic kitchen's Taj Mahal quartzite countertops flow almost seamlessly into the floor tile. The expansive island provides enough room for five bar stools, making it the perfect place for a homework session or a display of hors d'oeuvres for a dinner party.
Provide Protection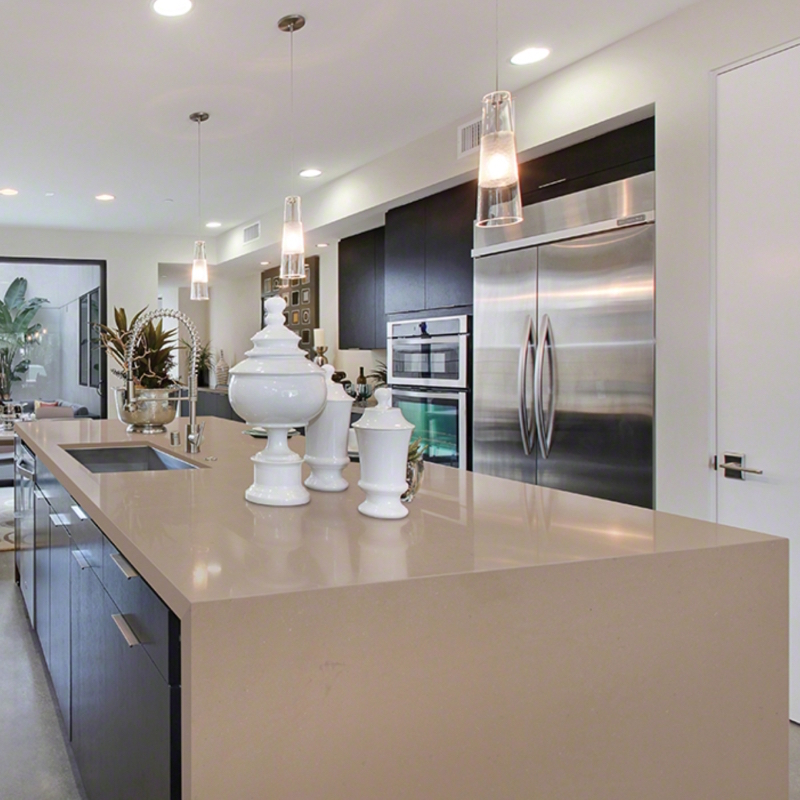 Featured: Fossil Taupe Quartz
Kitchens are the hub of a home and its activities, so your island cabinets will probably get more than their share of wear and tear. Waterfall edges cover cabinets and protect them from scratches, spills and splashes. The overflowing design also conceals appliances and creates a calm, unified feel. Quartz countertops are always a popular option!
In this kitchen, Fossil Taupe quartz countertops provide protection for contemporary cabinets, and neatly tuck away the dishwasher.
And let's not ignore the obvious—waterfall edges are safer for your little ones than countertops that jut out. If you have active children underfoot, a waterfall installation may be a good choice for your family.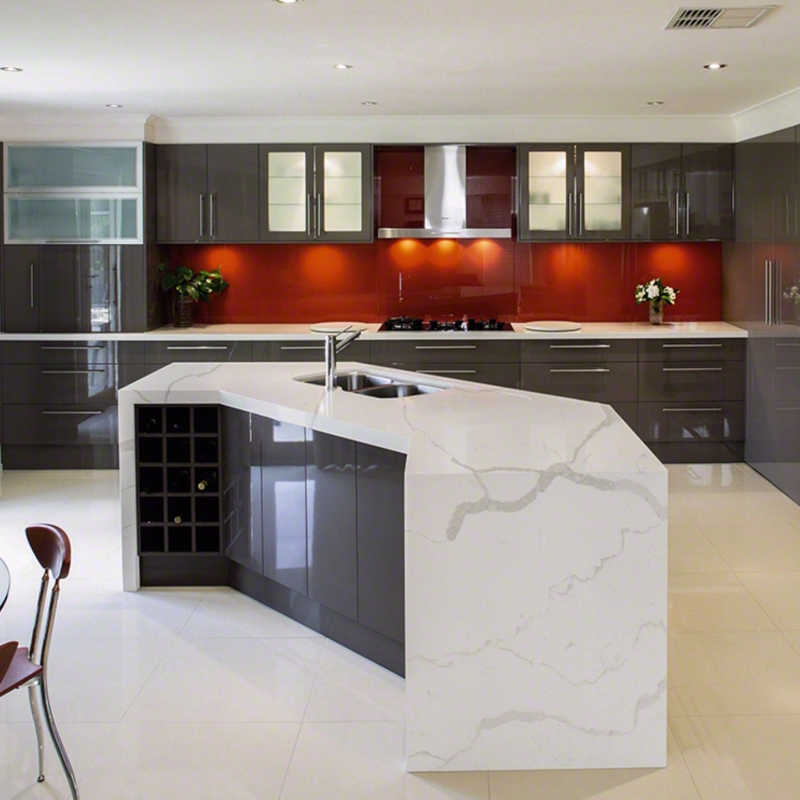 Both beautiful and practical, waterfall edges are a design element to consider for your kitchen build or renovation. For even more ideas, check out our MSI's Inspiration pages. You're sure to find something that suits your style perfectly!
Learn More about Granite vs. Quartz
How to Choose Between Granite and Quartz Countertops
Can't Decide Between Granite and Quartz? Choose Both!
5 Inspired Solid Slab Granite, Marble or Quartz Backsplash Ideas