Tile Style: Large-Format Floor Tiles
June 14, 2016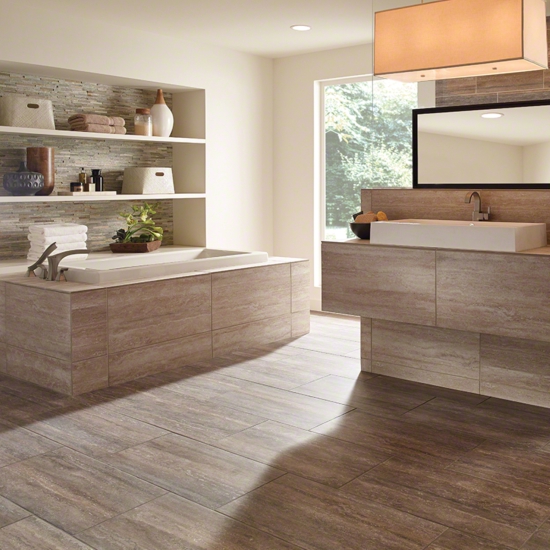 One of the hottest trends in interior design is large-format tile. It makes smaller spaces feel bigger, adds a modern twist to marble or stone-like porcelain, and requires less maintenance since there are fewer grout lines to clean.
Large-format floor tiles work well in both traditional and contemporary designs. However, if you plan to incorporate tiles 12x24 or larger in your living room, bathroom, or kitchen design, be sure they emphasize the best elements of your room. Here are a few tips to get you started.
Utilize the Same Tile Throughout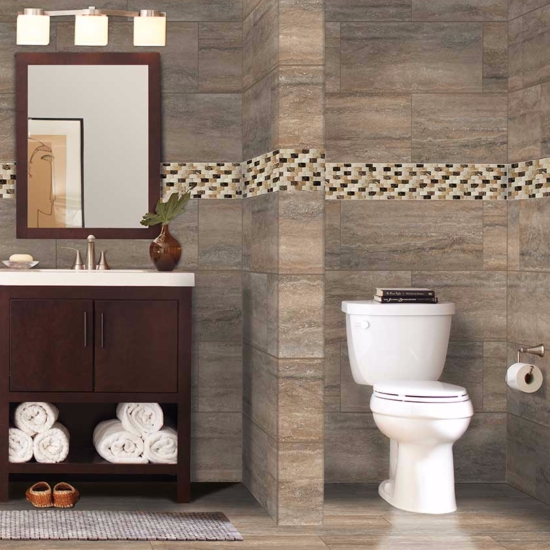 Featured: Veneto Noce
Using the same tile throughout creates a uniform look. It can accentuate fixtures such as bathtubs, or draw the eye upward to make your room feel taller. This contemporary bathroom incorporates Veneto Noce just about everywhere.
This beautiful porcelain tile comes in 12x24 and 16x36 and evokes the look of travertine but without the maintenance of natural stone. This design amps up interest and adds texture by breaking up the warm beige, cream, and gray tiles with complementary accent mosaics.
Create a Similar Color Scheme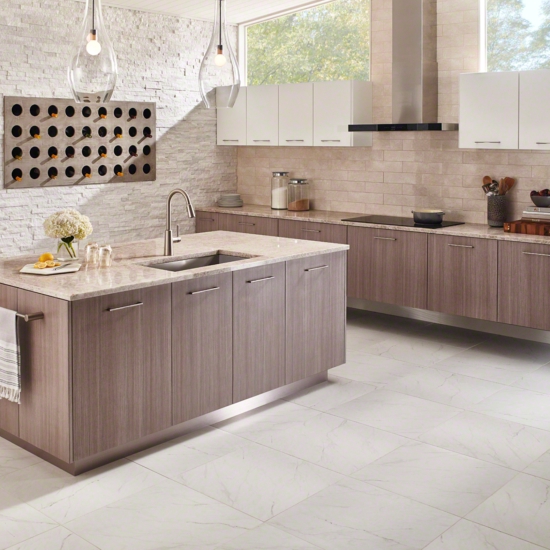 Featured: Aria Bianco
Designing a room with a monochromatic look or similar color scheme throughout can create a calm, serene space, and large stone-look tile flooring makes the room feel more open and airy. Bianco polished glaze porcelain tiles have a soft white background and warm gold veins and are available in 12x24 and 24x24.
In this spacious kitchen, light colors carry throughout the design in the stacked stone feature wall, as well as the upper cabinets. The color scheme continues with slightly darker neutrals in the backsplash, countertop, and lower cabinets.
Match Grout Color with Tile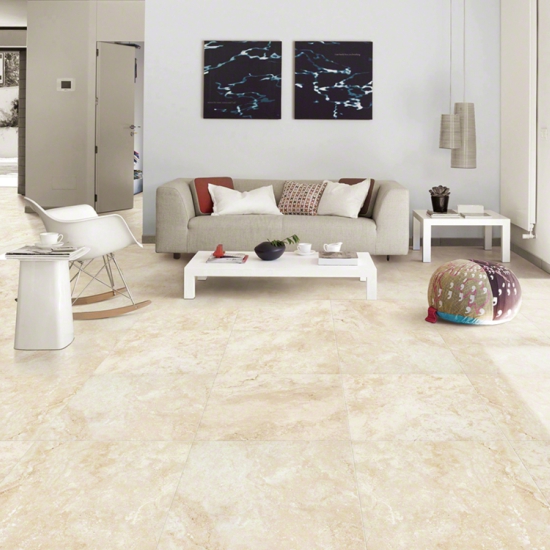 Featured: Tierra Ivory
If you want to make your room look larger, match the color of your grout with the color of your tile. This living room features 24x24 Tierra Ivory tile, a cream and beige porcelain in a matte finish. Larger tiles can be paired with a finer grout line in beige or similar tones to make the flooring appear like one continuous material. Also available in a 12x24 option.
Use Vertical Lines Intentionally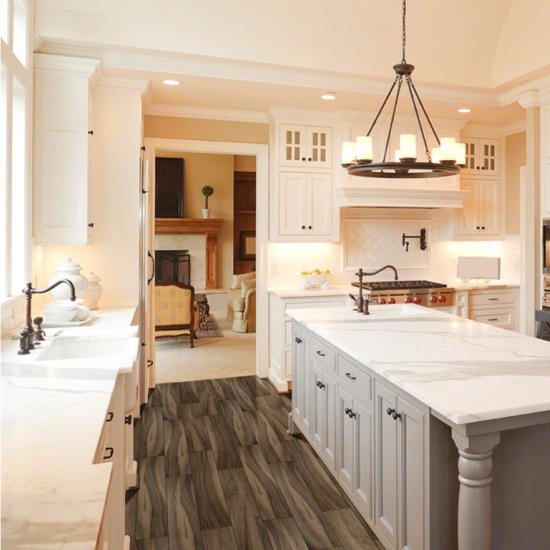 Featured: Café Aspenwood
Linear planks like porcelain wood tile should be installed purposefully. Lay the tiles down to elongate the width of a room, draw the eye toward a focal point, or move according to the flow of traffic. Café wood tile porcelain planks in this kitchen utilize all three principles.
These beautiful brown 9x48 tiles create movement within the design. Their installation emphasizes the width of the large island, creates a natural flow, and draws attention to the traditional fireplace in the adjoining room.
Highlight Tile with a Contrasting Wall Color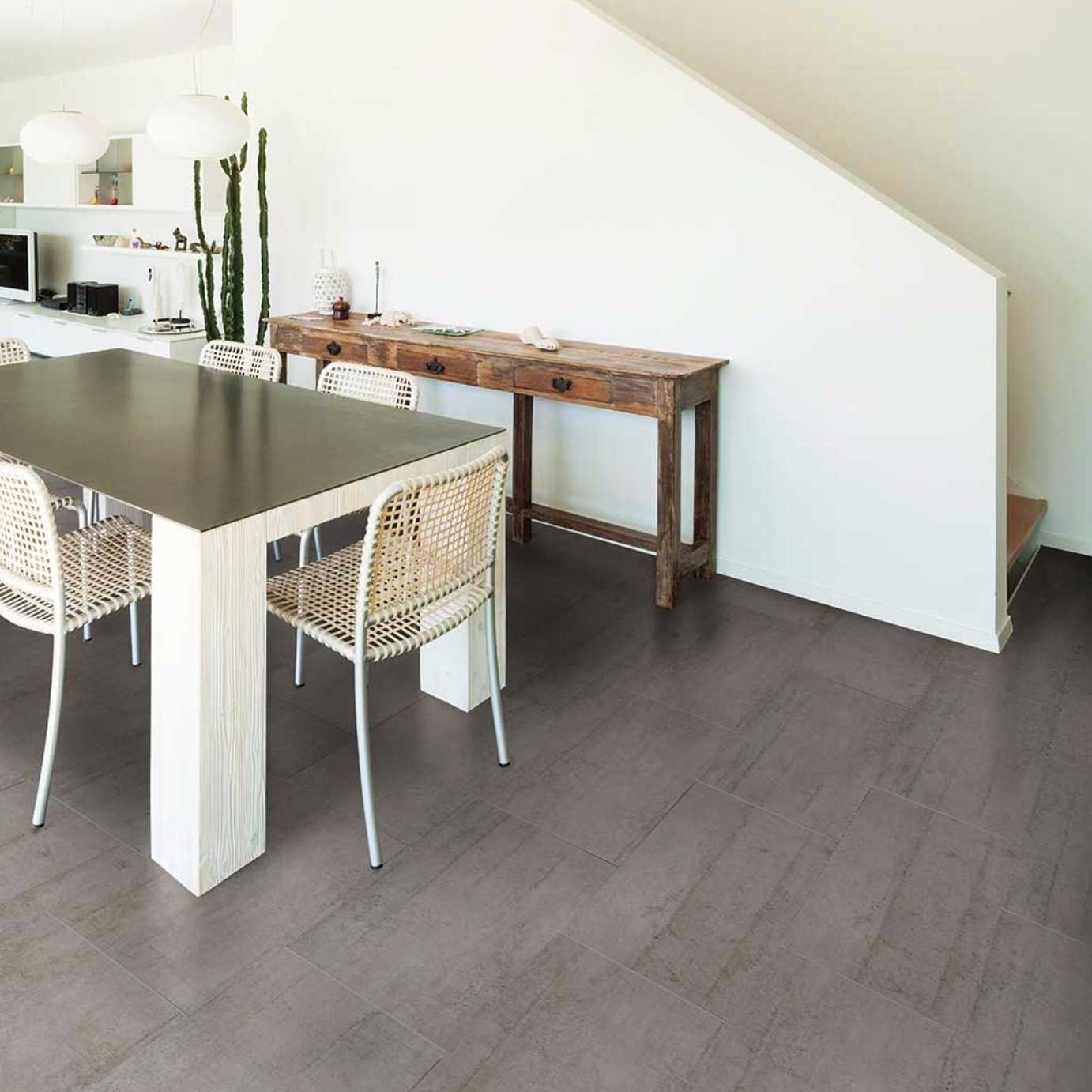 Featured: Novara
One way to make your stunning tile stand out is to complement it with a contrasting wall color. This dining area includes modern, high-style flooring from the Cemento line. Novara has the look of poured concrete and comes in an oversized 12x24 brick porcelain pattern.
With walls painted in a fresh white, the soft gray flooring becomes the focus. You might expect the furniture to be more modern to suit such sleek tiles, but the natural elements of the white table and chairs create a pleasing contrast with the industrial chic floors.