5 Cool Home Décor Ideas Using Pebbles And Garden Rocks
May 23, 2022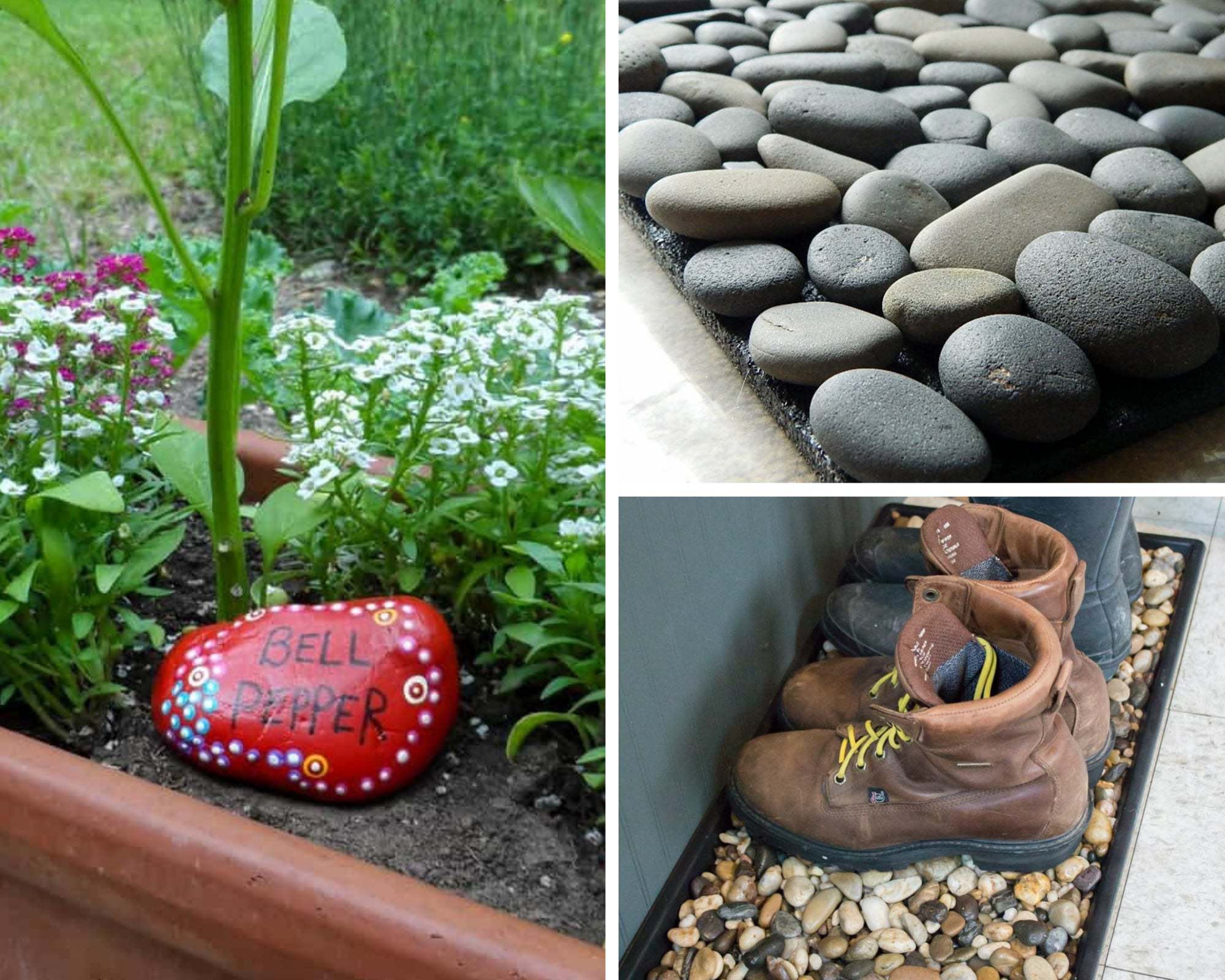 Connecting with nature is a great way to relieve stress, clear your head, and be present in the moment. Even if you don't have time for hiking or camping, you can fill your home with the calming ambiance of nature by filling your space with natural elements like plants, wood, and even pebbles.
You might be understandably hesitant to bring dirty, jagged rocks from outside into your home, but when you choose smooth, pristine, MSI polished pebbles, there are a surprising number of ways you can use them to decorate.
You'll find that they're not only good for exterior hardscaping, such as patios, walkways, and flower beds, but they can also deliver practical and aesthetic benefits indoors.
Some projects are incredibly quick and easy to accomplish. Others require more DIY moxie but allow you to tap into your artistic talent and relax while creating fun and attractive home décor. Here are a few ideas to incorporate this hardscaping element into your home design.
1. Pebbled Bath Mat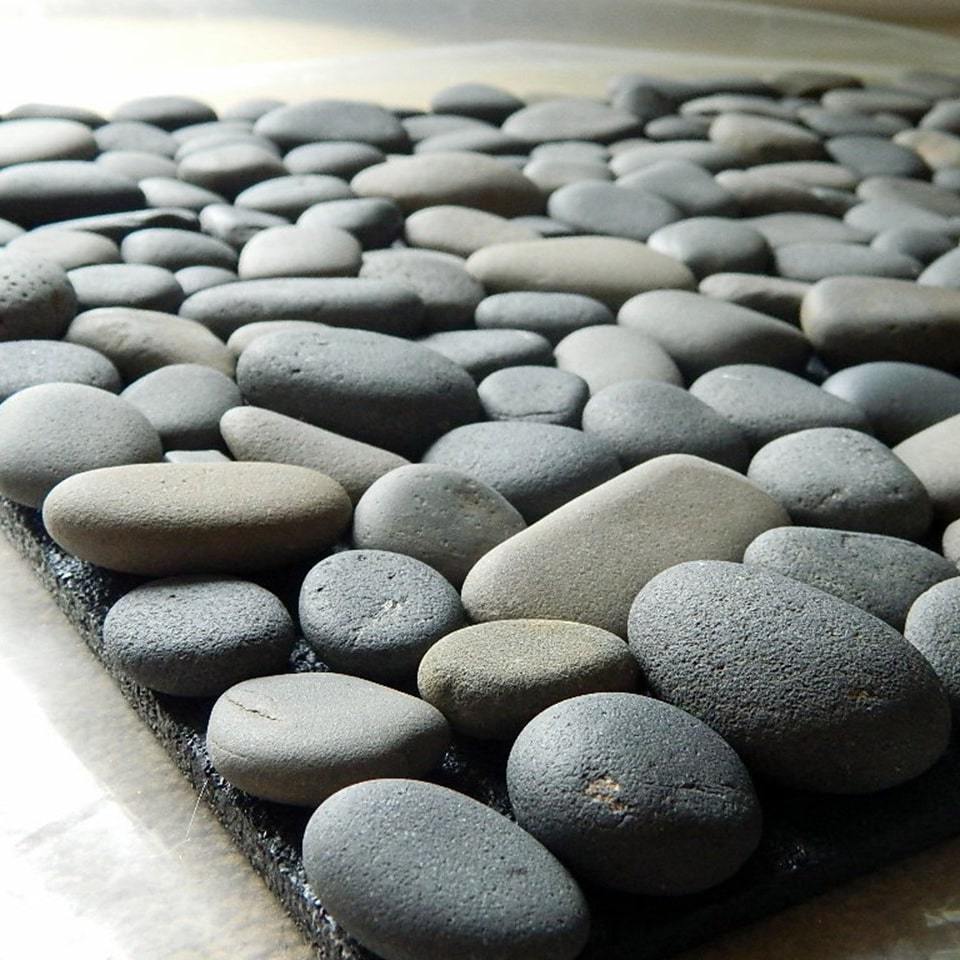 Image courtesy of Tattood Martha.
One of the joys of wading through a shallow riverbed is feeling the smooth, polished stones underfoot. You can get the same aesthetic with a bath mat made from colorful river rock.
For safety, you'll want to choose a smooth rock variety, but not necessarily polished. It shouldn't be rough on the bottom of your feet, but it also shouldn't get slick when you drip water on it, as you inevitably will with a bath mat. A porous rock will effectively wick away water so that stones don't get too slippery.
You've undoubtedly seen upscale, luxury bathrooms featuring massive showers with river rock flooring. While you might not be ready to totally renovate your bathroom to get this luxury look, you can still enjoy the same lovely, organic aesthetic with a simple bath mat made from pebbles.
2. Painted Garden Markers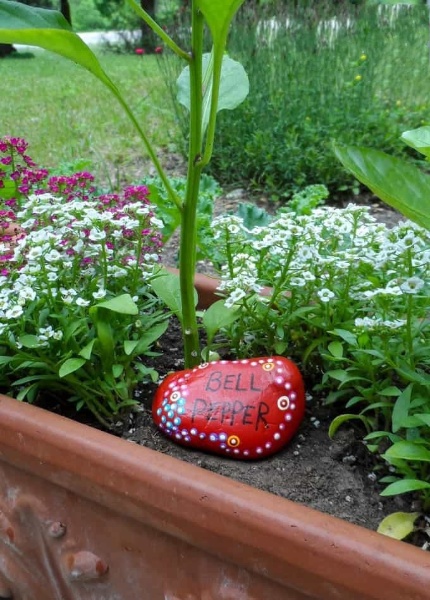 Image courtesy of Crafts by Amanda
Unless you're starting with seeds, plenty of plants at garden stores come with plastic markers you can stick in the soil to delineate rows of veggies, herbs, and more. Unfortunately, these flimsy markers can be easily lost to the elements or removed by curious wildlife.
If you're looking for something more permanent, not to mention a lot prettier, an easy way to identify the flora in your garden is with painted garden rocks. A garden rock should sport bright, colorful paint so you can easily pick it out in a crowded garden or planter bed. Each one will feature the name of a particular planting — from flowers and herbs like lavender, marigolds, basil, and chives to veggies like carrots, lettuce, and zucchini.
The best part is that you can reuse them year after year. They're easy to move around as needed or pop into a jar for winter storage. Additionally, you can always add new ones if you decide to plant something different the following spring.
3. Rock Mosaic Flower Pot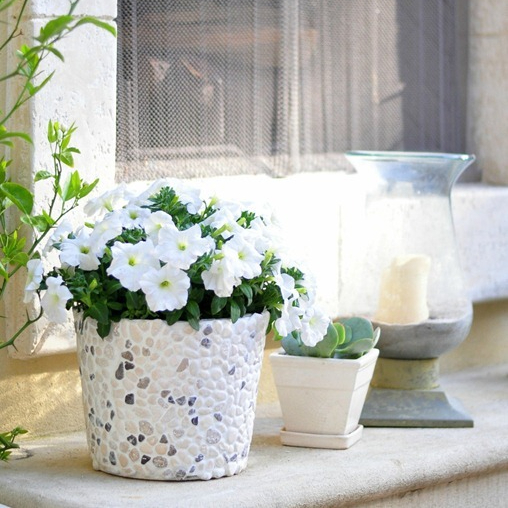 Image courtesy of Centsational Style
Whether you want creative flower pots for indoor or outdoor use, you're probably aware that these specialized containers do not come cheap. While you can certainly skimp and purchase plastic pots, they don't look the best, and over time, they can be damaged by exposure to the sun, water, and wind.
Ceramic, terra cotta, and cement pots will hold up better, but even a few large ones could set you back hundreds of dollars. Luckily, you can take on a DIY project that will look fantastic without breaking your budget when you craft your own rock mosaic flower pots.
All you need is a strong tin bucket (or even a trash can), some mortar and grout, mesh for reinforcement, and your favorite pebbles or garden rocks — ideally small, smooth stones of roughly the same size.
It will take some time to arrange the rocks in sections, so don't get frustrated. The end product will be well worth the time you invest, and you'll save money and enjoy some craft time along the way.
4. Stone Wall Sconce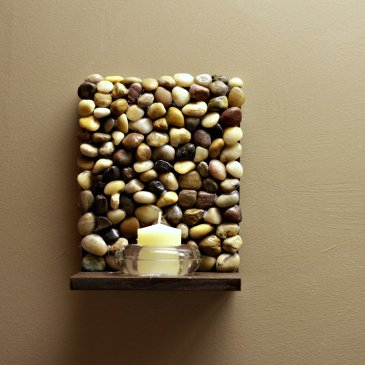 Image Courtesy of The Noshery
A set of wall sconces can make for a lovely and practical decorative element when flanking a hall mirror, floating shelves, a headboard, or other vertical spaces. If you're not enough of a DIY maven to install electric sconces and hide the wiring, you might want to start with a simpler project ideal for displaying small votives.
All you need is a shelf with a backing to get started, and if you can't find one, simply fastening two small shelves together at a perpendicular angle (with brackets) will do the trick.
From there, all you have to do is add your favorite gray pebbles, rainbow river rocks, or other small, smooth stones to the backing. When you place the votive on the shelf, the flickering light will dance merrily over the stone backing, especially if you choose polished pebbles.
5. Stone Boot Tray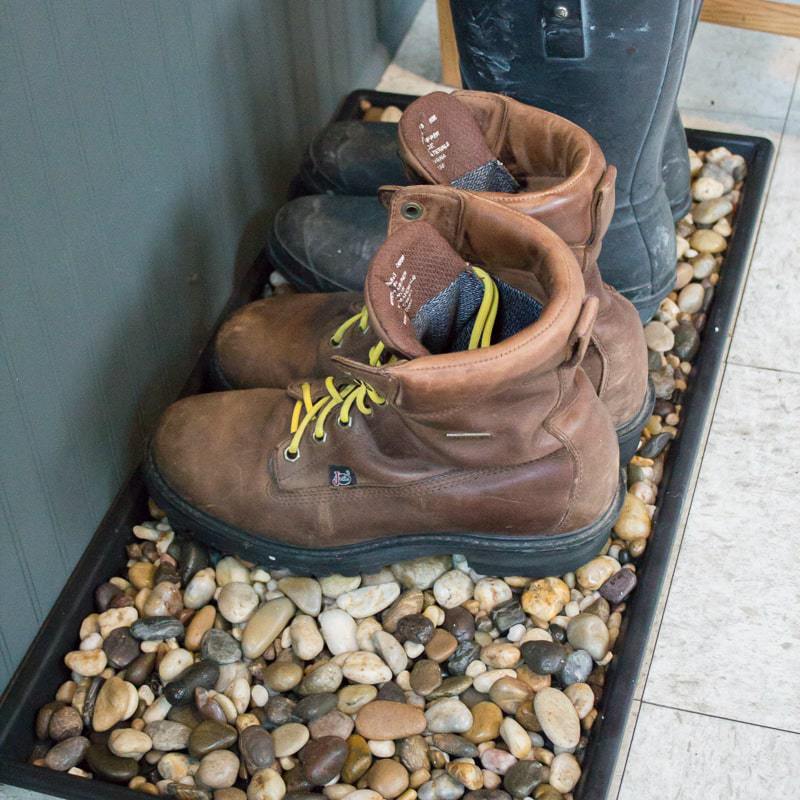 Image courtesy of Practically Functional
Whether you enjoy an expansive mudroom or struggle with a narrow hall entry, chances are you have trouble when it comes to inclement weather finding its way into your home via wet or muddy shoes and boots. A simple stone boot tray is one great option to minimize the mess.
How does it work? It starts with a tray with dimensions large enough to hold at least two or more pairs of shoes or boots. You could choose a garden drip tray from your local plant nursery or opt for something a bit sturdier, like a large cookie sheet (with raised edges) — depending on the size you want.
With the addition of smooth landscape stones spread to fill the tray in a single layer, you'll have the perfect, self-contained drain pan for messy shoes to dry out. The water will drip down and eventually evaporate, and you won't have to constantly clean water spots or mud from your entryway flooring.
While pebbles and garden rocks are certainly a lovely addition to your hardscaping, they can also serve a range of purposes for decorative elements in and around the home. It's easy to get creative with MSI's many attractive pebble varieties.