Outdoor Oasis: Dreamy Outdoor Retreats-5 Spaces That Will Make You Swoon
August 29, 2016
Whether you're hosting a poolside party for 12 or a cozy wine tasting for two, the backyard has become a favorite destination. It's evolved from the dog's domain to a dreamy escape for homeowners. Your ultimate design will depend on your backyard's shape and size, but the goal is to extend the living area into the great outdoors. With the addition of the fresh air, blue sky, and lush landscaping, it feels like a luxury retreat. If you've been dreaming of re-imagining your backyard to create your private resort, here are five stunning outdoor spaces to ignite your creativity – and the MSI products that made them happen.
Casa Blend 3D Honed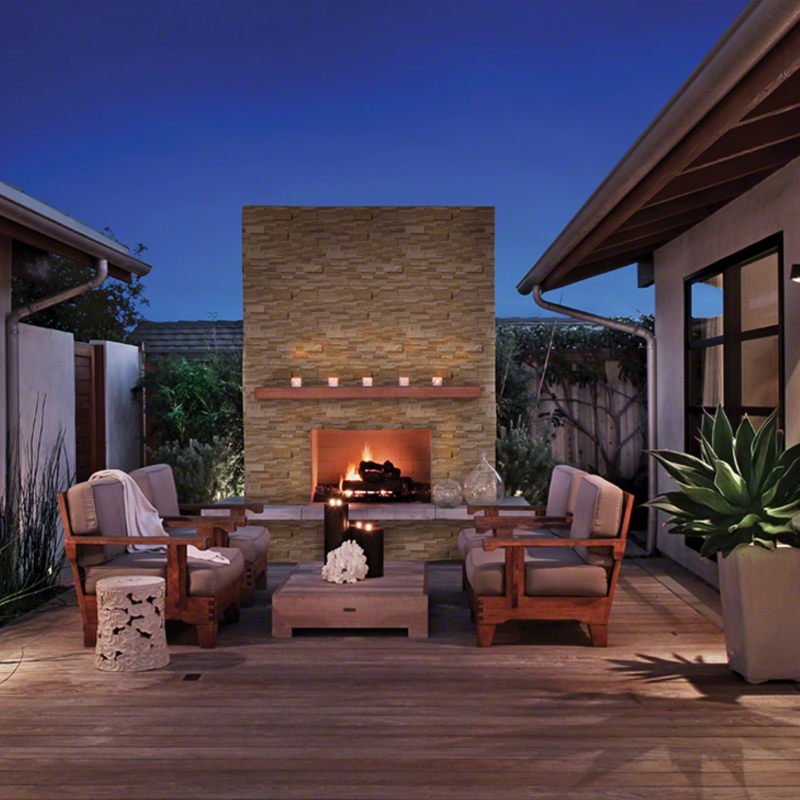 Featured: Casa Blend 3D
Who says the family room fireplace has to be tucked away indoors? Gather 'round this incredible travertine stacked stone hearth. The tall, narrow surround, with minimalistic mantel, provides just enough structure to anchor the "outdoor room." You and your guests can lounge on the comfortable outdoor furnishings with a glass of wine or hot cocoa with nothing above you but the starry night sky. Casa Blend 3D Honed ledger panels feature varying tones of soft cream and beige, with staggered depths that add great texture. The play of light and shadow on the textured natural stone makes this an exceptional choice for any outdoor fire feature, particularly those with strong linear shapes. Matching corner pieces make it easy to finish your projects.
Tuscany Scabas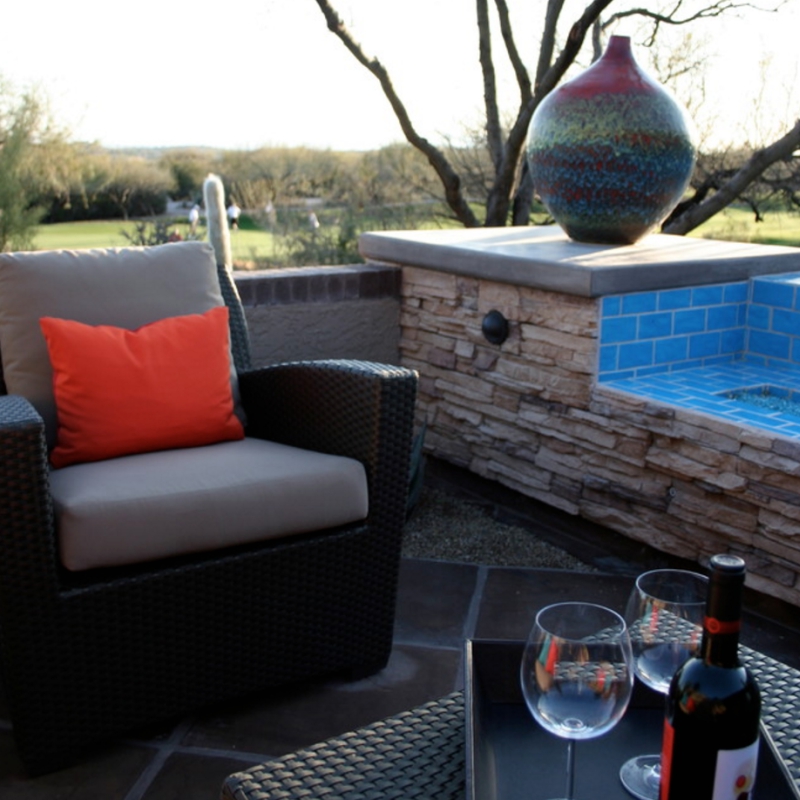 Featured: Tuscany Scabas
Gorgeous, functional outdoor rooms don't necessarily require large spaces. This cozy spot has all you need for a relaxing al-fresco afternoon or evening, even in the autumn when the air turns crisp and cool. Rough, rustic stacked stone contrasts with the bright aqua blue porcelain tile surrounding the fire feature – itself a surprise because it uses fire glass along with a hidden propane burner for an edgy, contemporary design. Tuscany Scabas stacked stone panels are natural travertine split-face stone, in shades of soft cream and orange. The texture is rough and rugged, appropriate for accent walls, backsplashes, exterior cladding, and amazing outdoor fire pits. Finish your project, wherever it may be, with matching corner panels.
Juparana Persia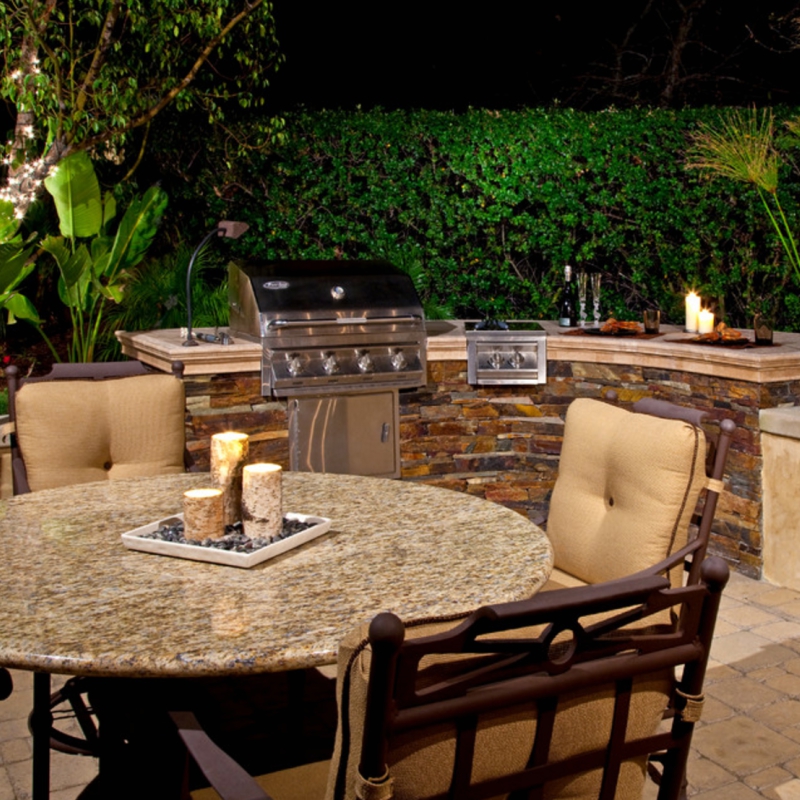 Featured: Juparana Granite
Who wants to be stuck inside the house at mealtimes, while the rest of your family and guests are having fun outdoors? This outdoor kitchen, with its gleaming stainless-steel gas grill and plenty of work space, lets you create gourmet entrees – or good ol' burgers and hot dogs – without missing a thing. Granite countertops can withstand the elements on those not-so-sunny days, and the centerpiece of this scene is the spectacular, round granite-topped table. Also take note of the travertine pavers and the thin veneer of natural stone, proving that you can bring together different types of materials in your outdoor space to create a unique, eye-appealing result. Juparana Persia Granite is imported from Brazil and features an exotic, dramatic mixture of gold, white, and gray. Use it indoors to create stunning kitchen countertops and backsplashes, take advantage of its water-resistant properties in the bathroom, or bring it outside for a variety of landscaping projects and outdoor décor.
Silver Creek Granite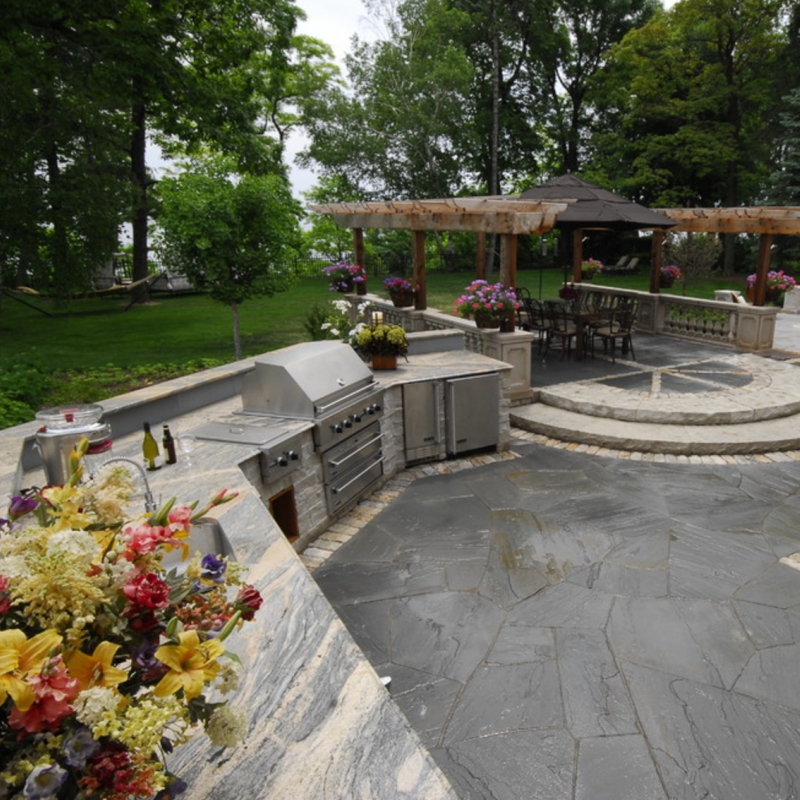 Featured: Silver Creek Granite
Cool shades of gray, in a variety of materials, blend to create this roomy outdoor kitchen, patio and covered gazebo with pergola. Tumbled tiles, slate pavers, and natural stone ledger panels are arranged in a complex design juxtaposing angles and curves. A striking black-and-white striated granite forms the generous work space, with shiny stainless-steel appliances and even a sink for washing up. This neutral, monochromatic scheme could be a bit bland inside the house – but it's perfect outdoors, next to the lush green foliage and colorful blooms. Silver Creek Granite is imported from Brazil and feature swirls of pale gray, charcoal, and everything in between. Use it for flooring, countertops, accent walls, kitchen islands, and more. Its elegant polished finish shines outdoors too, with little maintenance to keep it looking its best.
Tuscany Beige Tumbled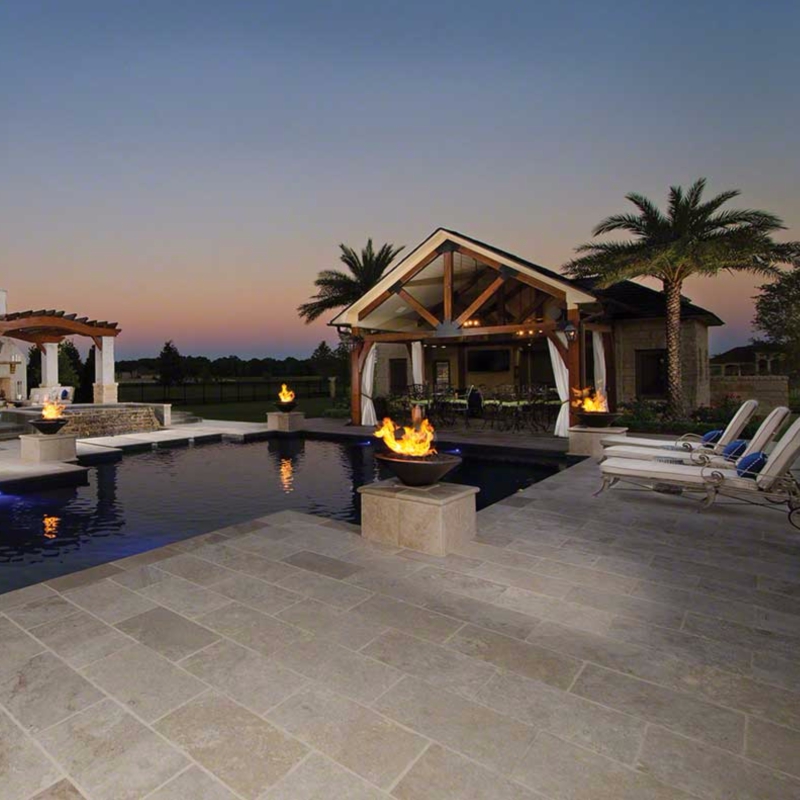 Featured: Tuscany Beige Tumbled
The exotic beauty of this swimming pool, with its elegant open-air shelter, calls for something special to serve as a pool deck – tumbled travertine pavers do the job nicely. The soft, neutral, unassuming natural stone pavers augment – but do not distract from – the other dramatic elements. This area would be lovely during the day, but it's truly spectacular after dark, with several fire pots flickering and reflecting on the water below. Tuscany Beige Tumbled pavers are versatile, with a variety of sizes to fit any landscape or hardscape design you have in mind. With warm tones of cream and beige, they can be used indoors for flooring, fireplace surrounds or accent walls – or outdoors for exterior cladding, retaining walls, and elegant non-slip pool decks.
Whether your backyard is large or small, urban or rural, MSI has a wide variety of stone products to create your personal retreat. Combine fire features with vertical elements using ledger panels, design your dream patio, or dress up your swimming pool – and know that the materials you choose won't just look beautiful when you install them, they'll stay beautiful for years to come.