Current Obsessions: Beautiful, Low Maintenance Quartz Countertops
March 15, 2016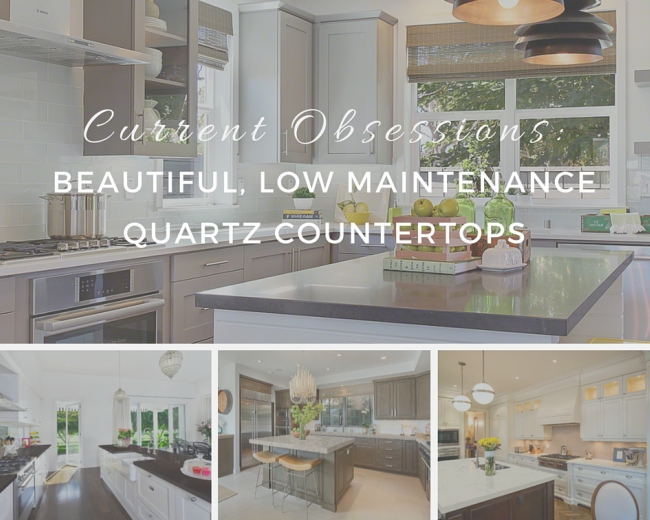 Life is full of compromises, but when it comes to designing a kitchen that is both beautiful and low-maintenance, you don't have to. According to a recent survey from RICKI (the Research Institute for Cooking & Kitchen Intelligence), over half of those surveyed also desired a home with minimal work and expense to maintain. Quartz countertops from MSI are the perfect combination of sophistication and durability. With over 45 trendy colors to choose from, your fashionable and functional dream kitchen is well within reach.
Read on to learn more about what makes MSI's state-of-art quartz a standout choice for kitchen countertops, as well as photos of our most popular quartz countertop kitchen designs.
The Durable Beauty of Quartz
A blend of natural mineral and modern technology, quartz is a highly resilient engineered stone that offers a "no fuss" style. Quartz fends off etches and scratches, is non-porous, doesn't require sealing, and is heat and chemical resistant. With all the splendor of natural stone, quartz sparkles with a beauty that's stylish and sturdy. Quartz countertops emanate an elegance that stands the test of time and is a lovely choice for practical, style-minded homeowners. To suit a range of preferences, quartz is offered in a variety of distinctive colors, patterns, and formats. Open up a world of low-maintenance style with MSI's exquisite selection of quartz countertops:
Sparkling Black Quartz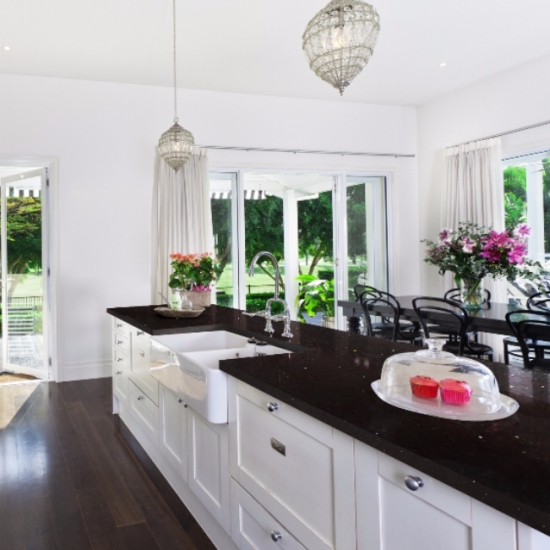 Featured: Sparkling Black Quartz
Sparkling Black Quartz shimmers with whimsical sparkles and highlights that glimmer amidst shades of deep, dynamic black. For a two-toned look, pair this lovely countertop with neutral wall tiles and cupboards. For a crisp, clean look, consider the stark contrast of a black-and-white aesthetic. This polished slab quartz adds easy elegance to floors, countertops, and wall projects in both residential and commercial properties.
Shadow Gray Quartz
Shadow Gray Quartz gleams in deep, dusty graphite that's delicately flecked with iron, onyx, and pewter. This head-turning quartz—a smart and stylish choice—is equally spectacular on countertops, floors, walls, and backsplashes. To create a look that's bold and modern, consider cherry-red accents that offset the deep, dark tones in Shadow Gray Quartz. These sleek quartz countertops are available in 2 and 3cm sizes and are suited for both residential and commercial interiors.
Carrara Grigio Quartz
Marble countertops are exquisitely lovely, with distinctive veining and a bold, white backdrop. But Carrara Quartz is preferred by many for its easy-care nature. For those who crave the look of marble, minus the upkeep, Carrara Grigio Quartz is a beautiful choice. With the look of Carrara Marble and the added durability of porcelain, Carrara Grigio Quartz is hard-wearing and virtually maintenance free. Exuding an effortless charm that enhances the architectural features of any space, this easy-care marble quartz is ideal for countertops, backsplashes, and statement islands.
Romano White Quartz

Featured: Romano White Quartz
Hailing from the Q Premium Natural Quartz line, Romano White Quartz casts a neutral elegance on countertops. This alluring white quartz delivers dramatic movement in subtle white and gray tones, with just a hint of warm specks and veining. With a look that convincingly mimics the beauty of natural marble or granite, this countertop creates a style that's timeless. Add a touch of elegance on countertops, accent walls, backsplashes, and islands.
Alpine Quartz
MSI's Alpine Quartz is a superb blend of heather grey, silver, pewter, and gunmetal. For a look that's all yours, choose from prefabricated countertops or regular slabs. This lovely, natural quartz countertop is right at home in both residential and commercial properties.
With a sleek, easy-care quartz countertop, you'll never sacrifice style for sensibility. Create a beauty that's meant to last with one of MSI's dazzling quartz countertops.