Mosaic Monday: Turn On The Glitz With Metal And Glass Tile
October 25, 2016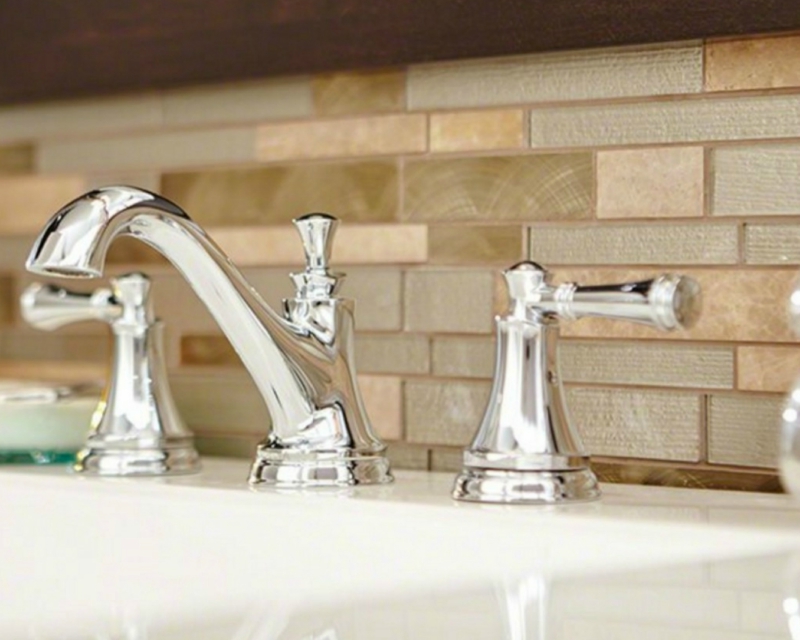 How about adding some "bling" to your home décor? Glass and metal blend mosaic tile is trending, and MSI's collection of expertly matched mosaic blends are leading the way.
Sparkling and reflective, with a variety of shapes and colorways, they are perfect for backsplashes, accent walls, or borders in combination with other tile products. Pre-assembled on a mesh backing, these mosaics are a simple way to add a designer touch.
Paradise Bay Blend Pattern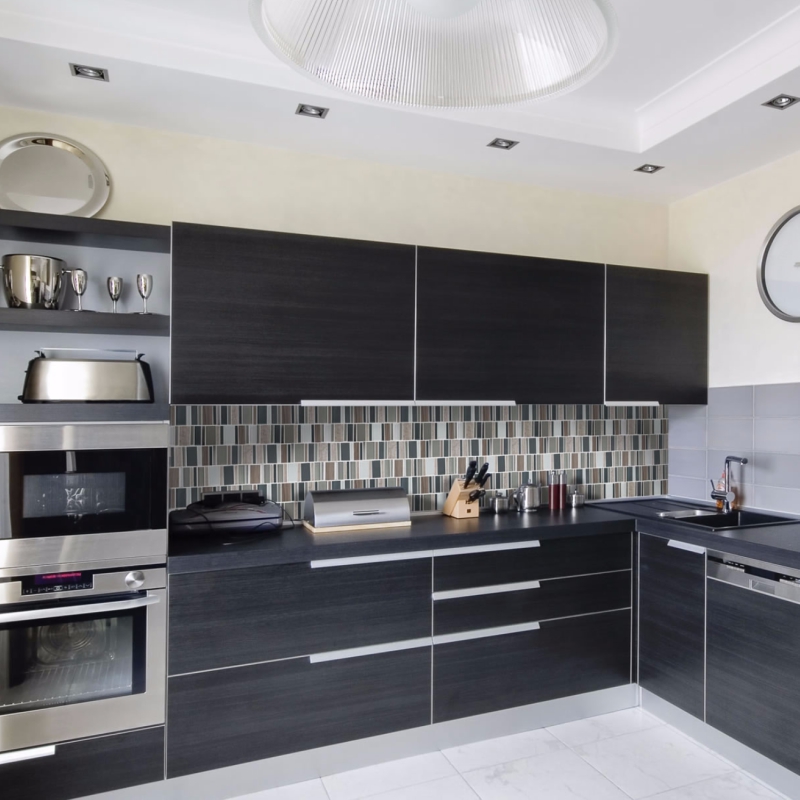 Featured: Paradise Bay Mosaic Tile
With varying widths of glass and natural stone arranged randomly, Paradise Bay Blend Pattern mosaic tile combines taupe and cream, blue-gray, and medium-gray with a linear flair. As shown, this pattern is well suited for creating a dramatic backsplash in tandem with sleek, contemporary décor. Since it's a neutral colorway with several different shades, it's a cinch to match with your other design elements. The backsplash tile in this scene uses the pattern vertically, but you could flip it and install horizontally as well.
Diamante Brick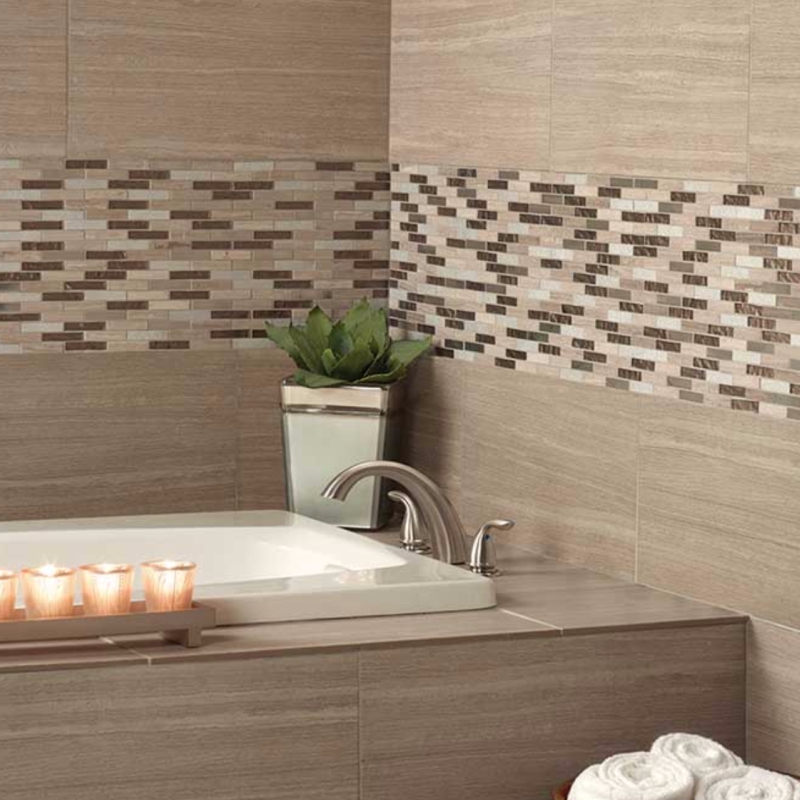 Featured: Diamante Brick Mosaic Tile
With a tile option like Diamante Brick Mosaic Tile, you'll never settle for a boring bathroom again. It combines metal and glass tiles with natural stone in shades of gray, taupe, and black, in a random, staggered brick pattern. The dark metal tiles contrast sharply with the lighter hues, and create interesting diagonal motion. Diamante Brick gives you four colors to mix and match with other design elements; it's perfect for backsplashes and wall accents.
Champagne Toast Interlocking Pattern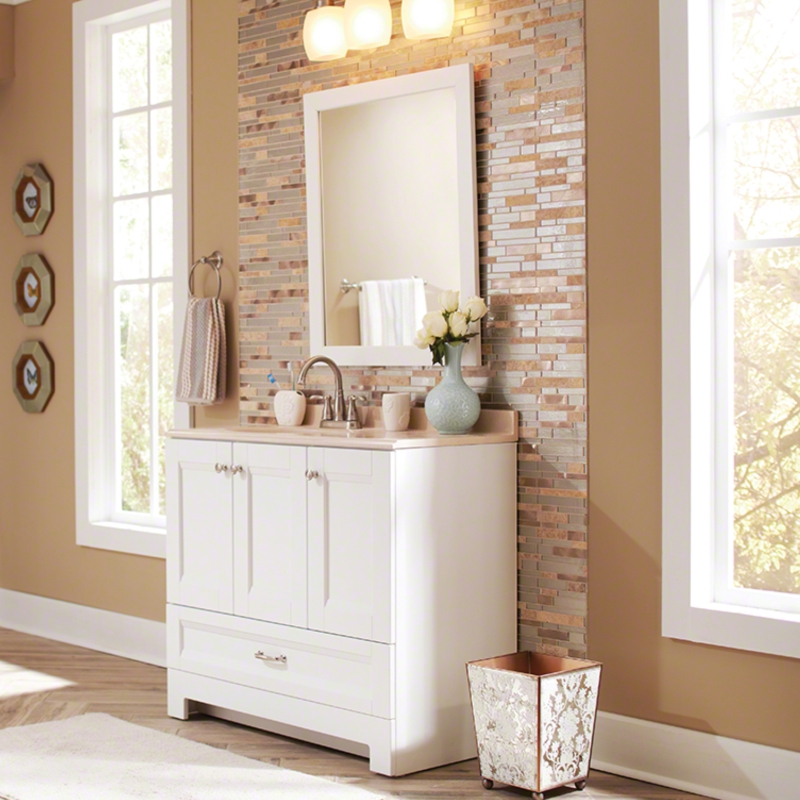 Featured: Champagne Toast Mosaic Tile
An "accent wall" doesn't need to be an entire wall. This scene features a section surrounding the sink, with Champagne Toast Interlocking Pattern mosaic tile. It combines metal tile with glass and stone for eye-catching texture. The pattern also combines taupe, beige, and mocha – including a very dramatic variegated tile. With this combination, neutral is anything but boring.
Cityscape Interlocking Pattern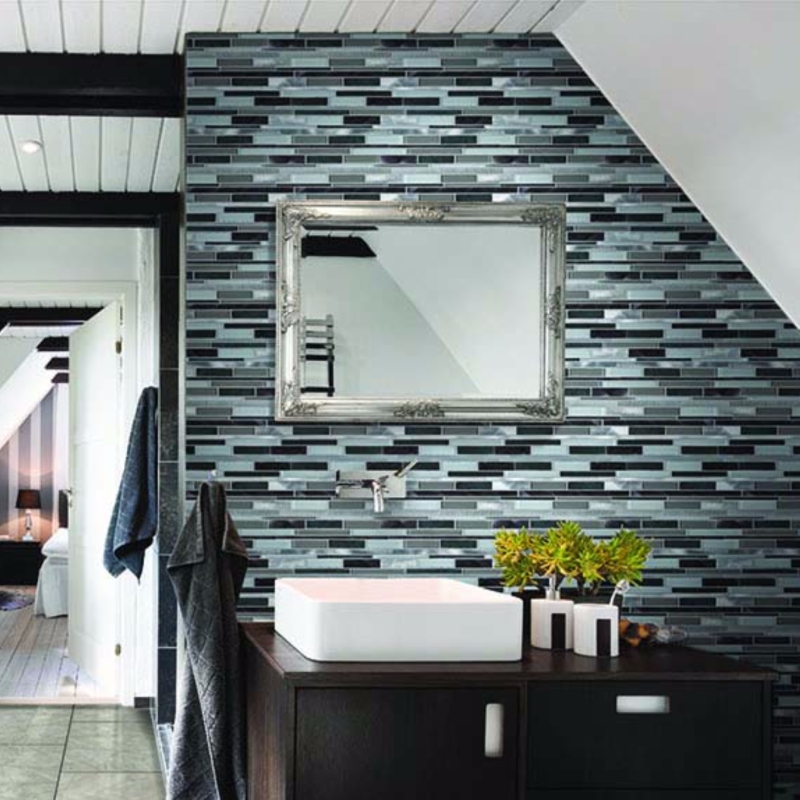 Featured: Cityscape Interlocking Mosaic Tile
Cool, contemporary, and cosmopolitan Cityscape Interlocking Pattern mosaic tile blends metal and glass tile in shades of white and gray, and those glass pieces deliver a distinctly 3-D look in combo with the matte brushed metal. Shown here as a sleek wall covering for this slanted architectural feature, this pattern delivers a real punch when used sparingly with light-colored walls and accessories.
Keshi Blend Mini Brick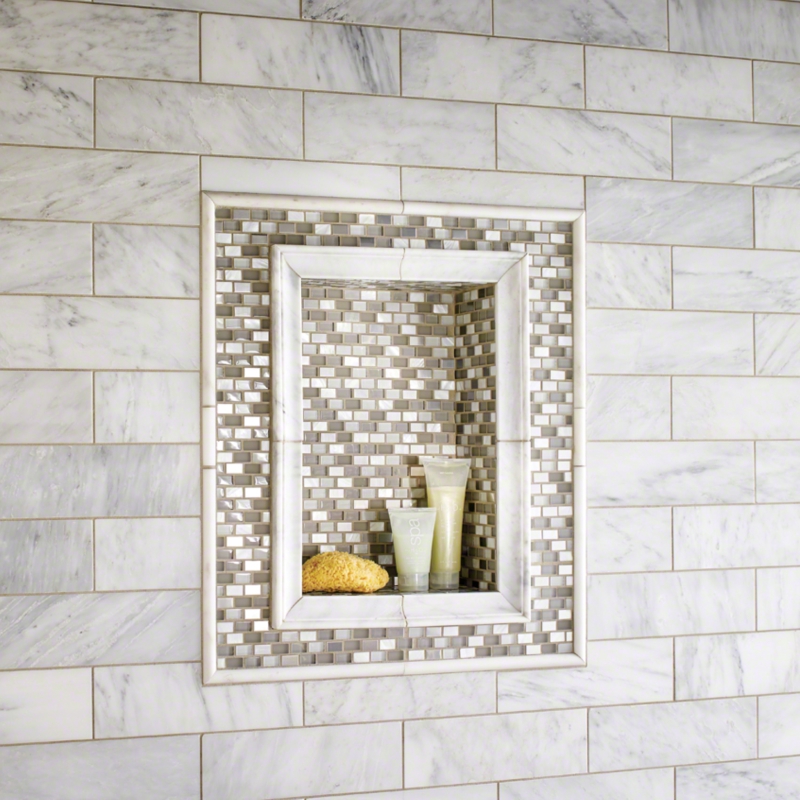 Featured: Keshi Blend Mini Brick Mosaic Tile
One of MSI's smaller-format tile mosaics, Keshi Blend Mini Brick mosaic tile is a glass and metal blend featuring shades of gray, black, and white with a relatively wide grout space. The individual bricks are just 5/8" x 1", although they're pre-assembled on a mesh so installation is a lot quicker than it looks! Recommended for wall tile applications, this pattern is perfect for smaller accents and borders.
MSI's pre-assembled glass and tile mosaics make it easy for you to design a stunning kitchen or bathroom, with designer accents that showcase your creativity and imagination. They combine the sparkle of glass with the sheen of metal and classic elegance of natural stone in neutral shades that are easy to match. Try one of these patterns and take your décor from bland to bling!