Choosing The Best LVT Flooring For Every Room
November 06, 2019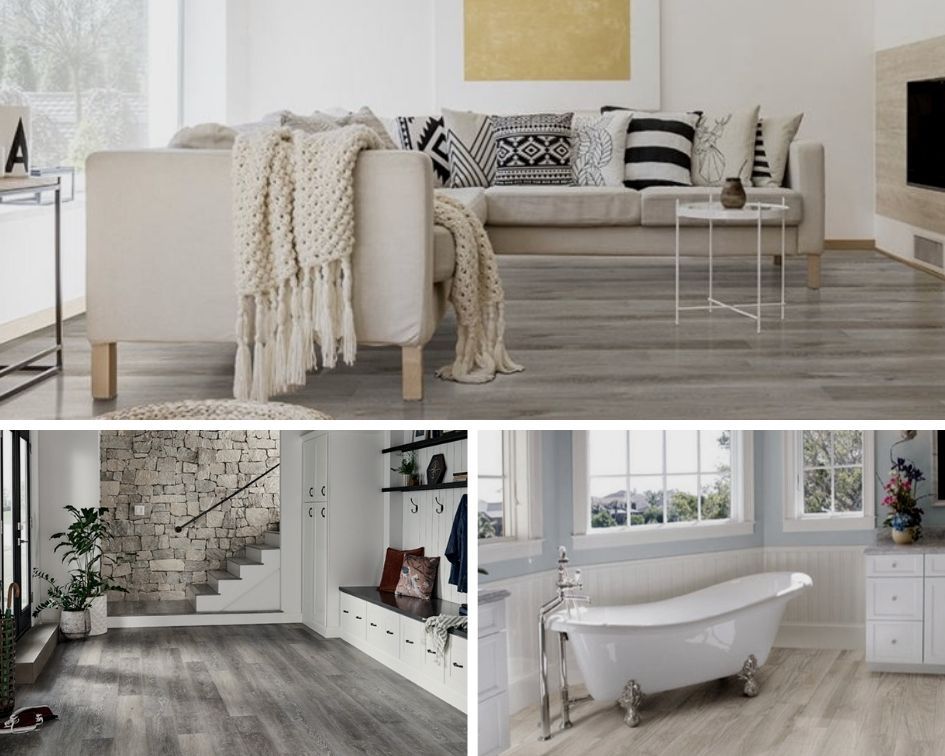 Luxury vinyl tile (LVT) continues to be one of the top choices for flooring since it can be installed in so many places. It also is offered in a wide range of colors and wood styles for stunning materials that beautifully mimic real hardwood. However, there are different collections with various thicknesses, subfloor requirements, and installation methods, and these features should all be considered when deciding what to use where. In this guide, we'll go over which types of Luxury Vinyl Flooring are best suited for the rooms in your house.
Kitchens and Mudrooms
Your kitchen and mudroom are the two hardest-working rooms in the house. Not only do they get heavy foot traffic on the daily, but also they're prone to wet messes from food and drink spills to muddy shoes and wet raincoats. While many would love real wood in their home, it just isn't tough enough to handle the spills, drips, and dents from things falling off the counters in the kitchen, and the amount of daily foot traffic will damage the finish over time.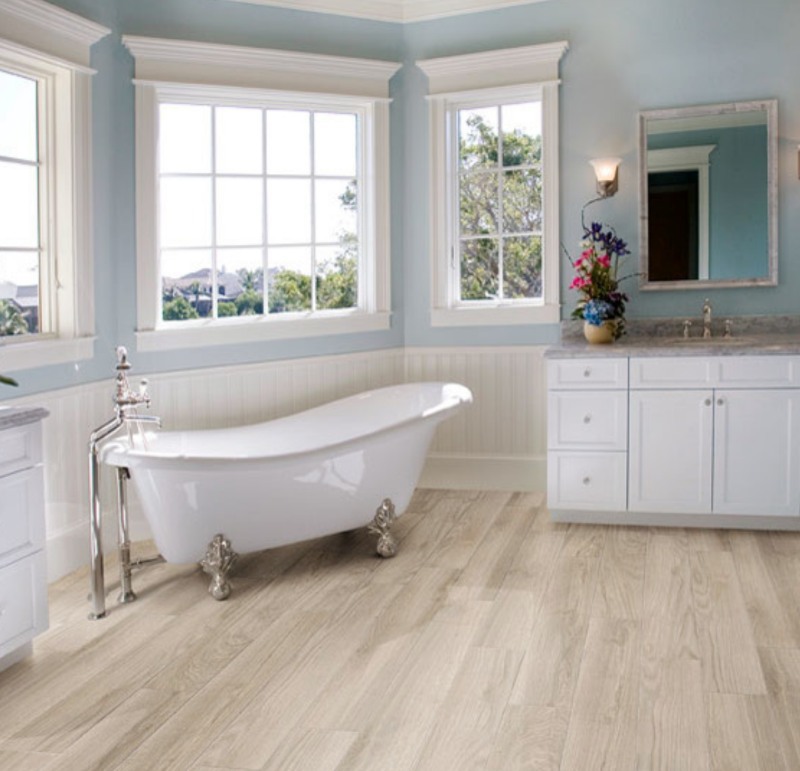 Create a similar look with MSI' Bleached Elm (Photo Credit: Houzz)
LVT comes in a wide range of modern tile vinyl with real-wood looks, from whitewash to gray hues to rich tones. Keep in mind the amount of messes your area will see and choose accordingly. Too light, and it might show dirt too easily, but too dark may also show every bit of fuzz or pet hair.
Both glue-down vinyl and floating vinyl planks are great choices for kitchens and mudrooms, but glue-down LVT is better suited for higher traffic areas since the flooring is glued down to the concrete or wood subfloor.
In terms of thickness, vinyl plank flooring typically ranges from 2mm to 8mm or more for higher quality products, so keep this in mind. However, the most important factor for a kitchen or mudroom install is the wear layer, which ranges from 8 mil to 40 mil. It's best to choose LVT with a thicker wear layer that's 20 mil, 30 mil, or even 40 mil to hold up to the daily wear and tear of these areas.
Living Rooms, Dining Rooms, and Great Rooms
Living areas are cozy common spaces that still get a decent amount of foot traffic. In homes with an open concept floor plan, you might have a very large area, and this can affect the type of flooring chosen. While real wood is warm and inviting, it's also very expensive to install. Another challenge in these living room and dining room areas is furniture feet, kids' toys, high heels, and pets' claws. Little ones wheeling around their favorite car or train with wheels or moving around an ottoman or dining chair could be hard on certain flooring types. While LVT is durable, know that it can scratch.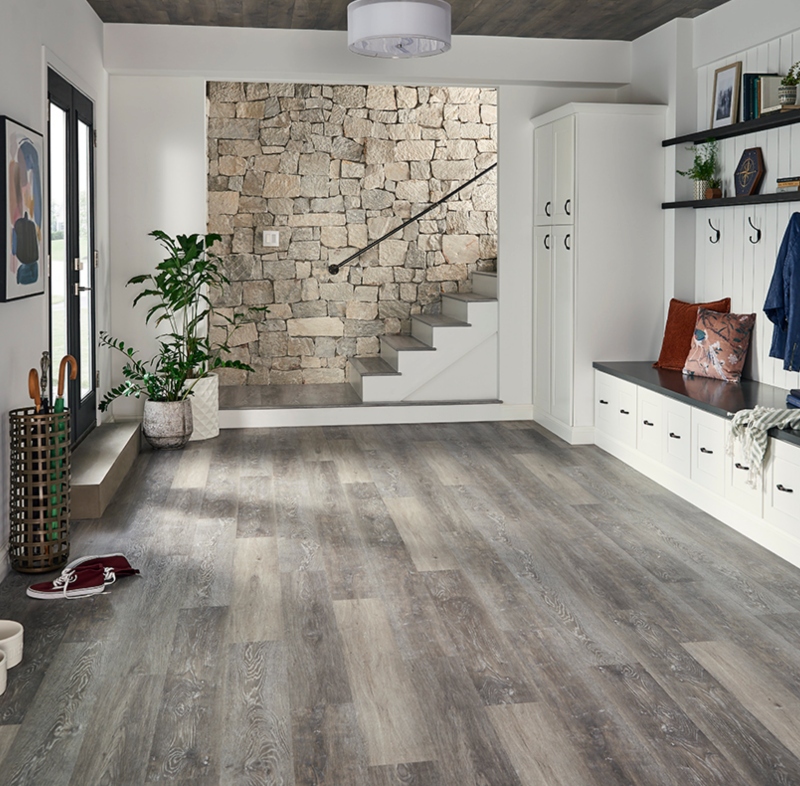 Recreate this look with MSI's Finely (Photo Credit: Houzz)
LVT offers a variety of warm and cool tones to suit your specific design style. If you spend most of your time in these main floor areas, then choose a color for your vinyl tile that looks like wood that you will love for decades, even if that means ditching an on-trend hue.
It may depend on the size of your living room, family room, or great room to decide which type is best, but glue-down vinyl is better suited for larger rooms since it won't lift away from the subfloor. Big spaces may put more pressure on the click-lock system because the joints won't be as stable with this floating flooring. Yet, it's perfectly fine for smaller areas.
Many residential installations do well with a minimum of a 12 mil wear layer. For active families or those with pets, you will also want a thicker wear layer that's 20 mil or more for longer-lasting protection.
Bathrooms, Laundry Rooms, and Basements
While bathrooms and laundry rooms won't get as much foot traffic as other spaces in the home, the biggest challenges for these areas are water and moisture. From splashing in the tub to toilets overflowing to washing machines breaking, any of these things would quickly damage real wood and other types of floors. Basements might get more foot traffic depending on how often it's used as a possible playroom, man cave, or rec room, but moisture is also a challenge, especially if it's below grade. It may be constantly damp or even get flooded. Luckily, LVT is highly moisture resistant, and some are even 100% waterproof. This means that they won't absorb moisture, so you won't have to worry about them swelling or warping like real wood. And, unlike stone floors that get cold, your feet will be warmer after getting out of the shower.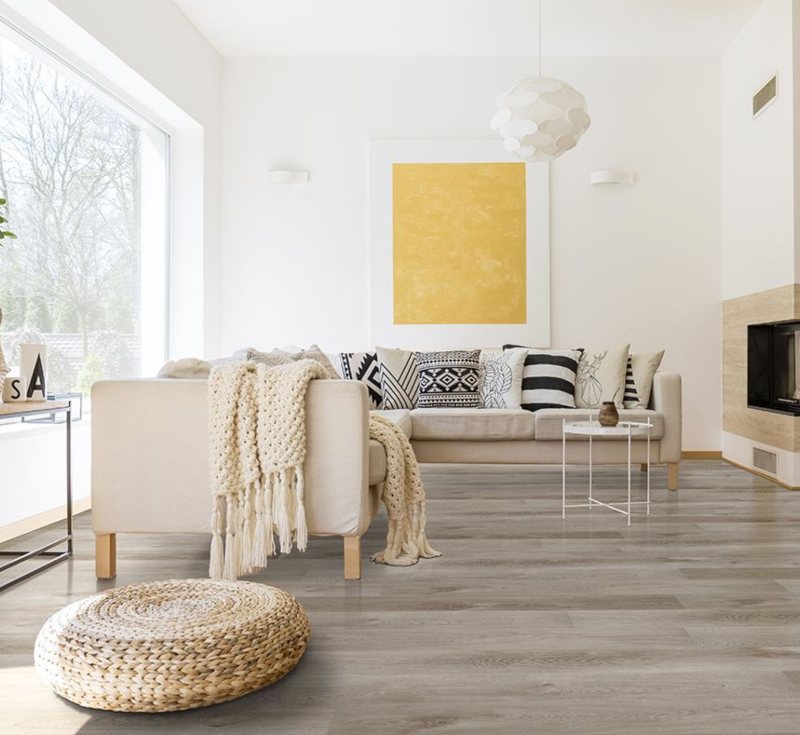 Create this look with MSI's Whitfield Gray (Photo Credit: Houzz)
Both glue-down vinyl and floating vinyl planks are great choices for bathrooms and laundry rooms. Again, the type may depend on if you're installing LVT in a small powder bath or an expansive master retreat whether or not they can handle stress on the joints with a click-lock system or is better suited for glue-down vinyl. But, for basements, a click-lock vinyl system is the best choice because the floating floor can shift as temperature and moisture levels fluctuate without causing the floor to become loose or buckle.
When it comes to wear layer thickness for these installs, take into consideration how often the space will be used to help decide how much protection you need. Just know that the design patterns may lose some clarity at the higher-rated thickness wear layers.
Each room brings its own challenges, so make sure to choose a glue-down or click-lock vinyl that meets traffic and moisture needs. Since bathroom and kitchen remodels are expensive, select something that you'll love for a long time. No matter where you install your vinyl, you should always protect it as much as possible by adding felt bumpers underneath furniture. Even though LVT is extremely durable, it's always a good idea to have extra cases of flooring set aside so that you can perfectly match your vinyl planks or tiles if needed.
Learn More About Luxury Vinyl Tile
Luxury Vinyl Flooring: Pros, Cons, Install, Cost
Installing Luxury Vinyl Tile in the Bathroom
Luxury Vinyl Tile: The Glenridge Series
5 Reasons to Use Luxury Vinyl Tile Flooring