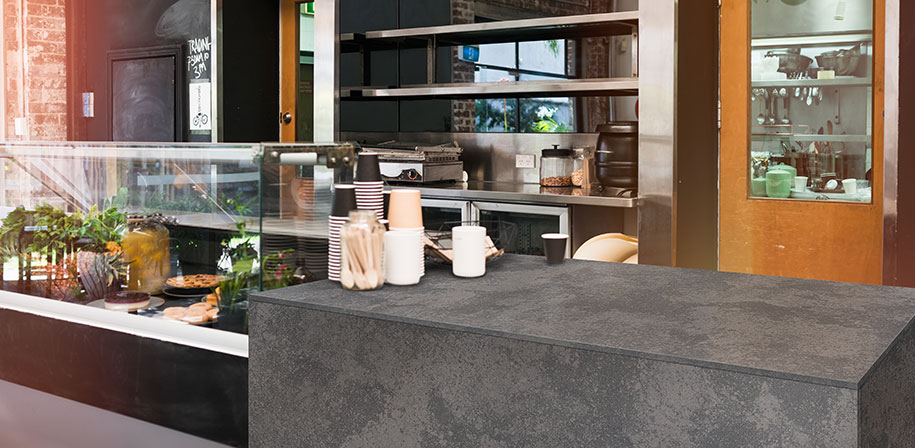 Urban Lava® - Concrete Finish
A cool gray background with subtle white veining and concrete-like finish gives Urban Lava Concrete Quartz a chic industrial feel. With the look of natural stone and the durability of quartz, this striking slab provides a unique countertop solution that will stand out in the kitchen, bathroom, butler's pantry, or wet bar for interior residential and commercial spaces. MSI recommends using mitered edges with the Urban Lava Concrete as the material is not through-body. Long-lasting and easy to maintain, Urban Lava Concrete complements most any design style and color palette. Coordinate it with several flooring and wall products from MSI's extensive range of surface solutions for a cohesive look.
---
Product Info
Primary Color(s)
Accent Color(s)
Other Industry Names(aka)
Style
available Finishes
Price Range
Book Match
Variations
Flooring
Counters
Wall
Other
COORDINATING BACKSPLASH MOSAICS
Tips From Our Designers
Check out the More than Mod trend, if you love Urban Lava quartz this trend is calling your name!

Can't shake your obsession with gray countertops? We get it. Of all the beautiful ways you can modernize your kitchen, bath, and laundry room, nothing's as chic.
Coordinate Urban Lava Concrete with one of these suggested cabinet colors:
Need to update the kitchen? Create thousands of design combinations from two inspiring scenes, and explore different product combinations or cabinet colors here, and see how they look together.


LEED
Qualified for USGBC LEED credits to help maximize "green" building design strategies

NSF
National Sanitation Foundational International NSF/ANSI Standard 51-Food Equipment Materials Certified

GREENGUARD
GREENGUARD Children & Schools and GREENGUARD Indoor Air Quality Certified

KOSHER
Certified with the Seal of the Kosher Trust(Seal-K)
---
*Product gallery images provided by Houzz are for visualization purposes only. MSI makes no claim that the product was purchased from MSI or that these images accurately match or represent the presented product. MSI encourages you to order samples of the products you are interested in.