New Tektile Fabric Print Porcelain Tile
November 05, 2016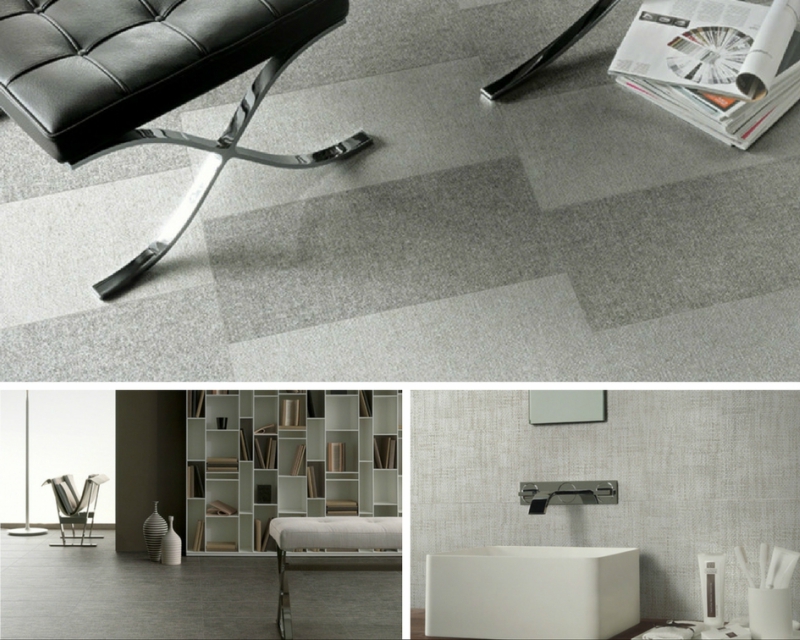 Current technology allows companies to quickly develop new building materials, giving homeowners more low maintenance options. For example, MSI's brand new porcelain tile collection, TekTile, features ultra-fine fabric prints created with inkjet technology.
This high-definition printing process results in a remarkable textured look on ultra-smooth 12x24 porcelain tiles. Both consumers and industry professionals are taking a closer look at these fabric-like materials because of the realistic designs and durability of porcelain.
If you're ready to take a look and judge for yourself, here are five of MSI's hottest styles from the TekTile Porcelain Collection.
CrossHatch Gray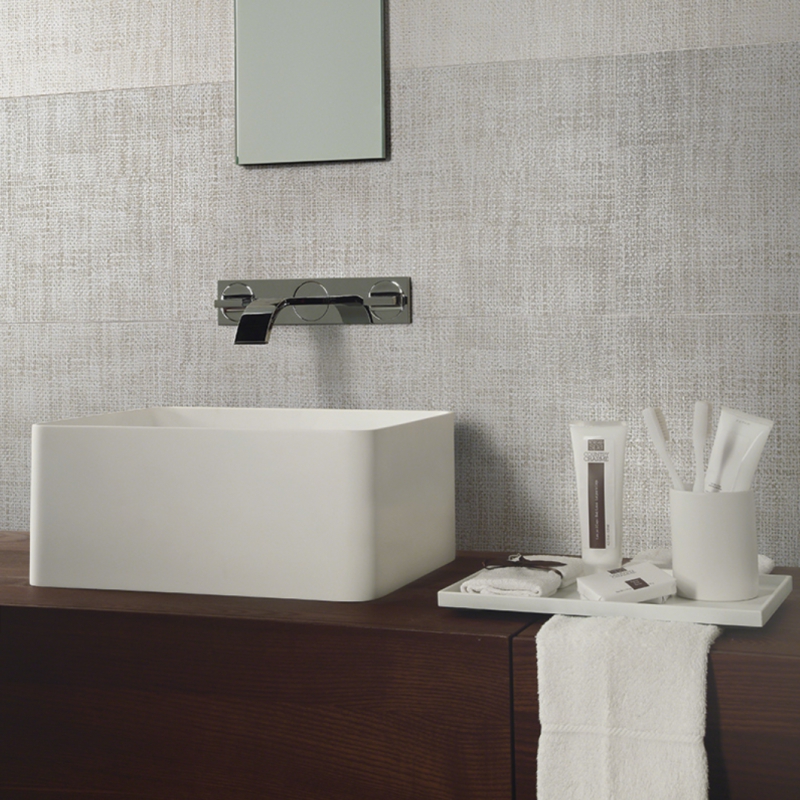 Featured: CrossHatch Gray TekTile
One of the plusses of porcelain is that it can be used in a variety of indoor and outdoor applications, from countertops to backsplashes, flooring to walls. Because porcelain is fired at a high temperature and has a very low water absorption rate, this dense tile is perfect for places like the bathroom.
This modern space includes CrossHatch Gray TekTile, a gray matte porcelain with a pattern of intersecting sets of parallel lines. The design gives beautiful texture to this space, yet provides a smooth surface that can easily and conveniently be cleaned.
CrossHatch Ivory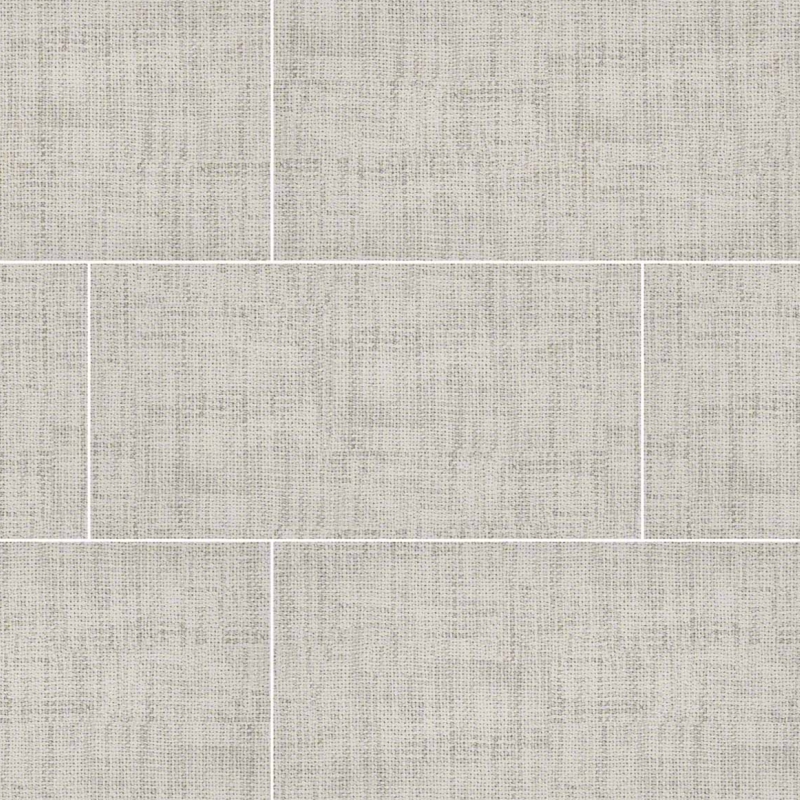 Featured: CrossHatch Ivory TekTile
While TekTile's eye-catching collection of neutral-toned tile may be used more often in contemporary designs, it can work with other aesthetics as well. CrossHatch Ivory TekTile also features a pattern with parallel lines, and because it looks similar to that of grass cloth, it will give an updated look to a traditional space.
Lineart Gray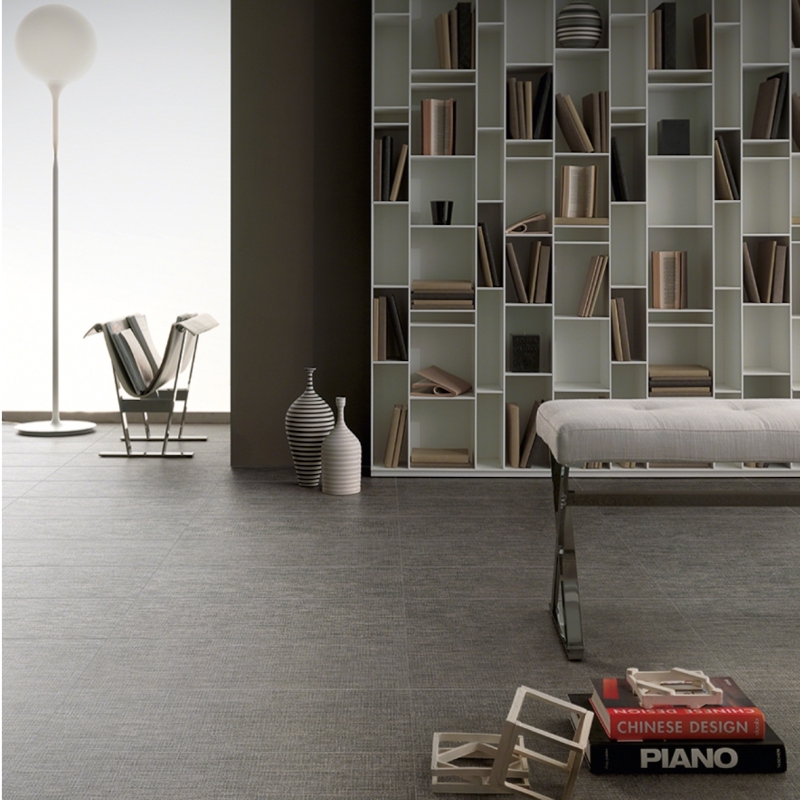 Featured: Lineart Gray TekTile
Made from a mixture of clay, quartz, and feldspar, porcelain is then fired and glazed in order to protect its vivid colors and fabulous finish. This contemporary living area features the strong and durable flooring option. Lineart Gray TekTile is similar to the crosshatch pattern but with more artistic movement. The gray color grounds the space with its large wall of white shelving. Interest is added to this minimalistic, monochromatic room with the subtle pattern of fabric print porcelain floors.
Lineart Ivory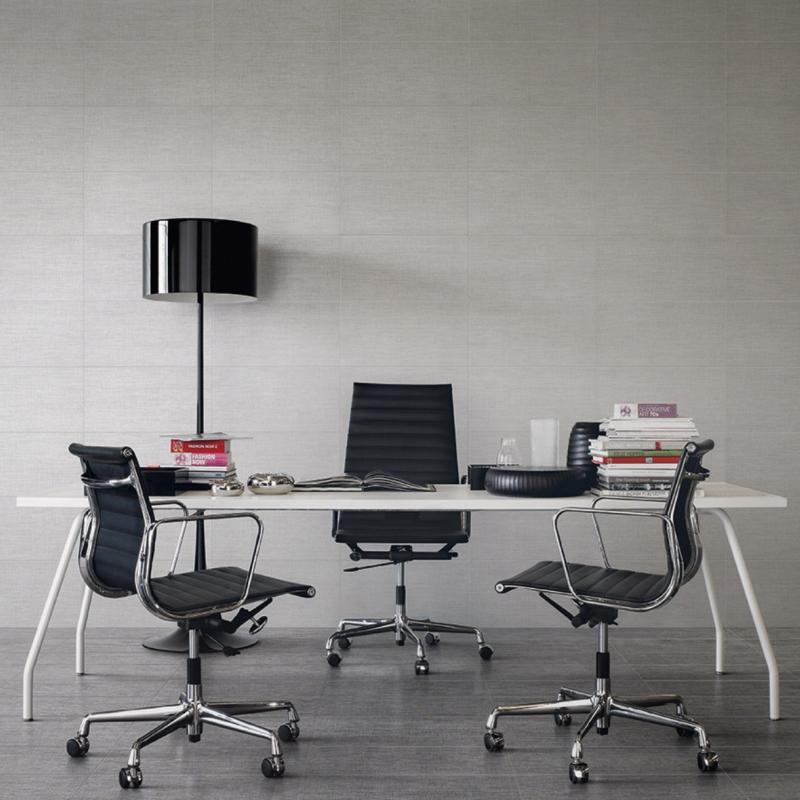 Featured: Lineart Ivory TekTile
Why wallpaper a room when you can cover it in a beautiful accent wall tile? This contemporary office space is set against a backdrop of Lineart Ivory TekTile. This porcelain tile offers the same features as Lineart Gray but in a classic beige. The result is a sophisticated design you'll be proud to show off to clients, and an environment you'll want to work in!
Hopsack Gray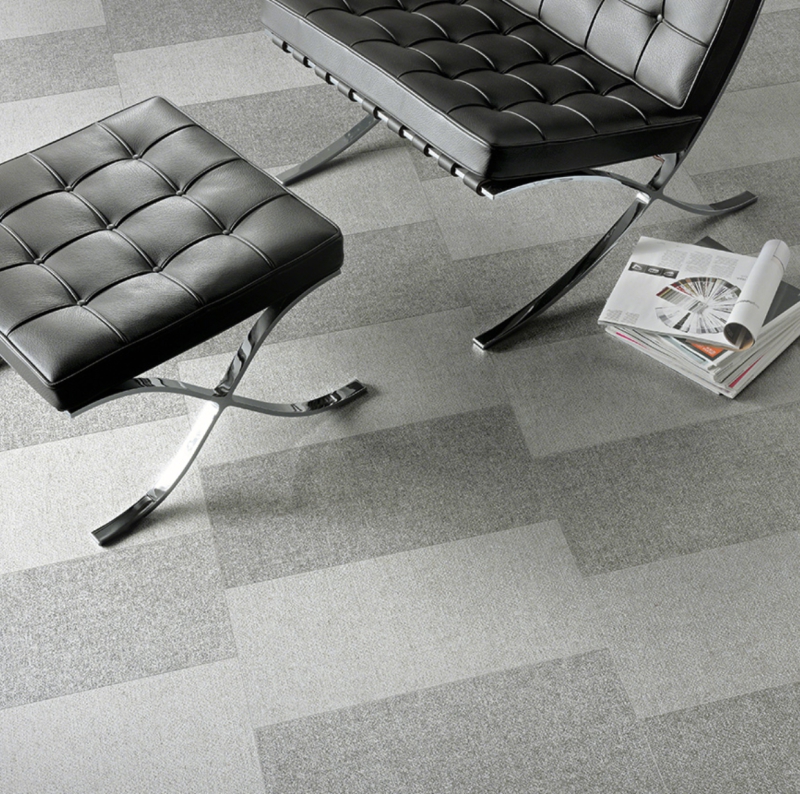 Featured: Hopsack Gray TekTile
Tile is much easier to clean than carpet, but it can tend to feel and look cold. But with fashionable fabric-look tile, warmth and dimension won't be lost. Hopsack Gray TekTile features a finely woven fabric design. In this living space, your eye is instantly drawn to these fabulous floors. The rectangular shape, mix of gray and ivory tile, and staggered layout, is a more modern take on a traditional checkered floor pattern.
Whether you choose one of these new TekTile options or a natural stone, you'll be able to give your home the dynamic look you're after. However, the decisions don't end once you've selected your perfect material. There are a number of ways to give your room even more pizazz with the right floor pattern. To discover your options, check out MSI's floor tile patterns and calculator.
READ MORE ABOUT THE DIFFERENT TYPES OF PORCELAIN TILE
One Room, Three Looks with Plank Porcelain Tile
Pietra Porcelain - Fully Suited with You In Mind