Luxury Vinyl Tile — The Wilmont Series
October 30, 2019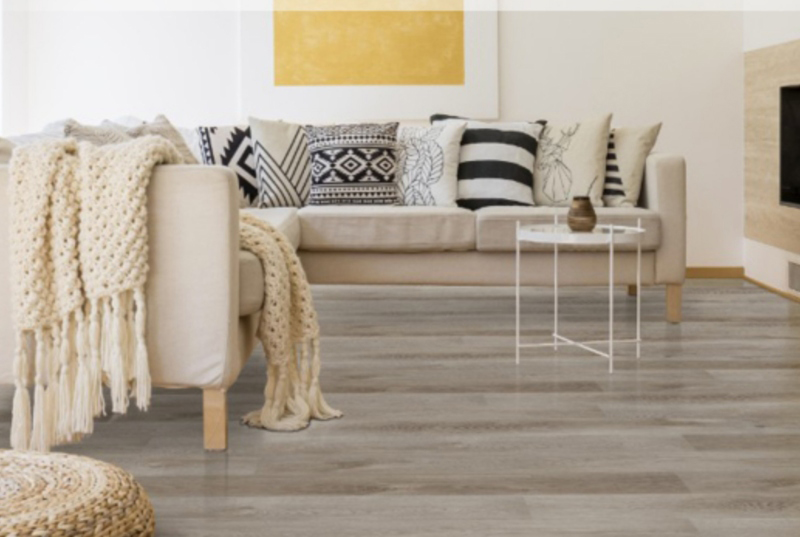 You have a lot of options when it comes to choosing luxury vinyl tile (LVT) for your home — and not just the many colors and patterns available. There are also different levels of durability, price points, and installation methods. For homeowners who want the highest level of durability along with long-lasting beauty, the Wilmont Series by MSI is the right choice.
LVT flooring involves two basic methods of installation: floating and glue-down. Floating floors are installed with no adhesive; many snap or click into place. This method is ideal for areas with low foot traffic, and for homeowners or commercial space owners who plan to replace the floor occasionally to create a new look.
Most homeowners, however, know that kitchens and bathrooms are not low-traffic areas — and, therefore, they require flooring that is tough and waterproof as well as attractive. The Wilmont Series is a glue-down luxury vinyl tile flooring, which means it's affixed to the subfloor with an adhesive. This results in flooring that is more stable and long-lasting than most floating floors. It's so durable that MSI offers a lifetime warranty for residential, 10 years for light commercial, and five years for commercial use. With a 20 mil wear layer, buyers can be assured that they will have many years of function and beauty.
Lime Washed Oak - With neutral tones of beige and light brown, Lime Washed Oak luxury vinyl tile is a subtle wood-grained plank floor. The effect is simple and casual, and it's easy to pair with other elements such as natural stone and any color of cabinetry. Whether you prefer a minimalistic, contemporary look or are captivated by farmhouse style décor, this is a great fit.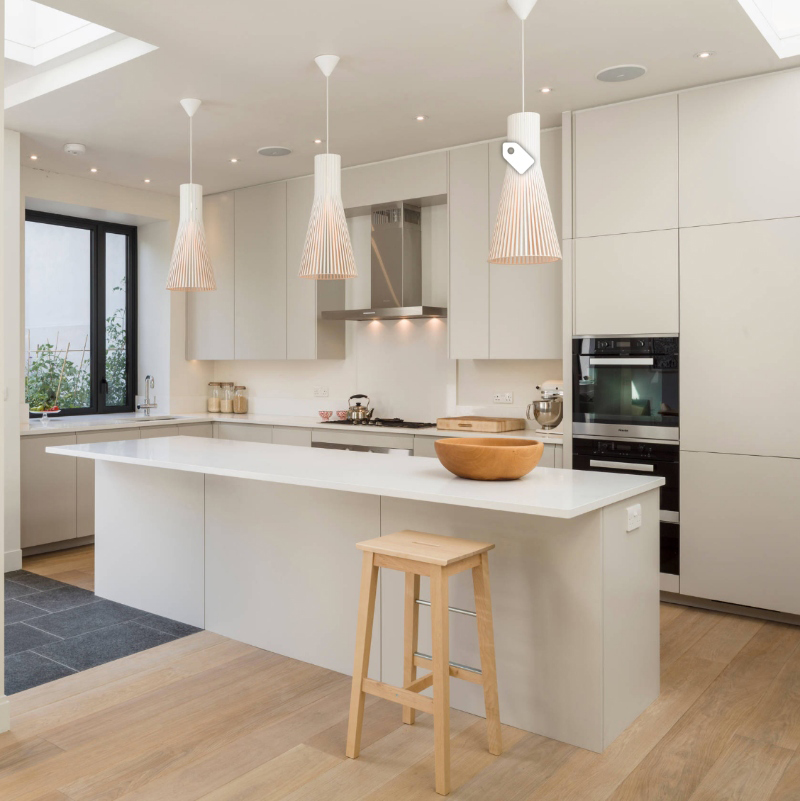 Photo Credit: Houzz
Reclaimed Oak - Hardwoods such as oak and walnut that have been reclaimed from barns and other structures are prized by interior designers. With MSI's Reclaimed Oak luxury vinyl tile, you can enjoy the character and warmth of this rustic element without the steep prices or worries about care and maintenance. This French Country kitchen is just one way to incorporate Reclaimed Oak into your home.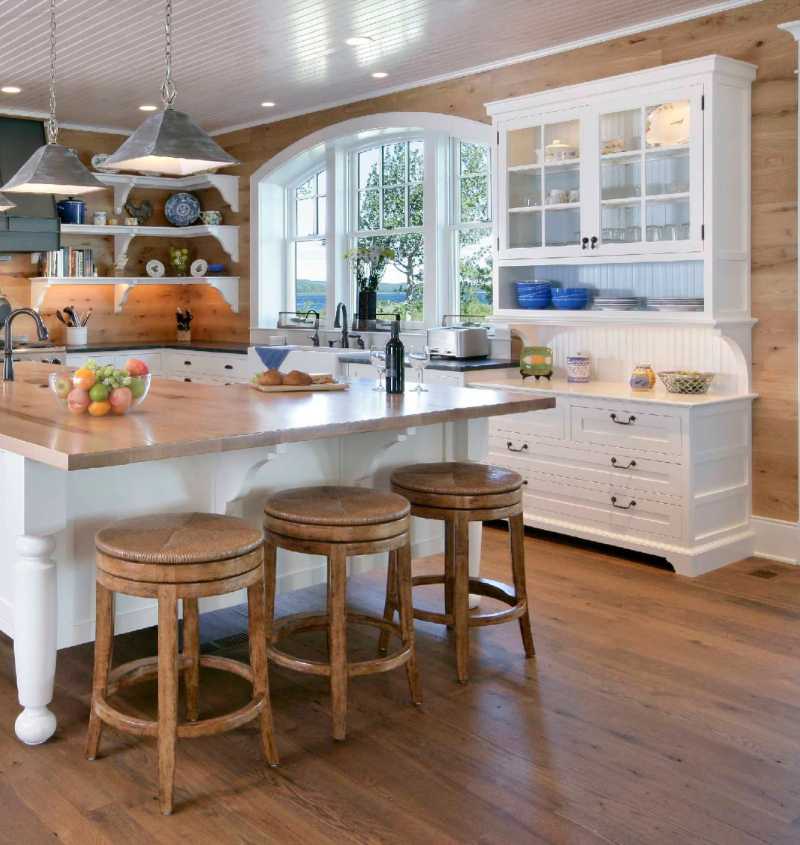 Photo Credit: Houzz
Burnished Acacia - If a more formal design is your preference, Burnished Acacia is a dark, polished tile that looks like wood. It features rich shades of brown and grain patterns of authentic, exotic wood. It's an excellent complement to paler furnishings, such as the sofa and rug in this photo. As with MSI's other luxury vinyl tile colors, matching trim items are available for a truly upscale finish.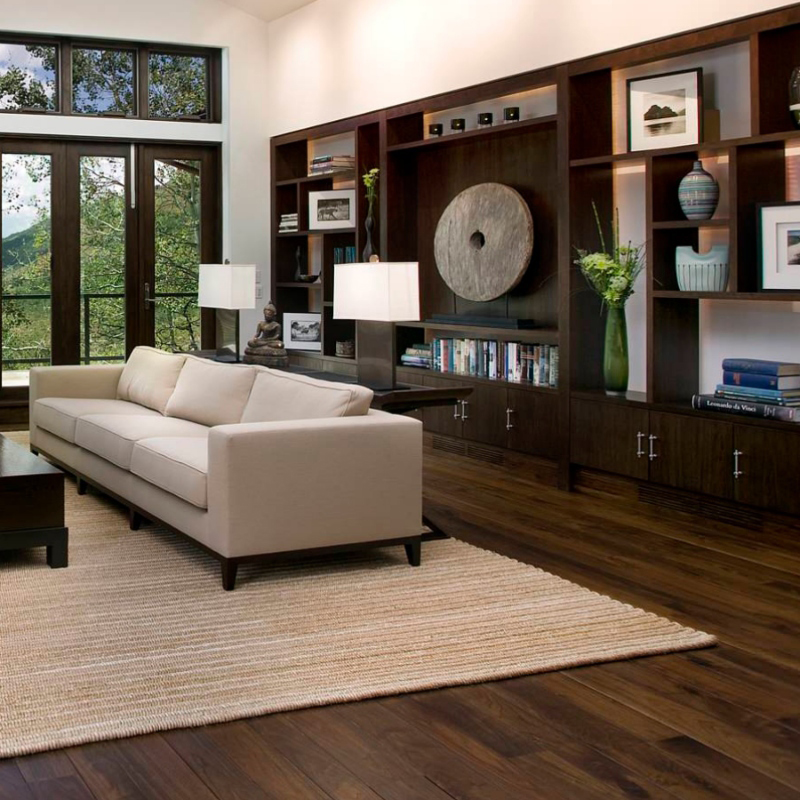 Photo Credit: Houzz
Elmwood Ash - This colorful room really pops thanks to the texture and neutral shades of the gray-hued Elmwood Ash LVT flooring. This modern tile matches modern décor, and allows you many years of carefree living and entertaining with no worries about sealing, waxing, or scrubbing.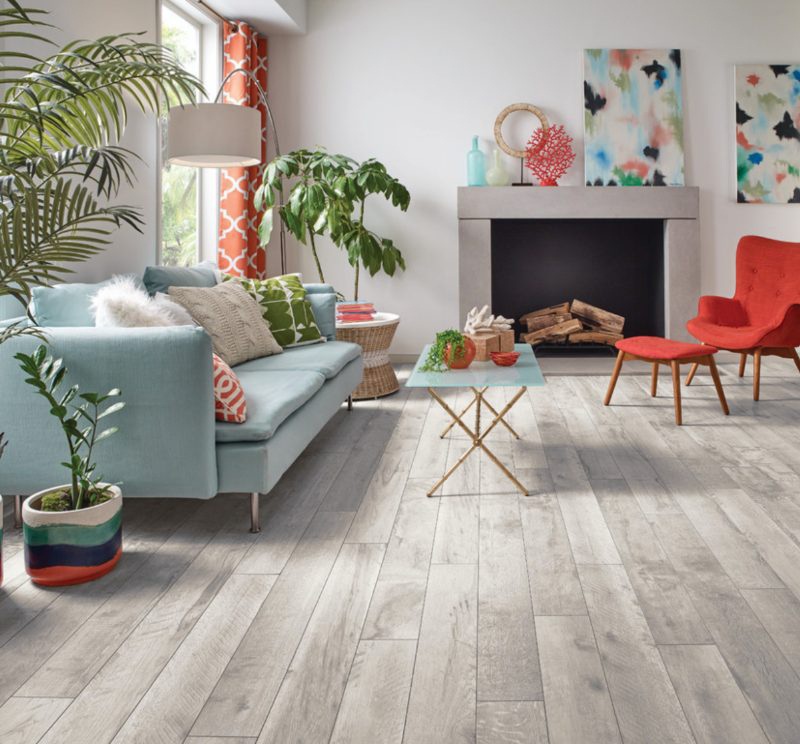 Photo Credit: Houzz
It's tough to match the character and beauty that a hardwood floor provides, along with its uncanny ability to match any type of décor — but vinyl plank flooring is up to the task. Whether you're designing a traditional, casual, or rustic room, the Wilmont Series can deliver many years of durable service without the worry and maintenance of real wood. Visit MSI's web gallery for design inspiration along with all the information you need to make the right choice for your home.
Learn More About Luxury Vinyl Tile
How Do You Clean Vinyl Plank Flooring?
Got Trim? A Guide to Everlife Luxury Vinyl Flooring Accessories
The Definitive Guide to Luxury Vinyl Tile
How Do Laminate and Vinyl Flooring Differ
Luxury Vinyl tile transitional pieces and trim are designed to complement the collection's luxury vinyl planks. For safety, a seamless flow, and a custom look, combine transitional pieces with trim. Learn more about Luxury Vinyl Tile accessories and trims.
Would you like to learn more about Luxury Vinyl Tile? Read the Definitive Guide to Luxury Vinyl Tile to learn everything you need to know. And check out these vinyl flooring videos to learn more about LVT flooring styles, LVT installation, and maintenance.