5 Reasons To Use Luxury Vinyl Flooring
September 27, 2019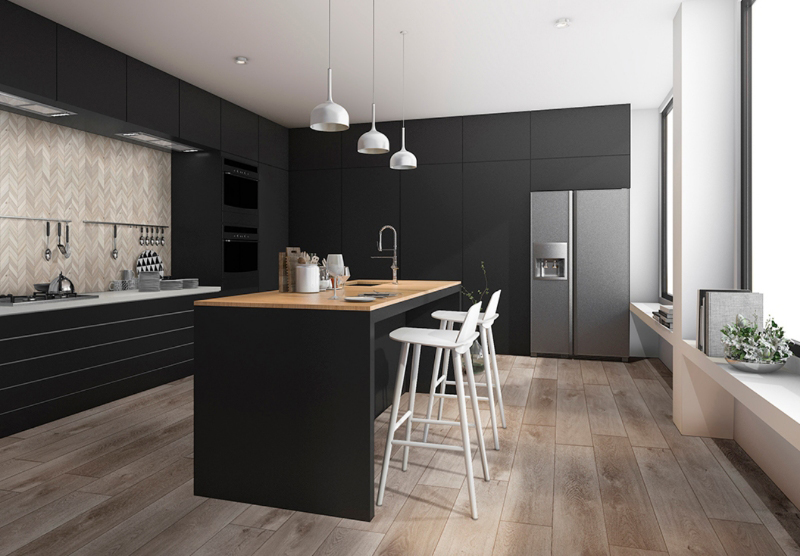 If you're in the market for luxury vinyl flooring and tile that looks like wood, we've got just the product for you. Luxury plank flooring has been quite the buzz as of late in the homeowner realm and for good reason—it's amazing!
While many people are familiar with modern tile and flooring in general, the world of luxury vinyl may still evoke some critical questions and concerns. This article will address those common questions, explaining what luxury vinyl flooring is and five reasons why you want to consider it in your home.
Luxury vinyl is a durable and waterproof flooring that has the look and feel of hardwood or stone, often made up of many layers to help the design and ease of maintenance. This is a cheaper flooring option that traditional stone or hardwood, ideal for bathrooms and kitchens because of its waterproof nature and capabilities. The multiple layers within luxury vinyl flooring allow it to ward off foot traffic and scratches. Truly, this is an easy-to-care-for and highly durable flooring option that would suit nearly any room and withstand common wear and tear.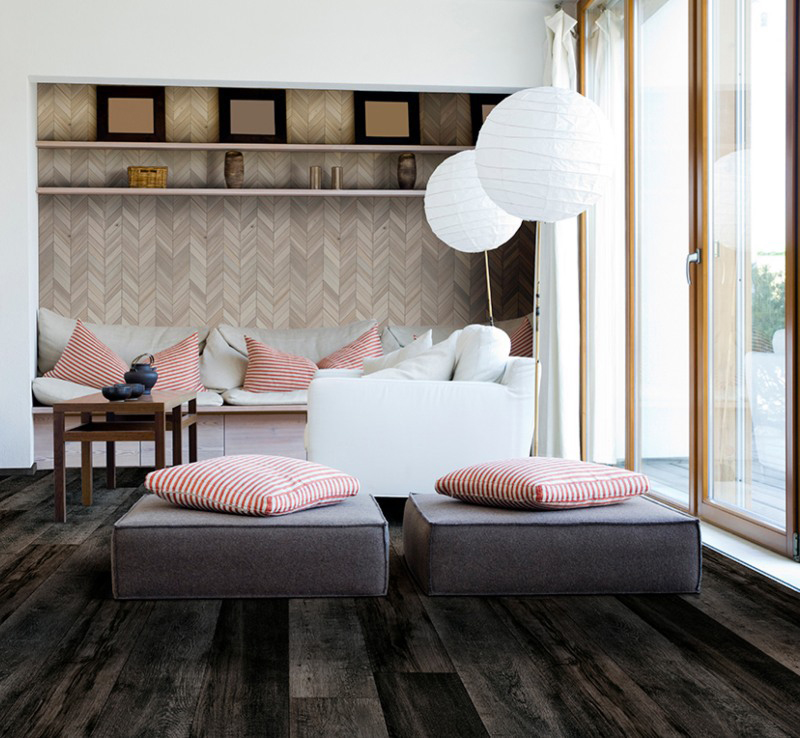 Luxury vinyl can come in a variety of types. Luxury vinyl tile, for example, is the type of tile that mimics stone, allowing an ease of installation without excessive maintenance costs. Luxury vinyl planks has the hardwood look and feel that so many people love, offering varieties in rich colors and luxurious hues as well as more consistent patterns difficult to find in traditional hardwood. The innovation of these flooring selections give homeowners countless possibilities at affordable prices, which is why luxury vinyl is one of the fastest-growing flooring types in the world right now. Yes, this is not just an American trend, luxury vinyl—with all its benefits and advantages—is capturing the world by storm.
Many people might ask: Okay, so what is the difference between vinyl and luxury vinyl? Great question! While the two have the same four-layer construction, the difference lies in the thickness of the layers. The top layer, in particular, allows for less damage from scratching thanks to a polyurethane coating that is reinforced with elements of aluminum oxide, ceramic and silica. The bottom later gives the vinyl its thickness, offering a structured stability that grounds and centers the flooring so you can reap its benefits.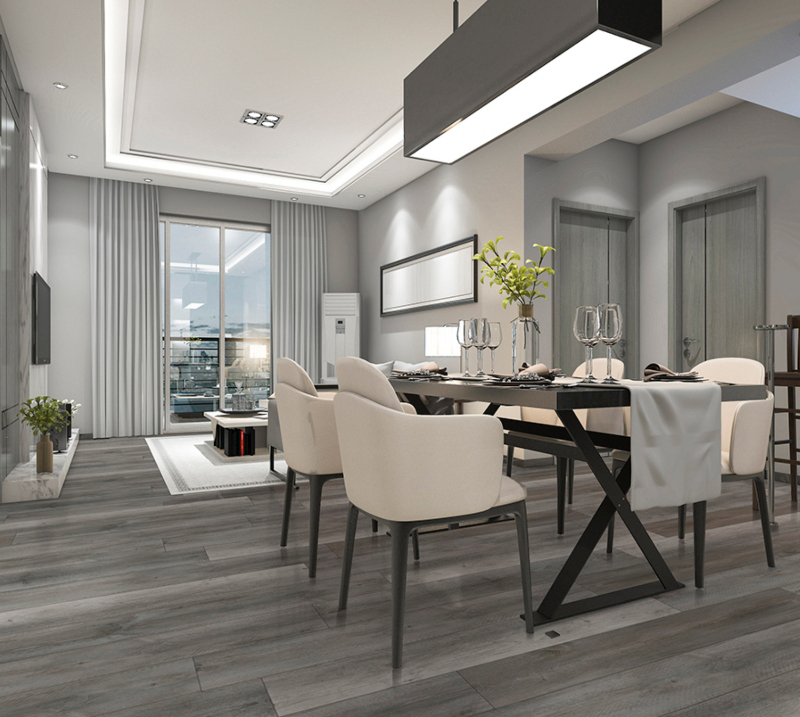 So let's get to the reasons why you will want luxury vinyl in your home or office! After all, you have a wide variety of options from which to choose when it comes to the look and feel and texture of your flooring. But perhaps you will be swayed by the varieties of luxury vinyl when you know more!
Luxury vinyl is softer and more shock absorbent and even has a "sponge-like" feeling to it when you walk over it or stand for periods of time. Many people who dislike the rigidity of hardwood value this quality in luxury vinyl, as it can be more comfortable and kinder to your feet! In fact, it's so soft that if you drop things on it—whether it's a wine glass or dish—items are less likely to break. This is something to consider with children or the elderly and adds to its ease of care and convenience.
Another reason to select this flooring for your home is the daily maintenance. Because most luxury vinyl is waterproof, that means cleanups from spills and other mishaps easier each and every time. Cleaning it has never been easier, whether you use a mop or broom, preferably with water or a mild cleaner. Let's just say this is perfect for the persnickety minimalist—folks who want their floors looking first-rate but don't want to spend endless hours cleaning them!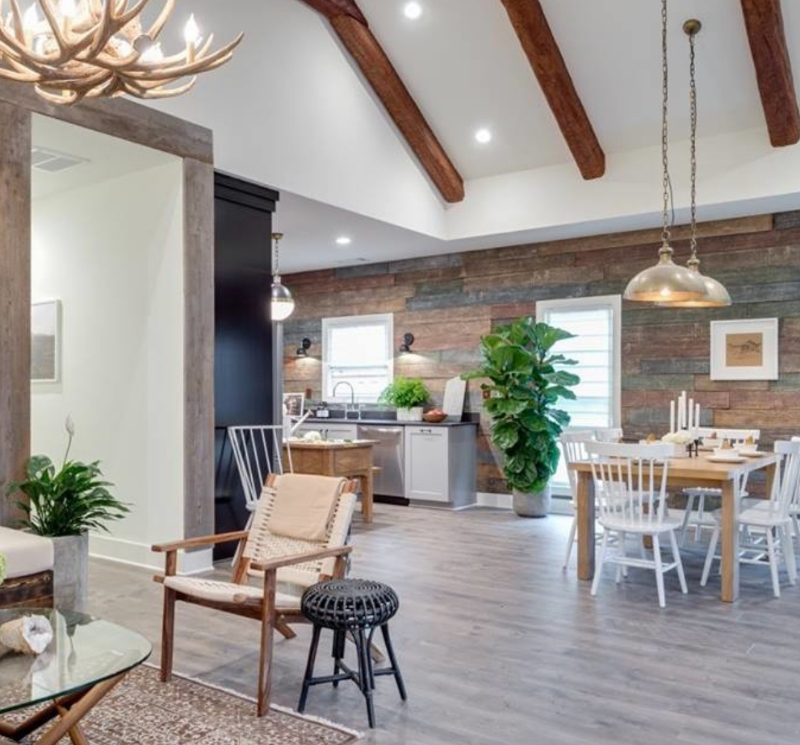 Photo Credit: Houzz
Budget, budget, budget. This is always a concern when weighing your flooring options, isn't it? Hardwood floors and natural stone—which perfect for some homeowners—can run up a hefty bill. Luxury vinyl is known to be much cheaper—in fact, as the least expensive while still ensuring you are getting a lot for your money. This allows you to focus your finances on other aspects of your home while resting well at night knowing you made an investment that was kind to your bank account.
Additionally, hardwood flooring requires several coats of varnish before it can actually be stepped on. Similarly, concrete and tile need to cure. Luxury vinyl is installed and ready to go, requiring no coating or special procedures to make it ready for use. How convenient is this, particularly when you're just ready to be settled already with your new flooring? There's nothing more painful than having gorgeous flooring right before you and not being able to walk on it. Thankfully, luxury vinyl doesn't require a wait.
Finally, we would be amiss not to include the environmental friendliness and sustainability elements of luxury vinyl. Sure, a handful of actual wood types out there on the market are considered sustainable, but clearly not all. Prices can vary due to environmental influences, whereas luxury vinyl has a minimal environmental impact. It even has the Greenguard Gold certification, which goes a long way in explaining its impact in this area. With the world around us changing so rapidly, many turn to flooring like luxury vinyl to make the least environmental impact while still maintaining beauty a high aesthetic sensibility.
To be honest, these are just five out of many benefits of luxury vinyl flooring, but hopefully they paint the picture and give you the idea of what a viable and sought-after material this is. For people that love the look of hardwood or stone but are seeking an alternative, luxury vinyl is totally for you. The styles and patterns are breathtaking to look at, especially as you imagine them in your kitchen, hallway and home. Without a doubt, luxury vinyl adds style and elegance, providing a flooring as easy on the eyes as it is your wallet.
More Information on LVT Flooring
Luxury Vinyl Tile - The Prescott Series
DYI - How to Install Luxury Vinyl Planks
What Is Luxury Vinyl Plank Flooring?
Is Luxury Vinyl Tile a Good Investment?