Choosing The Right Stacked Stone: A Guide To MSI's Popular Collections
May 18, 2023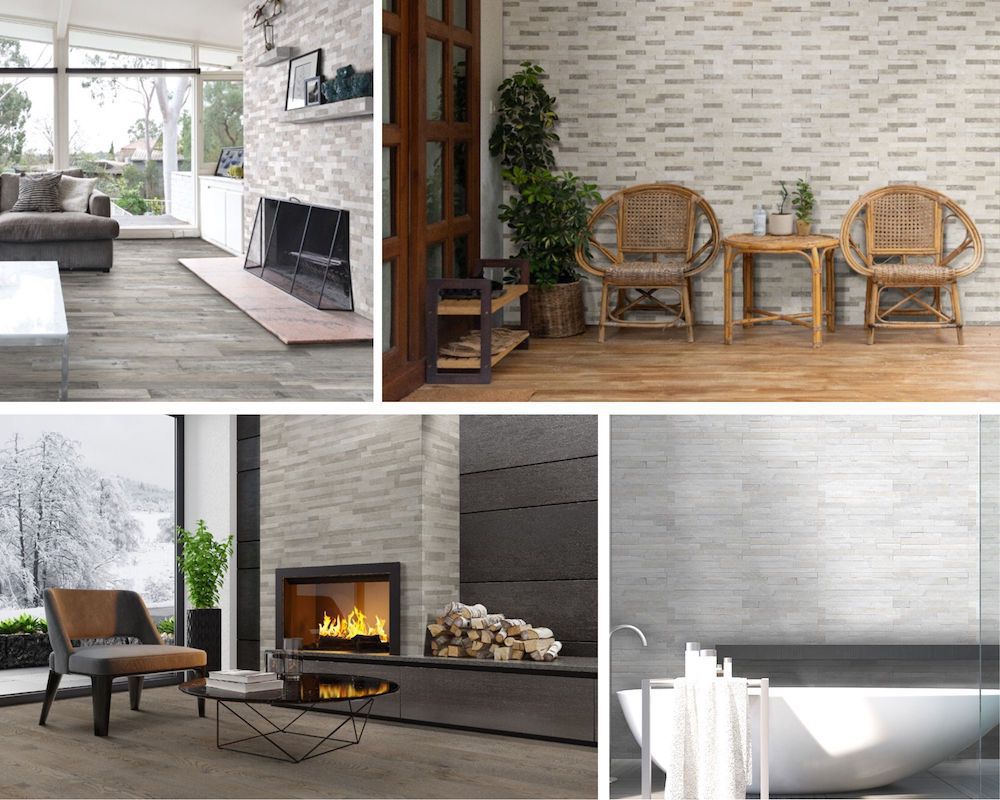 Including natural stone in your home design can add texture, visual interest, and rustic charm. It can transform your living spaces with an ambiance of luxury and a cozy, welcoming vibe. While genuine stone can be pretty heavy, stacked stone offers all the benefits of the real deal with a lighter touch.
As a top supplier of stacked stone for home design, MSI offers a range of collections suitable for every style. Perfect for indoor or outdoor use, MSI's stacked stone is made with trimmed pieces of real stone, stacked to create a sleek veneer that allows for streamlined installation and lasting appeal.
Benefits of Stacked Stone
Let's explore a few of the advantages of selecting stacked stone and find inspiration for choosing the perfect collection and design for your home upgrade.
Whether you desire the textured feel of a stacked stone fireplace, a rustic touch for a bar or BBQ island, or a personality upgrade for your home façade, MSI's stacked stone collections cater to your creative and practical requirements with versatile materials.
High Durability: Stacked stone panels are highly durable, making them ideal for both indoor and outdoor use. Known for their strength and resilience, they are designed to withstand harsh weather conditions, including extreme heat and cold, rain, and wind, without damage. They are also resistant to scratches, dents, and other types of wear and tear that can occur over time. With proper installation and maintenance, stacked stone panels can last for years, adding beauty and value to any home.
Light Weight Composition: One of the significant advantages of stacked stone panels is their lightweight nature, making them easier to handle and install. This characteristic also makes them suitable for both indoor and outdoor use, as they can be applied to a variety of surfaces without the need for additional support. Additionally, their low-density construction makes them a versatile option for various design applications, from feature walls to backsplashes, fireplaces, and more, allowing homeowners to add a touch of elegance and sophistication to their vertical surfaces with ease.
Easy Installation: The installation of stacked stone panels is relatively easy and straightforward, making it a popular choice for DIY enthusiasts and professional contractors alike. The panels are designed to interlock seamlessly, allowing for quick and easy mounting. And because they are lightweight, it reduces the need for additional support structures making them easier to handle during installation. The versatility of stacked stone panels also means they can be installed on a variety of surfaces, including drywall, concrete, and brick, among others. Homeowners can save money on installation costs by opting for a DIY installation, and professional contractors can complete their jobs quickly, reducing overall labor costs..
Good Looks: Stacked stone panels also offer more than just structural benefits as their stunning good looks are versatile enough to complement any decor. With a vast array of colors, patterns, lengths, and thicknesses available, stacked stone can bring modern charm to any living space. Homeowners can even preview different options using our convenient stacked stone visualizer to envision how they'll look in their home.
MSI's Stacked Stone Collections
Every homeowner has different needs and preferences regarding design, which is why we offer several collections of ledger panels. With hues ranging from timeless whites and creams to pale, modern grays and rich, earthy tones, everyone is guaranteed to find something they love. Here are just a few of our most popular collections to consider:
RockMount™ Stacked Stone Panels
If you're seeking the perfect balance of soft serenity and 3D texture, our RockMount™ Collection is the ideal addition for your home. Available in 6" x 24" panels, this collection delivers rustic style in a refined manner.

Colorado Cream stacked stone, with its beige tones and hints of darker brown, is an excellent choice for homeowners looking to add warmth and sophistication to their indoor or outdoor living spaces. Its versatile design makes it equally suitable for a featured wall, a fireplace, or pool surround, enhancing the beauty and value of any area. Whether you're looking to create a cozy and inviting atmosphere indoors or add an elegant touch to your outdoor oasis, this beautiful 3D stacked is the perfect choice.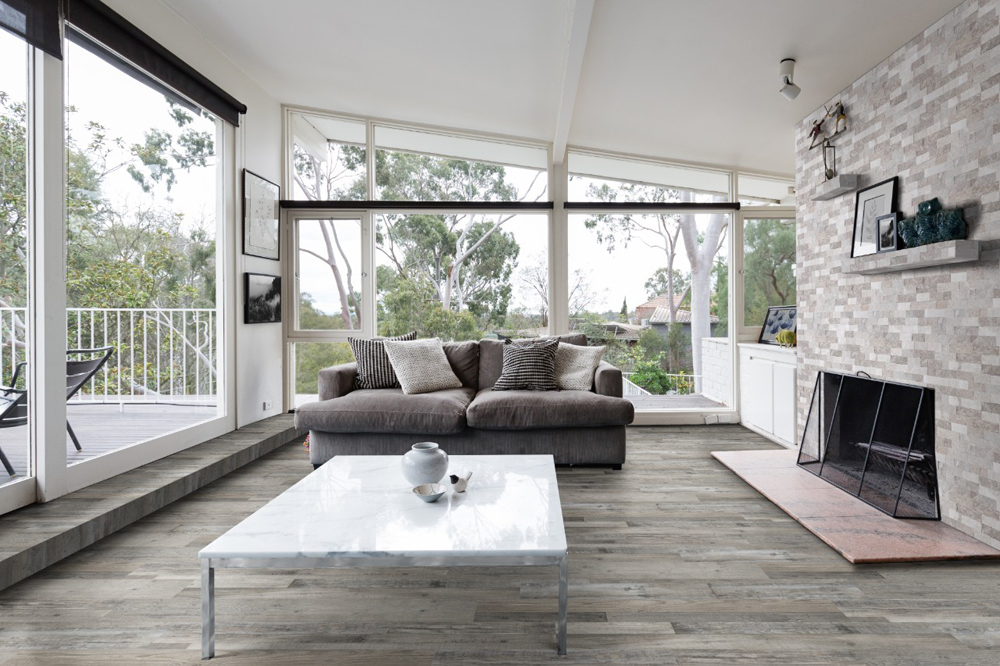 Luna Gray stacked stone is an ideal choice for those seeking a cool and contemporary aesthetic. With grays ranging from light to medium tones, this split-face marble stone offers a light and lovely counterpoint to rich, dark, heavy-grained woods, creating a modern and stylish contrast. Its sleek design makes it a perfect fit for fireplaces, backsplashes, and other vertical surfaces. This stunning stacked stone can add a striking visual element to your living room or a chic and trendy vibe to your kitchen.
RockMount™ Stacked Stone M-Series Panels
The RockMount™ Stacked Stone M-Series Collection offers a downsized version of our traditional stacked stone panels, with 4.5" x 16" dimensions that may be easier to fit in smaller spaces like backsplashes or under-bar areas.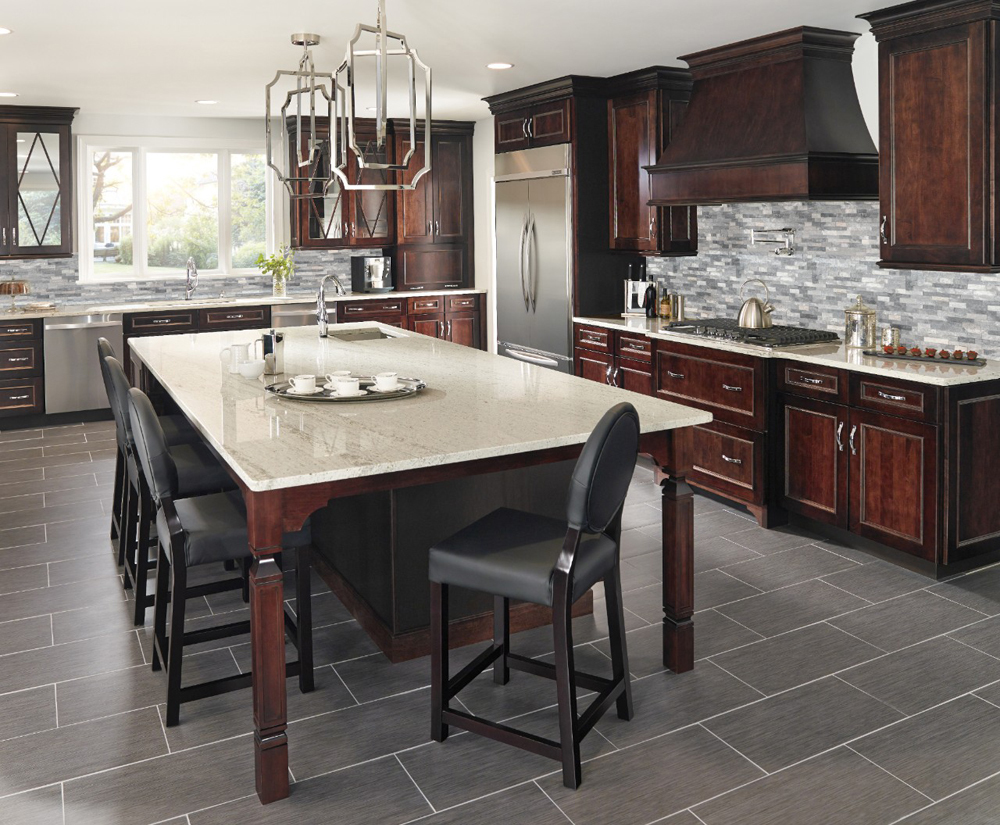 An Alaska Gray Mini stacked stone backsplash, featuring varying tones of trendy gray, provides a beautiful contrast with dark cabinetry. With a petite size, these split-face marble panels are also perfect for feature walls and accent borders, or any vertical space in need of a touch of natural beauty. They are also freeze and thaw resistant, making them a practical option for outdoor applications. And with stepped cut ends, these panels can be quickly and easily installed for a seamless finish, without the need for grout.
Arctic White Mini stacked stone in timeless, snowy white shades is the perfect way to add texture and visual appeal to any space, including bathroom walls and tub surrounds. These 4.5x16 split-face marble panels are a smaller version of our traditional stacked stone panels. This makes them easy to handle and install, reducing the installation time and cost. These mini stone panels are also freeze and thaw resistant, making them suitable for water features and other outdoor areas, ensuring their durability over time.
Terrado® Manufactured Stone Veneers
The Terrado® Collection blends the timeless appeal of stacked stone with the cost-effectiveness of engineered veneers, providing more options for color and design than conventional stacked stone while simplifying the installation process. The outcome is an authentic stone-like appearance with added advantages.
This collection showcases a spectrum of contrasting hues ranging from pale, muted whites to smoky grays and calming earthy tones.

Copen Snow stacked stone is another excellent option for creating a stylish and elegant look. Its icy white tones make for an elevated accent or fireplace wall in your most-used living spaces, adding a touch of sophistication anywhere they are installed. The natural texture and variations in color and shading of this stacked stone make each panel unique, providing a one-of-a-kind look that's sure to impress. These durable stones can withstand the elements with their freeze and thaw resistance, making them suitable for both indoor and outdoor use. Matching corners complete the look and give your project the finishing touch.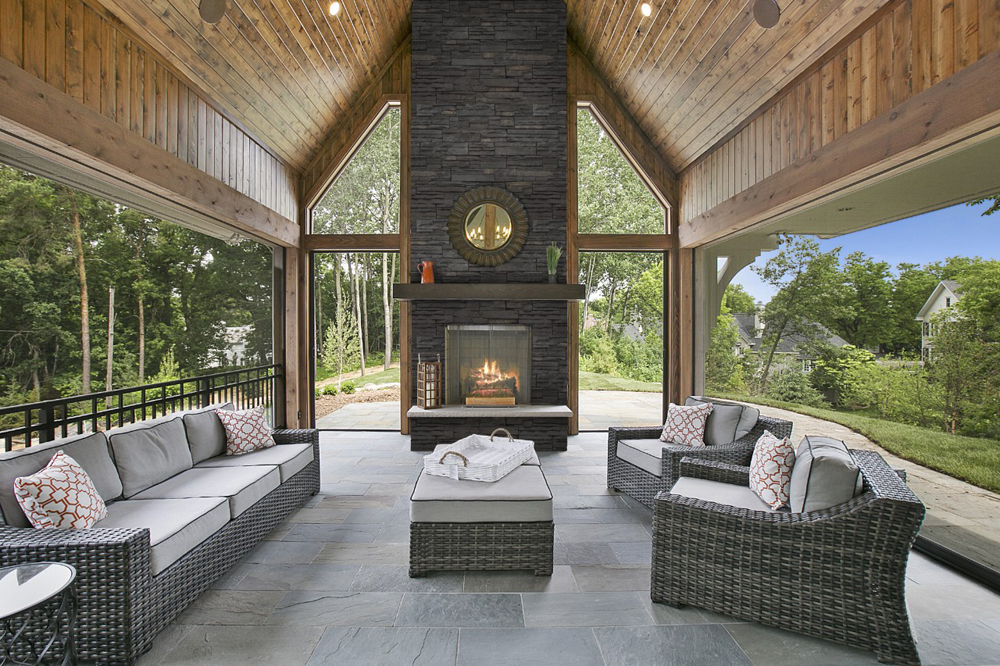 For those seeking a darker and moodier look, MSI's Denali Anthracite stacked stone is a great option. With its ashy grays and browns, this stacked stone blends beautifully with rich, knotty wood surfaces, creating a warm and inviting atmosphere. The texture and natural variations in color and shading provide a unique and striking look for any space - inside or out!
Dekora™ Porcelain Panels
The Dekora™ Collection boasts striking variations in color and size of its stones, adding a touch of visual appeal to your indoor and outdoor living spaces, whether you prefer a subtle or dramatic effect.
Crafted from resilient porcelain, these panels are low-maintenance and long-lasting, capturing their natural stone counterparts' essence and timeless style. Porcelain is easy to keep clean and highly resistant to wear and tear, ensuring its inherent beauty will endure for many years.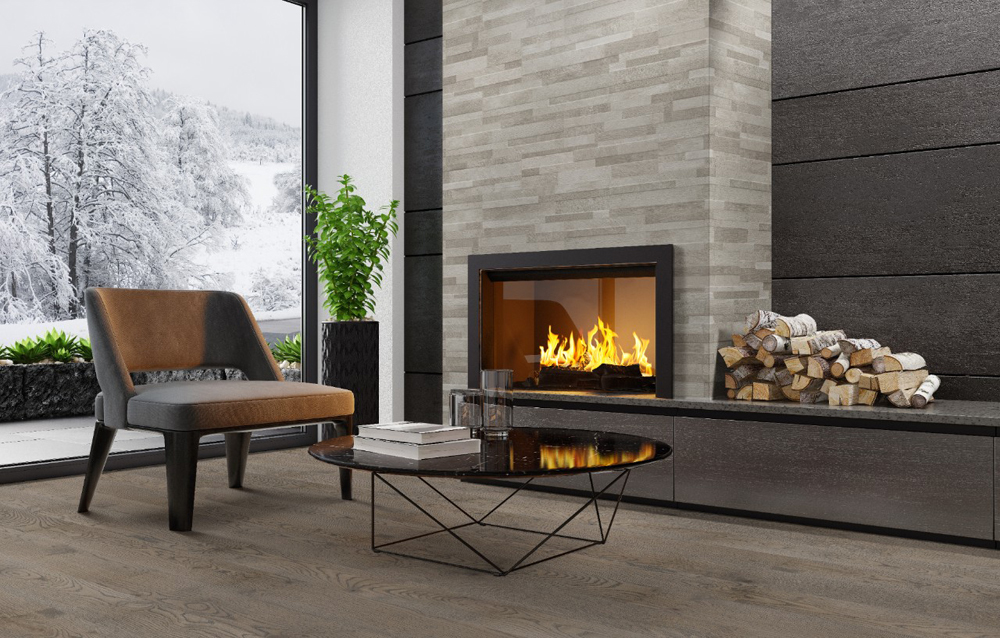 Nora Cream stacked stone panels are another excellent choice for those seeking a refined and elegant look, with the easy maintenance of durable porcelain. With its cream and beige tones, this stacked stone can brighten and refine a fireplace surround in any room, creating a warm and inviting atmosphere. The Nora Cream stacked stone features randomized skinny and wide panels and a matte finish, providing a subtle yet appealing aesthetic that can spruce up a variety of decor styles, from traditional to contemporary.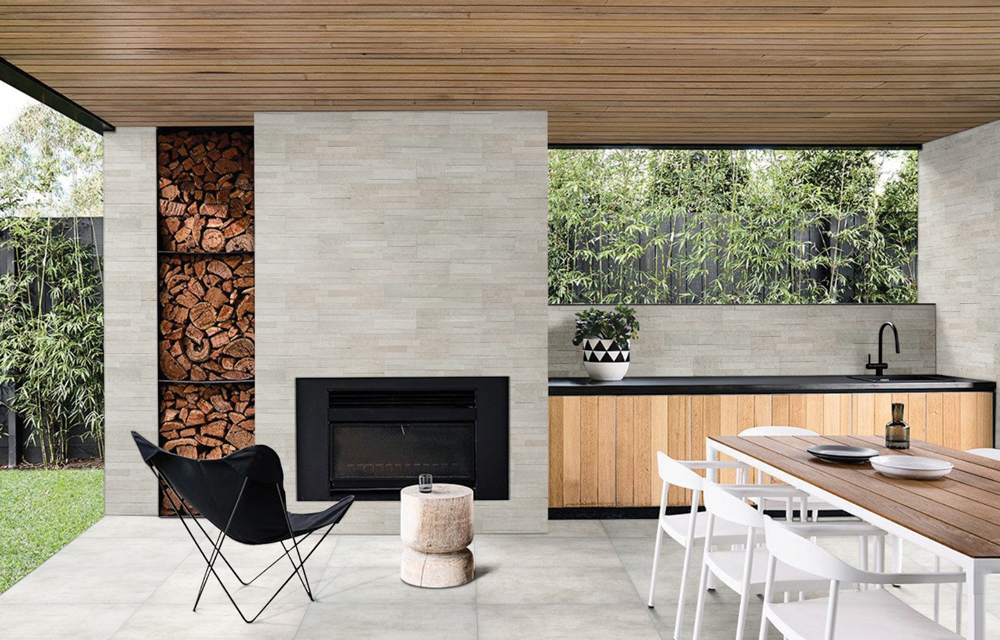 Nora Ice stacked stone features white textured panels in random widths and thicknesses, delivering a clean and pristine palette with statement style for any outdoor fireplace lounge. The natural texture and variations in color and shading provide a unique and striking look, while the porcelain makeup of these panels offers durability and easy care, perfect for both indoor and outdoor use. Whether you're aiming to create a cozy and intimate outdoor lounge or an elegant and sophisticated entertaining space, the Nora Ice stacked stone is sure to impress.
MSI Stacked Stone Elevates Your Home
MSI's stacked stone collections offer ample opportunity to display your rustic yet refined design sensibilities, with options to suit every style of architecture and personal taste. Durable and versatile, these products subtly elevate visual interest and add richness to interior and exterior spaces through natural stone colors and three-dimensional textures.
If you're interested in using MSI stacked stone for your next home design project, contact us today via our online chat or find an MSI-authorized dealer near you and visit an MSI showroom to see samples in person.