Outdoor Oasis: Travertine Or Slate – Which Outdoor Tile Is Your Favorite?
July 05, 2018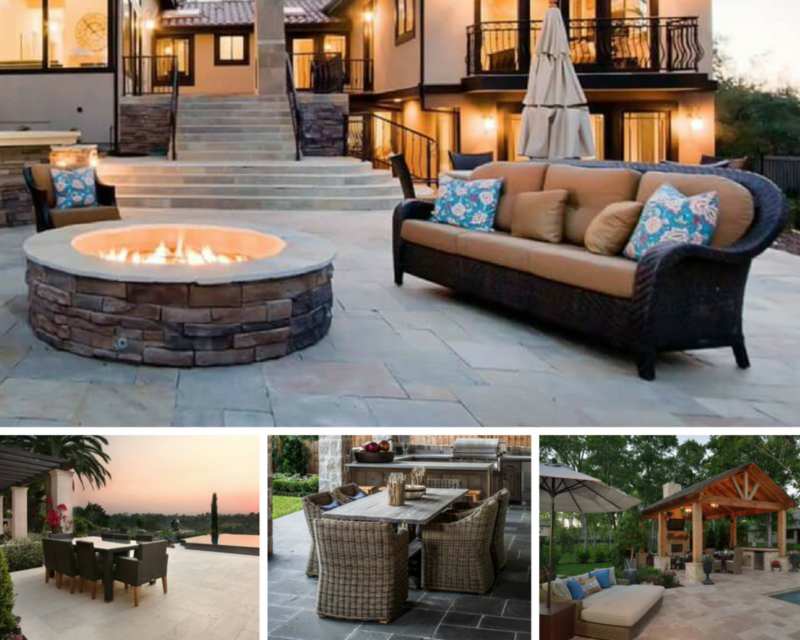 Lazy Sunday afternoons by the pool. Fall evenings by the fire. Cool summer breezes at the end of a long day. These are just a few of the reason to create your perfect outdoor oasis. When the weather is beautiful, there is nothing better than spending time outdoors with family and friends. And having an indoor/outdoor living space where the beauty of the interior of your home is mimicked in your outdoor space is ideal!
One of the best ways to create a beautiful flow from the indoors to the outdoors is to use the same flooring. And, two of the best choices for this are travertine tile and slate tile. These natural stone outdoor tiles are durable, beautiful, and add a richness of character to any design.
Let's look at some of the practical benefits—and the design benefits—of using slate or travertine tile for your project.
Rustic Gold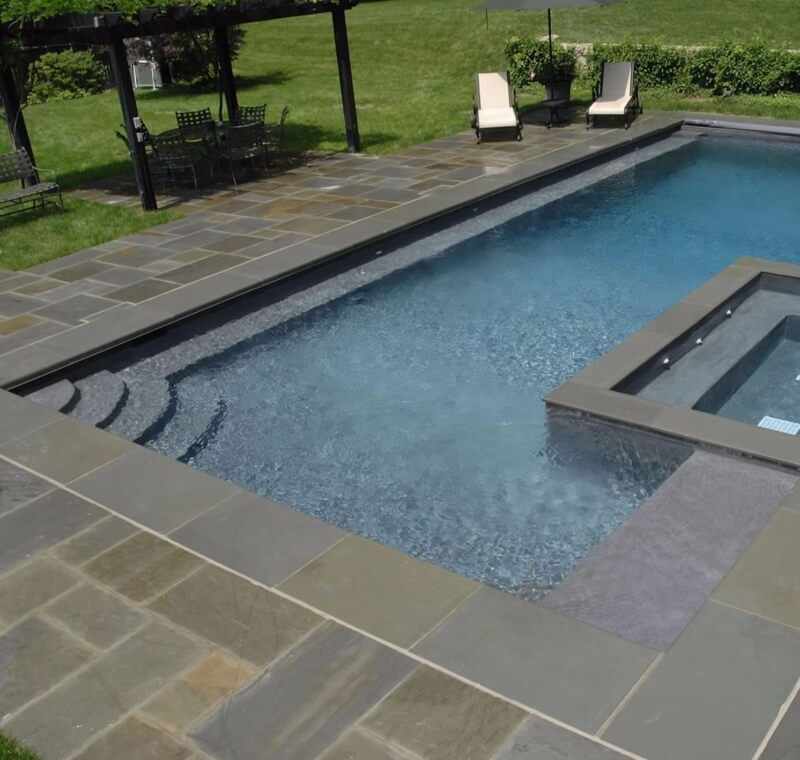 Featured: Rustic Gold Slate
Swimming pools do require some maintenance; so, to save time and energy, select a low maintenance hardscape or outdoor tile for the pool deck. Our Rustic Gold Slate tile is slip resistant and comes in a variety of sizes and patterns – which makes it easy to unify your indoor and outdoor design.
If you are worried about how to care for slate tile flooring, don't be. The key is to use a protective sealer as needed to keep the surface looking its best. On the pool deck, use a soft-bristled broom to remove any grit or dirt, or simply spray it off with a hose.
Montauk Blue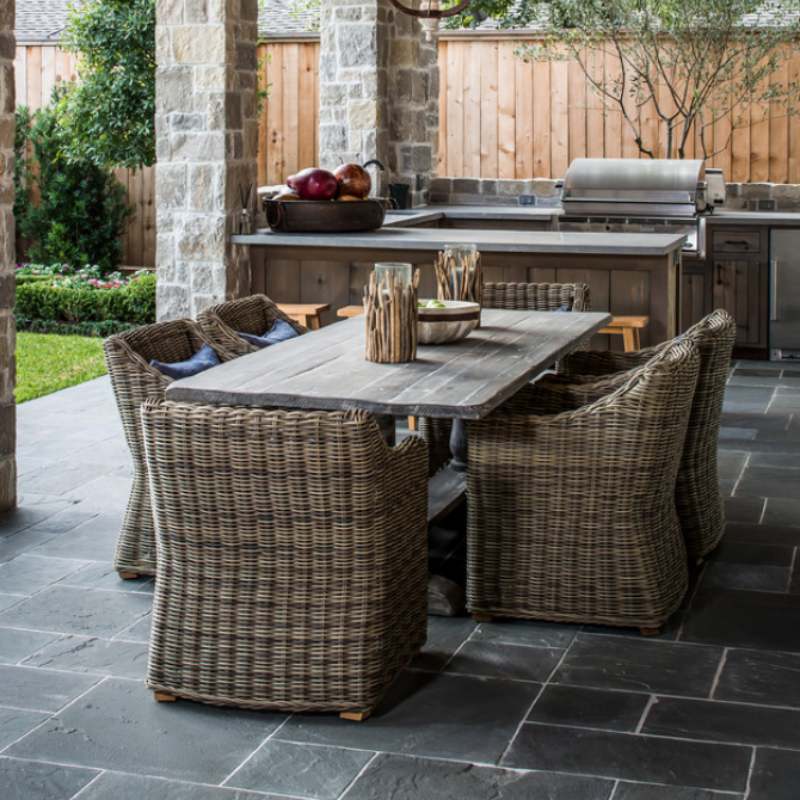 Create a similar look with MSI's Montauk Blue Slate (Photo Credit: Houzz)
Cozy outdoor kitchens are the perfect spot to use slate tile in a pattern. Here, our gorgeous Montauk Blue Slate adds richness and sophistication. The gauged finish not only gives a rustic natural feel but also helps with traction when wet.
Multi Classic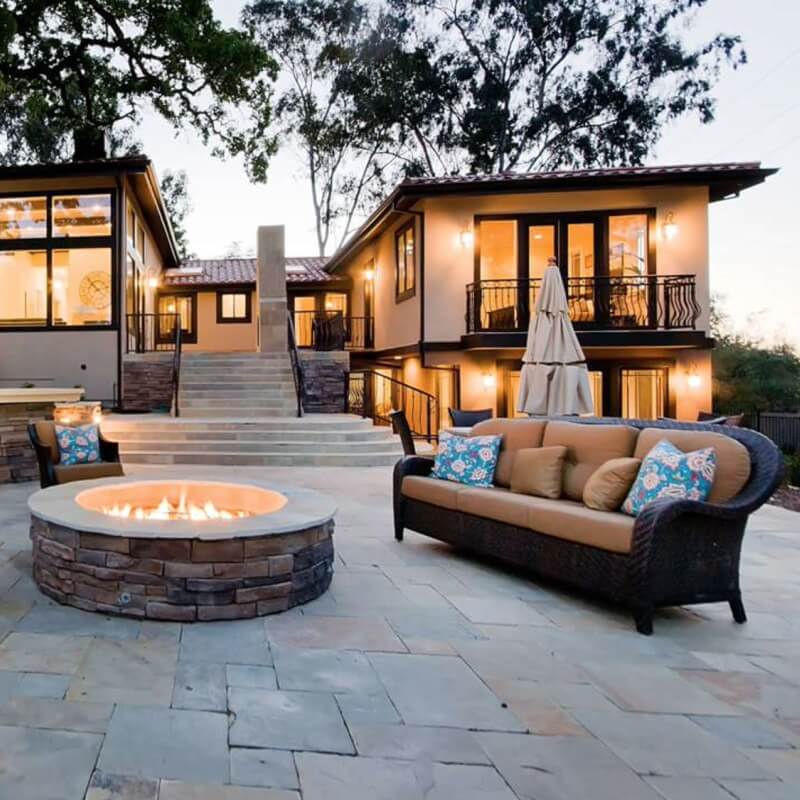 Recreate this look with MSI's Multi Classic Slate (Photo Credit: Houzz)
Another great choice for an outdoor oasis is our Multi Classic Slate tile in the Versailles Pattern. Marrying cool and warm tones together, the rich gold and rust tones set the stage for romantic evenings by the fire while the cool silvery gray and blue tones give the essence of cool during the heat of the day.
Don't worry about the durability of slate tile; it is considered a durable natural stone. In fact, it is a luxurious roofing material that experts say can last over 150 years!
Tuscany Beige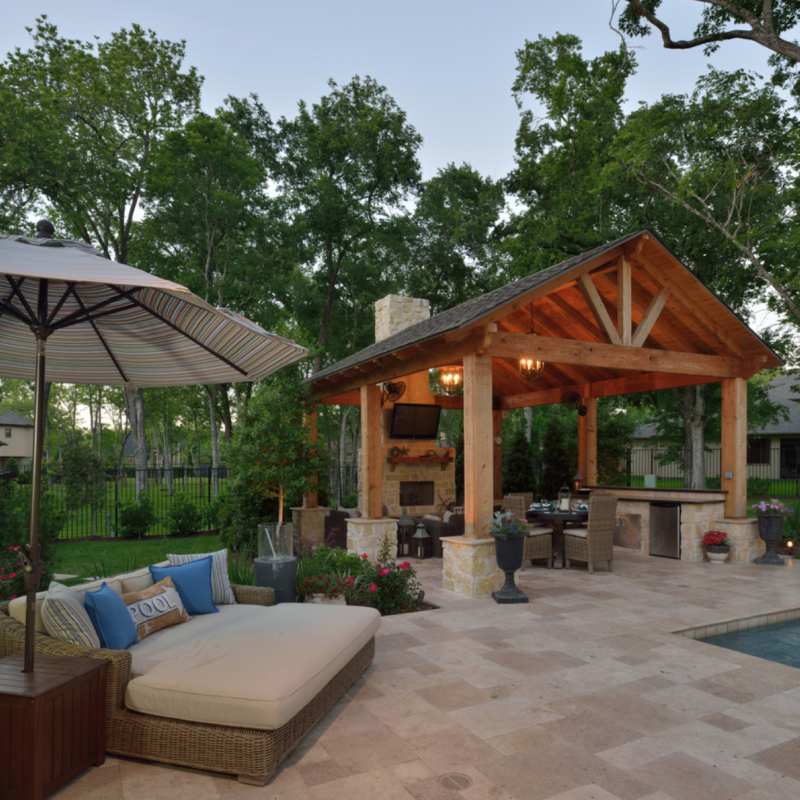 Create a similar look with MSI's Tuscany Beige Travertine (Photo Credit: Houzz)
If the rustic tones and texture of slate aren't quite to your liking, travertine flooring is another gorgeous option. One of our favorite neutral tiles is our Tuscany Beige Travertine in the Versailles Pattern.
Travertine's durability is much like slate; it has been used to build temples, monuments, and a variety of other buildings for thousands of years. For an outdoor patio and around the pool, they are a great choice; they can handle extreme fluctuations in temperatures and are naturally not slippery.
Ivory Onyx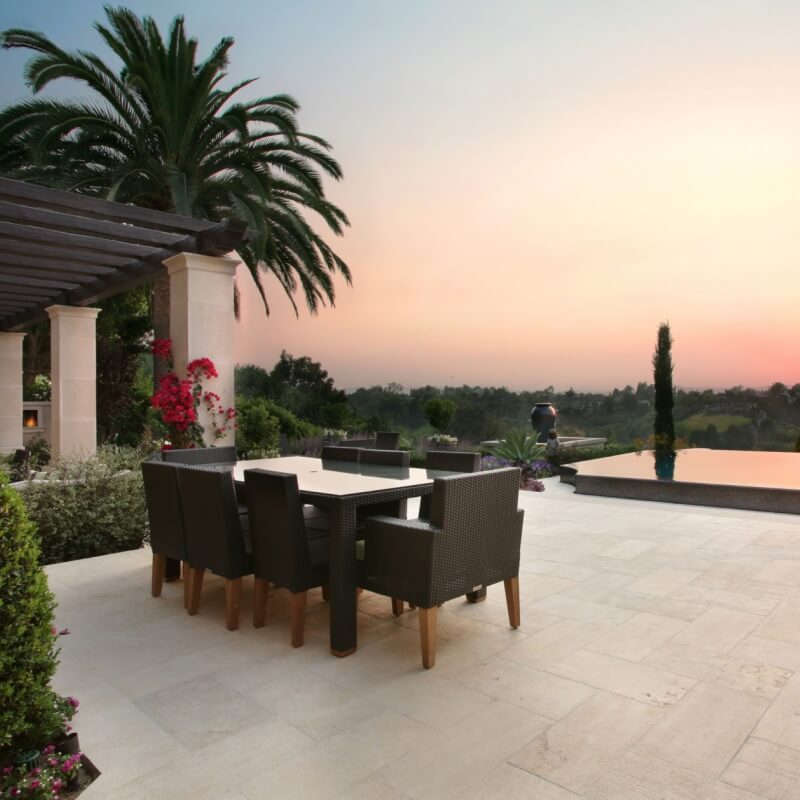 Create a similar look with MSI's Ivory Onyx Travertine (Photo Credit: Houzz)
Perhaps the most refined look of all of the hardscaping featured here is our Ivory Onyx Travertine flooring tile, also available in a pre-cut Versailles pattern kit. The creamy white tone is particularly great for areas with intense sun, especially at higher elevations. Darker stones retain more heat, while this stunning natural travertine tile reflects the sun's rays. This outdoor travertine tile may be a better fit for interiors and exteriors with a contemporary or modern design.
Creating an outdoor living space that is low maintenance, slip resistant, durable, and inviting is possible with either of these two gorgeous natural stone outdoor tiles. You simply cannot go wrong with either one; select the one that reflects your personal style and complements the rest of the property.
Explore our inventory and choose the right material for your project. Both travertine and slate outdoor tiles are available in pre-cut pattern kits—as well as a variety of sizes—allowing you to create your perfect outdoor retreat.

MORE OUTDOOR LIVING IDEAS
Take It For Granite: Can A Granite Countertop Withstand The Great Outdoors?
Outdoor Oasis: How To Create A Modern Outdoor Oasis With Porcelain Tile
Outdoor Oasis: Will Stacked Stone Add Value To Your Home?
Outdoor Oasis: Will Power Washing Ruin Your Outdoor Stacked Stone?