MSI's Comprehensive Guide To Selecting The Perfect Countertop
September 01, 2023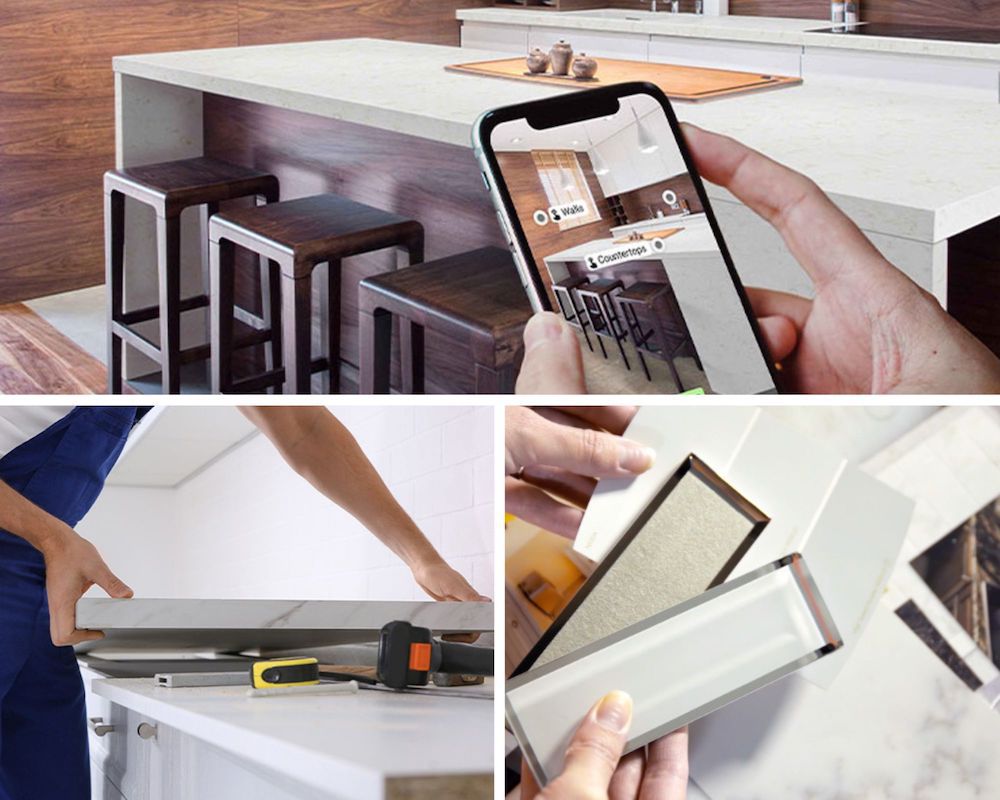 Discovering the ideal countertops with MSI is a smooth and expertly assisted venture, meticulously crafted to streamline your decision-making. Through our dynamic online Countertop Selection Guide, you will be navigated through every phase of the journey, choosing the surface that suits you best, selecting the perfect installer, and encompassing every intricate detail in between.
As an industry leader, we offer more than surfaces. Our curated process empowers informed choices. From exploring materials like quartz, granite, quartzite, and marble to selecting edge styles and coordinating backsplash designs, our commitment to a seamless experience shines.
This guide transforms countertop selection into an exciting venture backed by resources and expertise. The following steps provide a comprehensive and convenient approach, aligning your vision and needs with our diverse countertop options to create a stunning centerpiece for your space. Let's explore these steps together!
1. Start Your Journey at Home
Begin the selection process from the comfort of your own home by browsing our website, where you'll discover various countertop materials, from quartz to granite and everything in between. Among these many choices is Calacatta Laza Oro™.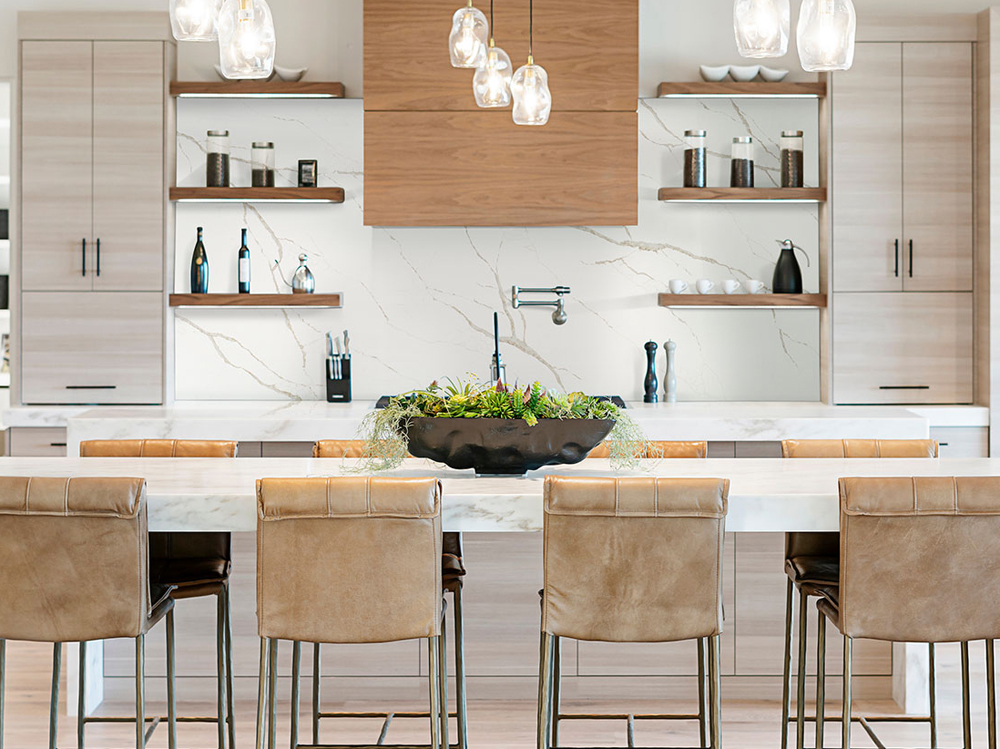 Calacatta Laza Oro™ Quartz
Elevate your space with the timeless beauty of Calacatta Laza Oro™. Its white marble-look backdrop adorned with bold golden veining adds sophistication to any setting. Beyond its elegance, this durable quartz countertop suits various applications, from kitchens to bathrooms, enabling you to personalize your space with an enduring touch of luxury. As you explore all that we have to offer, envision the transformative potential of Calacatta Laza Oro™ in your home—a seamless blend of aesthetics and durability that sets your space apart.
2. Visualize the Products in Your Own Space
Want to see the products in your space before you purchase? Follow these steps using our Multi-Surface Visualizer Tool:
1. Snap and upload a photo of your room or outdoor area.
2. Select the product of your choice.
3. See our products in your room in seconds. As you virtually experiment with various materials, consider adding a touch of oceanic allure to your design vision by exploring our Aquatic quartzite slab in your own space.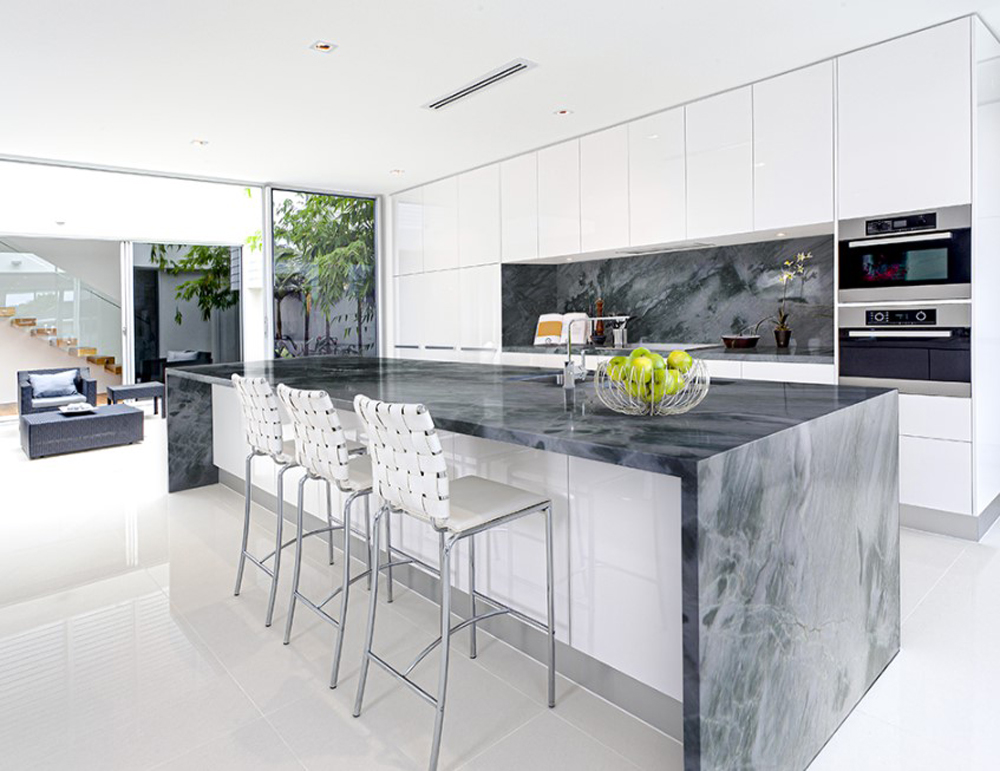 Aquatic Quartzite
Elevate your creative journey by envisioning Aquatic quartzite in your space. Its ocean-like blues, soft grays, and intricate veins bring the tranquility of water and natural stone elegance to your surroundings. Through our Multi Surface Visualizer Tool, picture the serene aura this quartzite countertop lends to your room or outdoor setting. Beyond aesthetics, Aquatic quartzite blends luxury with durability, embodying distinctive design and enduring quality as you explore our countertop selection guide.
3. Search Available Slabs
Use our online Slab Selection Tool and watch this simple video that will walk you through the steps you need to take before seeing the slab in person. When exploring our comprehensive selection of available slabs, don't miss the opportunity to consider the captivating elegance of Gray Nuevo granite.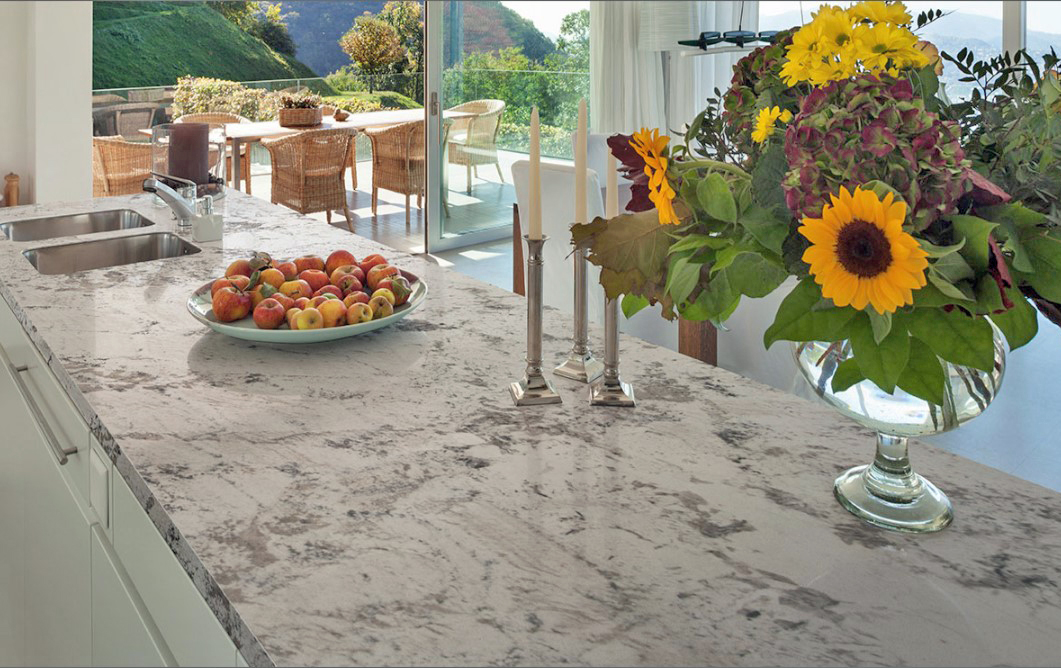 Gray Nuevo Granite
Gray Nuevo granite is a remarkable stone that boasts exquisite aesthetics and offers remarkable durability that can withstand the rigors of daily use. As you navigate the Slab Selection Tool, envision how the subtle gray tones of this gorgeous, polished granite countertop interplay with its dramatic pattern, making it an ideal choice for modern and classic interior designs. Whether you're aiming for a sleek, contemporary kitchen or a warm, inviting bathroom, the distinctive charm of Gray Nuevo is a countertop choice that effortlessly merges style and practicality.
4. View Your Slab in Person
Schedule an appointment at your nearest MSI Showroom to view your slab in person, or contact a local MSI retailer for more assistance selecting your product. As you embark on this exciting journey of choosing the perfect countertop, explore the enchanting option of Arabescus White marble.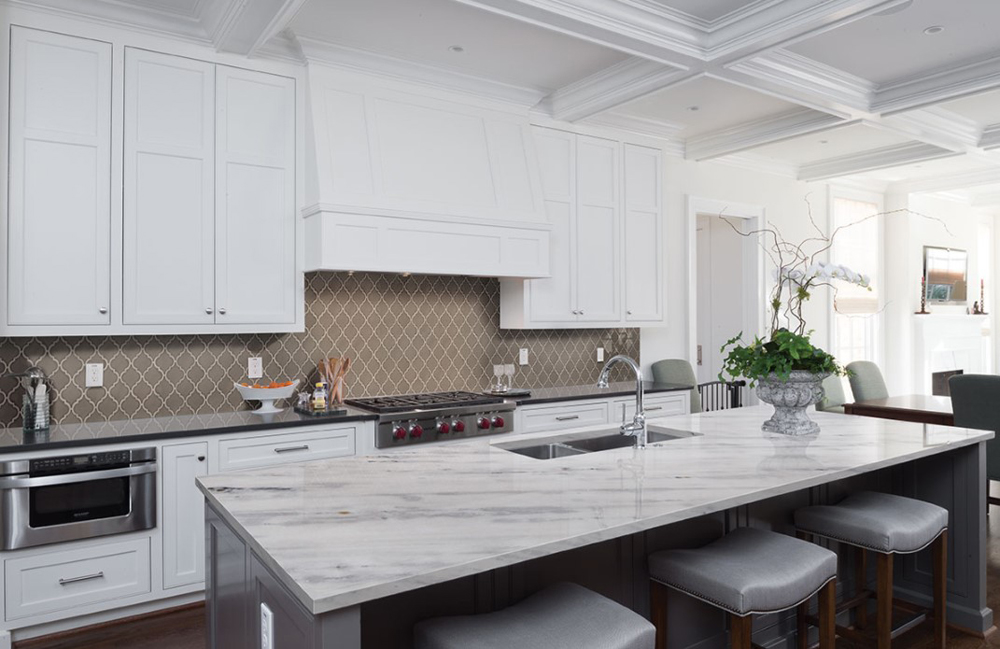 Arabescus White Marble
Arabescus White marble embodies sophistication with its generous swirls and veins of stone gray, dove, and charcoal on a pristine white canvas. Integrating this classic marble countertop into your space infuses it with opulence and grace that transcends design trends. With its seamless fusion of elegance and resilience, this marble can be the crowning jewel of your kitchen or bathroom. Embrace the possibilities presented during the countertop selection process and let Arabescus White Marble guide you toward a choice that epitomizes enduring beauty and refined taste.
5. Find an MSI Authorized Installer
Using the form on our website, locate an MSI Authorized Installer in your area. Opting for a professional and reputable installer is crucial due to their expertise, which ensures quality work, safety compliance, and longevity of installations. Their knowledge of regulations and standards and their ability to uphold warranties guarantee a stress-free experience with minimized risks. An authorized installers efficiency, expert advice, and commitment to customer satisfaction results in optimal aesthetics and functionality, which makes choosing a reliable professional a smart investment for any project. Let our authorized installers bring your vision to life, ensuring your new countertop becomes the heart of your living space.
6. Bring Your Vision to Life with the Finishing Touches
As you finalize your project, our Countertop Edge Visualizer Tool will assist you in exploring many edge options that will personalize your chosen countertop. Elevate the aesthetics of your space further by easily coordinating your countertop with a matching backsplash. Our online backsplash and wall tile collections showcase various designs and materials, ensuring you find the ideal complement to your countertop selection. If you're seeking expert advice on this aspect, our Backsplash Tile Guide is available. With these resources, your project will reach its full potential, creating a cohesive and captivating environment that reflects your unique style and attention to detail.
Need more help choosing your perfect slab? Chat with us online now, or contact an authorized MSI retailer for more information. You can also visit your nearest MSI showroom to view the expansive array of countertops and request samples.