7 Kitchens With Glamorous Cabinetry & Quartz Countertop Pairings
October 10, 2022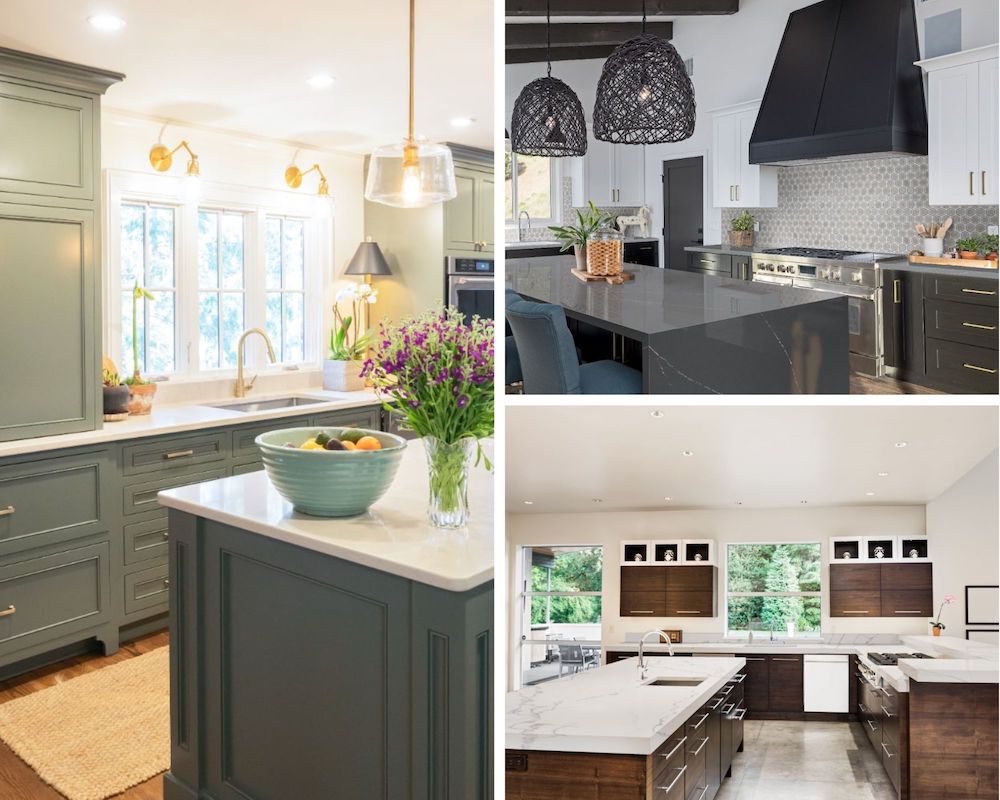 Homeowners who love the beauty and luxury of natural stone — but also want the practicality of a solid surface material — can meet both goals by choosing a quartz countertop over marble or granite.
This material is made from over 90% natural crushed quartz, but the addition of resins and polymers used for binding ensures a nonporous surface that is strong, durable, food safe, and resistant to microbes.
Modern quartz is also incredibly easy to clean and maintain. Along with all of these practical benefits, you'll also be impressed by this surface material, made to resemble a range of popular stone varieties.
To make the most of your kitchen upgrade, carefully consider your cabinet and countertop pairing. For example, which quartz counters will look best with white, black, colored, or wood cabinets? Here are a few ideas to ensure the ideal combination of MSI quartz and cabinetry colors for your updated kitchen design.
Black Cabinets with White Quartz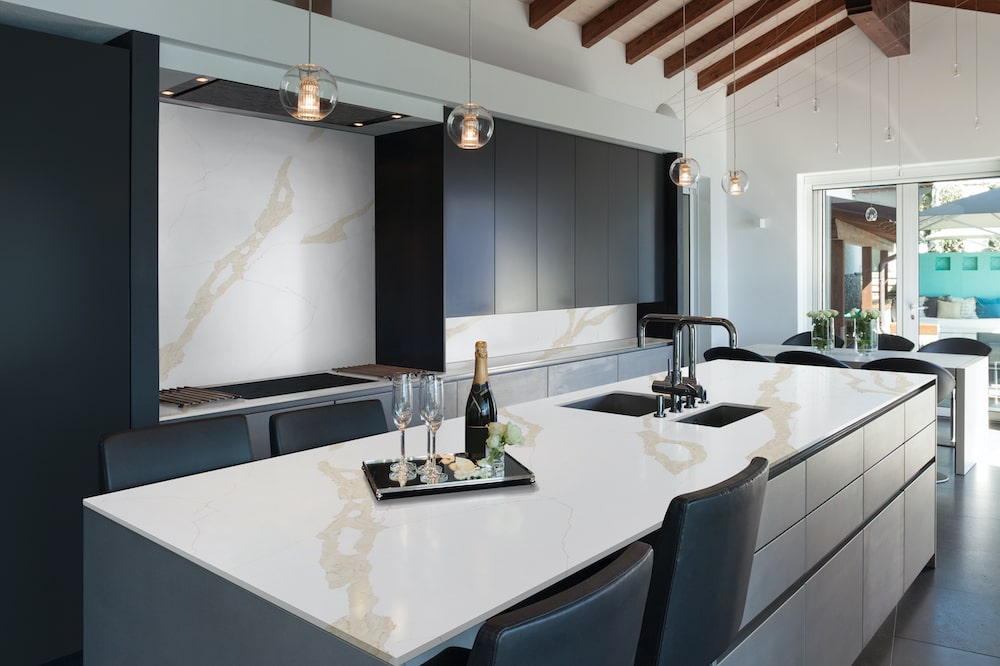 Calacatta Leon Gold Quartz
Marble-look quartz designs are among the most popular, and it's not hard to see why. Marble's soft, luminescent quality adds incredible elegance and soothing appeal to any kitchen space. But, of course, you might want a counter surface that is stronger than natural marble and offers lower maintenance, and quartz is an excellent alternative.
There are plenty of marble-look options, but Calacatta Leon Gold quartz is ideal if you're interested in bold veining in a warm color palette. The white background is marked by dramatic veining in taupe hues, bordered by delicate outlines in rust, creating a statement piece that elevates any design.
It pairs well with various cabinet colors as a neutral, but it's especially striking with contrasting black cabinets all around. With a polished finish and fixtures in black or modern gold, you'll enjoy a breathtaking kitchen space.
Green Cabinets with White Quartz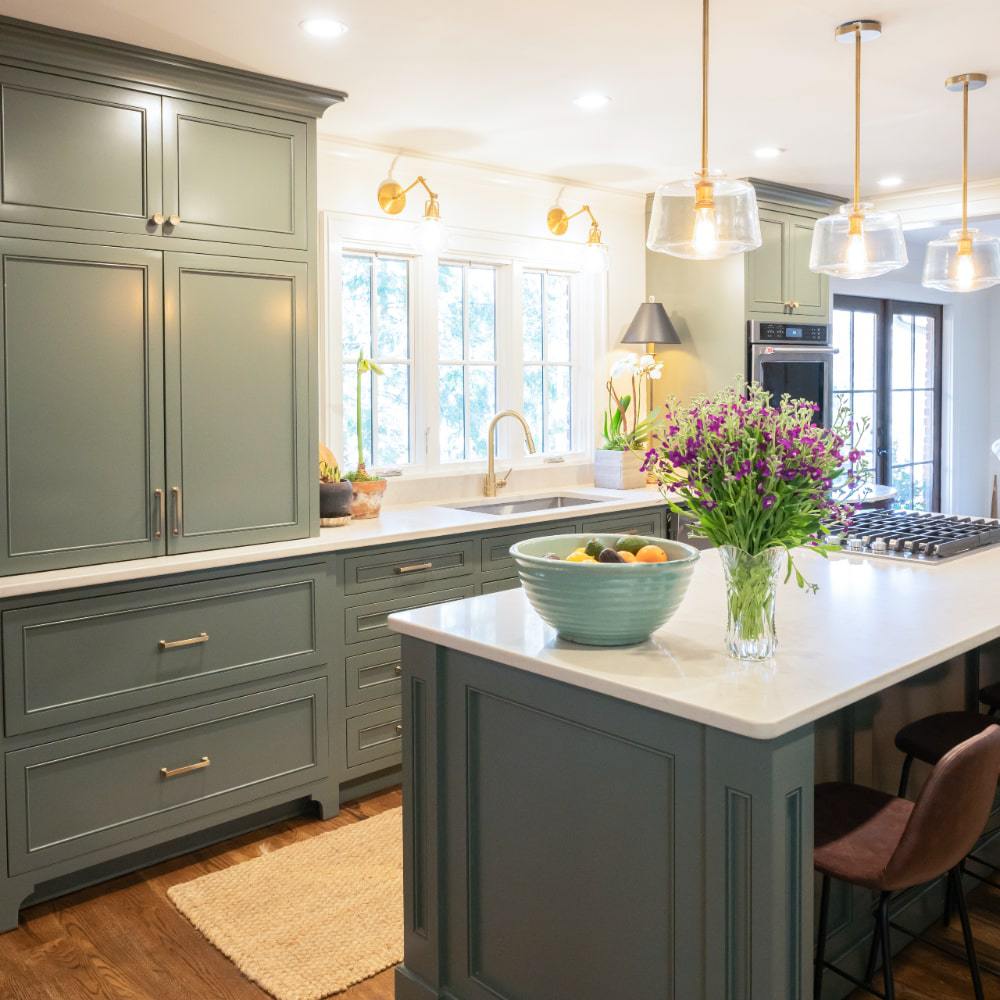 Carrara Marmi Quartz
Blue hues like navy remain a popular choice for colored cabinets, but greens are taking over in a major way. Everything from mints and sages to teals and forest greens can pop up in modern kitchen designs alongside engineered quartz counters.
Pairing green cabinets with quartz countertops for kitchens is a relatively simple proposition if you pick a warm or cool palette and stick with it. Although certain shades of green may have warm undertones, this color family generally falls under the cool category.
Carrara Marmi quartz is on the cooler end of the neutral spectrum, with a soft white background and light, delicate veining in a deep gray. It's sure to look stunning next to nearly any green cabinet color you choose.
Black Cabinets with Gray Quartz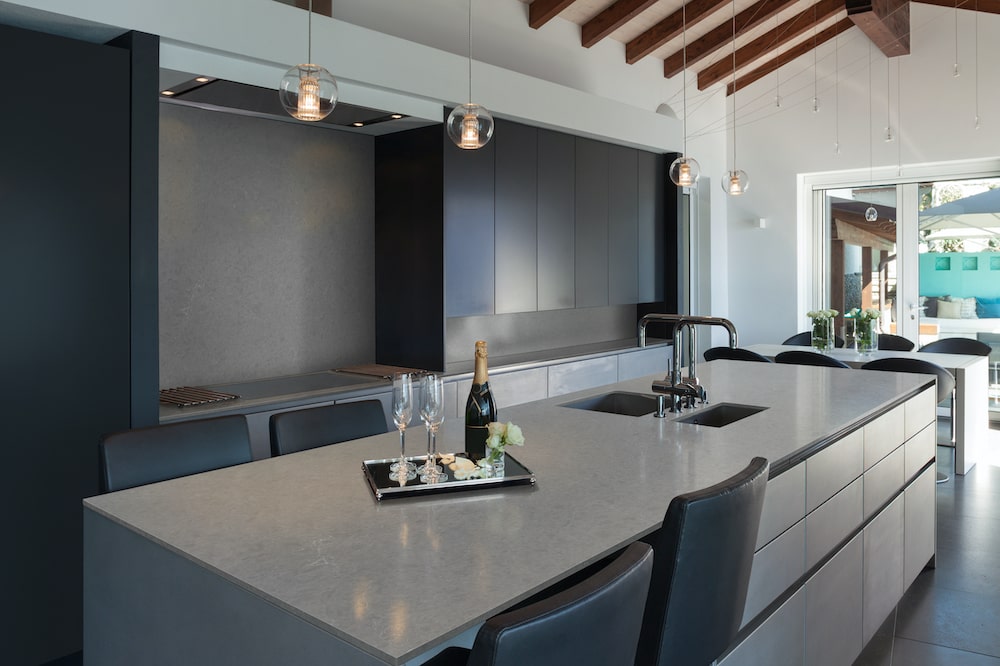 Vena Carbona Quartz
If you're looking for contrasting cabinet and quartz colors in a combination that is not as stark as black and white, you're sure to appreciate the sophisticated pairing of Vena Carbona quartz and black cabinetry.
This low-variation dove-gray surface material is sprinkled with soft white veins, creating an effect similar to a nearly placid lake. When you want a bit of contrast without a ton of drama for your kitchen remodel, this duo delivers the tranquil, toned-down aesthetic you crave.
Black and White Cabinets with Gray Quartz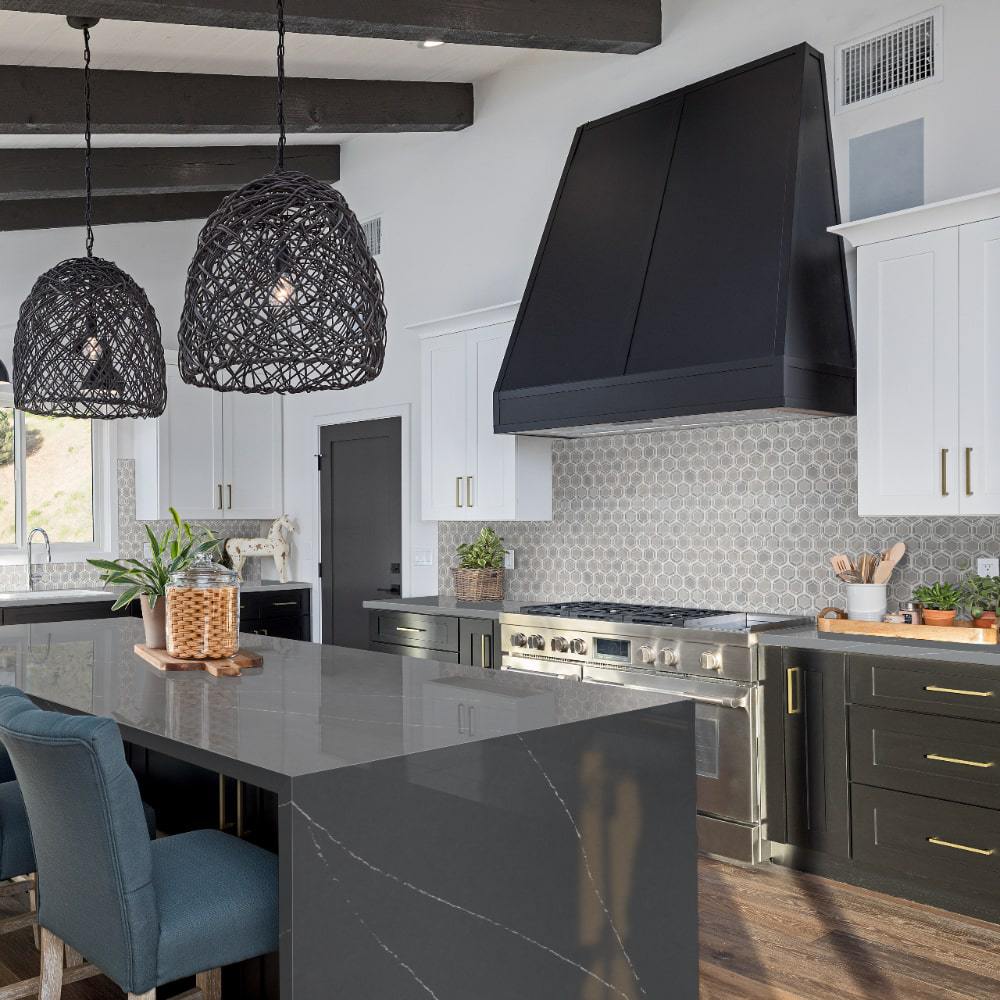 Soapstone Metropolis Quartz
Quartz colors range from light to dark, but few offer the moody drama of Soapstone Metropolis quartz, featuring a slate gray background slashed by razor-thin streaks of white veining.
In some homes, all-black cabinetry can make the kitchen ambiance cave-like. And with all-white cabinets, the contrast may be too glaring.
Instead, consider black lowers and white uppers, with a gray backsplash tile in between to ease the transition from light to dark. This makes your kitchen feel grounded below but airy up above, so the space appears spacious yet cozy and inviting.
Black and White Cabinets with White Quartz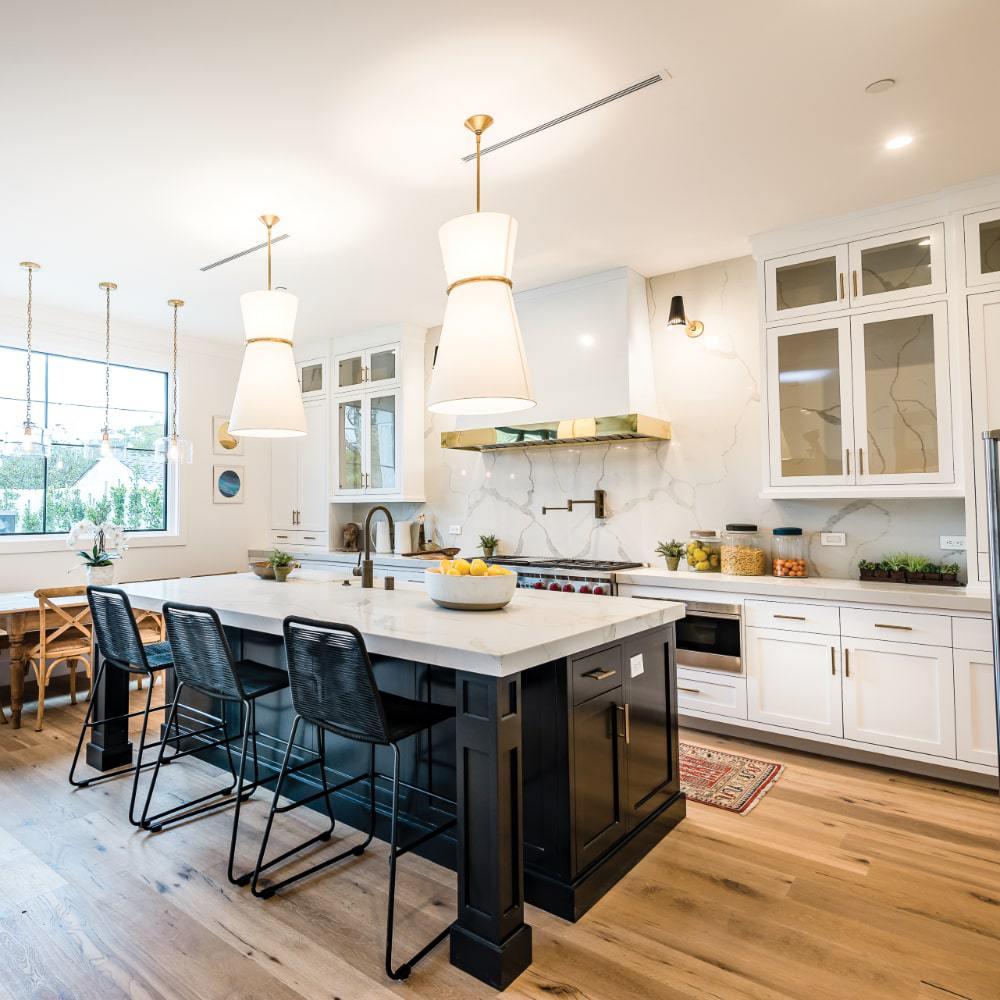 Calacatta Verona Quartz
When it comes to a beloved marble color scheme, Calacatta Verona quartz delivers in spades with a soft white background marked by chunky yet translucent gray veins that whisper over the surface like a half-formed thought.
Although this marble-look quartz is the opposite of inky Soapstone Metropolis, it, too, will look stunning in a modern design featuring white and black cabinets. Because your white cabinets should go above the counters (with black below), it's best to opt for a white backsplash to avoid an uninviting color-blocking situation.
Depending on your preferences, you could go with a subtle, classic option like white subway tile, or a bold geometric tile in white and gray. However, you should at least consider extending the quartz to a full-height backsplash for optimal impact and visual appeal.
Wood Cabinets with White Quartz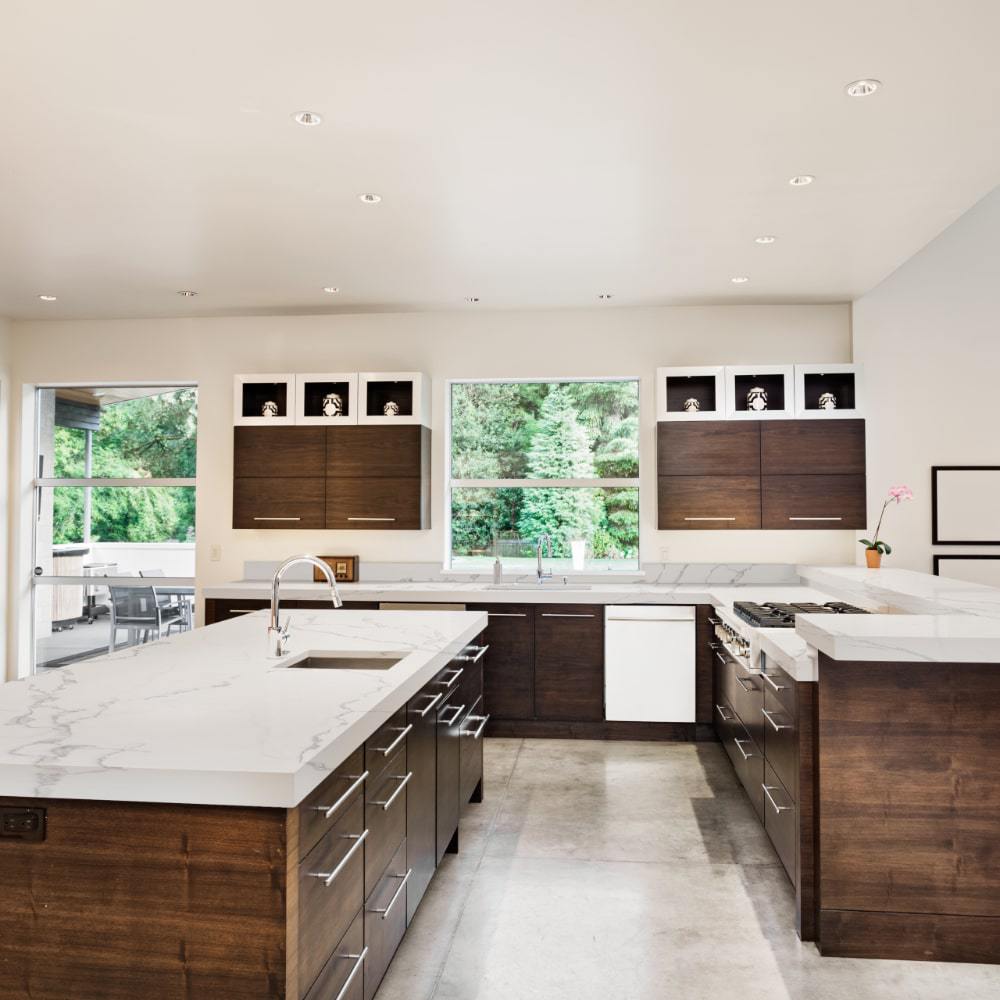 Statuary Classique Quartz
Quartz is an incredibly versatile countertop material that pairs well with various design elements, including wood cabinets. Statuary Classique quartz, with its milky white background and soft, pale gray veining, is the perfect complement to any number of wood tones.
If you're looking for a neutral kitchen design that brings the beauty of nature into your home, consider pairing this lovely quartz with anything from white oak, ash, or maple to hickory, walnut, or mahogany.
While warm, golden tones probably aren't the best match, you could potentially make them work with the addition of complementary hardware in antique brass to bridge the visual gap.
Mixed Neutrals with White Quartz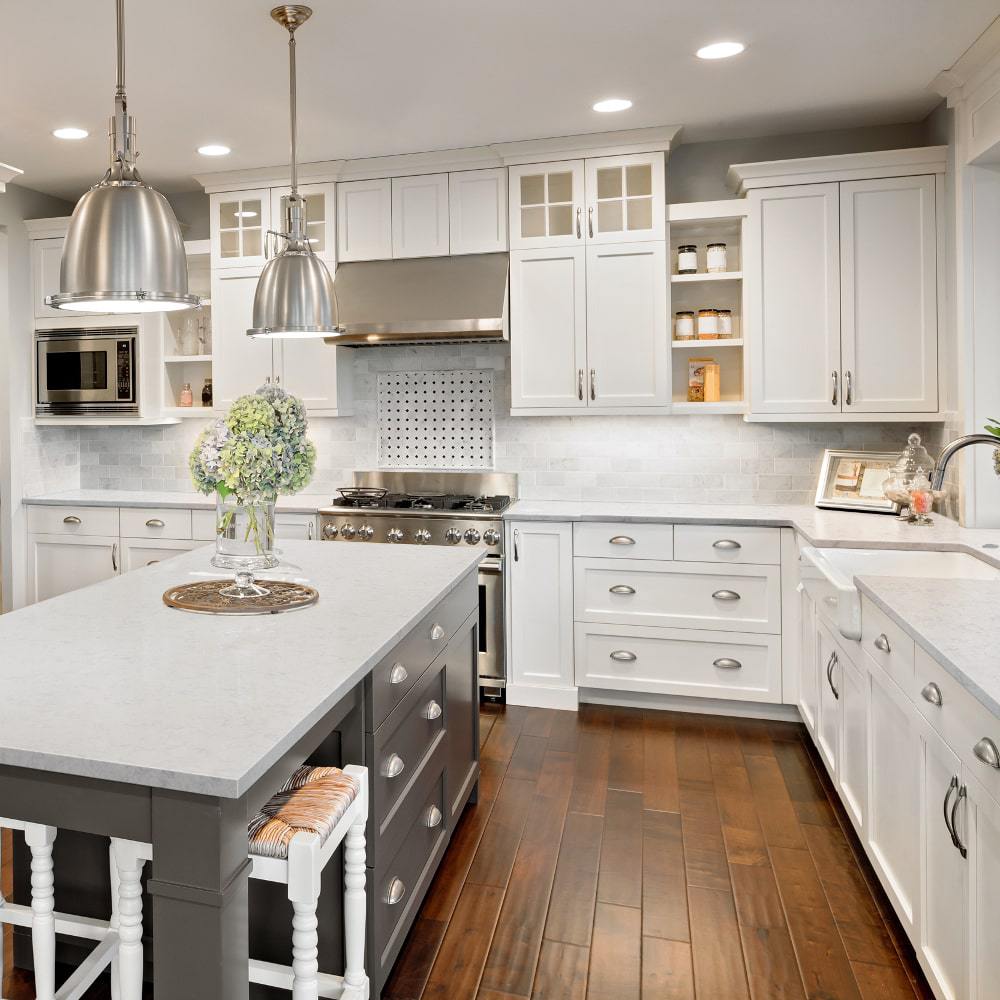 Mara Blanca Quartz
A creamy white background with dense yet subtle veining in gray makes Mara Blanca quartz a versatile favorite among interior designers and homeowners alike. It's especially well-suited to pairing with modern mixed neutrals for cabinetry, such as white uppers and gray lowers, or white perimeter cabinets with a gray island base.
Are you ready to create a glamorous kitchen space with the perfect MSI quartz countertop and cabinet combination? Contact us today with any questions. Chat with us online, visit an MSI showroom, or contact an authorized MSI dealer near you.
Learn More About Quartz Countertops
Get Inspired With 10 Quartz Countertop Ideas
7 Kitchens With Glamorous Cabinetry & Quartz Countertop Pairings
6 Stunning New Quartz Countertop Colors To Satisfy Any Space
MSI's Top 10 Lumaluxe Quartz Countertop Colors
5 Beautiful Bathrooms With Quartz Countertops