Your Guide To Pavers – Porcelain, Travertine, Slate & Quartzite
February 13, 2018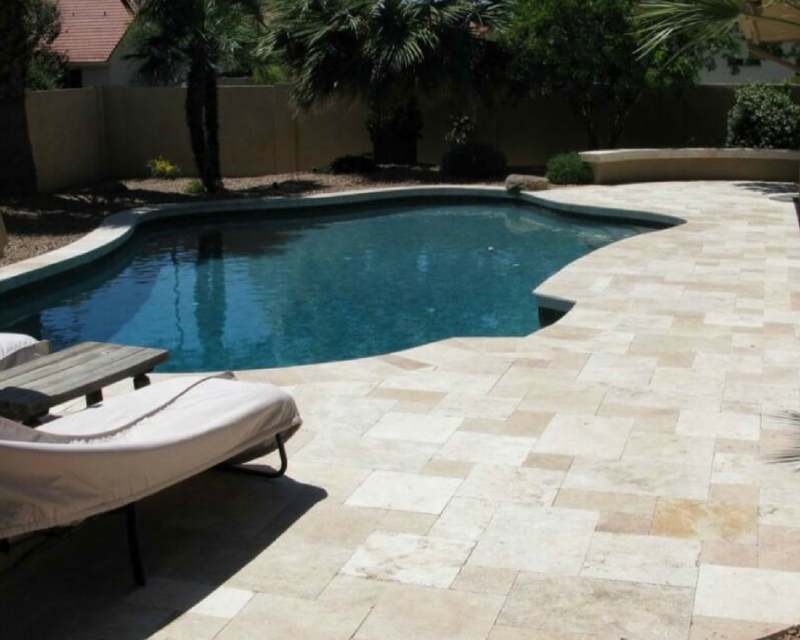 Get your backyard warm-weather ready! Transform your outdoor space into the paradise you've always dreamed of owning. Whether you want a place to entertain, a cozy spot by the fire, or a large pool for a swim, the right hardscaping choices can give you the contemporary or traditional design you desire.
Pavers are the perfect way to add color, texture, and pattern to your small patio or large outdoor space. They are versatile and come in various materials, sizes, and shades, which means you're sure to find a paver that perfectly suits your style.
When it comes to pavers, different materials are suited to different applications. For example, low-maintenance options like porcelain pavers need to be installed over concrete, while natural stone like travertine, slate, and quartzite can be installed over sand. To help you decide, let this guide point you in the right direction. Read on to find out which pavers are just right for your specific outdoor project.
Porcelain Pavers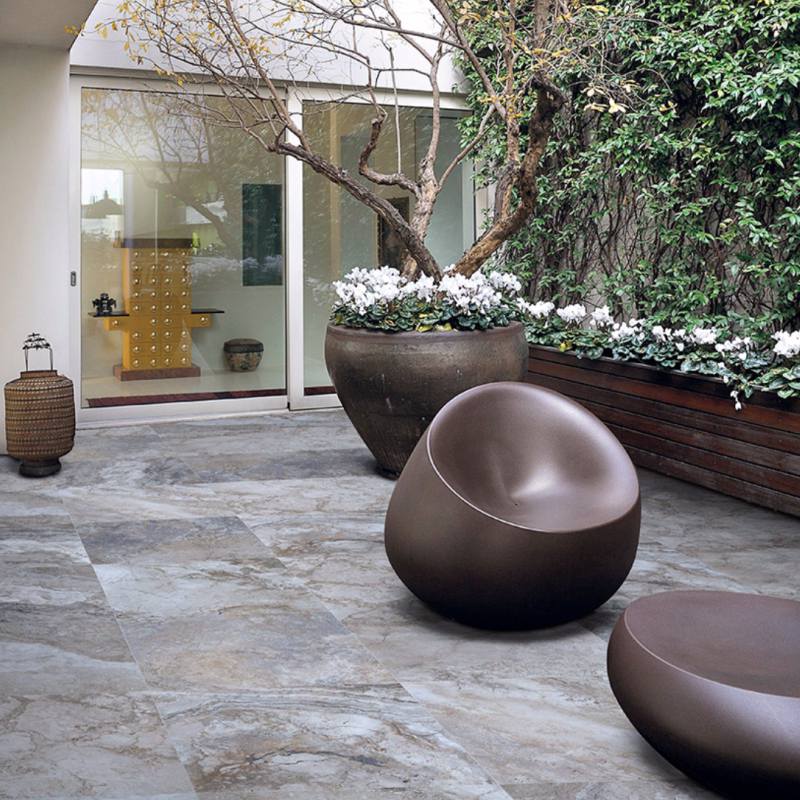 Featured: Argento Travertino Porcelain Pavers
If you are looking for a paver that is budget-friendly, then opt for porcelain. These versatile pavers are made from kiln-fired clay. The best part is that precision inkjet printing technology allows porcelain to mimic the look of natural stone or even wood. You get all this at a fraction of the cost of authentic natural materials.
Porcelain also offers a number of other benefits, such as fade resistance and no required sealing. A perfect example is Argento Travertino Porcelain Pavers, a durable, low-maintenance porcelain featuring swirls of cream, white, taupe, and soft gray. The large-format 24x24 pavers have a matte finish that nicely complements this contemporary patio area.
Travertine Pavers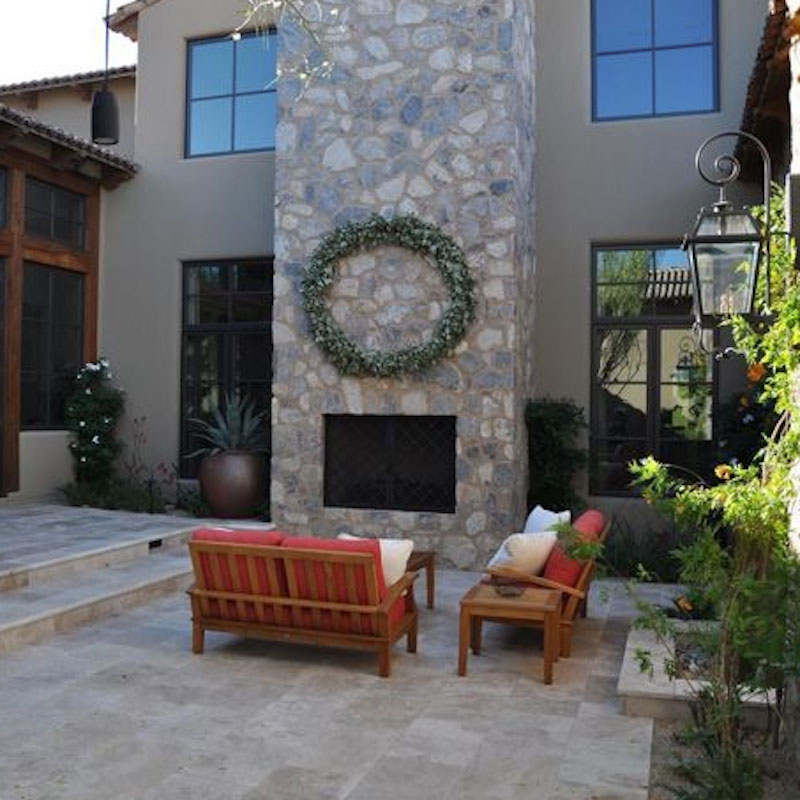 Recreate a similar look with MSI's Tuscany Ivory Onyx Travertine (Photo Credit: Houzz)
Thanks to the lower cost of travertine pavers, this natural stone is one of the most common landscape stones. Travertine stays cool to the touch—even on hot summer days—and is naturally slip-resistant as a result of the small holes throughout the stone. Maintenance is easy; simply pressure wash the surface yearly or every few years, depending on whether your stone pavers are in the sun or the shade.
The three available finishes for travertine pavers are tumbled, honed, and filled. Common colors include hues from white to ivory, and from cream to light caramel. One of our favorites is Tuscany Ivory Onyx Travertine, which features soft whites and beiges for a sophisticated, classic look. It's an excellent neutral backdrop for other dramatic features, like this outdoor stone fireplace and red seating.
Slate Pavers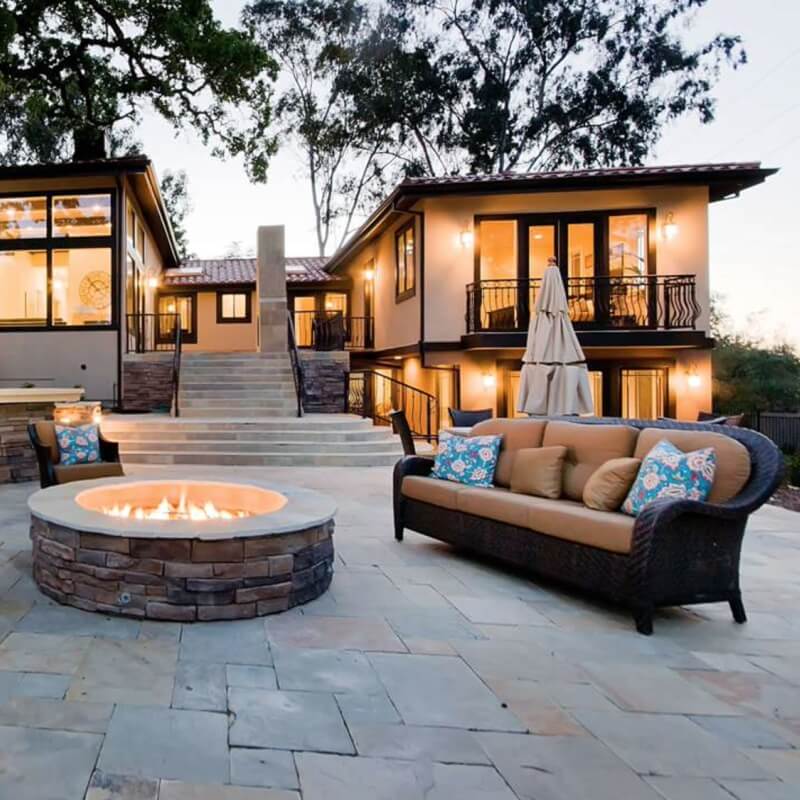 Get a similar look with MSI's Multi Classic Slate (Photo Credit: Houzz)
For even more color, pattern, and texture, consider choosing slate. This natural stone comes in just one finish, but gloss sealers can be applied to give it a semi-permanent sheen. Like many natural stones, it should be sealed every year to keep it looking its best.
The high variation of Multi Classic Slate is a prime example of this rich stone. Some of the tiles have a classic blue undertone, while others have more of a green nuance. Either way, this imported Indian tile's dark grays, rich golds, and deep burgundies are sure to add drama to your outdoor space.
Quartzite Pavers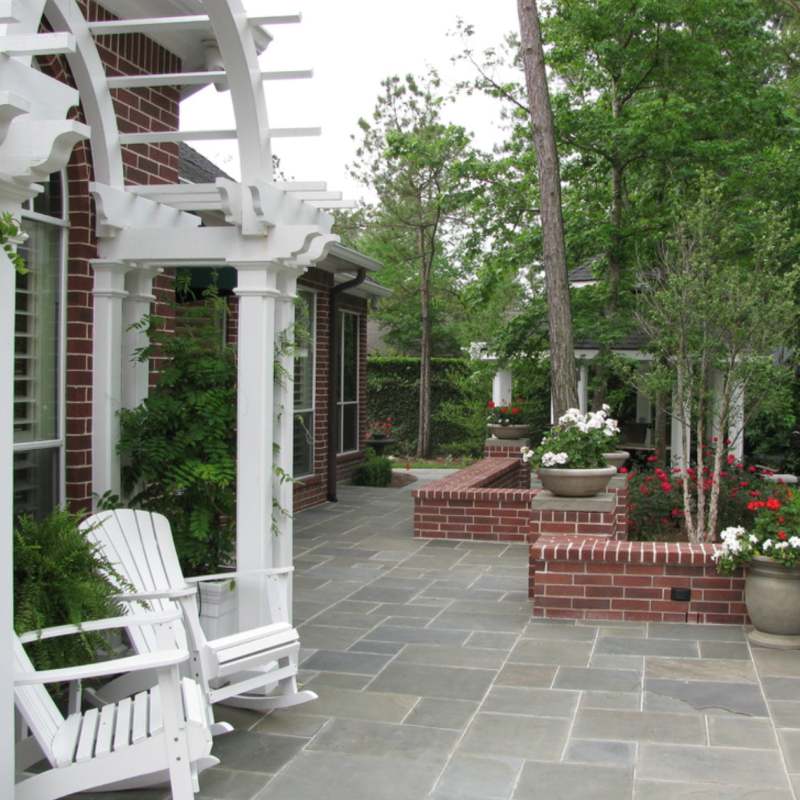 Create a similar look with MSI's Golden White Quartzite (Photo Credit: Houzz)
When you need quality pavers that are durable, extremely hard, and tough enough against freezing temperatures, quartzite is a perfect choice. This natural stone features a slight sheen, and the quartzite paver kit from MSI features a variety of colors perfected by nature.
For instance, Golden White Quartzite includes a mix of soft cream, grand gold, rich rust, cool gray, and gorgeous green. This durable beauty forms a luxe backdrop for the bold, red brick and white furnishings.
MSI offers all of the hardscaping materials you need to create your outdoor oasis. Whether you opt for natural stone or porcelain pavers, you'll soon want to spend more time in your backyard! And for even more inspiration, check out MSI's hardscaping outdoor tile.
LEARN MORE ABOUT QUARTZITE COUNTERTOPS
Quartzite Vs. Quartz Countertops – Your Questions Answered
End The Confusion – Differences Between Quartz And Quartzite
Favorite Stone Pavers In Travertine, Marble, Quartzite, And Sandstone
All About Outdoor Tile: Porcelain, Slate, Travertine, And Quartzite
READ MORE ABOUT OUTDOOR SPACES with PAVERS AND PORCELAIN TILE:
Porcelain Pavers Vs. Natural Stone Pavers
The Advantages of Porcelain Pavers
Praia Collection: Indoor-To-Outdoor Porcelain Tile
Outdoor Tile Guide — Porcelain, Slate, Travertine And Quartzite