Timeless Look Of Encaustic Porcelain Tile: MSI's Kenzzi Collection
September 09, 2021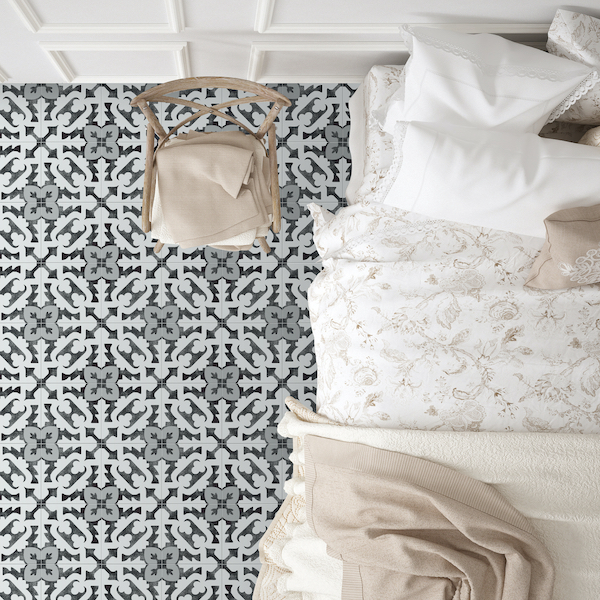 One of the hardest parts about designing different rooms in your home is deciding if you want to incorporate trendy elements or stick with timeless classics. While trendy elements may look sophisticated and chic now, they tend to look dated as time goes on. That's why we are big fans of the timeless look of encaustic porcelain tile from MSI's Kenzzi Collection.
Boasting bold and vibrant tile patterns of stylized flowers to mod geometrics, our glazed porcelain tile collection has an offering for everyone. Whether you plan to use them as a jaw-dropping tile flooring option or you want to mix and match them as an accent wall, get ready for guest envy with this timeless encaustic porcelain tile.
But how can you incorporate these one-of-a-kind tiles seamlessly into your existing space? Follow along as we walk you through a few ways you can elevate your home with the wide selection within MSI's Kenzzi Collection.
3 Ways to Elevate Your Home with Encaustic Porcelain Tile
Love the look of encaustic porcelain tile but not sure the best way to incorporate it into your home design? From bathroom updates and kitchen remodels to whole-home renovations, there are a variety of ways to install porcelain tile into your space.
Create a Show-Stopping Backsplash
The most popular way to incorporate these vibrant and bold tile patterns is by using them as a showstopping kitchen backsplash tile! With a variety of color palettes and tile patterns to choose from, you'll be able to find the ideal wall tile that meshes with your desired aesthetic. By using a bold pattern as your kitchen backsplash, it will be the first thing that captures your guests' attention when they step foot in the room — leaving them oohing and aahing over its beauty! Depending on the layout of your kitchen, you may opt to continue the porcelain and ceramic tile throughout the room as an accompanying accent wall as well!
Design a High-End Master Ensuite
There's something about the locker rooms and showers of a spa that are just so calming and serene. Capture that feeling and unleash it in your bathroom by designing a high-end master ensuite that will feel as though you've just stepped foot into a luxurious spa! Make your shower the focal point of the space by incorporating encaustic porcelain tile as the shower surrounds to liven up the bathroom in a wow-worthy way.
Merge Your Interior & Exterior Living Spaces
Does your home have an outdoor living space where you love to gather for meals and memories with your family and friends? Merge the aesthetic of your home's interior with your outdoor living space by using the same porcelain tile you're using inside as a backsplash, accent wall, or shower surround, as the flooring options for your exterior area! Its durability is unmatched and you can rest easy knowing the beauty is timeless and here to last for many years.
Create a Wow-Worthy Backdrop with MSI's Kenzzi Collection
No matter how you plan to incorporate encaustic porcelain tiles into your space, there's no denying that MSI's Kenzzi Collection wide selection is the best of the best. Here are a few of our favorite options for a variety of applications.
Kasbah Porcelain Tile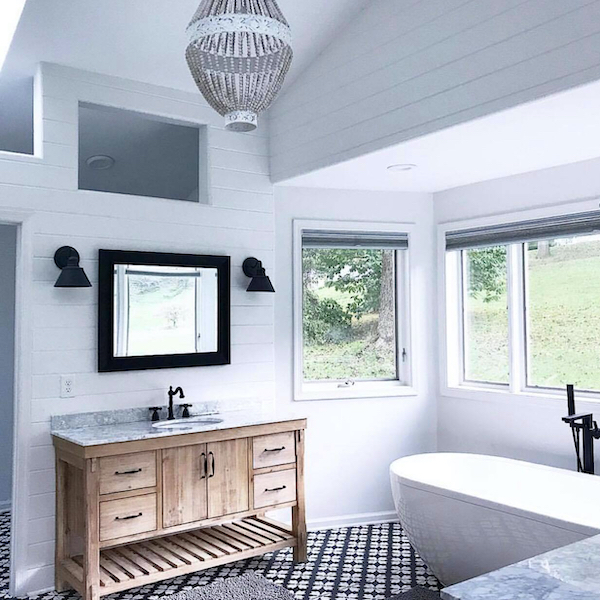 When you're looking for something moody with a bit of daintiness to the design, you can't go wrong with Kasbah Porcelain Tile from our Kenzzi Collection. Featuring a black background that is accented with a beautiful, bold white floral print that is repeated throughout the tile, it creates the ideal backdrop to any room. The intricate details are hand-painted on the tiles, giving you a truly one-of-a-kind look that can't be replicated. Whether you install ceramic tiles as a kitchen backsplash, accent wall, flooring, countertop, or shower surround, you'll be glad you did.
Metrica Porcelain Tile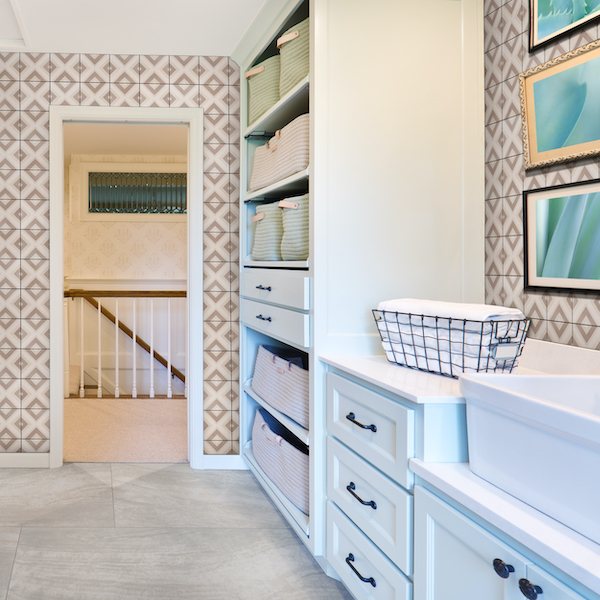 You may want to incorporate a design into your space, but don't want something drastic or bold that will detract from the other design elements. If that sounds like you, Metrica Porcelain Tile from the Kenzzi Collection offers an elegant and subdued modern tile pattern in a combination of warm creams, beiges, and taupes. This remarkable tile is the perfect match for a bohemian aesthetic or a room with a natural color palette. Not to mention, the tiles are extremely durable and require minimal maintenance, making them a great flooring option for high-traffic areas of your home.
Tamensa Porcelain Tile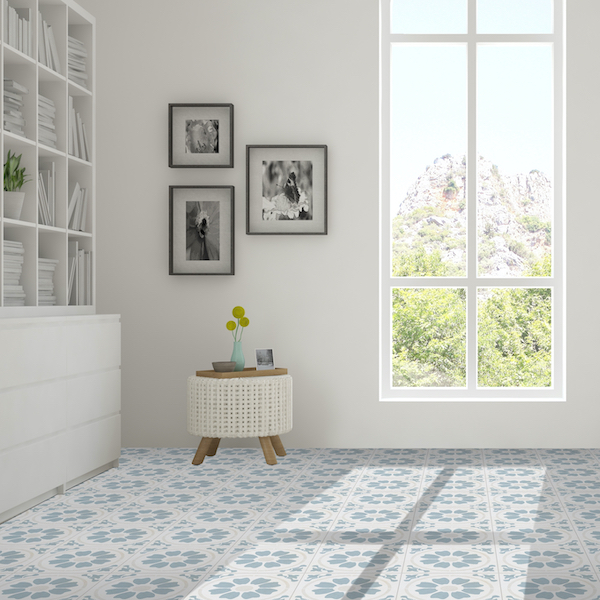 One of our all-time favorite encaustic porcelain tiles in the Kenzzi Collection is the Tamensa Porcelain Tile. Why do we love it so much? With its milky white background accented with a soft blue and beige floral print with subtle geometric influences, there's nothing quite like it! These chic hand-painted tiles align beautifully in any space and use the grout lines to help keep the design from becoming overwhelming to look at. If you're looking to create a light and airy vibe in your home, you need to consider Tamensa Porcelain Tile — it's perfect for active homes with busy kitchens, baths, entries, mudrooms, and living areas.
Paloma Porcelain Tile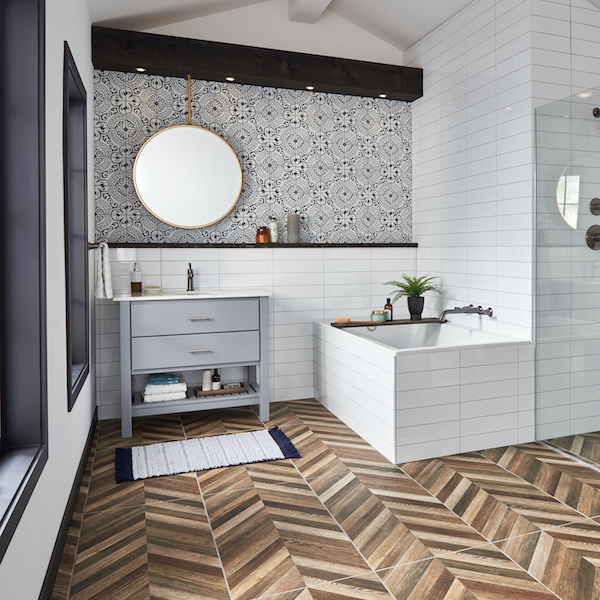 You may be surprised to find out that encaustic porcelain tile doesn't always come in bold and vibrant colors. One of the top tile options in the Kenzzi Collection comes in an eclectic graphic pattern in black and white. While two tones may seem underwhelming, the Paloma Tile is anything but boring! Boasting an intricate design, the pattern has nearly a vintage stamp-like quality with lighter and darker shades of black that are hand-painted onto each individual tile. When you want a porcelain tile that adds character to your space without detracting from other remarkable design elements in the room, you can't go wrong with the Paloma Tile. Whether you install it as countertops, floors, walls, or backsplashes, you won't be disappointed.
Mixana Porcelain Tile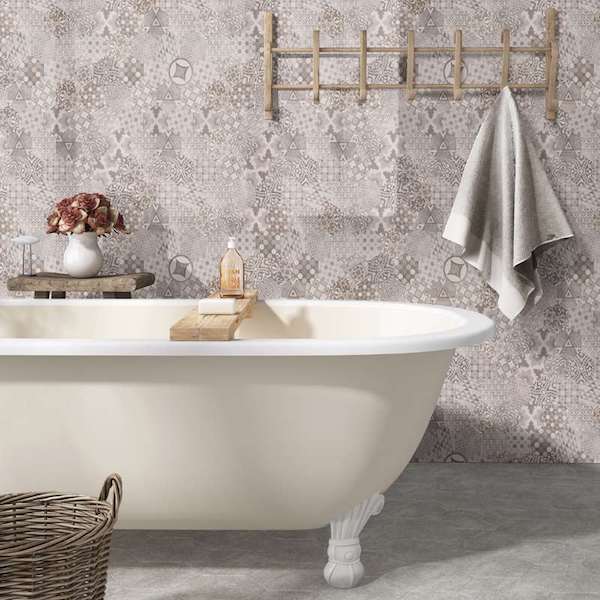 Why pick a porcelain tile that blends in when you can opt for one that stands out? The Mixana Tile from our Kenzzi Collection features a patchwork-like pattern in subtle beige and greige tones that is nothing like you've ever seen before. The lively pattern continues to draw your eye across the space, making it ideal for creating beautiful accent walls, backsplashes, countertops, showers, and floors. It's also extremely durable, easy to clean, and requires no ongoing maintenance, giving you peace of mind knowing it will look good for many years to come.
READ MORE ABOUT THE DIFFERENT TYPES OF PORCELAIN TILE
Help for Deciding Which Wood-Look Porcelain Tile to Use
How Do You Align Porcelain Tile Flooring?