How To Choose Luxury Vinyl Tile
December 13, 2019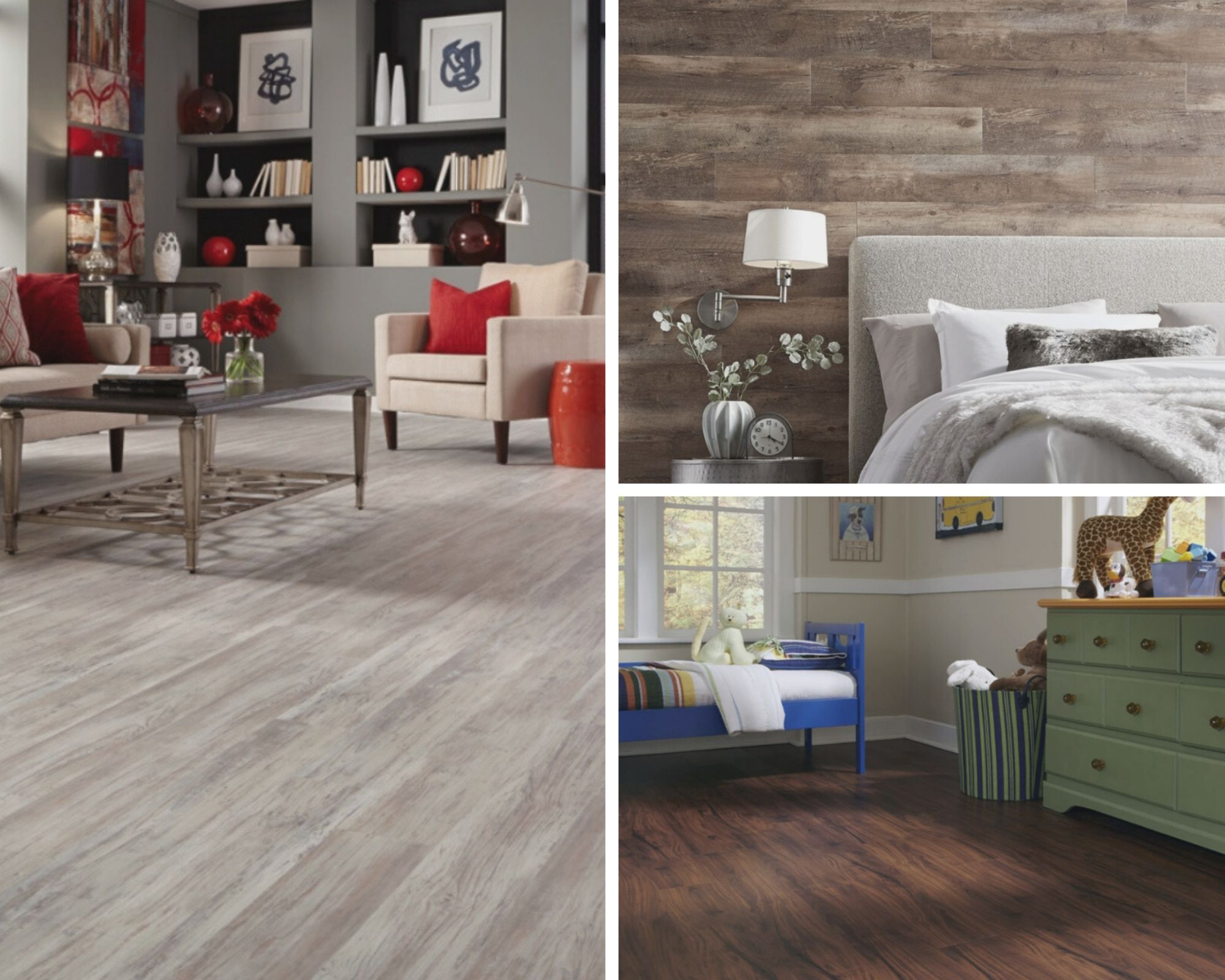 Choosing the right luxury vinyl tile is an exciting experience, especially with so many options available. Engineered for long-lasting performance, LVT flooring are stunning compliments to interior design and have come a long way since the old days and former incarnations. The advantages are impressive and multifaceted, ranging from being a cost effective option to comfort. Did you know that vinyl tile floors are actually softer than stone tiles and wood floors? The added layers of protection help if be scuff-resistant, which is particularly useful if you have children or pets running around in the house!
Naturally, there are many factors to consider, such as luxury vinyl tile installation. In many instances, this game-changing tile can actually be installed over existing floors, getting rid of excess costs of removing former floors, tiles or hardwood. Luxury vinyl planks create a streamlined installation that saves time, money and inconvenience—something most people can't say about the arduous process of new floors! With tile that looks like real wood, how can you go wrong?

Photo Credit: Houzz
We're going to explore the specifics of what to look for when deciding upon the perfect luxury vinyl tile for your home. Even though there's an ease of installation, you in theory only want to install these tiles once. So join us in breaking down factors to consider so you can find the best fit for your flooring needs!
In the case of luxury vinyl tile—size matters. Thankfully, MSI offers planks in different sizes, a standard one of 7x48" as well as an XL, which is 9x60—both planks. Remember, too, that thickness greatly matters when it comes to this type of flooring. Many vinyl tile planks come with an additional layer of padding, which can feel more comfortable on your feet. Many might refer to vinyl tile as "resilient flooring," which basically means that there's a degree of elasticity to it—which is why thickness can matter. Are you someone who wants thicker floors with extra padding or is that unimportant to you? These are valuable questions to ask yourself as you're determining your needs and requirements.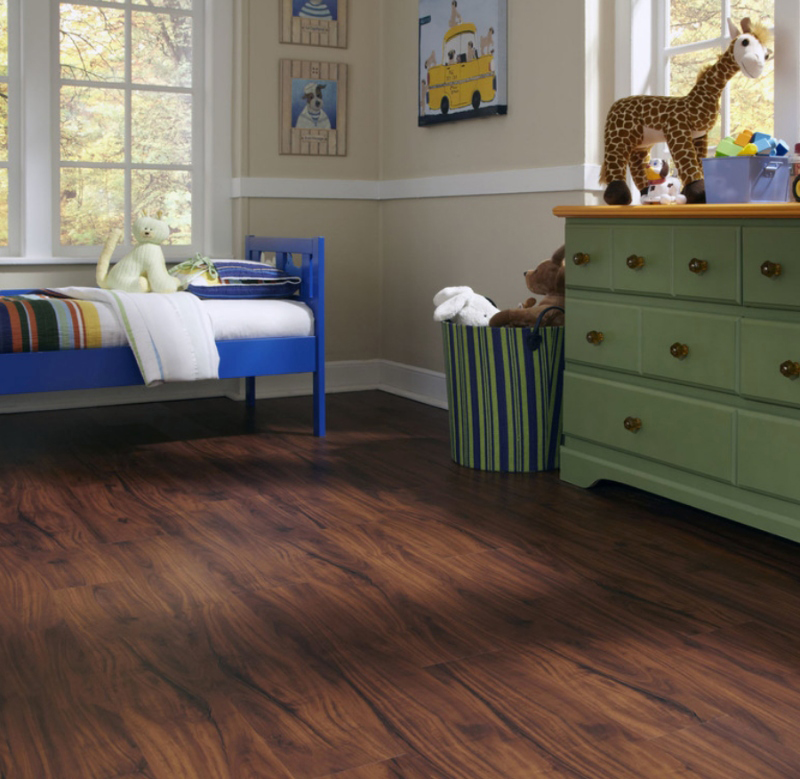 Photo Credit: Houzz
If you are determining the best options for LVT flooring, you will also want to greatly consider edge finishing. Typically, a "beveled edge" is a grooved edge that provides a distinct line between each plank, making it look more realistic. A "micro-beveled edge" consists of a less pronounced grooved edge that is more subtle, not drawing such a difference between each plank. Thankfully, Everlife offers Painted Bevel Finishes, which are truly stunning to browse and look at. Can you just imagine these planks in your own living room or kitchen? The varieties and offers come in all varieties, especially when it comes to LVT edge finishing!
Now we all know keeping our LVT flooring safe from scratches, dents and scuffs is imperative. A major advantage of luxury vinyl tile is that it doesn't damage easily. However, there are additional steps you can take to ensure the safety of your floor. You'll want to consider protective coating offerings, such as the CrystaLux Wearlayer from MSI that protects damage from scratches, moisture, pet accidents, indentations as well as the sun. With offerings like CrystaLux, you can give yourself the additional peace of mind that your floors under your feet won't be harmed with the hustle and bustle of day-to-day activities. Other protective measures can be taken, which is an element to take into consideration when purchasing your tiles. However, remember that LVT is purposefully designed not to require an excess of cleanup chemicals and concoctions to make it shine, so you're already making a brave step forward on that front just by selecting LVT on the whole.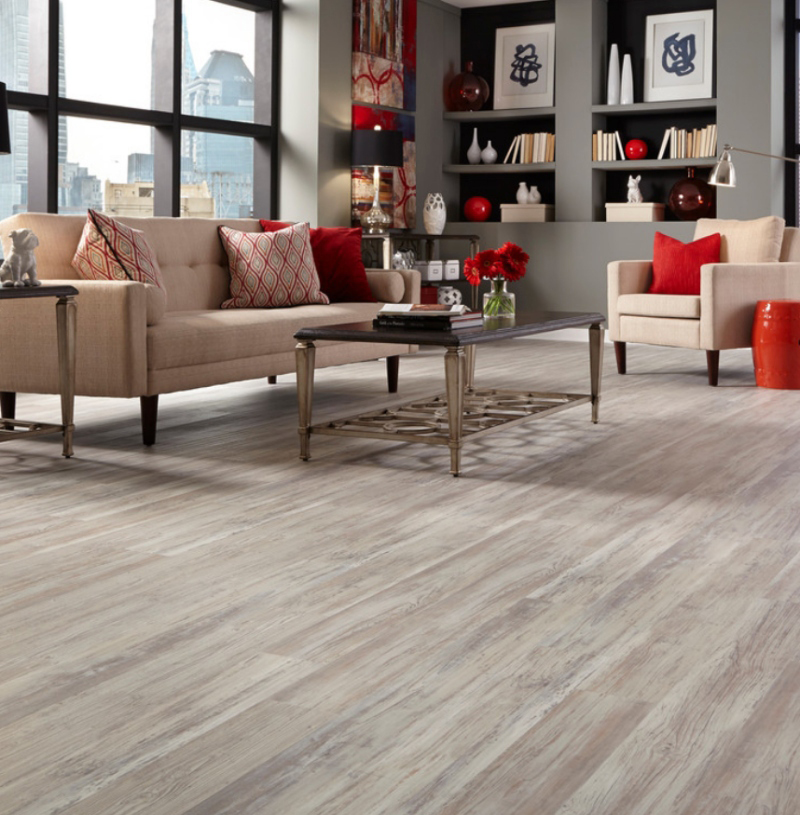 Photo Credit: Houzz
Whether it's exploring the best-in-class warranties that MSI has to offer or another esteemed flooring company, you definitely want the finest best-in-class warranties available. Ultimately, these ensure that you are getting the most for your money, meaning you can trust them to outperform traditional hardwood floors and other laminates year after year. You want the best for your home, so these warranties are critical—not just for a peace of mind, but also so you know you are installing an investment that will last a lifetime.
When it comes to installation, you also want to remember that you have an option between a floating vinyl plank or a glue down flooring application. Floating planks are wonderful for smaller rooms, like bathrooms, laundry rooms and even some bedrooms. Glue-down applications are typically best for larger areas, like living rooms or larger kitchens, as they can offer more durability. Naturally, glue-down options make great selections for tinier rooms, too—but deciding on the right pick is a choice you as a homeowner must make. A lot of times, floating vinyl planks are ideal for subfloors with imperfections and can be easily attached with a rubber mallet. Glue-down is inherently more permanent in design and often times requires top tier professional guidance with installation.
At the end of the day, you want to ask yourself some important questions at the beginning of your LVT search. What type of room is this flooring going to go in? What are your décor goals? And what overall feel do you want your flooring to be? Determining your "macro" goals at the onset can help you arrive at more streamlined decision-making, since it's very possible to become lost in the myriad of possibilities with luxury vinyl tile flooring.
Yet when considering aforementioned factors such as tile size, edge finishing, thickness, best-in-class warranties and floating versus glue-down—you can certainly arrive at the best LVT conclusion. Living in this exciting time when luxury vinyl is truly having a heyday, your options are endless regardless of your needs, preferences and aesthetic. Narrowing down choices becomes easy when you're clear on what you want, so begin your checklist today so you can arrive at the perfect fit!
More on Luxury Vinyl Tile
What Is Rigid Core Luxury Vinyl Flooring?
Luxury Vinyl Tile: The XL Cyrus Series
Is Luxury Tile the Same as Linoleum Flooring?
What's not to love about low-maintenance vinyl flooring? As lovely as they are, they won't clean themselves. To keep your Luxury Vinyl tiles and Planks looking their best through the years, follow these handy Luxury Vinyl care and maintenance tips.
Are you interested in Luxury Vinyl Tile for your home? Here are some options on where to purchase Luxury Vinyl Tile. And most LVT brands and manufacturers offer a search feature on their website to find luxury vinyl tile dealers near you.