Luxury Vinyl Tile Vs. Hardwood Flooring: Only You Know The Difference
June 11, 2019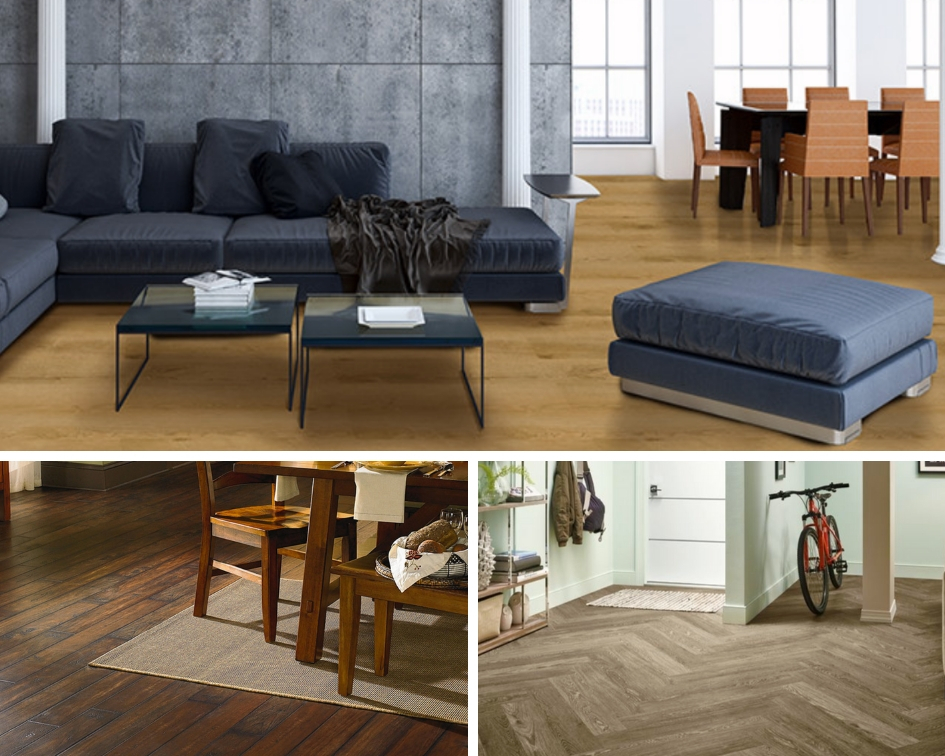 Hardwood flooring is considered the pinnacle of tasteful decorating — its beauty never goes out of style. It has some drawbacks, though, that may make you consider installing luxury vinyl tile instead.
A wood floor is a bit of a "princess" when it comes to daily living. You have to be careful not to scratch it or get it wet, and you should use specialty cleaning products that won't strip the finish. Plus, it needs occasional deep cleaning and sealing to maintain its shine and give it a little protection from wear and tear. You could always refinish it if it gets messed up, but who wants that hassle?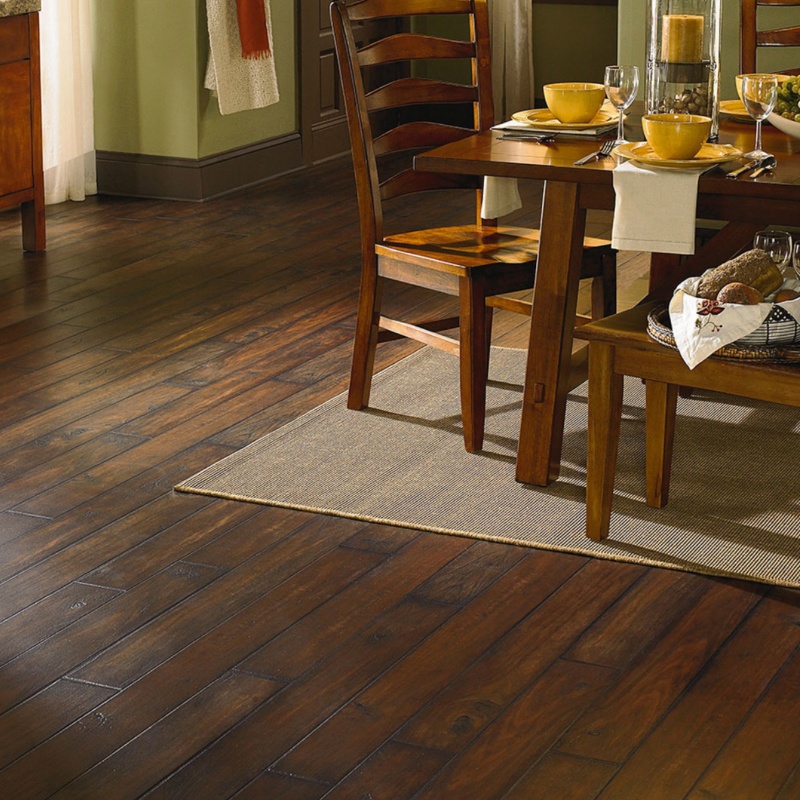 Create this look with MSI's Braly Luxury Vinyl Tile (Photo Credit: Houzz)
Luxury vinyl tile (LVT), on the other hand, has many advantages. It's durable and low-maintenance, and can stand up to heavy foot traffic and messes from your family and pets. LVT is easier to install than hardwood, by far. And when it comes to the cost, LVT is the winner, hands down.
But what if you love the look of hardwood flooring? LVT is available in planks that reproduce wood in a variety of colors and patterns. How close does it come to mimicking real wood? Near perfect. D
In other words, luxury vinyl tile solves all the problems you'll encounter with hardwood flooring — and nobody will be able to tell that it's wood-look LVT.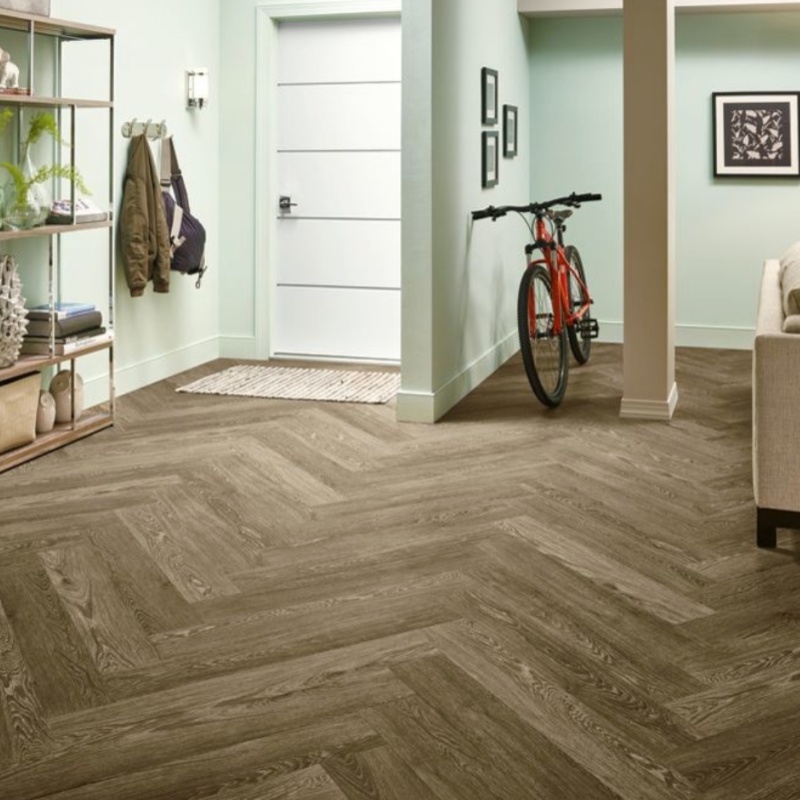 Get this look with MSI's Ryder Luxury Vinyl Tile (Photo Credit: Houzz)
How Does LVT Look So Much Like Real Wood?
It's impressive that a man-made, manufactured product can so closely resemble the natural wood produced by Mother Nature. Today's technology has made it possible for modern tile to mimic nearly any flooring material, such as marble, travertine, slate, and of course, wood.
LVT isn't made to look like just one type of wood, either. You have a choice of nearly any wood available for creating real hardwood floors, such as oak, maple, birch, pine, elm, hickory, and acacia. These are available in a range of shades as well, from pale white with just a subtle hint of wood grain to planks so dark they're nearly black. Vinyl plank flooring faithfully reproduces the wood grain, including the knots. You can even choose wood-look LVT with a weathered look, like reclaimed barn wood.
You may have seen vinyl tile in the past that was made to resemble wood, but was obviously fake. Luxury vinyl tile is different. The inkjet printing process gives it a highly detailed pattern, and it actually appears to have depth that's lacking in lesser vinyl flooring products. Some LVT even has a texture that resembles real wood.
High-quality LVT goes one step further to ensure your final installation looks exceptionally realistic: It's manufactured with a variety of patterns, so not every vinyl plank is going to look identical. When you alternate them carefully and align them in a staggered pattern, the result is as authentic as you can possibly get. You can even install them in parquet-like patterns if you like, such as herringbone, just like you would with real wood planks.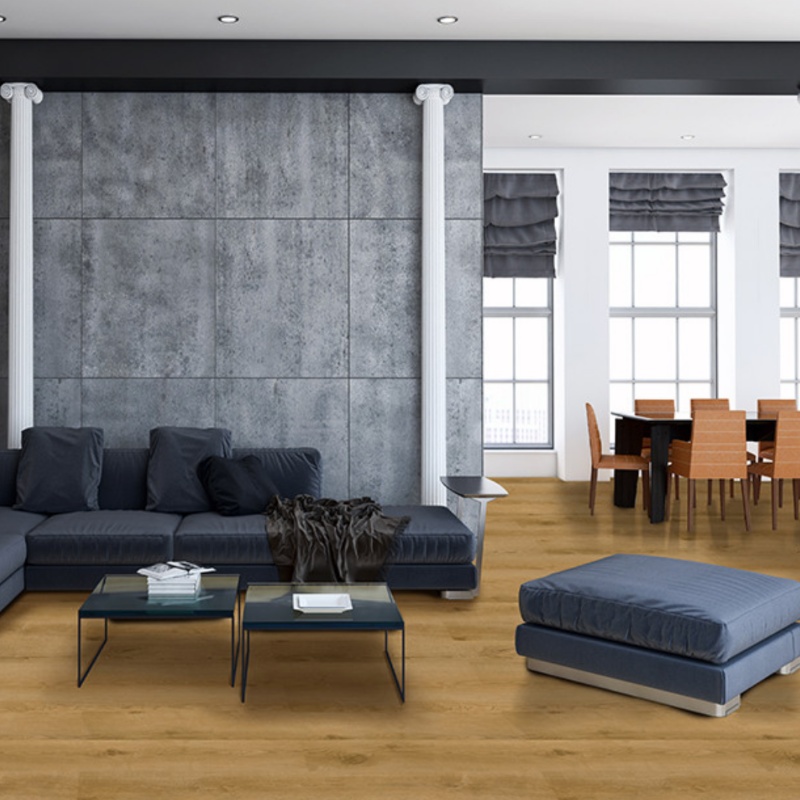 Recreate this look with MSI's Tawny Birch Luxury Vinyl Tile (Photo Credit: Houzz)
Now that we've explained how LVT realistically reproduces the look of real hardwood flooring, here are a few reasons that luxury vinyl tile is often a much better choice for your home.
Durability
Wood flooring is unquestionably gorgeous, but there are some places it's not such a good choice. These include bathrooms, kitchens, laundry rooms, and mud rooms. Depending on your family, wood flooring might not be a wise idea for living areas either. If hardwood flooring gets wet, it can warp and discolor. Even refinishing might not fix that damage; you'd have to replace the plank and hope it matches.
LVT, on the other hand, is a hard worker. Spills won't damage it. Bath time splashes are no problem either. Dogs and kids with muddy paws and feet won't make you cringe, because cleanup is a breeze. LVT holds up to heavy foot traffic and active play. It even causes less damage, because if you drop something, it's less likely to break on LVT.
Installation
Installing a hardwood floor isn't a good job for DIY-ers. Even professional contractors must be screened because not everyone knows what they're doing. There's little room for error, and a lot of opportunities to mess it up.
LVT floors can be installed by anyone who is willing to follow directions and patiently take their time. Wood-look planks fit together perfectly, and they are flexible, so they're easy to maneuver. Wood has to be sawed to fit; LVT can be cut with a knife, which is a great feature for those whose rooms aren't quite square or have obstacles to work around.
Care
The care required to keep your flooring clean and beautiful is where LVT really shines. Hardwood has rules you must follow: Don't use wet mops or steam cleaners, clean up spills immediately, use products specially formulated for hardwood flooring, and refinish when they look dull and dingy.
Daily care of LVT is easy. It doesn't absorb liquid, so it resists stains, mold, and mildew. You can use a variety of cleansers to keep it hygienic, and it never needs sealing or waxing.
Cost
The price difference between vinyl tile that looks like wood and hardwood flooring is dramatic. Prices vary according to region, but it's safe to say that, including installation, hardwood flooring can cost twice to three times as much as LVT, and you can save even more by installing LVT yourself.
Do you get what you pay for? LVT lasts between 10 to 20 years before it needs replacing. On the other hand, when it's cared for properly, hardwood flooring can last for generations. The trick is caring for it properly because it's so easy to damage a hardwood floor. Over time, hardwood flooring can require an even bigger investment due to the expense of resealing, refinishing, and repairing.
Today's Luxury Vinyl Tile shows many advancements over the products sold in the past, and the technology faithfully reproduces a huge variety of wood flooring, including exotic varieties. Hardwood flooring is a beloved, traditional choice, but busy families will appreciate the versatility and easy cleaning LVT offers. The durability, cost, easy installation, and low maintenance needs make LVT a winner.
Check out this luxury vinyl tile pricing guide to learn more about costs. And here are some options on where to purchase Luxury Vinyl Tile.
Are you still deciding which vinyl flooring is right for you? Learn the differences between Luxury Vinyl Plank and Luxury Vinyl Tile. LVT Flooring provides upscale looks for homeowners of all incomes. Learn more about the latest Luxury Vinyl Tile trends and styles.
More on Vinyl Plank Flooring vs. Hardwood
MSI's Luxury Vinyl Plank Flooring Bridges the Gap Between Vinyl And Hardwood
It's Decision Time! Hardwood Floors Or Luxury Vinyl Planks?
MSI Rigid Core Vinyl Plank Flooring - Low Cost, Durable Hardwood Looks