Is LVT Flooring In The Bathroom A Good Idea?
October 11, 2018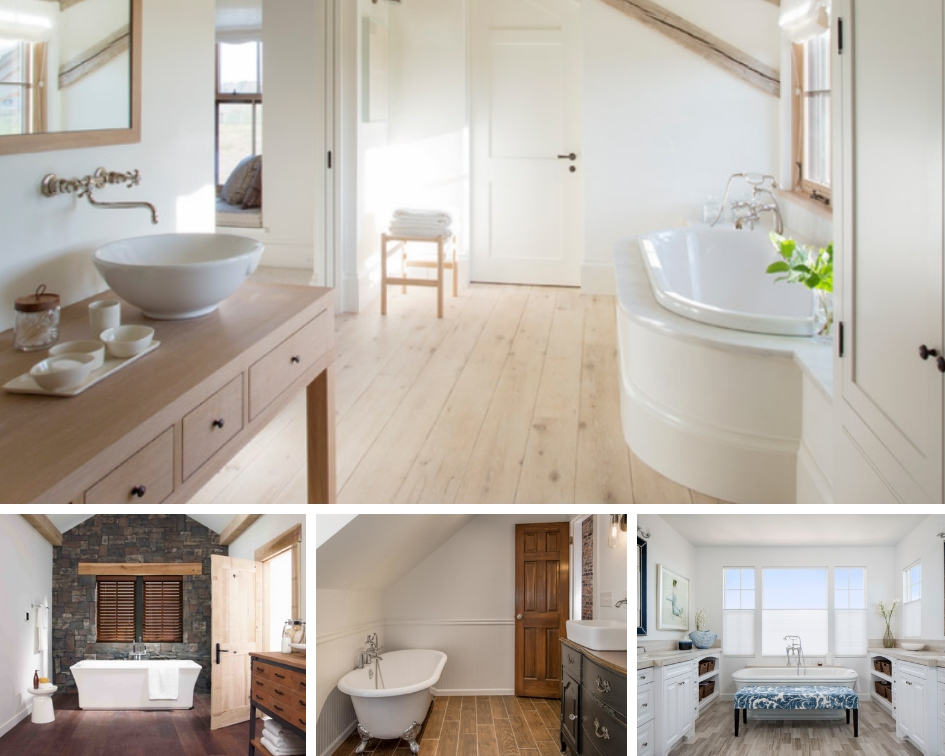 One of the main concerns homeowners have about installing tile in the bathroom is whether or not it's waterproof or moisture resistant. With Luxury Vinyl Flooring, you're in luck because it's 100-percent waterproof! Whereas you would worry about splashes, leaks, and humidity damaging laminate, engineered hardwood, or real hardwood, water is no problem for LVT flooring. But its ability to resist moisture isn't the only reason why this affordable and stylish option is a great idea for the bathroom.
Luxury Vinyl Tile is easy and quick to install. Plus, you don't need messy mortar or grout like you would with ceramic or porcelain tile. The vinyl plank flooring is smaller to maneuver around those tight spaces in the bathroom and also easier to cut.
Another benefit for the bathroom is that vinyl flooring doesn't get as cold as natural stone tiles do. Since they stay closer to room temperature, you'll be more comfortable walking into the bathroom barefoot on your Luxury Vinyl Flooring. They also aren't as hard on the joints as luxurious marble or another stone. The softer material provides more give when walking on them, so your knees and ankles will thank you!
The colors and installation ideas are just as attractive. And because they can be more affordable, homeowners can install LVT flooring from the floors to the walls and still stay within budget!
Elmwood Ash Wilmont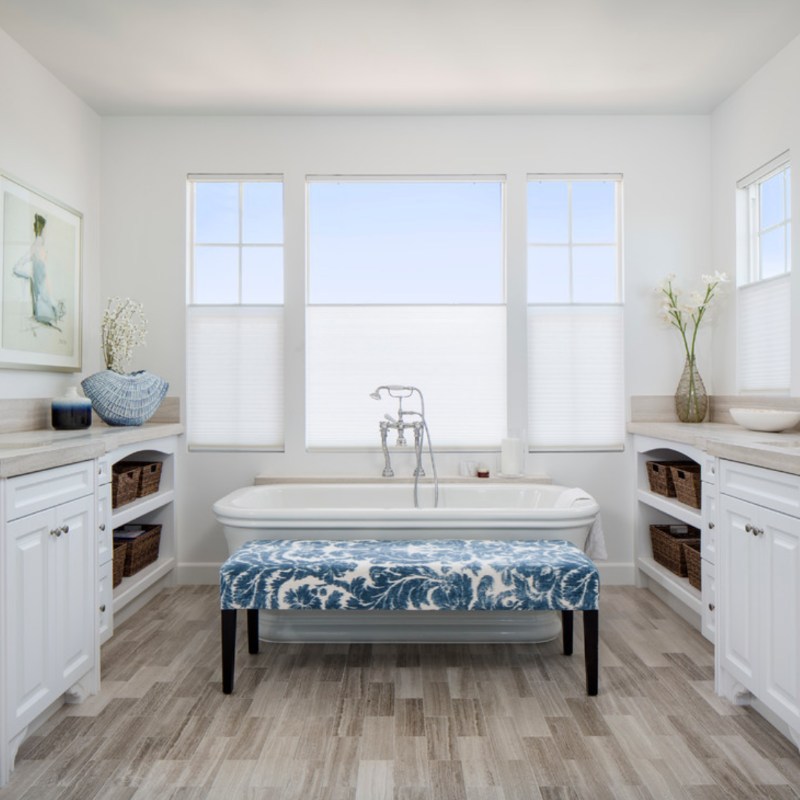 Recreate this look with MSI's Elmwood Ash Luxury Vinyl Tile (Photo Credit: Houzz)
Real wood would be a nightmare in the bathroom, especially when you have a freestanding tub where spills and splashes are likely to happen often. However, Elmwood Ash Wilmont LVP, similar to that above, is a homeowner's dream! The 6x48-inch vinyl planks feature pretty greys and blues with subtle wood-look knots and grains. Even if you were to carefully use a bench like the blue-and-white one when getting in and out of the tub, your LVT floors still wouldn't get damaged!
Fauna Prescott

Recreate this look with MSI's Fauna Luxury Vinyl Tile (Photo Credit: Houzz)
LVT flooring offers an authentic wood appearance without the worries that come along with real wood. Fauna Prescott offers 7x48-inch waterproof planks in light brown tones complemented by dark brown knots and grains. It's one of the more traditional hues that could be in this historically inspired bathroom.
Charcoal Oak Wilmont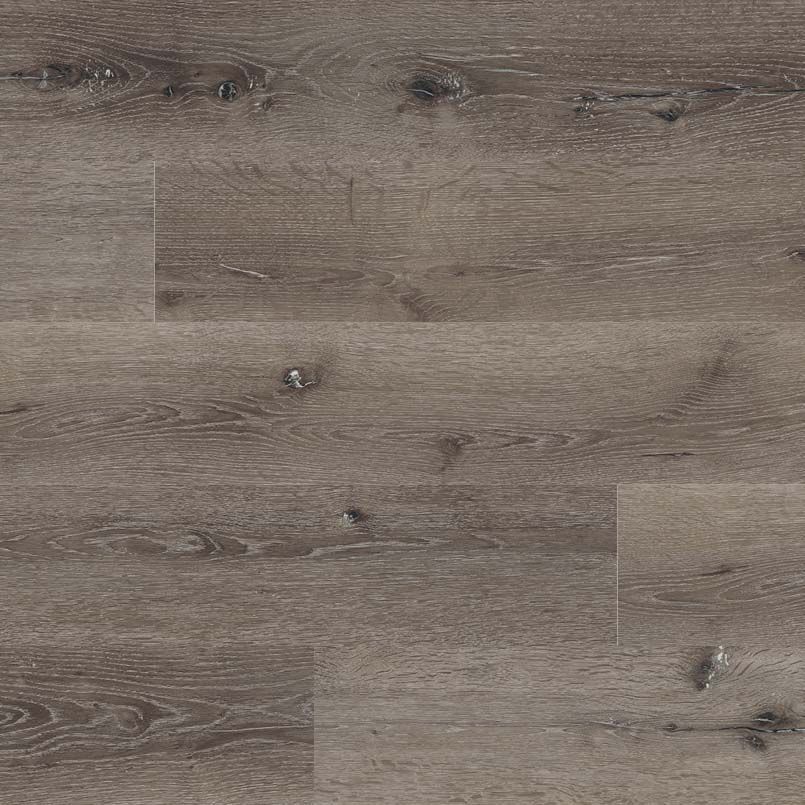 Featured: Charcoal Oak Luxury Vinyl Tile
When you get a closer look at LVT, you can see exactly why guests will be convinced that you have the real thing installed in your bathroom. Charcoal Oak Wilmont features greys and greiges with subtle wood-look accents, and as you can see, the knots and grains look so genuine and gorgeous. The extremely durable glue-down vinyl planks come in 6x48- and 7x48-inch sizes to suit your style and space.
Burnished Acacia Glenridge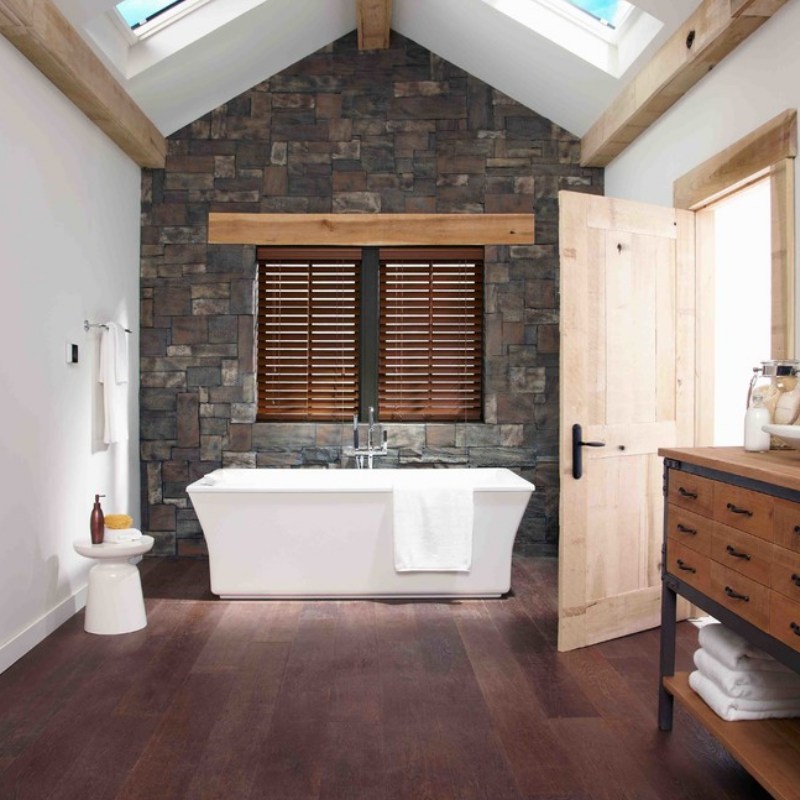 Recreate this look with MSI's Burnished Acacia Luxury Vinyl Tile (Photo Credit: Houzz)
LVT flooring also comes in rich tones that help anchor a room. Burnished Acacia Glenridge Luxury Vinyl Plank Flooring, similar to that in this rustic bathroom, comes with gorgeous graining against the deepest browns for an authentic look just like real acacia wood. The beautiful planks might as well be the 6x48-inch, glue-down vinyl floor tiles, and it makes you wonder if the stone feature wall and wood beams could also be faux!
Twilight Oak Glenridge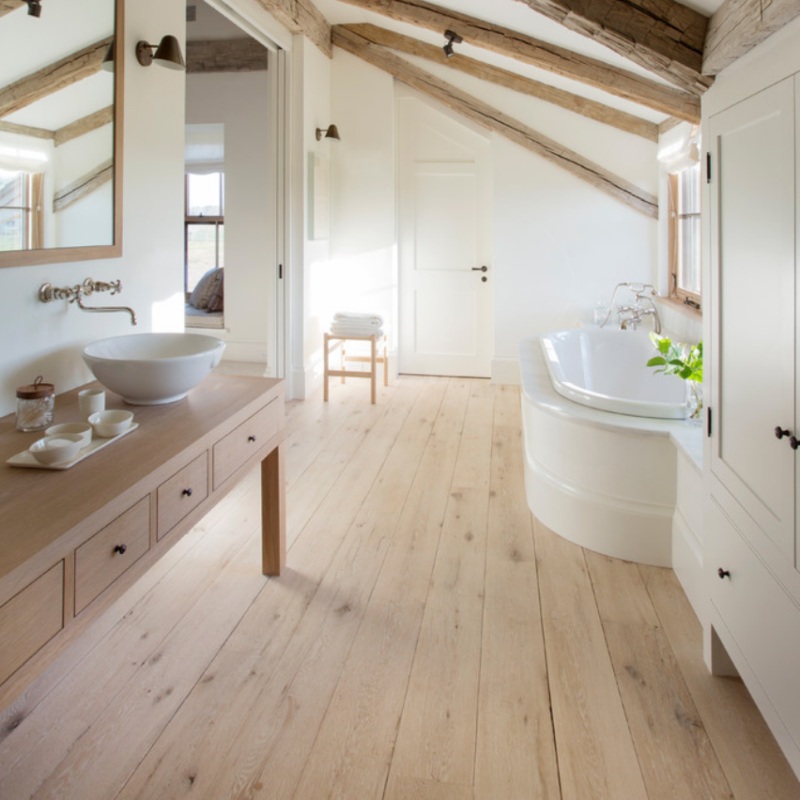 Recreate this look with MSI's Twilight Oak Luxury Vinyl Tile (Photo Credit: Houzz)
The light woods and whites in this airy bathroom scream Scandinavian design. While the floors may not exactly be Twilight Oak Glenridge, this LVT will create a similar effect. It includes a soft gray background with strokes of white, and the barely-there knots and grains contribute to the authentic, weathered-wood look. Adding the 6x48-inch, glue-down flooring to a bathroom like this one could be done in as little as a day because of its easy installation.
LVT flooring is ideal for bathrooms because of benefits like easy installation methods, extreme durability, and being 100-percent waterproof. It's also an inexpensive bathroom upgrade that is easy to maintain. Check out the entire LVT collections online or at your local MSI showroom.
More on Vinyl Flooring
What are the Advantages of Vinyl Plank Flooring?
5 Luxury Vinyl Tile Trends for 2021
Different Types of Vinyl Flooring
Signature Wood Look Luxury Vinyl Flooring Without the Worry