The Biggest Trends In Backsplash Tile
June 11, 2018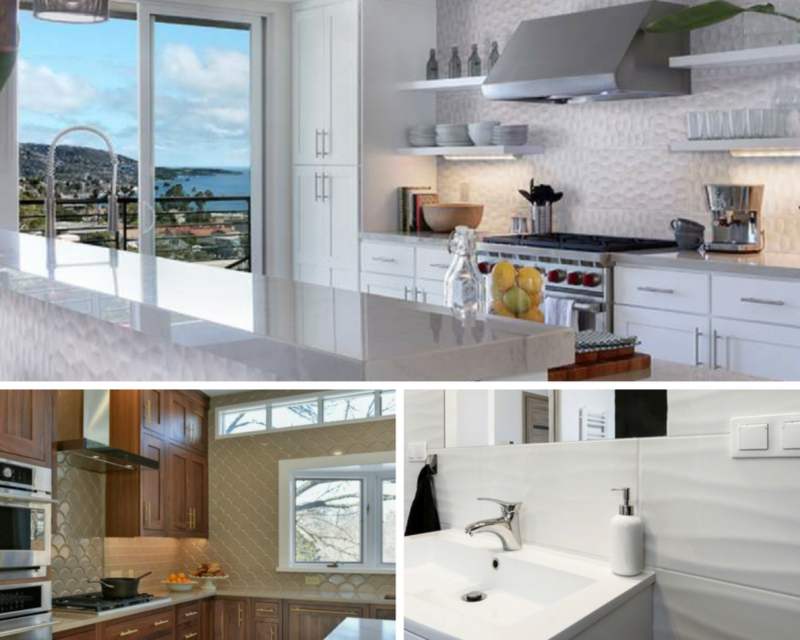 Today, backsplash tile serves two main purposes —to protect drywall from moisture and to add character and class to the overall design. Over the years, backsplash tile has evolved from simple white- or bone-hued squares and subway shapes—whose main purpose was to protect—to today's texture-, color-, and pattern-rich tiles, which are crafted to be the center of the design.
Just like these prime 2018 home trends, gorgeous backsplash designs are of the moment. On top of that, they are a perfect strategy for updating your home to reflect your style. Backsplashes are already a must-have for any kitchen and bath but are also a savvy addition to other areas that are prone to moisture damage, such as laundry rooms.
But besides their functionality, backsplashes have the power to tie together any design, or even be the showstopper in the room! With that in mind, let's take a look at some of our newest on-trend backsplash tile designs.
Opposites Attract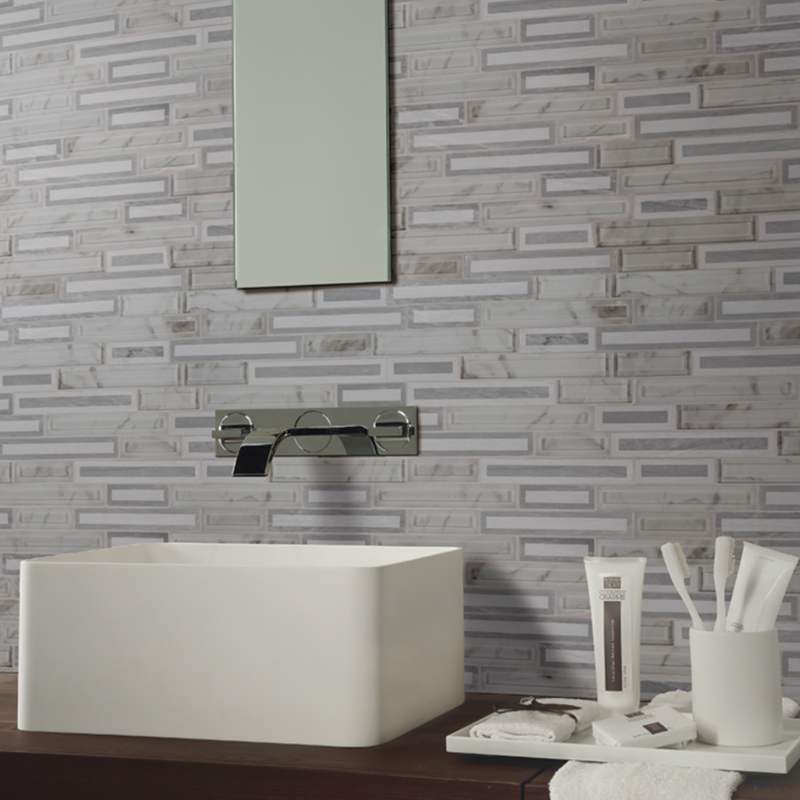 Featured: Blocki Grigio Mosaic
What do you get when you take the traditional beauty of natural stone and fuse it to the contemporary edge of glass? Why, a stunning combination of texture, color, and pattern, of course! Marrying two unlikely materials is a hot design trend right now.
These unexpected pairings add character and bridge the gap between design styles. That's exactly what our designers had in mind when they created Blocki Grigio Interlocking backsplash tile. Soothing tones of gray are highlighted by the sleek interlocking pattern, exuding a unique, artistic style.
With the addition of modern fixtures and a traditional countertop, this tile's blend of classic and modern materials bridges the gap between traditional and contemporary exceptionally well.
Pattern Play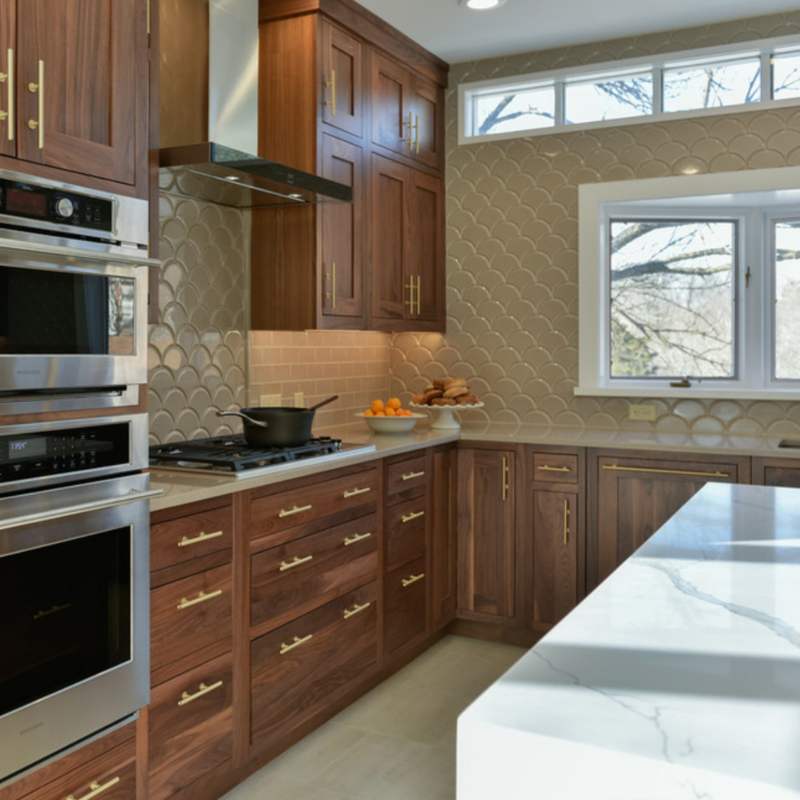 Create a similar look with MSI's Almond Fish Scale Mosaic and Almond Subway Tiles (Photo Credit: Houzz)
Linear patterns aren't the only on-trend backsplash designs; in fact, many designers are softening the sharp edges of kitchen cabinets, appliances and even windows with playful rounded tiles in geometric patterns.
Here, where vertical and horizontal lines dominate the space, the rounded edges and scalloped effect of our stunning Almond Fish Scale Mosaic balance the look and partner beautifully with the matching, traditionally inspired Almond Subway Tiles.
The room's nature-inspired palette is muted, but the glossy finish of these backsplash tiles reflects the light to create a warm yet airy space.
Super-Size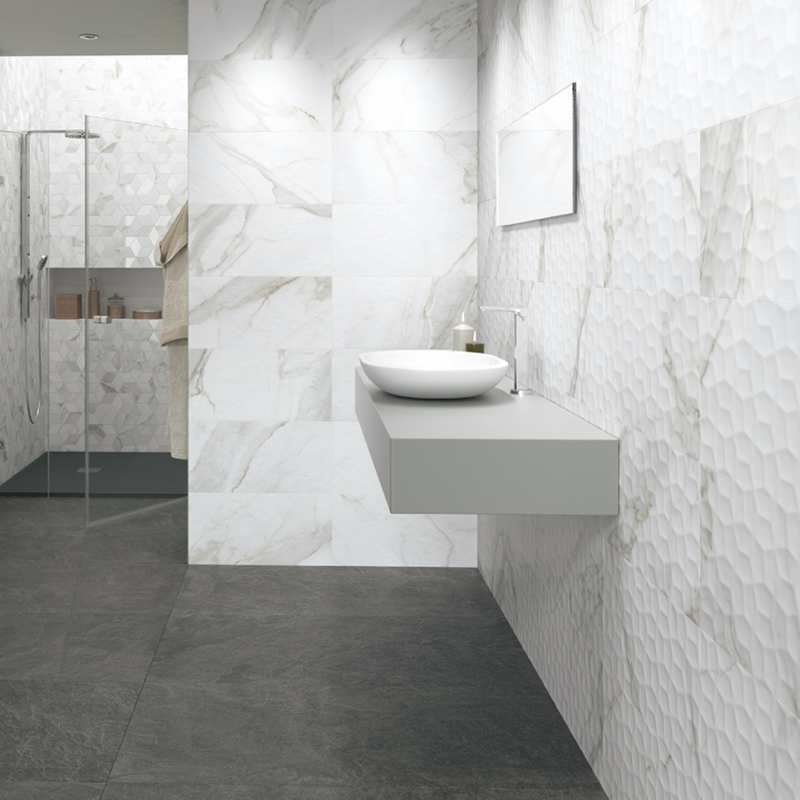 Featured: Adella Visio Gris Ceramic
Here's a little design secret. Large-format tiles may be hot in design circles for their good looks, but they're also a cinch to clean. Plus, they give the illusion of a more expansive surface. Among these jumbo beauties, you could go with a smooth surface, or you could choose one of our new 3D textured tiles for your project. Either is a winning choice!
In this sun-soaked white kitchen, our Adella Viso Gris satin-finished large-format tiles add a much-needed artistic element to a kitchen with otherwise smooth, flat surfaces. Adding to the character of the kitchen backsplash and bar front is the way it was installed—look closely and note that the tiles are installed in alternating directions, with grout in a matching tone.
Optical Illusions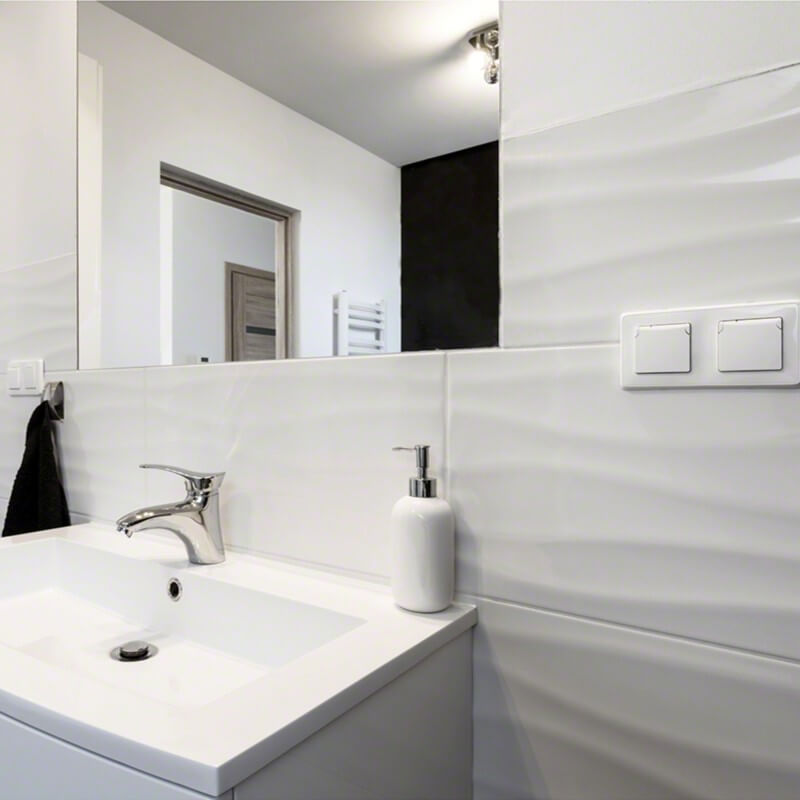 Featured: Wavy White Dymo Ceramic
Another choice in our line of 3D-large format tiles is Dymo Wavy White with a glossy finish. Installed horizontally, it evokes the gentle, undulating movement of water or clouds. In this all-white modern bathroom, the tile adds a much-needed textural element that moves the space beyond being one note.
Install with the 3D pattern going in the same direction for a soothing backdrop, or alternate the direction to bring more attention to the tile backsplash.
Hit the Wall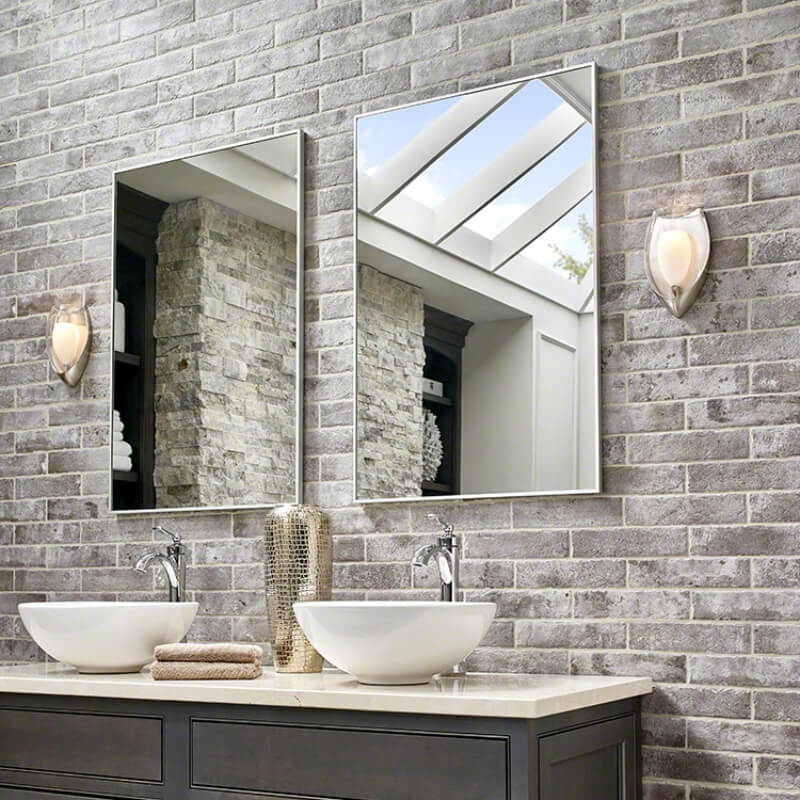 Featured: Taupe Brickstone Porcelain
What is old is new again, with designers and homeowners striving to add a touch of Old World or rustic design to contemporary spaces. Nothing demonstrates this better than natural stone split-face tiles or brick-look tiles. In this charming bathroom, our Brickstone Taupe brick-look porcelain tile adds both character and texture.
Paired with large, modern mirrors and curved wall sconces and vessel sinks, the effect is at once elegant and contemporary.
A bonus? This porcelain backsplash tile never requires sealing or special care like traditional brick, making it perfect for bathrooms and kitchens inhabited by active families.
Are you inspired to try one of the biggest trends in backsplash design? Do rustic chic brick-look tiles appeal to your senses, or do contemporary-inspired 3D large format tiles better complement your personal design? Whatever your preference, these backsplash trends are perfect for adding character, texture, pattern, and color to any room and any design style.
READ MORE ABOUT MSI BACKSPLASH TILE
Standout Kitchen Backsplashes With 3d Mosaics
Steps To Prepping The Wall For A Kitchen Backsplash
Subway Backsplash Tile Goes From Timeless To Trendy