Fun Designs To Try With Modern Porcelain Tile
April 07, 2018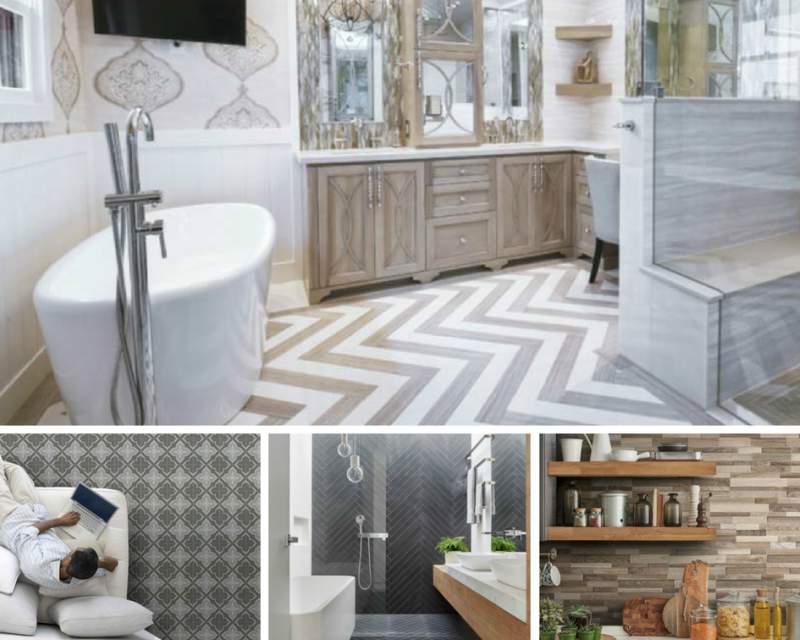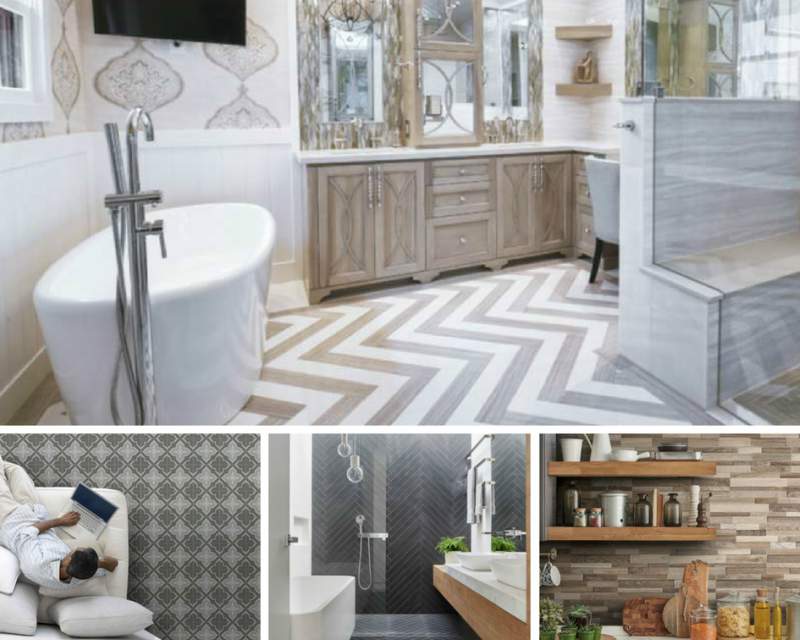 Porcelain tile has been a staple in home design for centuries. And as you'll see here, it is still a desirable material that is durable and exquisitely beautiful…but with a modern twist.
As styles evolve, porcelain designs do too, capturing the essence of high-style in any space it is installed. Bathrooms, kitchens, entries, and living spaces can all be transformed effortlessly with modern porcelain tile designs that enliven your style with their color, pattern, and texture.
Some of the key benefits of porcelain tile are that it is sturdy, easy to clean, and requires no ongoing maintenance. These are the very qualities that have drawn homeowners and designers to this versatile material again and again over hundreds of years.
And today, with the advent of modern engineering and manufacturing, printing tiles with unique patterns makes a wide range of high-style tile options available to anyone with an eye for design. Let's take a look at some of our favorite porcelain tile looks.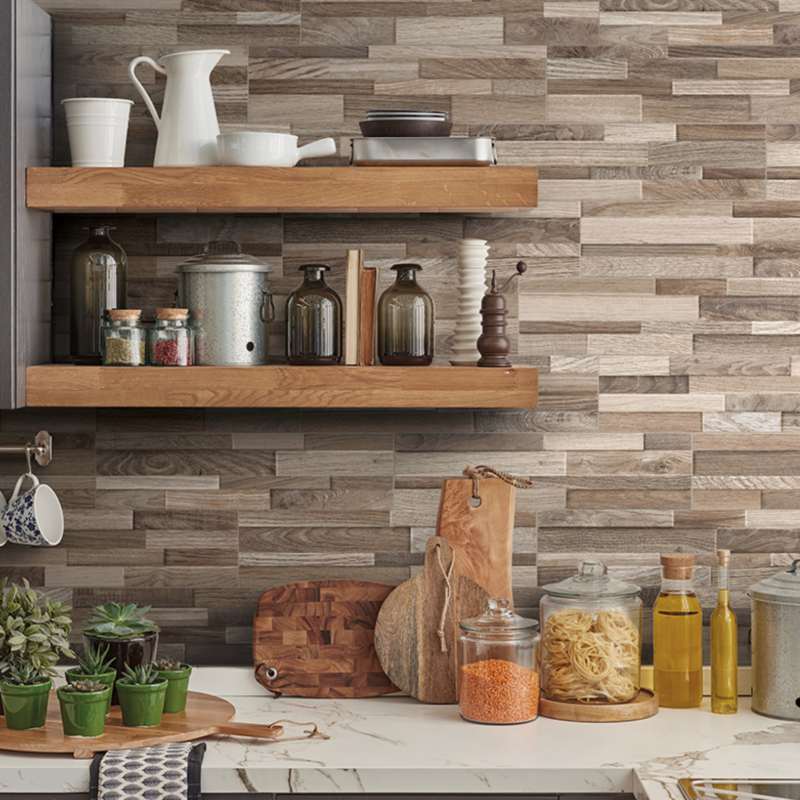 Featured: Rainforest Taupe Porcelain
Reclaimed hardwood walls are all the rage, and for good reason. They add texture, warmth, and character to any room. However, real wood isn't the most practical material, particularly in bathrooms or kitchens—but that's precisely where our gorgeous Rainforest Taupe Porcelain tile shines!
While this may look like an intricate pattern that took eons to install, the truth is that this modern porcelain tile comes in 6x24 planks that are printed in a pattern that resembles reclaimed hardwood. In other words, it's quick and easy to transform your bathroom, kitchen, or outdoor haven into the rustic and natural haven you're dreaming of.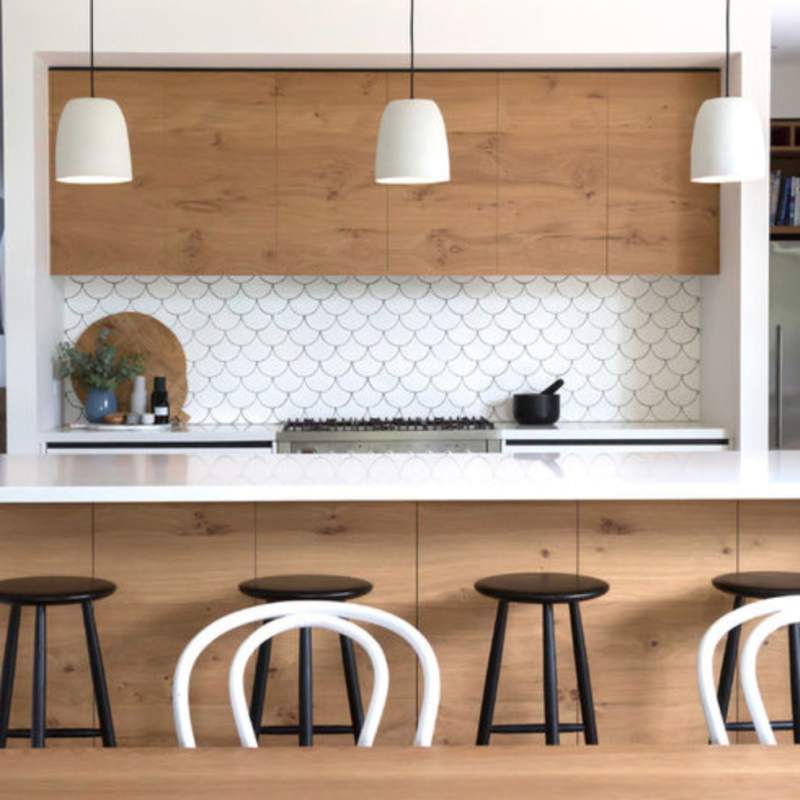 Recreate this look with MSI's White Glossy Fishscale Porcelain (Photo Credit: Houzz)
If you desire a subtler modern porcelain look, look no further than our White Glossy Fish Scale Porcelain tile. In this modern kitchen, the pleasing shape adds both texture and character, and the contrasting dark grout makes the repetitive pattern the star of the space.
Installation of individual fish scales tiles would be painstakingly difficult and frustrating. In contrast, these tiles are mesh-backed and interlock to create a seamless, perfect installation.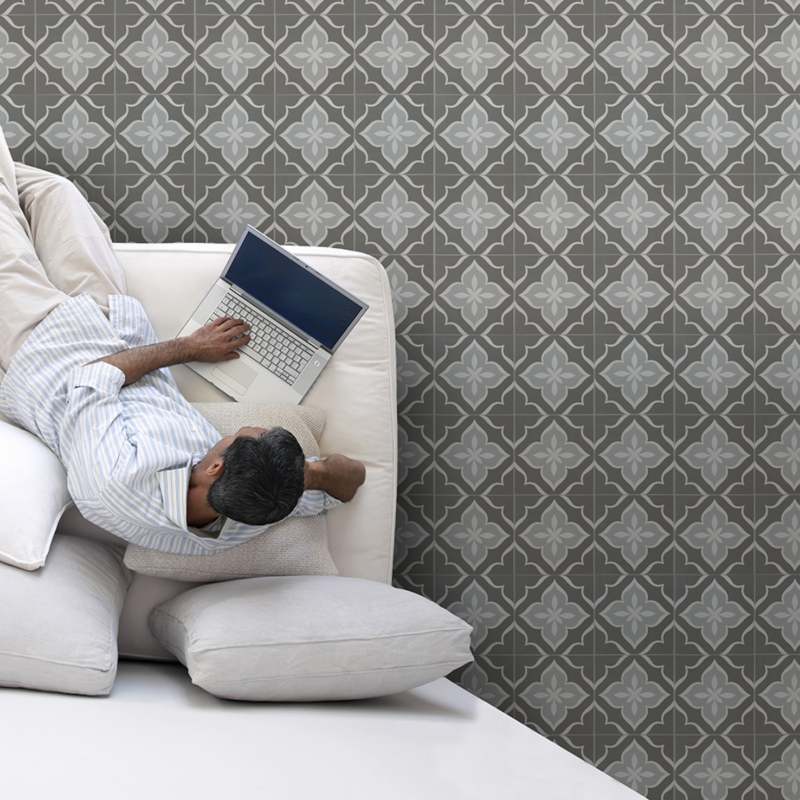 Featured: La Fleur Kenzzi Porcelain
To completely side-step subtlety and really jazz up your space with an on-trend pattern, La Fleur Porcelain tiles from our Kenzzi Collection is the perfect choice. What could be more striking than this combination of on-trend modern gray tones in a classic flower pattern?
As featured in this relaxing living space, this modern porcelain tile is definitely the star of the show. Furnishings and accessories are kept in solid, muted tones so as not to compete with the floor tile. Each tile includes all four flowers that make up the pattern, making installation a breeze.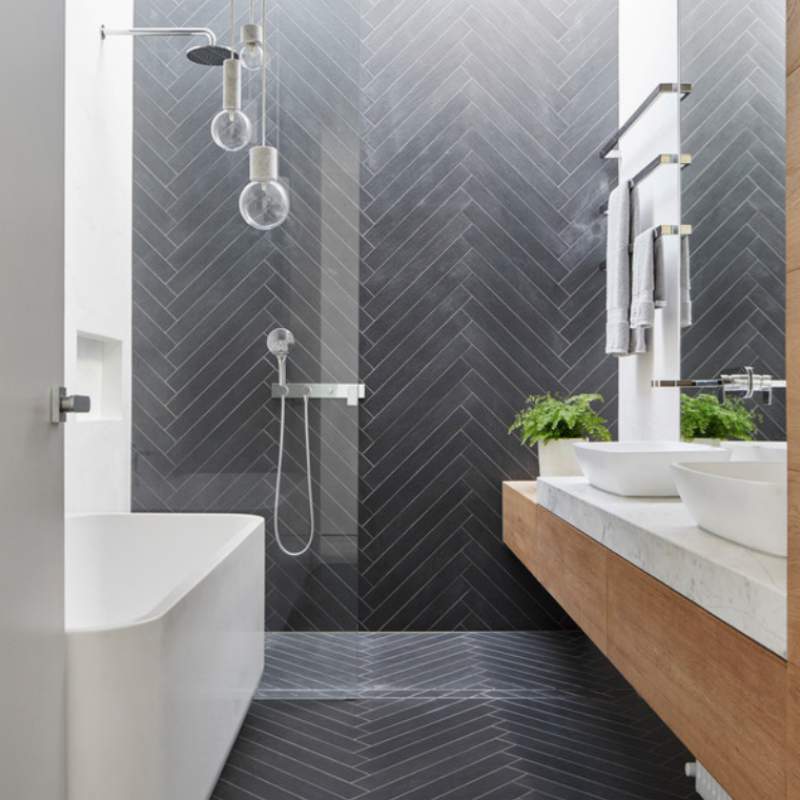 Get this look with MSI's Focus Graphite Porcelain (Photo Credit: Houzz)
Traditional herringbone pattern wood or tile floors have always been considered a thing of beauty, with the style dating back hundreds of years. The craftsmanship and effort required to create this pattern centuries ago is staggering to consider.
Fortunately for modern homeowners, innovation has made the installation of this pattern easy and stress free. Our Focus Graphite Porcelain tile complements this pattern dreamily, making it the perfect modern bathroom design inspiration. In this narrow space, the tile and the pattern work together to give the illusion of both depth and height, making this spa-like bathroom feel more expansive.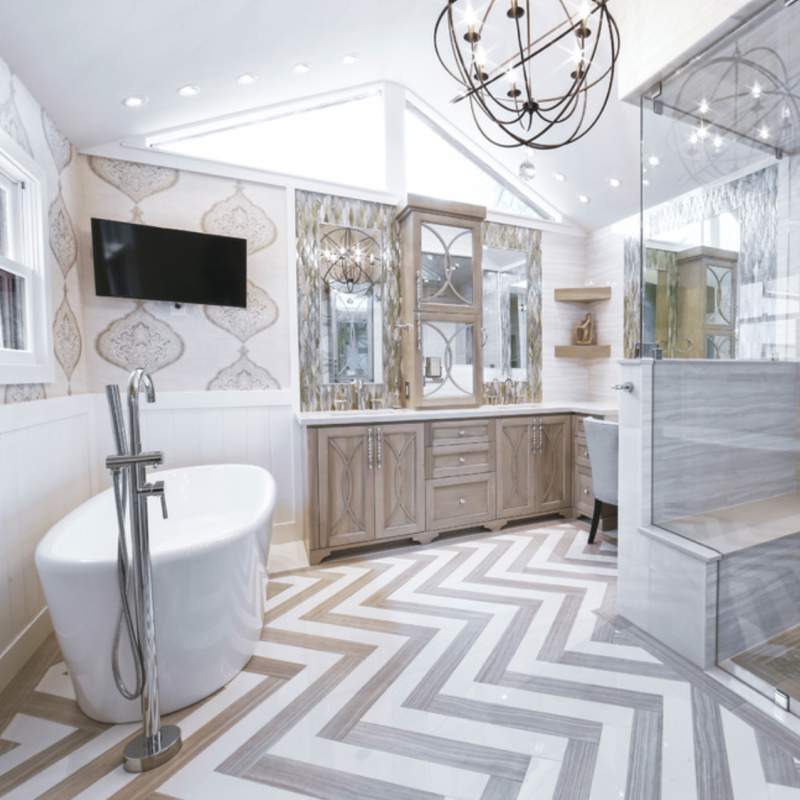 Recreate a similar design with our Focus Porcelain Tile Collection (Photo Credit: Houzz)
In the porcelain vs. ceramic tile debate, it really just comes down to what fits your lifestyle and design style. Porcelain designs are available in an array of patterns and colors, making it a cinch to find just the right one to create your perfect space.
The best part is that painstakingly installing individual tiles in order to create intricate patterns is no longer necessary; innovation and updates in manufacturing tools have allowed us to provide you with exquisite porcelain designs that are ready for installation.
READ MORE ABOUT THE BENEFITS OF PORCELAIN TILE
Get the Look Of Athens Marble In A Durable Porcelain Tile
How to Get the Look Of Polished Cement In Porcelain Tile
How to Use Porcelain Tile In the Bedroom