Current Obsessions: Need Help Picking The Right First Impression?
August 25, 2016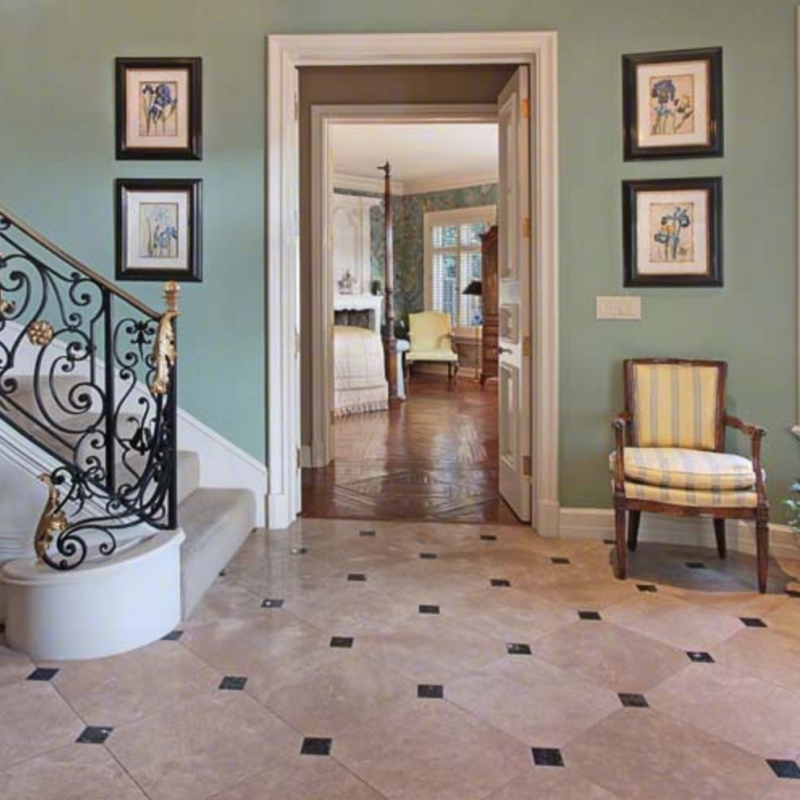 Foyers, or entryways, range through many shapes and sizes – from cozy vestibules to wide, sweeping halls. Regardless, they deserve extra attention when it comes to interior design, since they are the first and last place visitors see when they come to your home. As the saying goes, you never have a second chance to make a first impression!
The entryway can also be the most challenging room in the home to decorate. It's not quite a living space, but is a transitional area. First, consider how you'll use that room. Will it be purely decorative, a gallery in which to display your finest art and furnishings? Or does it need to be functional, with seating where family members can put on snow boots and a cubby to store kids' book bags?
Just because the space is functional doesn't mean it can't be beautiful, too. Choose furniture that integrates storage, and décor that offers a "preview" of the rest of the house's décor style.
Some other tips for designing an unforgettable foyer:
Install a mirror to make the space look bigger. It's also handy to take a last-minute peek at yourself before heading out the door.
Use bold pops of color to make a statement, in an otherwise neutral space – a colorful rug, a lamp, upholstered or painted furniture.
Fresh flowers, dried floral displays, or large potted plants add a lot of charm to any room, and the entryway is no exception.
Install dramatic lighting, such as a chandelier or pendant light.
If you have a two-story foyer, take advantage of vertical space to display large framed art, tapestries, or stained glass.
Along with these ideas, perhaps the most important way you can improve your foyer is by installing a beautiful floor, such as porcelain tile or marble. The surface beneath your visitors' feet is perhaps the first thing they'll notice when they come in the door; a great floor pulls together all of your other design elements.
Your entry flooring should also be easy to keep clean and in great condition, because it'll be standing up to lots of foot traffic and tracked-in water and dirt – so if your heart's set on a hardwood floor, we suggest porcelain wood tile instead. These options from MSI should give you some great ideas!
Gray Veneto
Featured: Gray Veneto
These durable, easy-care Gray Veneto porcelain tiles mimic natural travertine tile, featuring a linear veining pattern in shades of gray and taupe. Available in large format tiles and planks, it's well suited for covering large spaces. Its matte finish makes this tile colorway a great choice for casual, contemporary, and rustic décor.
Arabescato Carrara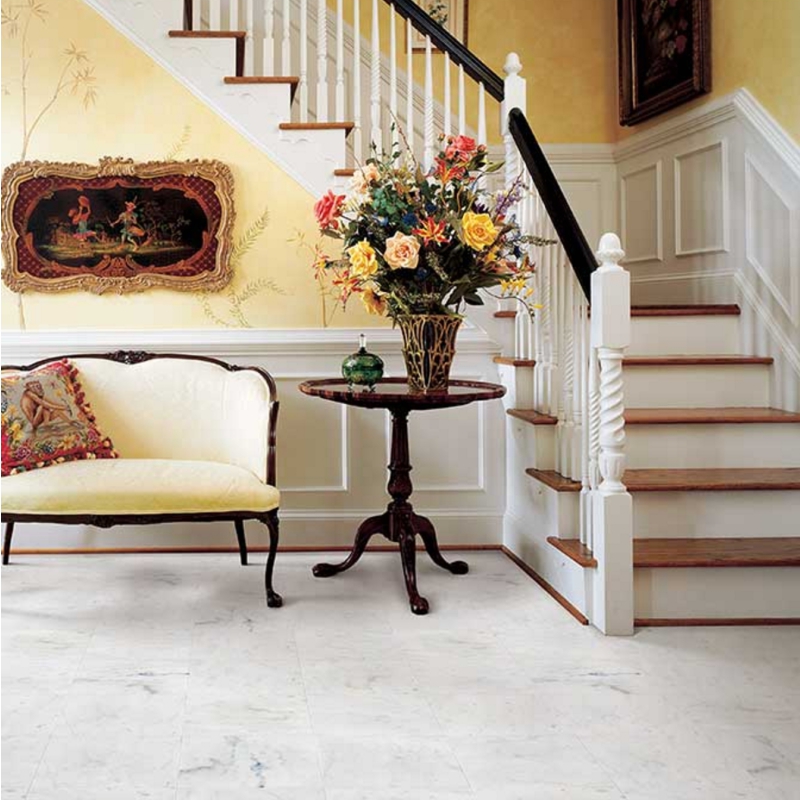 Featured: Arabescato Carrara
You can't beat the gleaming white finish of Arabescato Carrara for creating a classic, sophisticated entryway floor. This natural marble tile is available in slabs and many sizes of tile, including mosaics, and features swirls of white and gray. It's a durable material that is recommended for many uses within the home.
Beige Travertino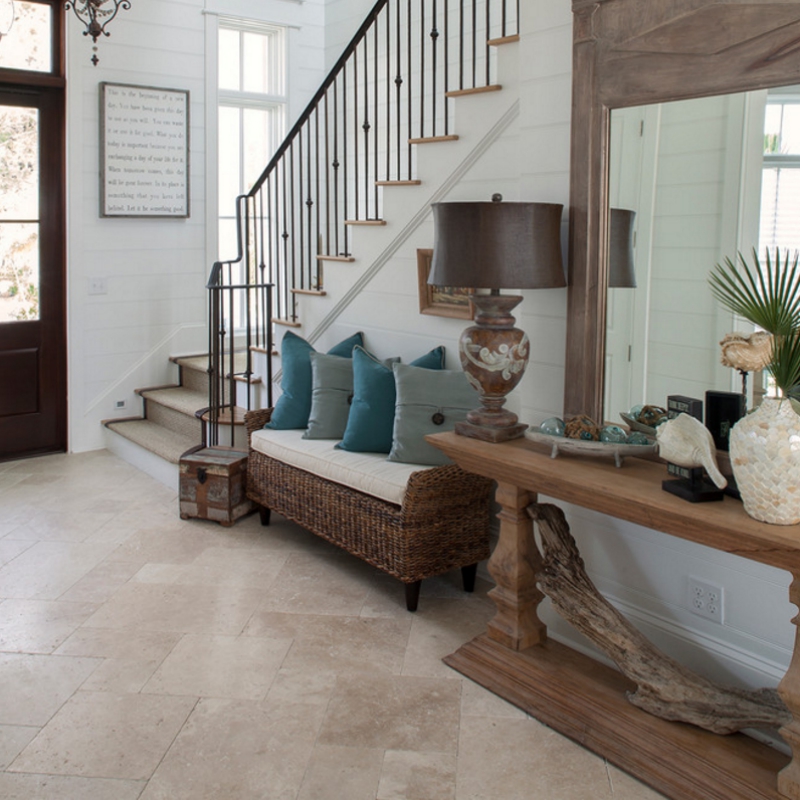 Featured: Beige Travertino
Easy-care porcelain with medium variation in tones of beige and cream, Beige Travertino is glazed for durability and shine. Available in a wide range of sizes, this tile works great in many rooms for counters, backsplashes and walls – and especially flooring.
Paradise Beige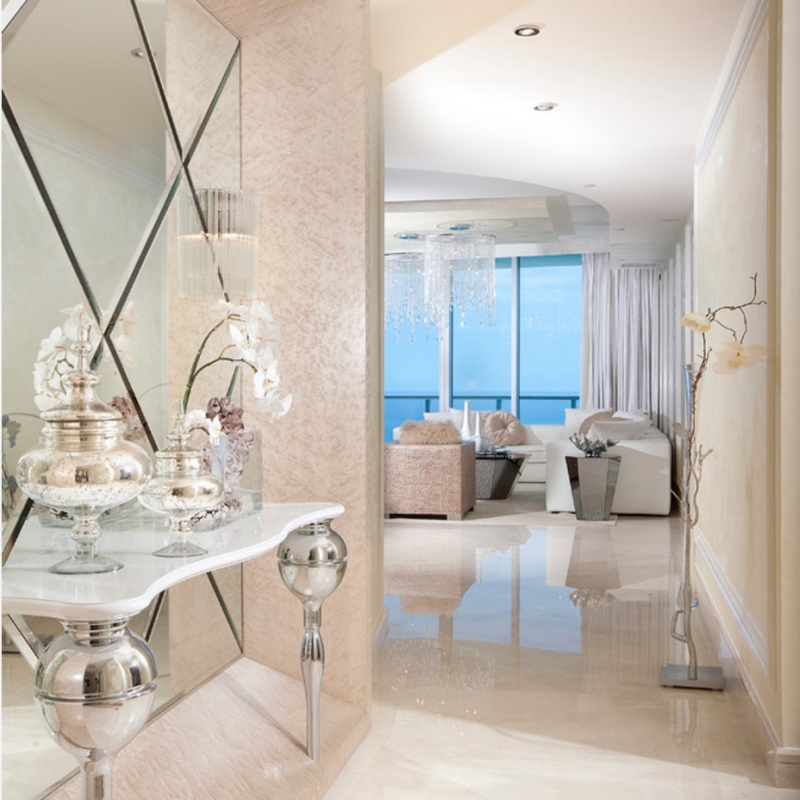 Featured: Paradise Beige
The cream-colored background of Paradise Beige is accented with veins of beige, with medium variation. Its polished, gleaming finish is perfect for formal foyers, blending well with other design elements and colors – and it's durable enough for commercial flooring, too.
Featured: Graphite Focus
In mid-tone gray, the linear tonal stripes of Graphite Focus makes this a perfect choice for upscale, contemporary décor. Available in large 12" x 24" tiles, it's a quick install even in large entryways. This porcelain tile has a matte finish, and is designed to coordinate with other tiles in MSI's Loft Porcelain collection.
Your entryway should serve as much more than a spot for your family and visitors to take off coats and boots. It's the preview for the rest of your home, a place to let your creativity shine and express your personality… and it all starts with a great floor!
Check out our visualizer tool to really see everything in perspective.