Natural Stone Ledger Panels: Bringing The Outdoors In
January 20, 2016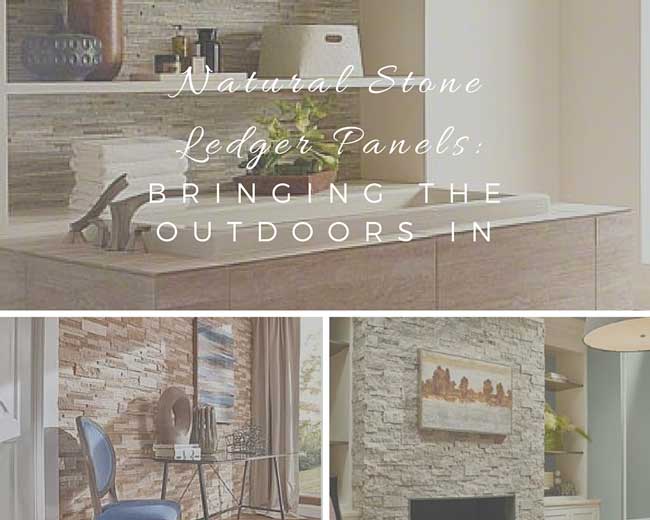 A popular material for exterior installations, stacked natural stone ledger panels are coming inside to add panache to interior spaces. Trend-setting designers and homeowners who value the panels' rustic textures and refined forms use stacked stone to add distinctive dimension to every room in the house. More and more often, the natural stone panels are popping up in public and private spaces as feature walls, focal-point fireplaces, captivating kitchen backsplashes, luxurious tub surrounds, and striking shower walls.
The benefits of these temptingly touchable wall panels are endless. Constructed of natural stone, they are extremely durable and easy to clean. Their rocky textures reference the great outdoors, while adding warmth, character, and drama to interior spaces. Available in a wide range of materials, colors, and styles stacked natural stone ledger panels offer a wealth of attractive options that suit every decorating style and a wide array of applications.
Ledger Panels Defined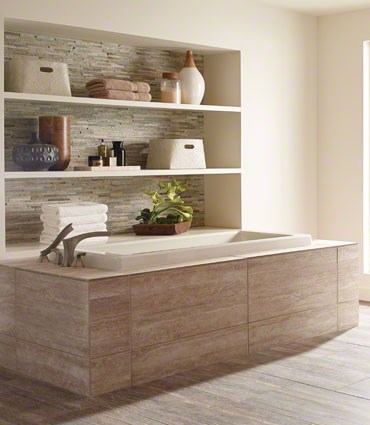 Featured: Golden Honey Pencil Ledger Panels
MSI's stacked natural stone ledger panels are constructed of trimmed pieces of natural stone that have been formed through eons of weathering and extreme pressure. Stone pieces are fastened together to form modular stone veneer panels, which are available as stepped panels and stepped corner panels. MSI's panels link together like a puzzle, creating a seamless surface and quick and easy installation.
Much like tile installations, ledger panels sport unique appearances based on how stone pieces are laid out. Natural stacked stone ledger panels come in classic, split-face, 3D, and pencil styles, which are available in different types of stone. Classic panels combine stones of varying shapes and sizes to fashion ledger panels that have a more traditional appearance.
Boasting clean lines, 3D panels have a modern feel with multi-faceted facades that boast a decidedly progressive attitude. Pencil panels are simpler in design and work well as backsplashes and bookcase insets. Split-face panels combine similar sized stone pieces to create a uniform outlook that enhances traditional and transitional designs.
Material Matters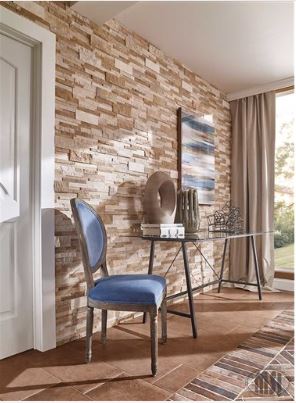 Featured: Casa Blend 3D Multi Finish Ledger Panels
Designers and homeowners also appreciate the array of colors and color combinations that ledger panels supply. MSI natural stacked stone panels are available in 36 colors, including 21 new colors that have been added to satisfy increasing demands for premium natural stone surfaces.
Colors vary with the type of stone used to make each ledger panel unique. White Oak Split-Face Panels are crafted of marble and sport color variations of off-white, gray, and beige; these panels provide the makings for neutral structures that are sure to generate plenty of interest. Multi-hued pieces of slate stack up in classic Rustic Gold Ledger Panels to present a marvelous mix of rusty coppers, deep grays, muted blues, and earth tones, which makes for fetching fireplace surrounds. Casa Blend 3D Honed Ledger Panels, like those used to create the fashion-forward wall pictured above, puzzle together pieces of travertine flooring in shades of gray and warming browns.
For those who prefer their stone treatments on the laid-back side, MSI offers natural stacked stone panels with a monochromatic look and little color variation. Coal Canyon Ledger Panels are crafted from charcoal-gray quartzite and would be a very cool addition to a contemporary spa bathroom. Comprised of beige travertine, Tuscan Ivory Ledger Panels instantly read as old world and beautifully stand in for traditional tile backsplashes in European-style kitchens.
Statement-Making Profiles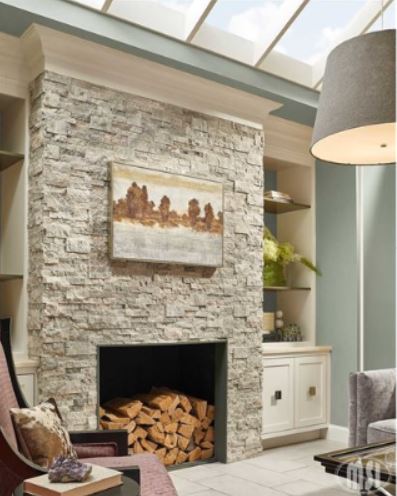 Featured: Silver Travertine Ledger Panels
Stacked natural stone ledger panels are ageless and architectural in their appeal--a high-impact means for adding sophisticated substance to interiors in need of pizzazz. This fireplace crafted of Silver Travertine Ledger Panels grandly illustrates how ledger stone panels can contribute to the appeal in newly constructed and remodeled interiors.
No matter which type of natural stacked stone ledger panel you choose to use, you'll increase your home's value, enhance your interior's good looks, and create expansive structures that establish or further specific styles. And, you'll be able to do all it in a cost-effective manner, which is likely to have you devising all sorts of ways to employ ledger panels to dress up every room in your or your client's home.
For more inspiration, view our new Stacked Natural Stone Ledger Panels brochure here or visit our online Stacked Stone Visualizer tool, where you can find a variety of color options and room settings to help create the space of your dreams!